---
There was a time where you could turn on the TV and easily see an even-handed representation of Black folks just living their everyday lives. From the Evans, the Huxtables, the students on A Different World, to four best friends on Girlfriends, we saw the highs, lows and everything else in between. But somewhere in the mid-to-late 2000s onward, a chasm developed, separating the good from the bad with not much left in between.

Sure, we have the Beyoncés and the Oprahs. Combine this with expected culture shifts overall—including the advent of "ratchet reality TV"—a new portrayal of the Black experience has been ushered in, and it isn't always relatable.
Issa Rae had something to say about this recently when she spoke on a panel discussing femininity during this years' during Cannes Lions. She told the audience, "The positive portrayals over the last ten years are overcompensating for the negative portrayals."
And while it is true that the way we are portrayed in the media affects the way we not only view ourselves but also how other perceive us, this overcompensation is clearly starting to have a measurable impact. The Insecure creator and star goes further by saying:
"For black women, I tend to find it harmful that we have all the burden on our shoulders, to uphold this specific image. You see them as the strong, flawless, fierce type of woman. And even on a great day, I am never those things."
It's almost as if we as black women are held to this impossible to fulfill standard of excellence that the rest of the world doesn't quite have to meet. And for less money, too. No shade to Beyoncé or Oprah, but not all of us are always "on point." Characters like Olivia Pope captivated audiences as a Black woman at the pinnacle of her career known for her style, eloquence, and professional power. And while it's nice to see this and have something to aspire to, many of us are still just trying to figure it out. This undue burden leaves a lot of us feeling inadequate when we don't have all the pieces of our lives perfectly put together.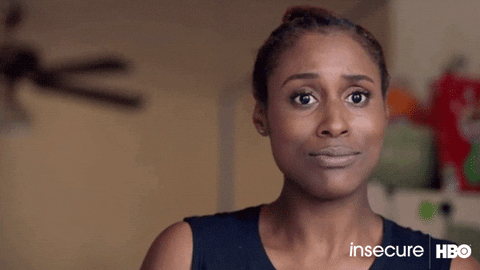 issa rae GIF by Insecure on HBO Giphy
Perhaps this is why Issa's character on Insecure has resonated so loudly with many women of color: she's just a regular woman trying to make her way through the world. Sometimes I too want to be seen as needing some assistance and a helping hand. I don't always want to do everything by myself all the time, even if I can actually do it all by myself.

Rae also alluded to toxic masculinity during this discussion, which is also a topic that this upcoming season of Insecure plans to address. The 33-year-old refers to the newly released album by Jay and Bey (EVERYTHING IS LOVE), giving us a powerful takeaway message by saying:

"Even hearing that Jay-Z verse being thankful to Beyonce and all the black women in his life for putting up with his bullshit…And that's kind of [the idea of] what black women are currently, [that] they're going to be there when you need them. And that's absolutely not the case, for sure with anyone I know."
The mantra of the ride or die woman is ever present in our culture, but to what end? Some would argue that this mindset only adds fuel to the fire that Black women are somehow immune to the BS and that we can easily keep moving forward without any difficulty meanwhile waiting with open, forgiving arms when a man is ready to make amends.
This discussion revs to the anticipation of the third season of Insecure, which is set to premiere on HBO August 12th. To read more of the Cannes Lions panel discussion, head to the Hollywood Reporter.
What say you: are you a superwoman with the ability to forgive and forget when push comes to shove?
*Featured image by Rich Fury / Getty Images