Laura Harrier has been making her promo rounds lately, as she's gearing up for the release of the upcoming dramedy The Starling, which is set to premiere at the Toronto International Film Festival next month. Outside of that, she's usually a pretty lowkey vibe, popping out every now and again and being an unproblematic gem. On her rounds, she has been opening up about life and love, as well as her beauty staples to keep the skin on ten.

---
And listen, if you want to stop her in her tracks for a good talk, ask her about her skincare, because she is all about it. In fact, she makes all of her fans follow one strict rule to always abide by: Thou shalt wash thy makeup off before bed.
"If I sleep one night with a face full of makeup, I instantly pay for it the next morning. I'll have bumps on my face. No matter how late it is, how jet-lagged you are, how many glasses of wine you have, it's so important. Make that little promise to yourself. I think, 'OK girl, I know you're tired, but you're gonna wash this face.'"
Laura opens the video prepped and ready to go, after sleeping in her KORA Organics Noni Glow Sleeping Mask.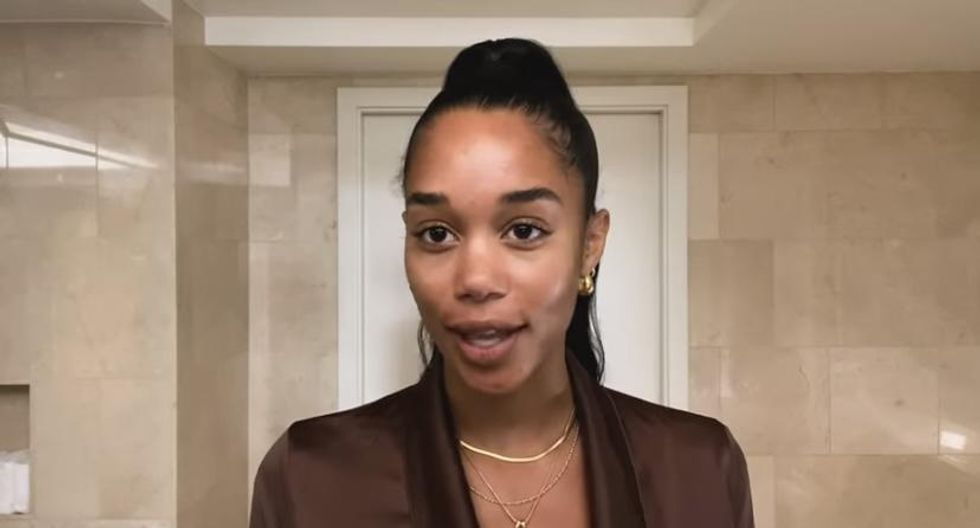 Vogue/YouTube​
"So last night, I slept with this mask on. Now that it's morning, I'm going to wash everything off and start my skincare. To remove the mask, I'm going to use this muslin cloth. There I really like to use on my face because I feel like washcloths and towels kind of scratch my face a little bit."
After washing off the mask, she cleanses the face.
"I try to kind of do a face massage when I wash it, and do everything 'up.' I was told that that helps to drain your face and I'm into lymphatic drainage. I feel like it depuffs everything, so I kind of just try to work it up like this."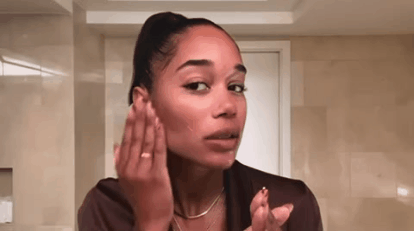 Vogue/YouTube
Harrier then opens up about a major cystic outbreak she had from traveling, stress, and hormone issues, and how she had to figure out which products worked best for her to clear her acne.
"I've never experienced that. I hadn't really dealt with acne until my late twenties, so that forced me to really get into skincare and do a lot of research to figure out how to balance what's happening on my face."
Up next, it's time to tone!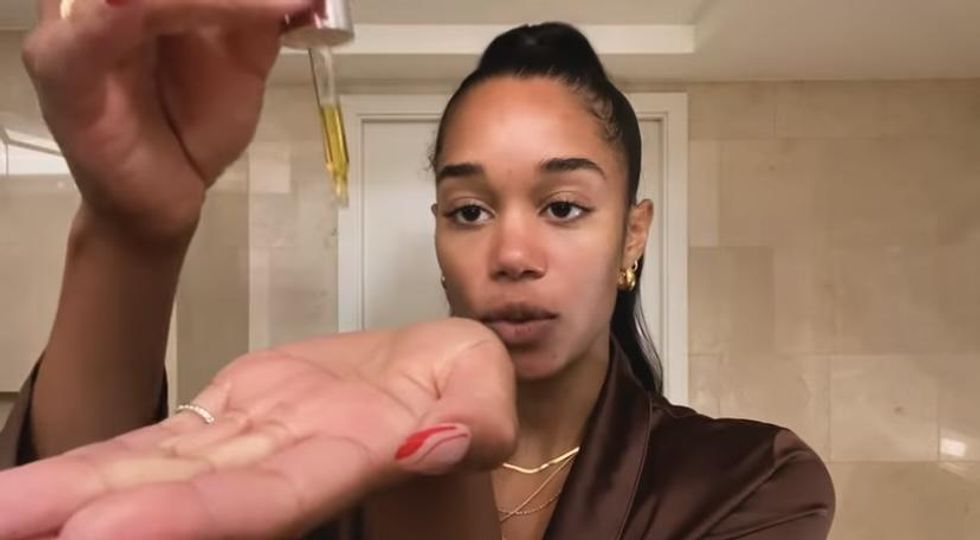 Vogue/YouTube
Harrier uses her P50 Toner, and applies again in an upward motion. Once finished, she applies some eye cream for the fine lines and dark circles under her eye. She then busts out her serums, one being a placenta serum (also known as sheep placenta) and the other she places in her hand and dabs it on her face with her hands--upwards, of course.
"My last step in my skincare routine is sunscreen. You gotta wear sunscreen, it's really important. I wear this everyday, I do this just as my moisturizer for day time. As a woman of color, it's so hard to find a sunscreen that doesn't make me look gray, or ashy, or leave a weird film on my face. And it's crazy how difficult it is to find that, honestly. This brand (Control Corrective Skin Care Systems Oil-Free Sunscreen SPF 30) doesn't do that at all, it's just sheer and leaves you a bit glowy. It's the best that I've found."
Finally, she sprays orange blossom water for a little facial mist, and she's all done!
To see Laura apply a simple glam makeup look using mostly her fingers, and to find out why her and her mom couldn't use the same products growing up, watch the full clip below:
Are you a member of our insiders squad? Join us in the xoTribe Members Community today!

Featured image by Gabriel Olsen/Getty Images for Absolut Elyx