I have never believed that cheating or adultery tells the full story of the making of a man. People cheat, there is rarely a rhyme or a reason, but there is an impulse. Some of us choose to act on it, most of us don't. I understand that, but because my father had done the same thing to my mother for years after I was born, and the honesty he gives me now in my adulthood, I understand that just because a man cheats doesn't make him a cheater. And often times, even though women are conditioned to believe that their men step out because of some inadequacy in them, darling you are never the reason he can't stay faithful. He is.
Actor and comedian Kevin Hart has made it no secret about taking ownership of his actions and what his infidelity has done to his marriage. A lot can be said about a man that owns up to his past and seeks to make a better present to ensure a better future for himself. And in a recent interview with The Breakfast Club, Kevin gives us a dose of his life since news of his cheating scandal broke, his cheating, and why his wife Eniko Hart deserves more credibility than the public opinion wishes to give her.
Given the year he has had and the headlines that have circulated heavily since he announced that he had been unfaithful to his wife, Kevin addressed the elephant in the room and broached the subject of his mistakes and his infidelity immediately.
"That's Kevin Hart in his dumbest moment. That's not the finest hour of my life. With that being said, you make your bed, you lay in it… That was my f*ck up. So, I rightfully stand in front of my f*ck up, hands in the air. I'm guilty. Regardless of how it happened and what was involved and sh*t that I can't talk about – I'm guilty. I'm wrong.

Me being wrong, I'm going to face the music. I'm going to go home. I'm gonna address it. I'm gonna make my wife full aware of what's going on and the situation that I have now put us in and I'm hoping that she has a heart where she can forgive me and understand that this is not going to be a reoccurring thing. And allow me to recover from my f*cking mess of a mistake. That's what I'm trying to do not only as a man, but in teaching a lesson to my son. When you do something wrong, stand in front of your wrong sh*t, don't run away from it. This was Dad's wrong sh*t."
He also sought to make it clear that despite rumors suggesting that he has always been a cheater, he in fact never cheated on his first wife, Torrei Hart after all. And if he did, it's because the marriage had long been over. He also noted the difference between the situations. Where one marriage, he walked away. In this one, he was going to fight because he wanted to keep her.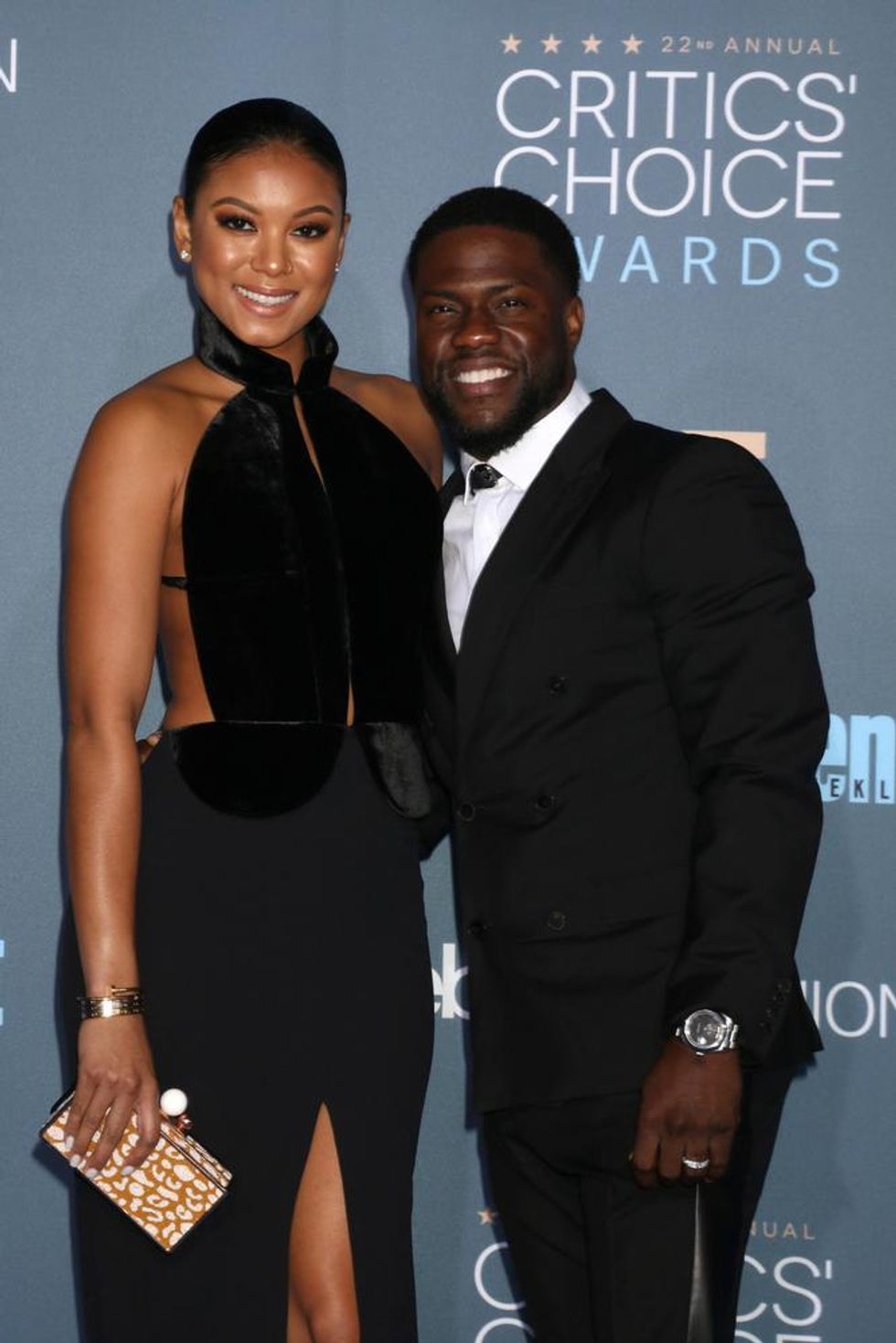 Kathy Hutchins / Shutterstock.com
"I don't like people bringing up my first marriage. I left my first marriage. I got a divorce. I filed. I'm the one that said I don't want to do this anymore, I'm not happy. The infidelity and sh*t was because we were both done. So, I walked away from it… This time granted, I f*cked up. But in f*cking this up, I'm like, I gotta repair this because this is what I want. This is my foundation. This is my wife, my kids. This is, I worked for this. This is nine-plus years into this… That's the difference. As a man when you want to work to fix it, and you want to fight for what you have."
Kevin briefly talked about the events surrounding the night where the cheating happened. A cancelled trip to Barcelona led to an on-the-whim visit to Vegas where he went alone with one of his boys, no team, no security, just him, to play poker. And of course, we know how that ended.
"I learned my lesson. It's a gut punch from God. You're not invincible. You can't move the way you think you can move, I take it away like this. God, yes you can. Jesus Christ, I'm done. Don't call me for sh*t, I'm going home… Don't ask. I want no parts of it. I'm 38, about to be 40 soon. I tap out. I tap out."
Perhaps more than the public opinion that is sometimes fairly placed on him, Kevin takes issue with the fact that his wife Eniko Hart is subjected to harsh treatment by the public due to the rumors about her being a former mistress during he and his ex-wife's marriage. To the gossip site's "karma," Kevin hit them with a little truth.
"That woman didn't have nothing to do with my marriage. That woman didn't have nothing to do with me leaving my wife. Nothing. I'm separated… The image that was being attempted to be put on this woman's back wasn't a fair image and that's what I don't like. I don't like that, because she's not that. She's nothing near that. The fact that I have a prize in finding what I feel is an amazing f*cking woman. A woman that I'm lucky to call my wife, lucky to have put up with the sh*t she put up with and still allow me to say that I'm her husband, that's an amazing quality that she has that I bow down to. So, the fact that people try to take that quality away and diminish her character, that's where I almost lost it for a second."
Kevin also gave us some insight on how he and Eniko began to repair their marriage after news broke of his cheating. Because she was pregnant at the time with their son, Kenzo, Kevin took ensuring her health and well-being seriously during that time.
"That's when you have to step in as a man. I was shooting a movie, I shut down production… We went to Atlanta for a while. We talked. When you have a union, that's when you get checked. That's when the bond of your union will be questioned. Nobody's perfect. Find the perfect man so I can talk to him. I want to talk to him, so I can get advice… I'm not knocking those that are [perfect], I'm not knocking those that sit in a good light – but I promise you that those brothers or sisters have come from a place where they learned from these lessons. Without lessons, you don't have experiences. Without experiences, you don't have sh*t to change."
Although a part of him probably always knew cheating was wrong on some level, Kevin explained that the only way to truly learn right from wrong sometimes is through trial and error and by gaining experience. He thought he wanted more when in reality, he learned just how valuable his family life and his life at home were. In his words, "It don't get better."
"This is wrong because I had what I wanted. I had what I wanted because I had a foundation at home, and a family comfort. And a comfort zone. I worked so hard to get here, I built this brand, we sit on the fruits of my labor – oh my God, I am as happy as I want – what the f*ck am I doing? It don't get better, that's why it's wrong. 100% in this case, it's wrong because it's wrong."
"I'm a better man. I'm a better man because the lightbulb that has went off is the one that was supposed to go off because this line – this straight line that I'm walking on right now – there are no moments to be off balance. There are no more shots, there are no more chances. I'm done. I don't want that level of fun no more. I don't need it. I'm on some grown man different sh*t where if he doesn't involve my family, I'm not interested."
Ultimately, the growing pains Kevin Hart's mistakes have caused him to endure were necessities for the new level of man he is becoming. Where there is an admitted weakness, there is room to acquire strength if you let it.
The good sis Maya said it best, when you know better, do better.
Watch Kevin Hart's full interview with The Breakfast Club below.
Featured image by Kathy Hutchins / Shutterstock.com