If you look at any sportswear ad or fitness magazine, you tend to see the same slender and toned images over and over again. We live in a society where being skinny is often associated with being healthy. If a person is fat it is automatically assumed that they're unhealthy.
---
Mirna Valerio defies the stereotype. She is happy, fit, and weighs 250 lbs. As an active runner who is extremely passionate about the sport, she logs 25 miles a week, and if training for a race, 35 miles a week. She also leads three mile group trail runs, is a wife, mom, teacher, cross-country coach, classically trained singer, and an inspiration for runners of all sizes.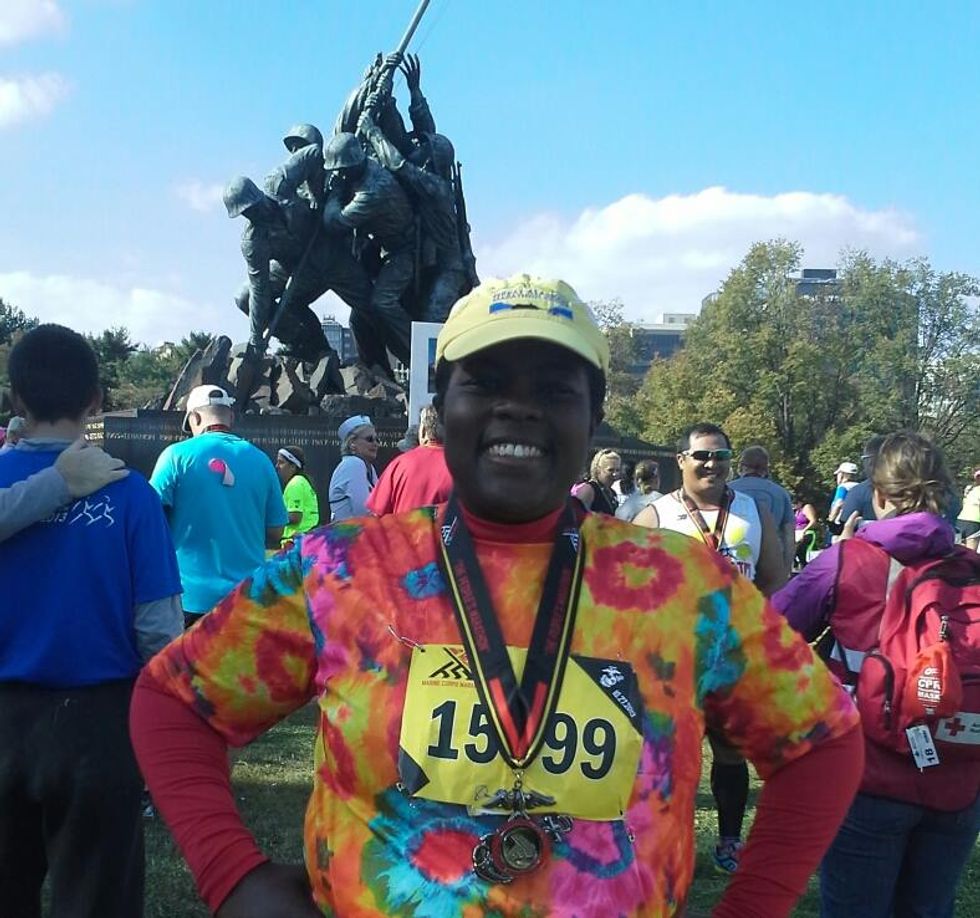 "Serious running and being seriously fat just don't go together in people's minds,"Mirna says in an interview with Runner's World, "If I didn't run, I wouldn't draw notice. I'd just be one more obese black woman. And if I were thin, I'd just be one more number at the starting line. But I run a lot, and I'm still fat. Some people can't get their heads around that. They don't think I'm for real, that I've earned the right to call myself a runner. They don't say it out loud; you learn to read it in their eyes."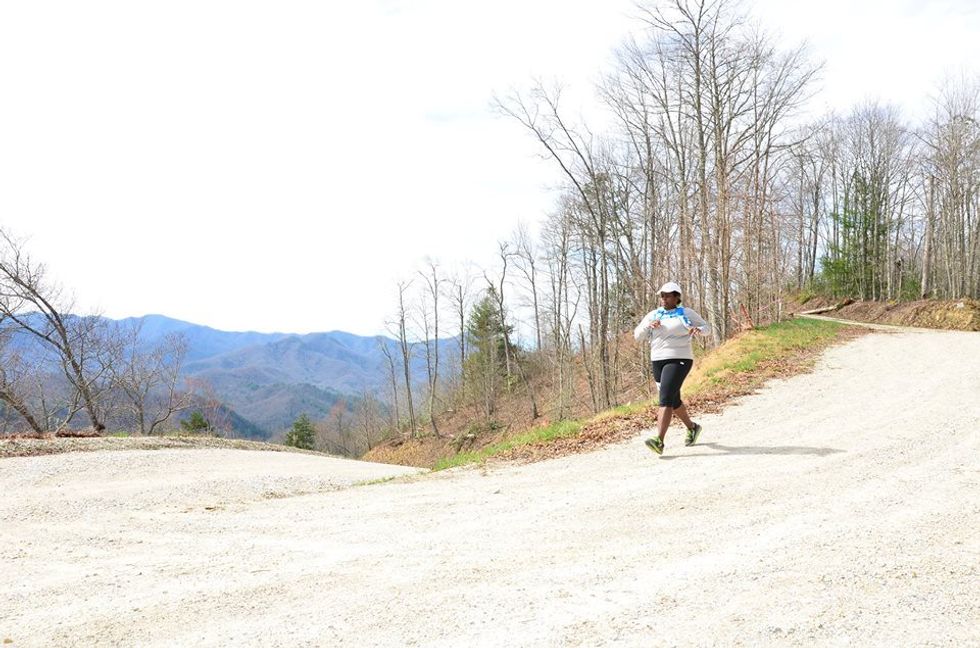 The 39-year-old has a popular blog that she started in 2011 called Fat Girl Running, in which she writes about her love for the sport, gives tips to motivate other runners, calls out her naysayers that don't believe that someone her size can be happy and fit. She doesn't allow her critics who try to body shame her bring her down. She is a positive and powerful force who uses her platform to encourage others who do not look like the stereotypical norm of what a runner "should look like."
On her blog, she recently clapped back at her critics who feel that her message and her media coverage somehow "promotes obesity." She writes:
"I promote body positivity, fitness, body love. Self-love, body awareness. Human love, human awareness. When I'm out there doing the damn thing, that is the height of my love. Love is not always easy, but love is love. Really, there is enough for everyone, even people who are fat/obese/bigboned/fluffy/chubby/lovehandley/thick/round/pearshaped/appleshaped/heavy.
We know we don't have these so called aspirational bodies, but dammit--I LOVE MY BODY FOR EVERYTHING IT IS and COULD BE. I ASPIRE to whatever my body ASPIRES. My body/our bodies IS/ARE ASPIRATIONAL.
I am making a pledge to myself of love, respect and honor for the sacred space that my body is. It is MY temple. Not yours."
Be who you're, not worried about what it looks like to be a runner, and run because you know it's good for you."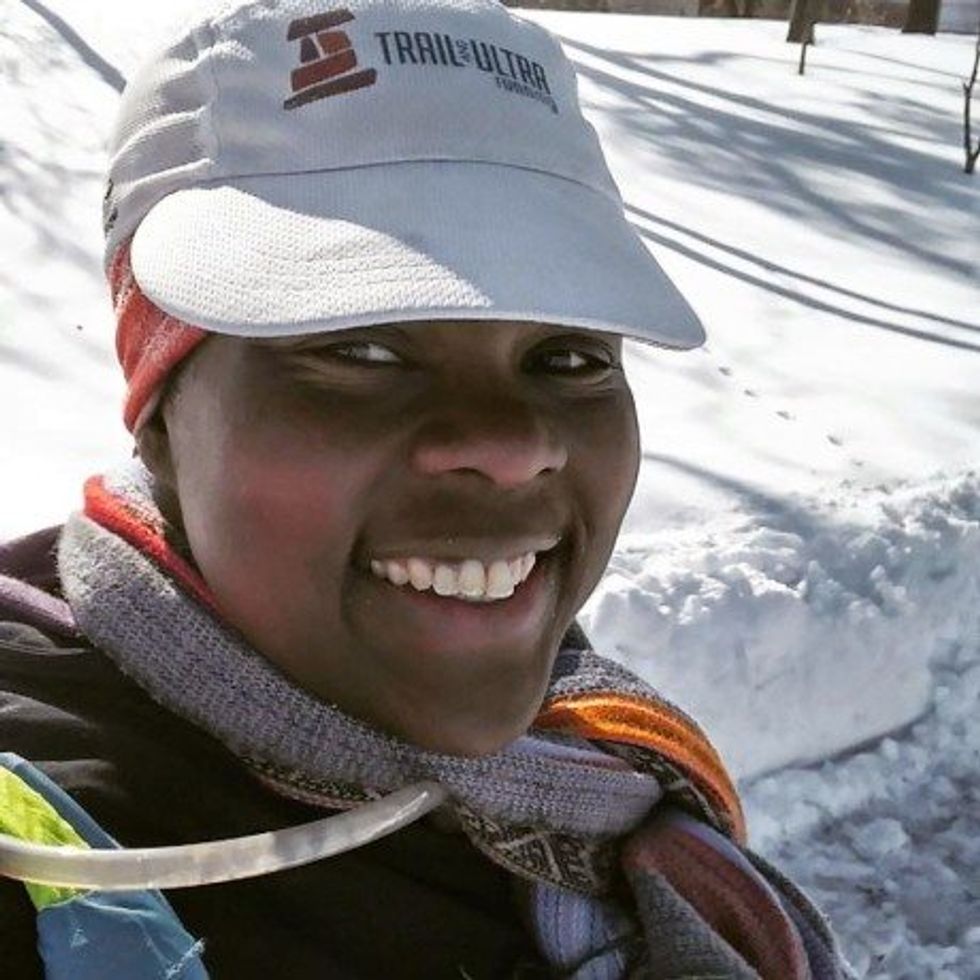 Mirna discovered her love for running in high school and she continued her exercise habits into her adult years, but eventually stopped due to being a mom, wife, and having a busy work schedule that left her little time or energy to exercise.
It was not until 2008 when she received a terrifying wakeup call where she thought she was having a heart attack. In an interview with People, she said, "I was having pains in my chest and was hyperventilating. I had my son in the car and I was very scared. It was a traumatic experience."
Luckily, it was just an anxiety attack, not a heart attack. However, doctors informed her that she had high blood pressure and inflammation. Her cardiologist warned her that if did not make a lifestyle change, she would not live long enough to see her son grow up.
Ever since then she began running and has never stopped. She also has incorporated healthy eating habits. She has lost 40 pounds and no longer suffers from inflammation or high blood pressure. She embraces who she is, accepts her body, and she is happy.
"I know how hard it is for some people to accept me. People have a preconceived idea about the way a fat person is supposed to act. A fat person is supposed to be depressed and lethargic and slow-moving. A fat person is supposed to be diabetic and asthmatic and engage in a lot of self-destructive behavior. I don't act that way or look that way, and so, once they get to know me, people stop seeing me as a fat person."

Mirna is an inspiring women, and she is definitely breaking the stereotype of what it looks like to be a runner and to be fit.