24-year-old Ella Mai commanded our attention with her hit single "Boo'd Up" and the one thing that you cannot ignore about the talented superstar is her flawless skin.
---
She seems to be a minimalist when it comes to her look, which is much appreciated, as it allows for her natural beauty to shine through. Ella partnered up with Vogue Magazine to share details about her morning routine, which is quite unique since she has sensitive skin like many of us.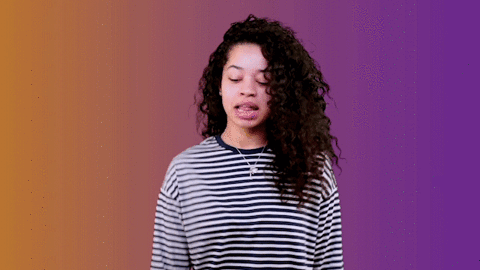 media.giphy.com
Ella begins her routine with one of the most underrated ingredients in any beauty routine: water. She makes sure to draw it at a temperature that is not too hot, and not too cold, in order for her facial cleansing to be as soothing as possible, and to open up her pores.

After a quick refresher, she goes in and cleanses with Burt's Bees Facial Cleanser for Sensitive Skin, lathering it on her skin for a few minutes before rinsing off: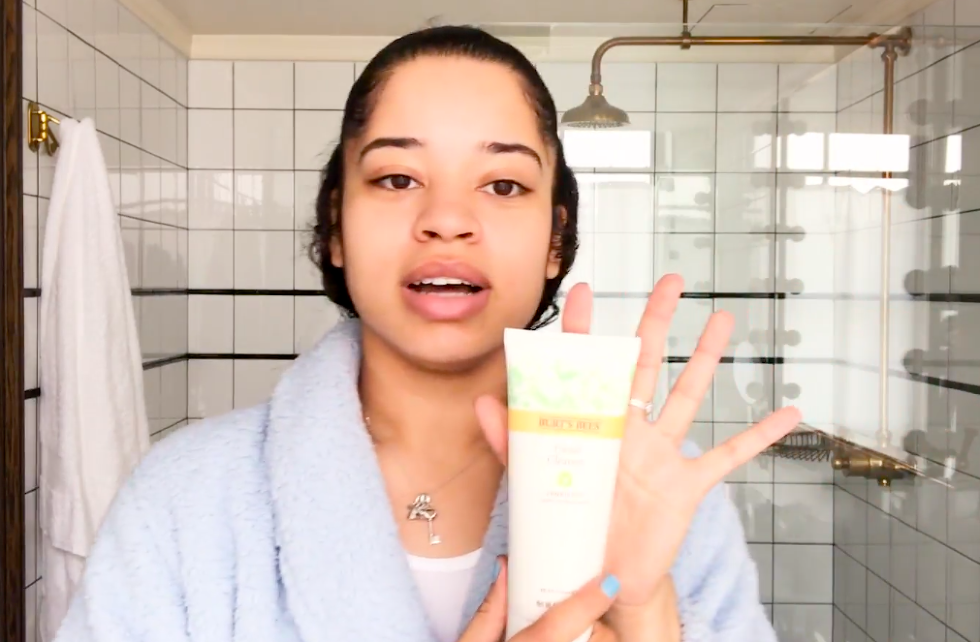 Vogue
"I don't use much as you can see. I have sensitive skin, [so] I've always had to make sure I don't use anything that makes me break out or makes me get rashes or anything so I've kind of had to be into skincare. Otherwise, I'd be walking around like Rudolph the Red-Nosed Reindeer."
When it comes to sensitive skin, over time you will learn that less is more! The more focus that you put into products with more natural ingredients, opposed to ones that are loaded with chemicals, the more you will ensure that your skincare regimen revolves around soothing your skin instead of inflaming it.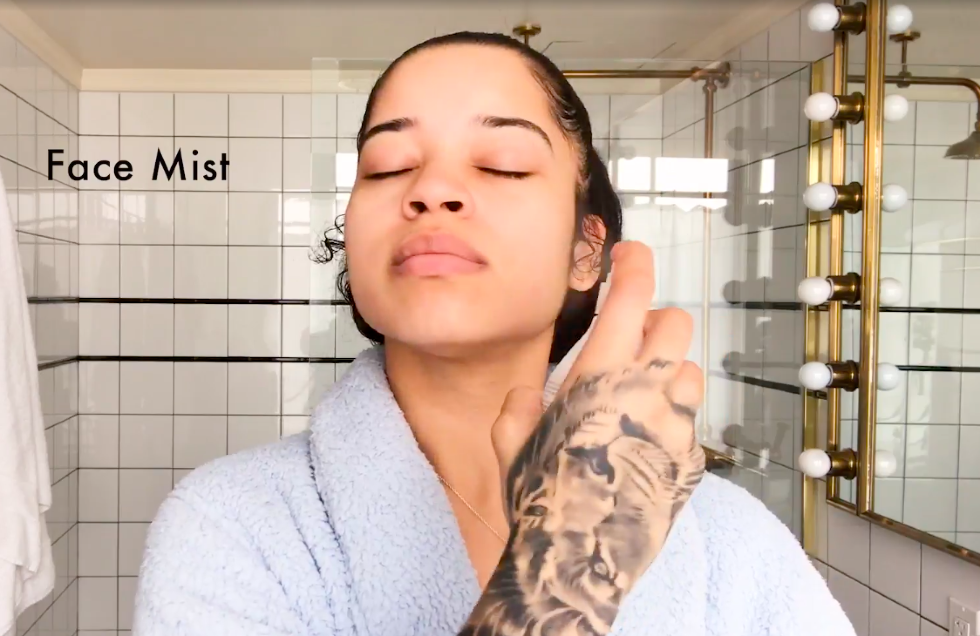 assets.rbl.ms
That's why Ella goes in with Jurlique Rosewater Balancing Mist that acts as both a moisturizer and a toner, and is also a beauty staple of Halle Berry. Many of us who get frustrated with our skin and run to the nearest beauty department forgetting that what we take in has a major effect on our skin, which is why Ella sticks to the basics:

"I drink a lot of water. For ages I cut out juice, I don't drink any fizzy drinks…you will always see me with a bottle of water in my hand and I think that has a lot to do with having clean skin. It's obviously genetics as well, thank you, mom, I love you!"
After going in with a supercharging serum, Ella moves to caring for a part of her face that a lot of us neglect until we are a chapped mess: our lips. She goes in with Burt's Bees Vanilla Bean Lip Balm, and makes sure to bring it along with her during the day for reapplication. This step is easy for Ella to remember because her lips are her favorite feature:
"I'll always have this in my pocket. You'll never ever catch me without it in my pocket."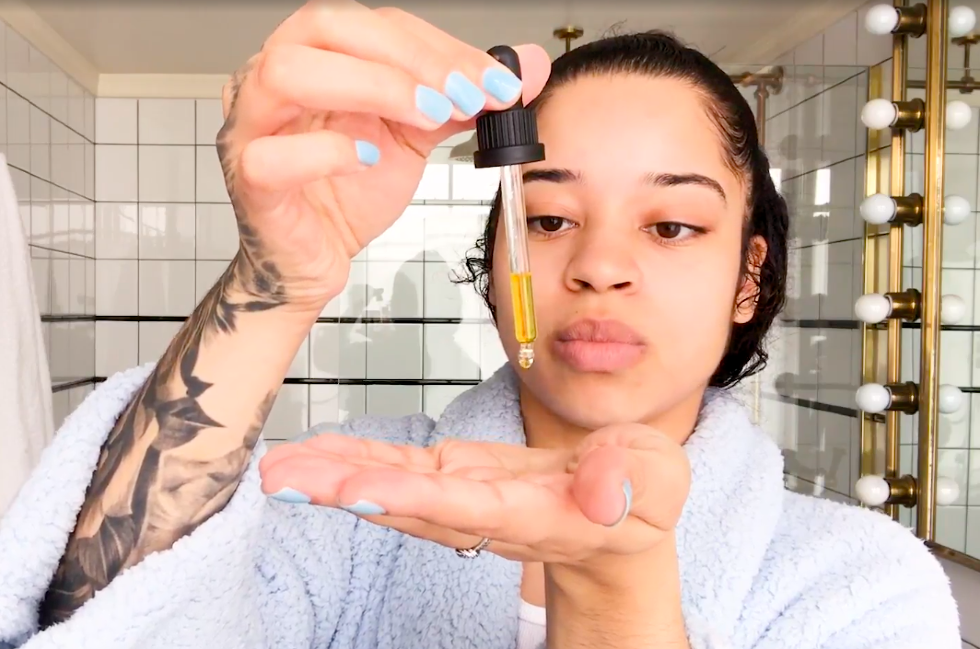 Vogue
Moisture is a component that Ella not only loves for her beautiful skin but also for her natural hair. No matter the texture, we can all agree that when you have kinky and curly hair, it is essential to keep it moisturized using products that have little-to-no build up on your scalp. Nourishing her hair and letting it be, instead of constantly manipulating it (especially with heat), is a lesson that Ella learned through trial and error:

"I hardly ever use a hair dryer [and try to] keep heat out of my routine because when I was younger, I straightened my hair a lot, and blow dried it a lot, and dyed it, and all the stuff that you do when you're trying to be experimental. It ruined my curl pattern. So for ages, I've tried to use no heat, let it air-dry, and just use water really."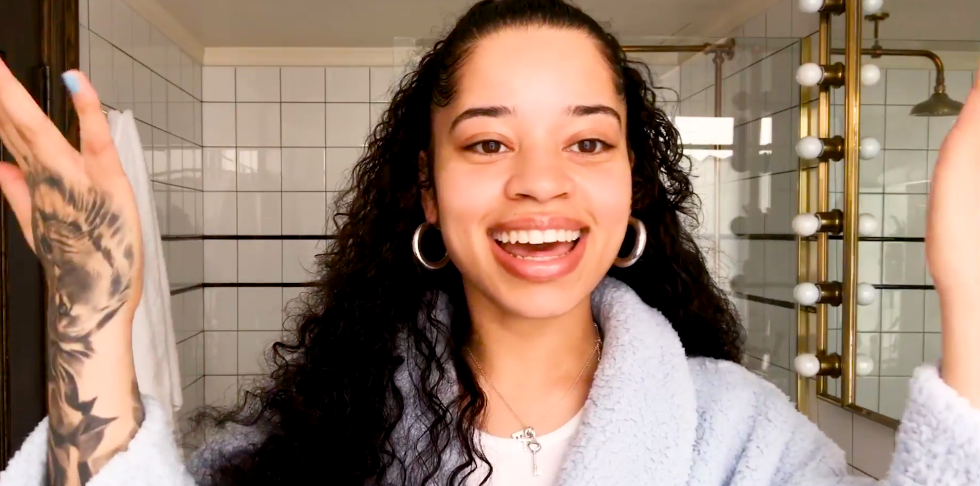 Vogue
Nowadays, when she wants to spice up her looks, she lays down her baby hair to her liking and throws on her favorite lipgloss, Fenty Beauty's Gloss Bomb.

With her morning routine being no more than 5 minutes, she proves to be relatable not only in her music but in her approach to getting ready for the day!
Ella Mai's Guide to Sensitive Skin Care | Beauty Secrets | Voguewww.youtube.com
Featured image by Ella Mai.