---
As Told To is a recurring segment on xoNecole where real women are given a platform to tell their stories in first-person narrative as told to a writer.
This is Kayla Glass' story, as told to Charmin Michelle.
I'm a 25-year-old 2nd grade teacher (during a pandemic) that's also currently purchasing a home. So...it's pretty safe to say that a new car has been out of the question for quite some time.
It all started in 2018, while in school obtaining my Master's in Education, I purchased my very first car from a lady in Florida. I needed something to get me from point A to point B, and as luck would have it, I came across this particular car that had only 30,000 miles on it, and was within my budget. But most of all, I knew it was going to last me a while, which was exactly what I was looking for. I handed the seller $1100 in cash and claimed my very first baby with full intention of personalizing in the future.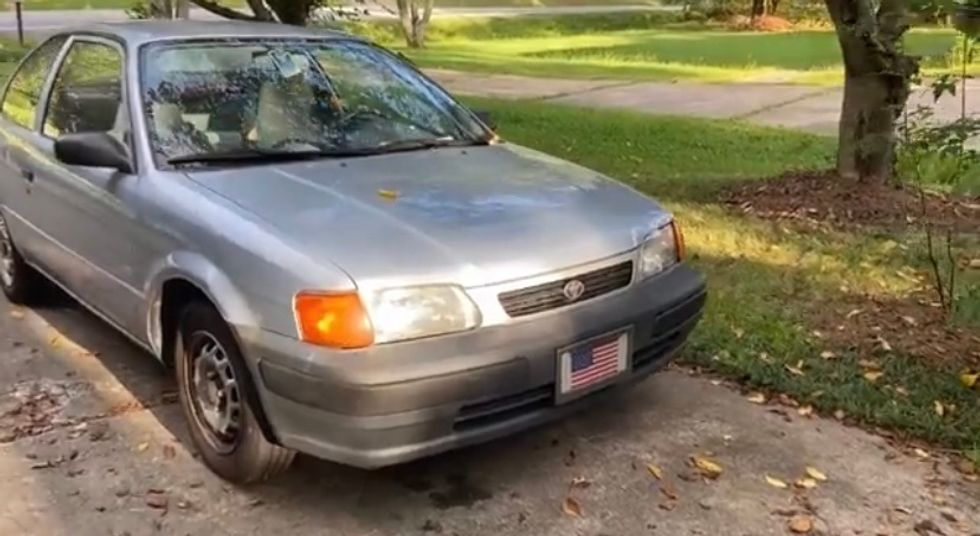 Courtesy of Kayla Glass
I always loved the car, but I also always knew that I ultimately wanted to transform it, to paint it, and make it more of my own. Once the pandemic hit, and with the ongoing months of quarantining, I had the perfect opportunity to make it happen.

So I went for it full throttle.
The process was tedious and took a bit of time, but I am so happy with how it turned out!
*Some of the links provided are affiliate links. If you purchase a product through the links provided, xoNecole may earn a small commission.
Cleaning, Steaming & All The In-Between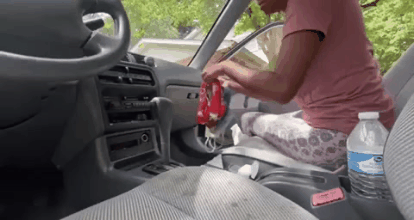 Courtesy of Kayla Glass
My car was so unbelievably filthy, so first things first, I cleaned it out: removed the mats, threw away all of the debris (which was a LOT), and vacuumed the floors. Cleaning the inside of my car was so satisfying. Maybe because it needed to be done so badly, I don't know.

The cleaning process also included me taking my Bissel Little Green Spot Cleaner and Oxy Clean Stain Removing Foam to scrub out its stains. This combo was essential as I was able to take my highly-stained and questionable interior, and bring it all back to life.
I finished this off with steaming the surfaces and wiping them down with cleaner, which was a super useful detailer tip.
Prepping For Paint
Next, I grabbed painter's tape and newspaper, and began taping off my windows, head/brake lights, handles, and a few other places that I wanted to keep in its original color. I grabbed my sander and sanded down the entire surface lightly, allowing the spray paint to have something to adhere to. As you could imagine, this took a bit of patience and time but definitely a necessary step.
And Now, Time To Paint!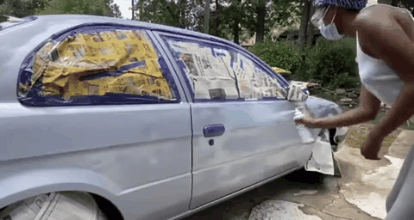 Courtesy of Kayla Glass
To paint, I used Rust-oleum Gloss Protective Enamel in Light Turquoise. Spraying all over, evenly, I used the six cans I ordered online. This took quite a bit of time as well. I took several breaks and my fingers we basically numb from pressing the nozzle on so many bottles for an extensive period of time. My body even had moments where it was giving out but I had to push through.

Eventually, I finished and couldn't be happier! I am just so in love with this color, it fits my personality perfectly! It is just so me.
Tips + Tricks:
OK, ladies, if you're interested in taking on this project for your car, here's what I've learned from trial and error:
Keep costs low. The point of DIY is to not seek service for something you can do yourself. This is a budget-friendly project and can totally be done within whatever budget you wish. But if you plan to spend lots of money, it takes the point out of the DIY aspect.
Invest in a spray paint gun, or similar device. My parents had one for me to use and it was like discovering water. It was the best thing ever. I totally underestimated how tedious and strenuous it is to spray paint an entire car with just the can. Purchase something to assist you, spare yourself the hand and finger cramps.
Personalize, personalize, personalize! I decided on a few final personal touches by adding succulents, a steering wheel cover, and some beautiful backseat pillows. My car morphed into a true reflection of my personality and outlook on life. This was intentional. I even named her Cotton Candy! Also, the anticipation of completing the project to see the final results, and seeing an item you own be brought back to life, is entirely worth the work.
Final Results
The finished product is amazing! I'm super obsessed with everything about this car, it literally couldn't have turned out any better.
But do I have any regrets?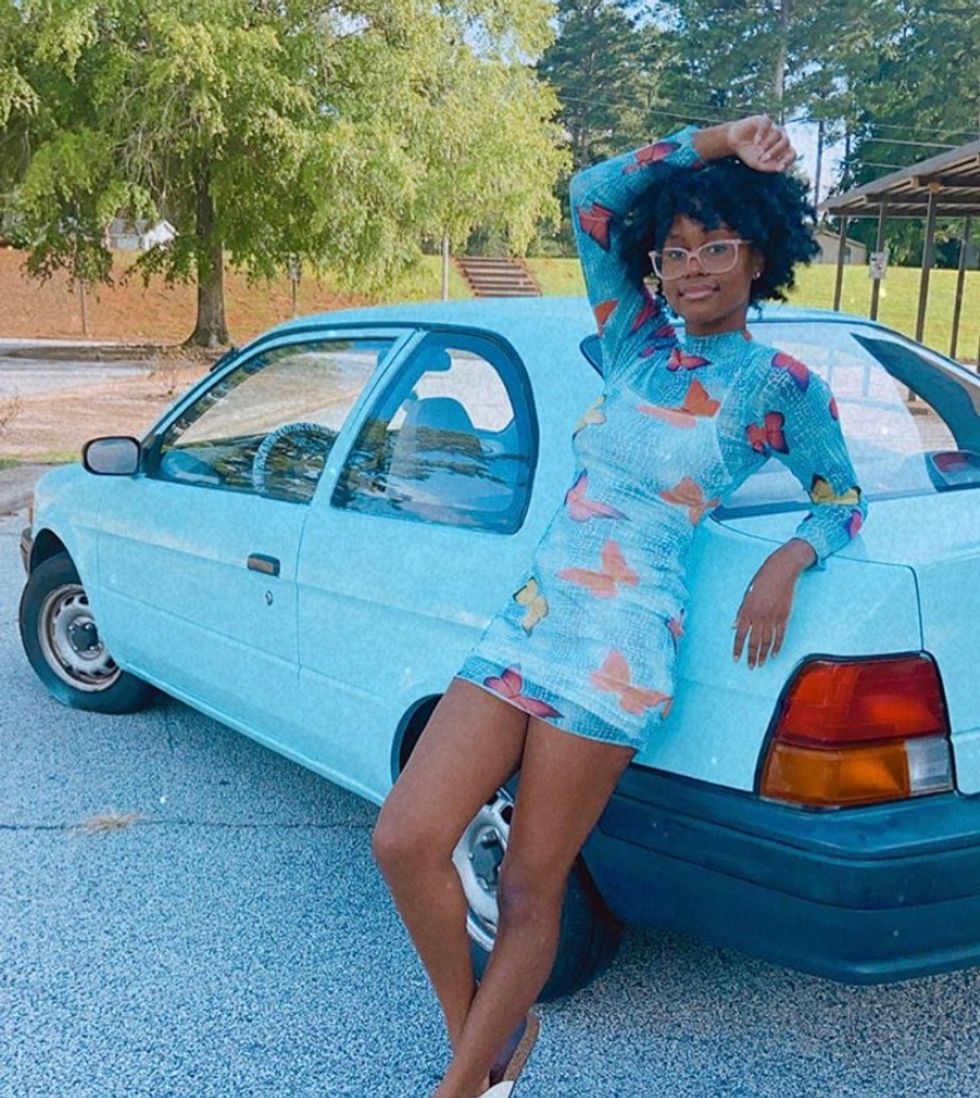 Courtesy of Kayla Glass
Absolutelynot! In the end, I am so pleased with my results that I would do this a hundred times over. I love DIY projects and I am obsessed with this one. So, there are zero regrets.

Cotton Candy and I actually look forward to seeing you guys on the road!
To watch the full transformation of Kayla's car, you can subscribe to her YouTube channel. Also, for more pics, tips, and tricks, you can follow her on Instagram at @youngladybusiness.
Featured image courtesy of Kayla Glass