---
This article is in partnership with Amazon Prime.
Eddie Murphy's sequel to his 1988 hit Coming to America, had anticipation and nostalgia on its side, drawing old fans along with a new generation of their children and grandchildren who were just conceived or babies when the original hit big screens. From grandmas to Generation Z, we all tuned in, landing the film a top spot in Amazon streaming during its opening weekend.

It's no surprise that with the Wakanda craze, the beautiful depictions of Black Hollywood magic, and the resurgence of the unforgettable comic bits that had many of us cracking up back in the day, we'd all be excited to see an updated version of what happened in the kingdom of Zamunda. We also watched to see how the star-studded cast--which included both veterans and newbies—would fit into it all.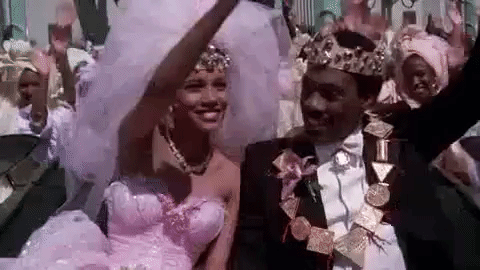 Image via Giphy
The thing about sequels is, you either love them or hate them, and many of us seek the same euphoria, if not a boost in it, when we watch a continuation of a cult classic. Coming 2 America gave us the same laughs and more, with the bonus of infusing today's social issues that affect us all, adding actors from the African continent, and catering to today's youth in both attire and soundtrack. It provided a much-needed escape into dad-jokes, cultural satire, wacky cameos, and Black pride that we all need right now.
Still not a believer? Here are 5 good reasons the film is a lit, must-see experience for the culture: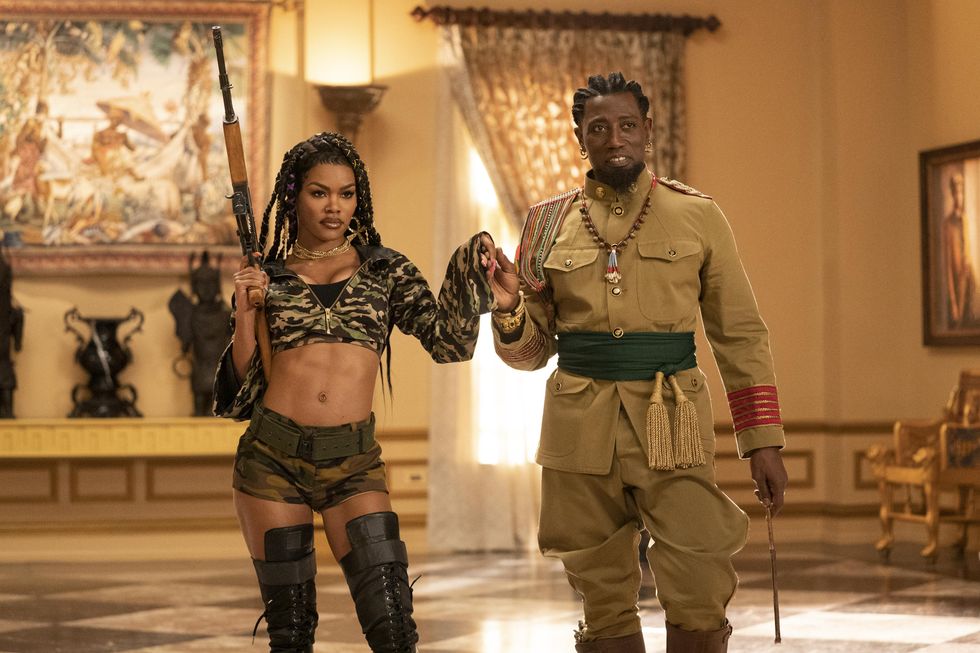 Image courtesy of Amazon Studios
1. A good number of Black Hollywood legends with young power players—in one film? Count me in.
Just the inclusion of actors like Morgan Freeman, Arsenio Hall, Wesley Snipes, James Earl Jones, John Amos, Tracy Morgan, Gladys Knight, and Vanessa Bell Calloway is enough to pay homage to the fact that we need to not only give our cinematic kings and queens their flowers while alive, but we should salute the fact that they're still honoring us with their talents. These actors have not only paved the way for actors of color in Hollywood to continue working and getting that coin, but many have been riders for opening opportunities for the new generation of entertainers behind the scenes.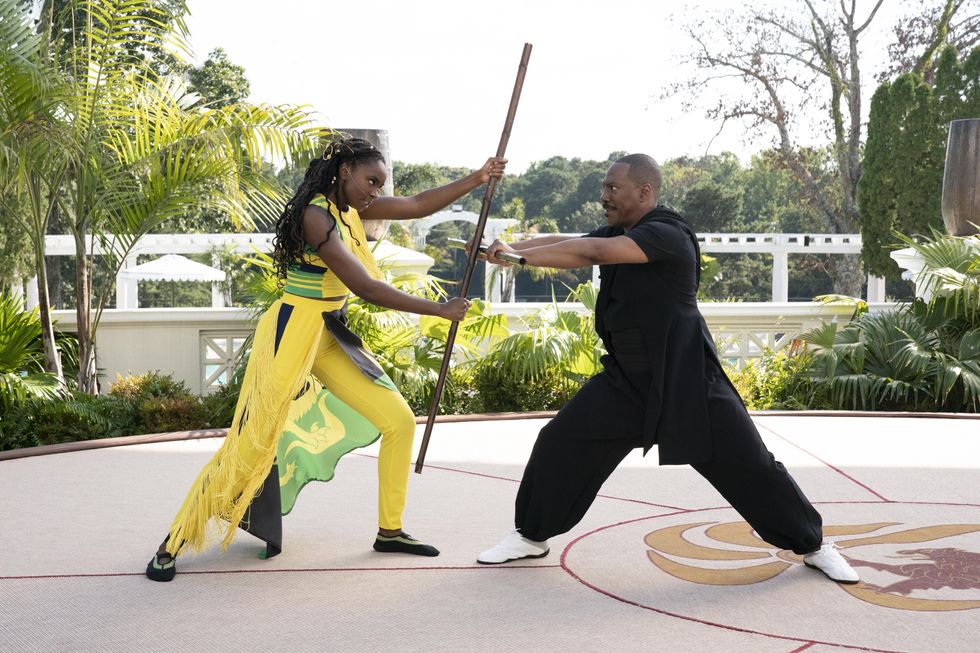 Image Courtesy of Amazon Studios
2. Black women dominate and female empowerment is more than present.
Not only did the film include a push for female equality, but the women on the cast and behind the scenes slayed their roles, both in beauty and in alluring range of character. The original Princess of Zamunda, Lisa McDowell (played by Shari Headley) was just as graceful and Black-don't-crack beautiful—with the Queens-bred edge—as she was more than 30 years ago. Leslie Jones brought humor and authenticity to her role as Mary Junsen and was a breakout star who helped carry many of the scenes in which she was featured.
Teyana Taylor brought her usual bold sexiness and a swag-savvy remix to Vanessa Bell Calloway's 1988 jilted-bride role. Nomzamo Mbatha, an award-winning South African actress, gave her all in a renewed love story with the new prince, LaVelle Junsen (played by Jermaine Fowler), and represented for Black womenpreneurs. And last but not least, the three young actresses who played the new princesses of Zumanda—KiKi Layne, Bella Murphy, and Akileh Love—portrayed agile, smart, and compassionate young women who will have you lovingly reminiscing about the power-packed fem sensations in Black Panther. Also, the whole fashion aesthetic of the film was led by Oscar-winning costumer Ruth E. Carter, the first black person to get the honor in the "Best Costume Design" category.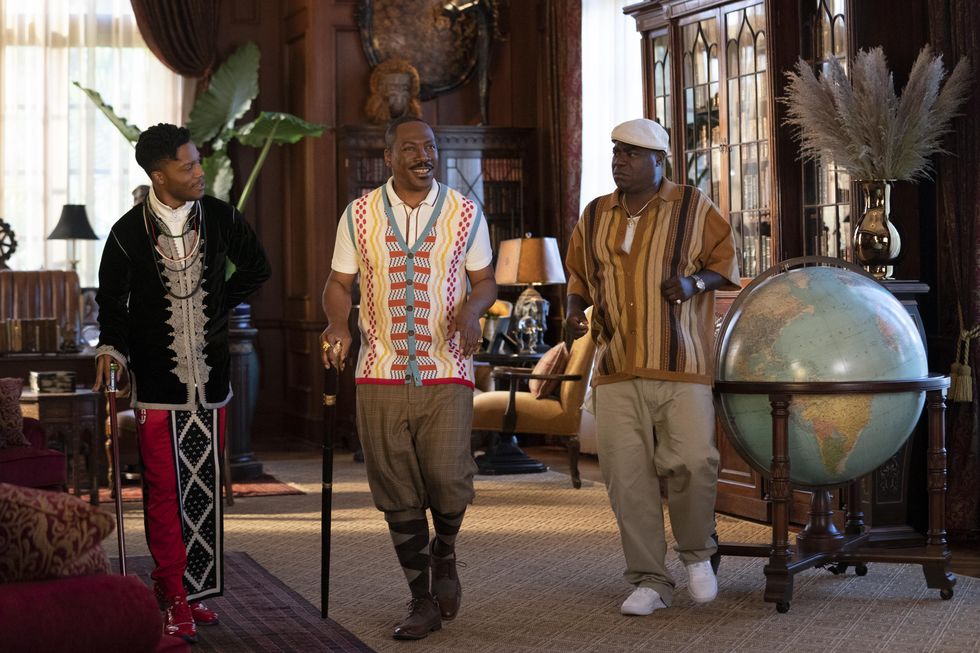 Image courtesy of Amazon Studios
3. African excellence from the continent was actually easy to spot this go 'round.
From superstar Nigerian entertainer Davido, to cameos from Nigerian-American actor Rotimi and late-night host and South African comedian Trevor Noah, this sequel gives us Afrobeat, glamorous geles, and fashion designs that add at least a touch more authenticity. South African designer Laduma Ngxokolo's knitwear label, Maxhosa, was featured prominently as part of the characters' wardrobes, as well as jerseys by Ghanian-American designer Paakow Essandoh.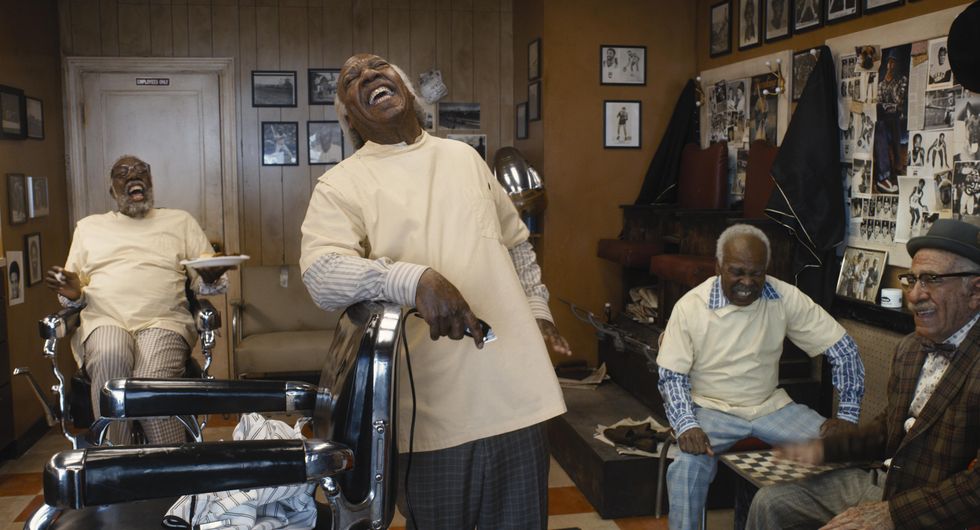 Image courtesy of Amazon Studios
4. The OG favorite characters from the original don't disappoint.
Almost all of our favorite original characters, played by Murphy and Hall in disguise, are back, older, and a tad funnier because of that. The barber elders are relatable whether you grew up in the '80s or not, and everybody knows that OG uncle who offers unsolicited, sometimes inappropriate but oftentimes funny, real-talk quips. We all also know the old-school pastor who might have some semi-shady but hilarious approaches to preaching, or the non-singing crooner who always wants to take over the mic at a wedding, karaoke session, concert or other family event. There's even a new character whose grotesque demeanor and look actually gives Arsenio Hall a run for his money in his primary role as Semmi.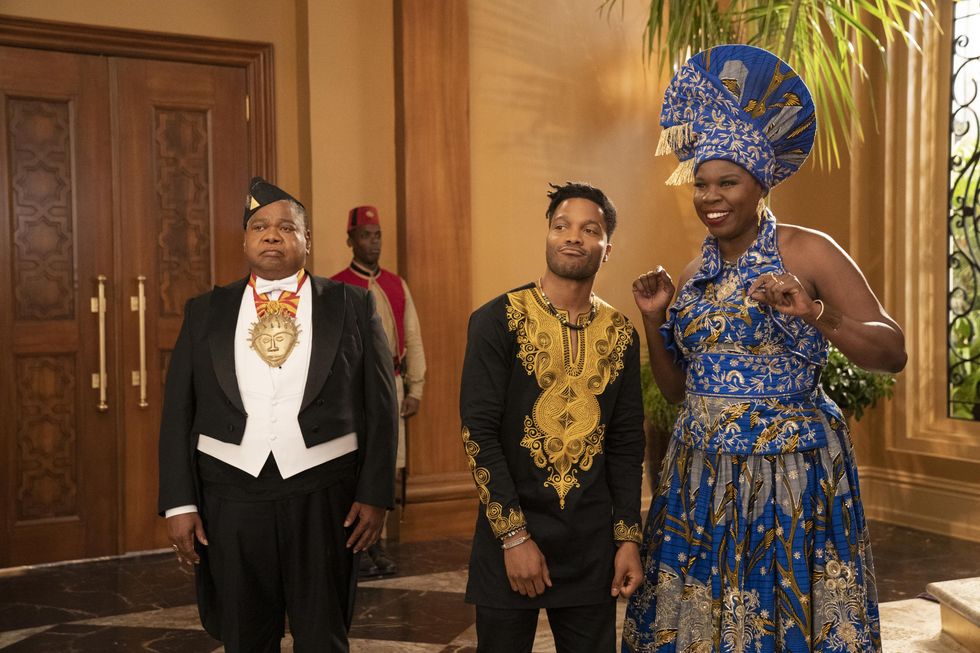 Image courtesy of Amazon Studios
5. It's a much-needed escape from the current state of the world.
The flashbacks will have you reminiscing—or at least yearning—for a time when quarter-waters were actually 25 cents, the Internet and cell phones didn't dominate much of our lives, cities had a lot more grit and soul, and oh, there was no Coronavirus pandemic. True, there were major world issues in the '80s, but some aspects of life were a lot less scary and isolating. Every inclusion or reference to Jheri curls, rattails, stonewash jeans, flat-tops, stacked cuts, and high-cut bikinis, and that old-school love-at-first-sight plot is much appreciated at a time when masks, Hazmat suits, vaccinations, and social distancing have dominated our everyday lives.
Coming 2 America is now streaming on Amazon Prime.
Featured image courtesy of Amazon Studios