---
Morocco is quickly becoming a must-see destination for many travelers. With its growing film and TV industries, the country is seeing a lot more tourism. Situated on the north-western coast of Africa, Morocco is home to one of the most unique and dynamic landscapes on the continent. It's mostly Arab but its people have a very diverse culture. Many people recognize Casablanca, which is the most populated city, but Marrakech, Fez, and Rabat should also be on your list of destinations to visit.
Long story short, Morocco checks every box for a destination that leaves you feeling vibrant and fulfilled. Here are a few of my suggestions on what to do while visiting:
1. Shop In Marrakech And Fez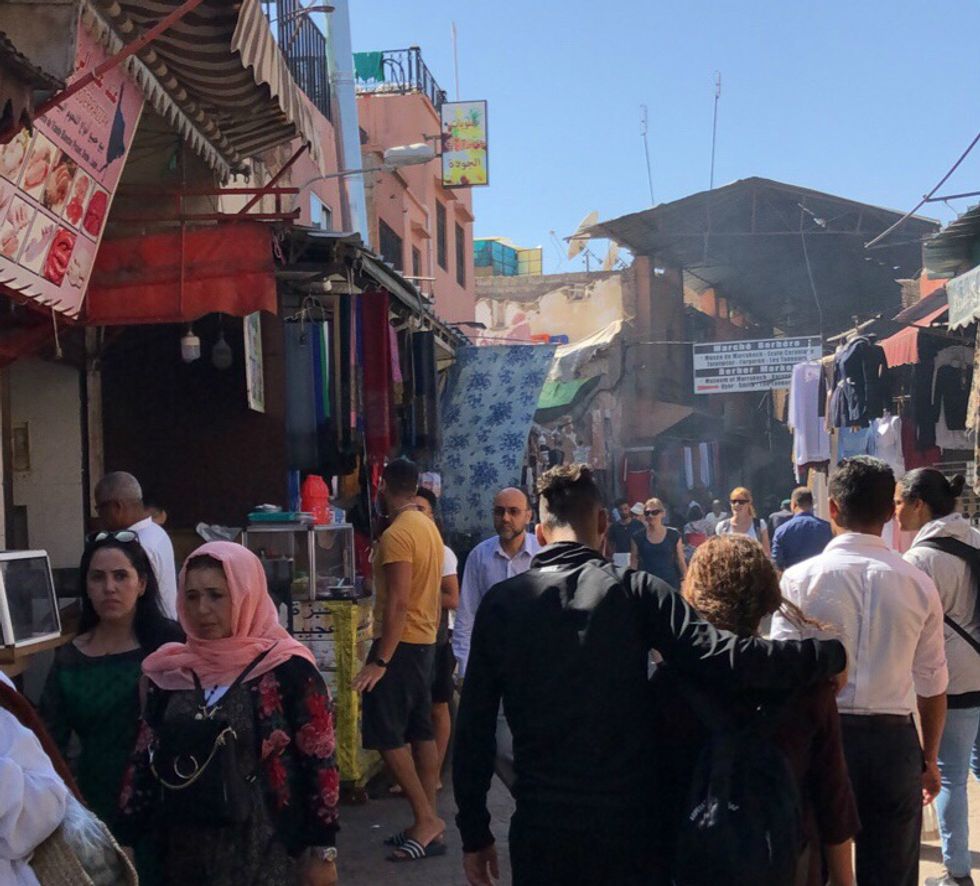 Courtesy of Amer-Marie Woods
I'm not really a big shopper when I go on vacation, but I do love picking up small trinkets or things that remind me of the place that I am visiting. You can cure your shopping needs at the souks inside the medinas of Marrakech and Fez.
Let's start with the basics: What is a souk? It's an Arab marketplace also known as a bazaar. You can find lots of unique gifts there made by local merchants. And who doesn't like handcrafted one of a kind souvenirs? They have everything from rugs, incense, oils, jewelry, clothes, toys, lamps, and more. The shops go on and on for miles through complex maze-like streets, so be careful to either stick to a few streets you recognize or get a guide. It is very easy to get lost.
Pro tip: Take photos of where you are staying or the path you are following so it is easier to retrace your steps to where you started. It is also good to have photos to show if you get lost so someone local can point you in the right direction.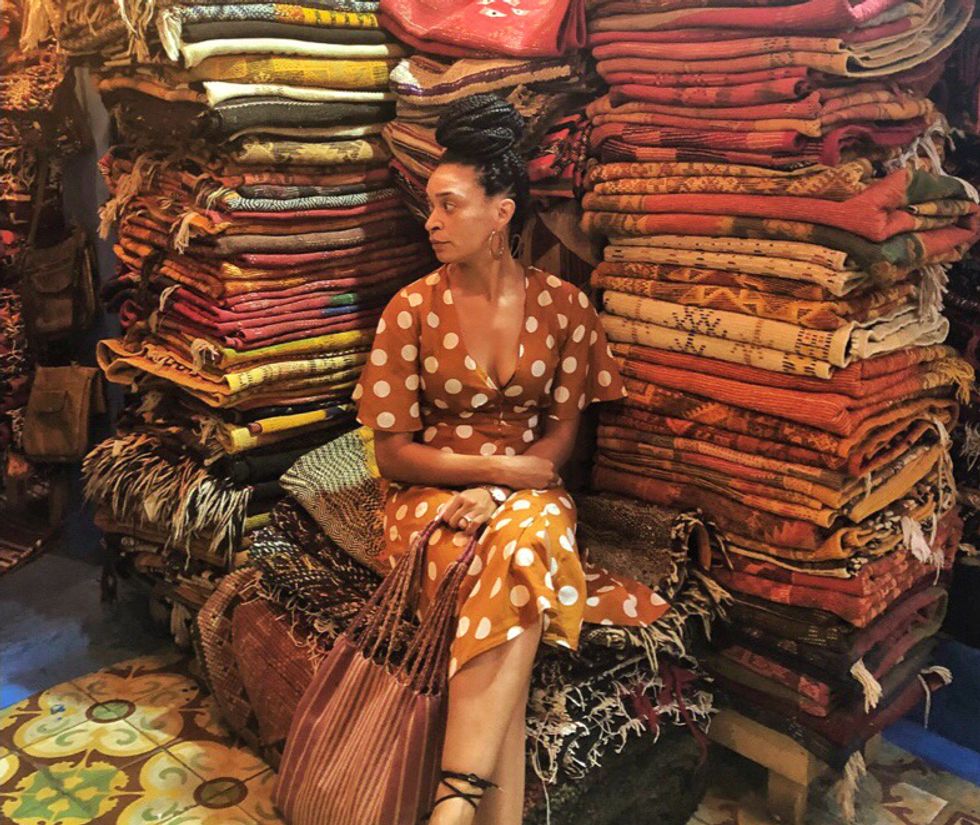 Courtesy of Amer-Marie Woods
Something unique to the Fez souks are the tanneries which are located on the interior of the maze-like streets. You may not be able to see them right away but you can for sure smell them. The tanneries are where camel skins are processed into leather goods. The process of tanning animal skins is one that's been around since the 11th century, and the smell is very strong the closer you get, so the shop owners give you a handful of mint to offset the pungent odor. If there is anywhere I would buy leather goods, it would be here.
Something important to note about the souks, you must learn to haggle. It is an offense to the shop owners if you do not go back and forth with them over price. So choose an item and tell the shop owner how much you will pay.
Allow him to tell you how much he will take for the item. Begin to haggle here, going back and forth on the price. Stay firm, and if the shop owner does not like it, walk away. More times than not, the shop owner will concede and give you what you want. Keep an open mind when haggling and have fun---it is all apart of the experience.

2. Visit 'The Blue Pearl,' Chefchaouen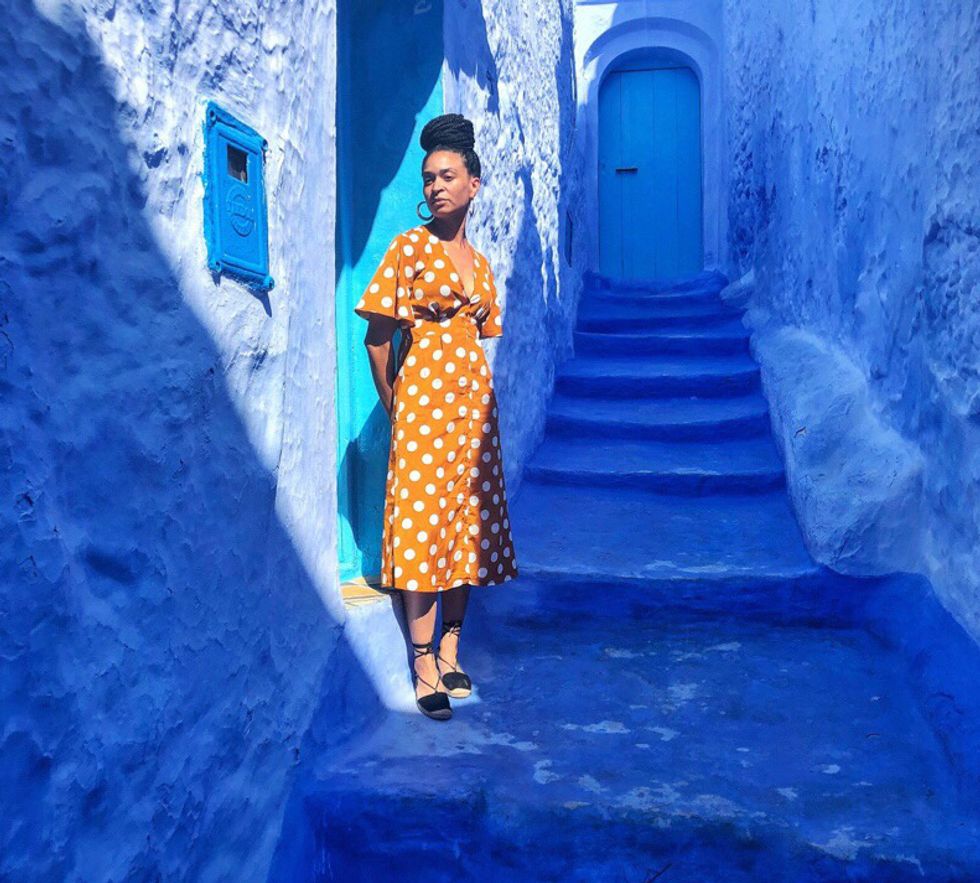 Courtesy of Amer-Marie Woods
One of the most iconic places and probably the most photographed places in Morocco is Chefchaouen. The city is also known as the "blue city" because all the buildings are painted in the hue. There is a bit of speculation as to why the whole city is blue, but before we get there, here's a little history lesson: Chefchauoen is nestled in the hills of the mountains and means "look at the horns" referring to the two peaks that are high above the city.
There is more to this city than just the blue buildings. As in many of the other cities in Morocco, Chefchaouen has some of the best shopping. I highly recommend purchasing the handmade Berber rugs here. The Berber peoples are the native peoples to Morocco. Outside of shopping, Chefchaouen has some historical landmarks to visit such as Ras El Ma (waterfall), Grand Mosque, and the Place Outa el Hammam.
In recent years, the affinity for blue in this area has been called into question by many. Some say it is to reflect the blue sky and others say it is to attract tourists to come to the city to buy goods. Either way, the blue winding streets against the mountain backdrop is enough reason to add this city to your itinerary.
3. Go Glamping in the Desert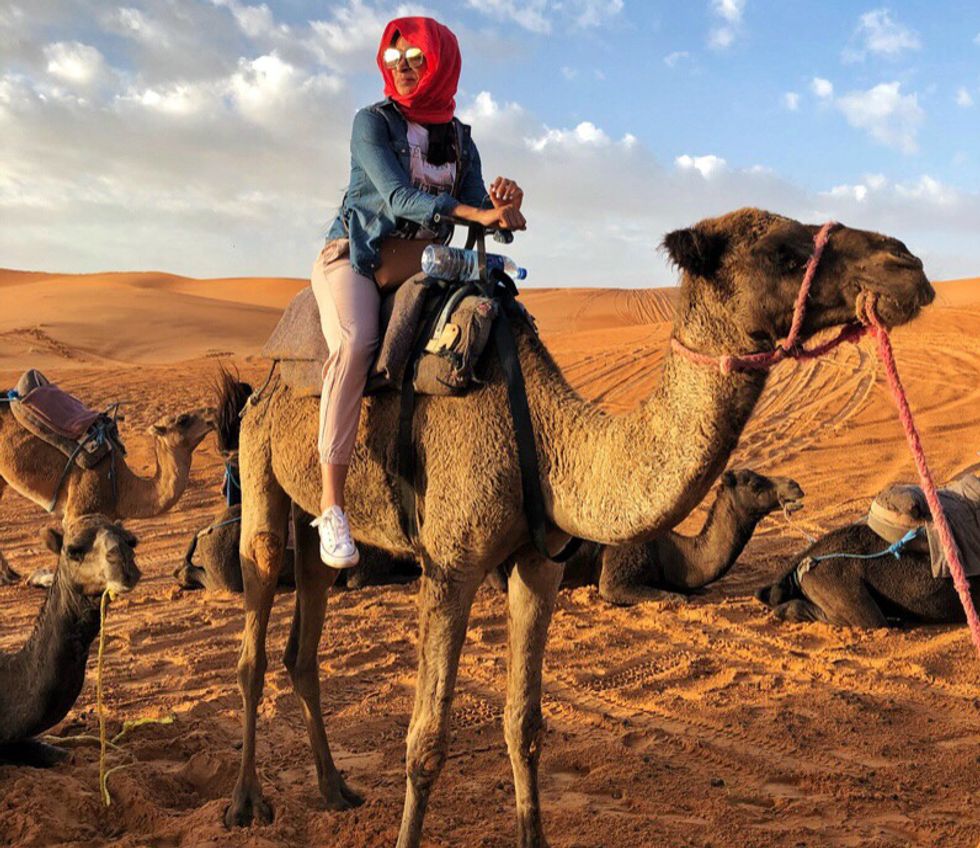 Courtesy of Amer-Marie Woods
Whether traveling with a group or on my own itinerary, I like to do unique things to further the experience. For this particular trip, I decided to go glamping in the desert with my friends. This activity fell right in the middle of our trip and was perfectly timed because it was a planned stop on our way from Marrakech to Fez. I wasn't sure what to expect when we pulled up to our stop in Merzouga. We were greeted by the camping site staff, and after they loaded our bags into cars, they escorted us to our transportation to the campsite: Camels.
In all honesty, the camel ride was not an easy one, but it was through the sand dunes of the Sahara Desert at sunset. Breathtaking would be a gross understatement.
Once we reached the camp, we were escorted to a village of beautifully colored tents equipped with beds and our own personal washrooms. The campsite staff treated us to a traditional Moroccan dinner and then to a live music concert under the stars. The best part was meeting our campsite neighbors who were from France. They spoke no English and we spoke no French, but we drank and danced the night away together---small perks of traveling that make for great stories. Some other fun activities to add to your desert excursion are dune buggy or ATV riding and sand surfing. Desert glamping is a nice break from the hustle and bustle of the city and unlike any other experience.
4. Enjoy a Tranquil Hammam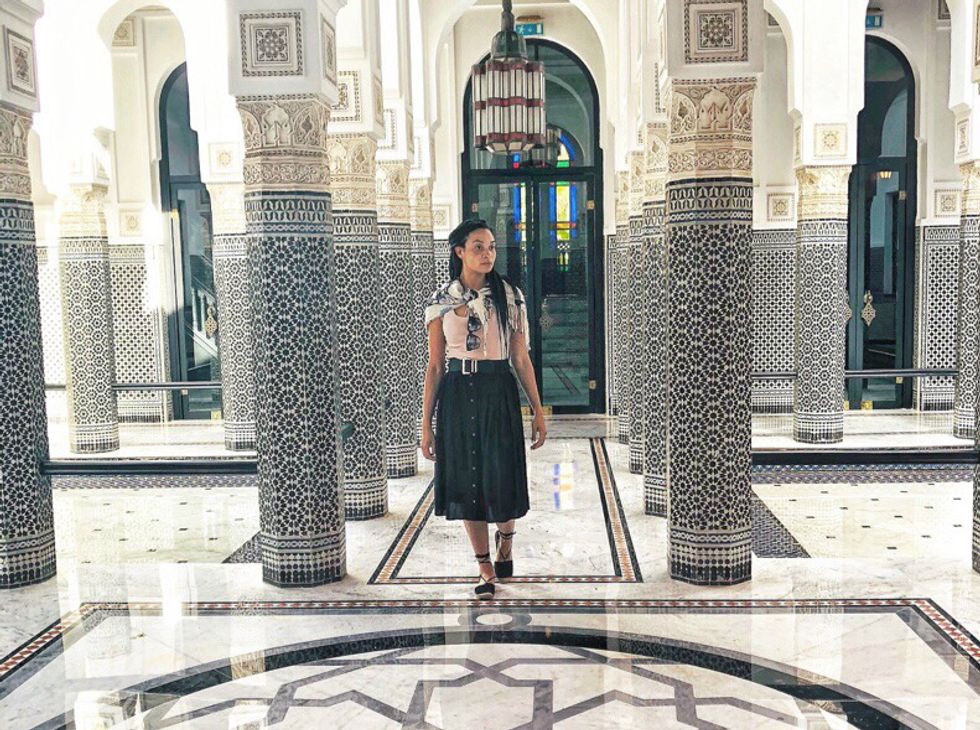 Courtesy of Amer-Marie Woods
This was not an experience that I was able to have on my trip, but it is a noteworthy experience nonetheless. One of my itinerary tips is to include a spa day or some time to treat yourself. It can be just the cure for jet lag or fatigue from an active vacation before going home.
So, what is a hammam exactly? It's a Turkish bath in which you go through a series of steam rooms and receive a rubdown or massage and a cold shower. The first element in the hammam is heat and increases as you travel through the rooms. The heat helps increase and activate blood circulation, and the colder rooms facilitate respiration by helping to release the sinus and nasal cavities. The baths can also help soothe muscle pain, and as you go through the hammam, it is recommended that you take showers regularly to stimulate your immune system. There are so many added health benefits that it is a worthwhile experience. Before you go, be sure to research the rules and understand what will happen during your time there.
5. Get Authentic 'Liquid Gold': Argan Oil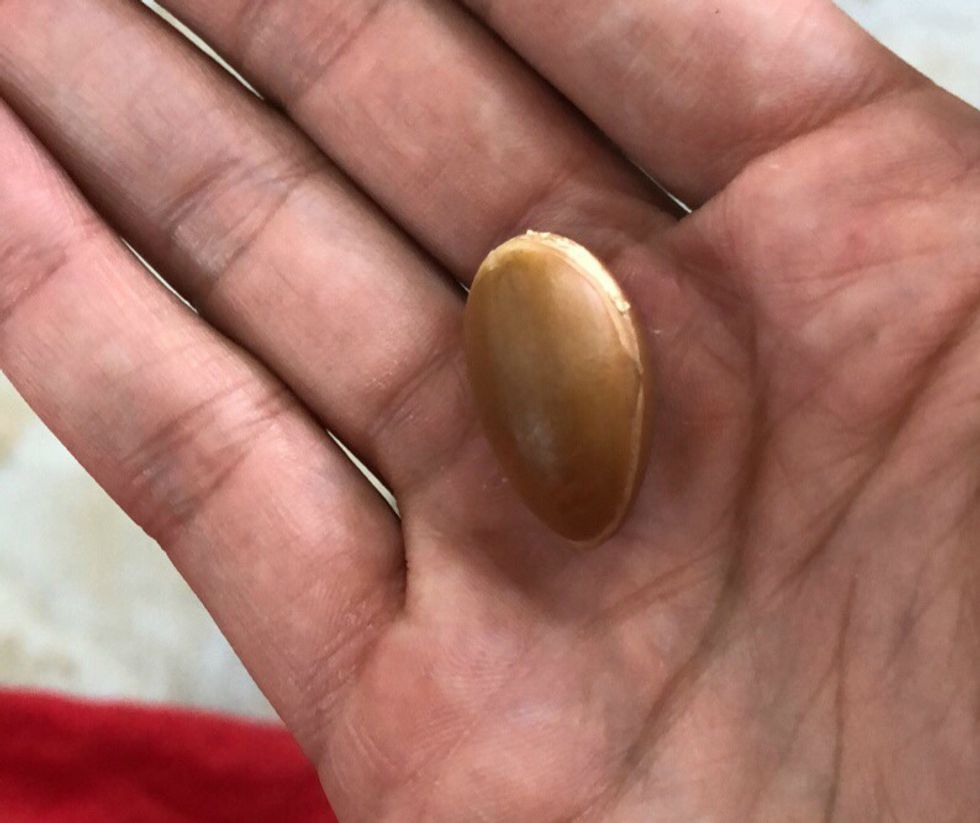 Courtesy of Amer-Marie Woods
At this point, argan oil is literally in every beauty product these days. Even more common is the claim that most beauty products have the real thing. Luckily in Morocco, real argan oil is everywhere in its most pure form. This is one souvenir I absolutely recommend purchasing. Argan oil is made from nuts that are harvested from argan trees. The oil is extracted from the seeds and yield different amounts depending on the extraction method.
There are two traditional ways to harvest the nuts: by collecting those that drop from trees or those that have been deposited by tree-climbing goats. The latter is done by digging through goat poop to find the seeds for extraction. As awful as this sounds, the goats are an important part of the process because the nut shells are very hard to crack. Goats can chew away that shell, making it easier to get to the seed. Despite the gross poop-digging, Moroccan argan oil is worth the purchase simply for all its beauty benefits.
Take On A Few Bonuses!
There are a few honorable mentions that should also be considered for your trip. Take a tour of the many film studios in Morocco. There are several that have produced recent films and TV series including Men in Black III and Game of Thrones.
If I could do the Morocco trip again, I would split my time between a standard hotel and a riad, a traditional Moroccan house that has an interior garden and courtyard. They're really beautiful and the staff is typically incredibly helpful.
One hotel I suggest visiting is the La Mamounia in Marrakech which features a courtyard pool and green-and-white tile decor. It is a little pricey per night but worth a visit to walk around and pause for a fresh cocktail at one of the bars on the property.
This wraps up Morocco but as always there is a lot to see and do, take your time, plan in advance, and have the time of your life!
Did you know that xoNecole has a new podcast? Join founder Necole Kane, and co-hosts Sheriden Chanel and Amer Woods, for conversations over cocktails each and every week by subscribing to xoNecole Happy Hour podcast on Apple Podcasts and Spotify.

Want more stories like this? Sign up for our newsletter here!
Featured Image Courtesy of Amer-Marie Woods.