---
Fall is about more than pumpkin spice and the leaves changing colors. It's a whole revamp of energies, whisking away the carelessness of summer and ushering in the romanticism of winter. The fall transition period is always a favorite, for reasons like pumpkin spice lattes, Halloween, or the crisp, refreshing autumn mornings. More importantly, it's a season full of warmer tones, thicker fabrics, and statement accents .
This year is all about non-traditional and exaggerated suiting . Whereas traditionally it's more form-fitting with a more conservative necklines, 2020 suiting is all about revealing slivers of skin with higher waists and a trendier silhouette. A big trend on the runways for shows like Dior, Versace, and Pyer Moss, there's a variety of suiting pieces to play with than in previous years. Our favorite style icons like Rihanna , Tracee Ellis Ross , and Zendaya effortlessly slay this trend on the streets and virtual red carpets.
Contrary to popular belief, you don't need a lot of money to look like a proper businesswoman . You can make any ensemble look luxurious and expensive, thanks to a bit of tailoring here and there. The perfect suit is less about price and more about the proper way to tailor and fit pieces together.
From monochromatic tones to longer lined blazers to loose-fit trousers, suiting is a fall staple that will immediately elevate your girlboss wardrobe.
The 'Sweet But Business' Suit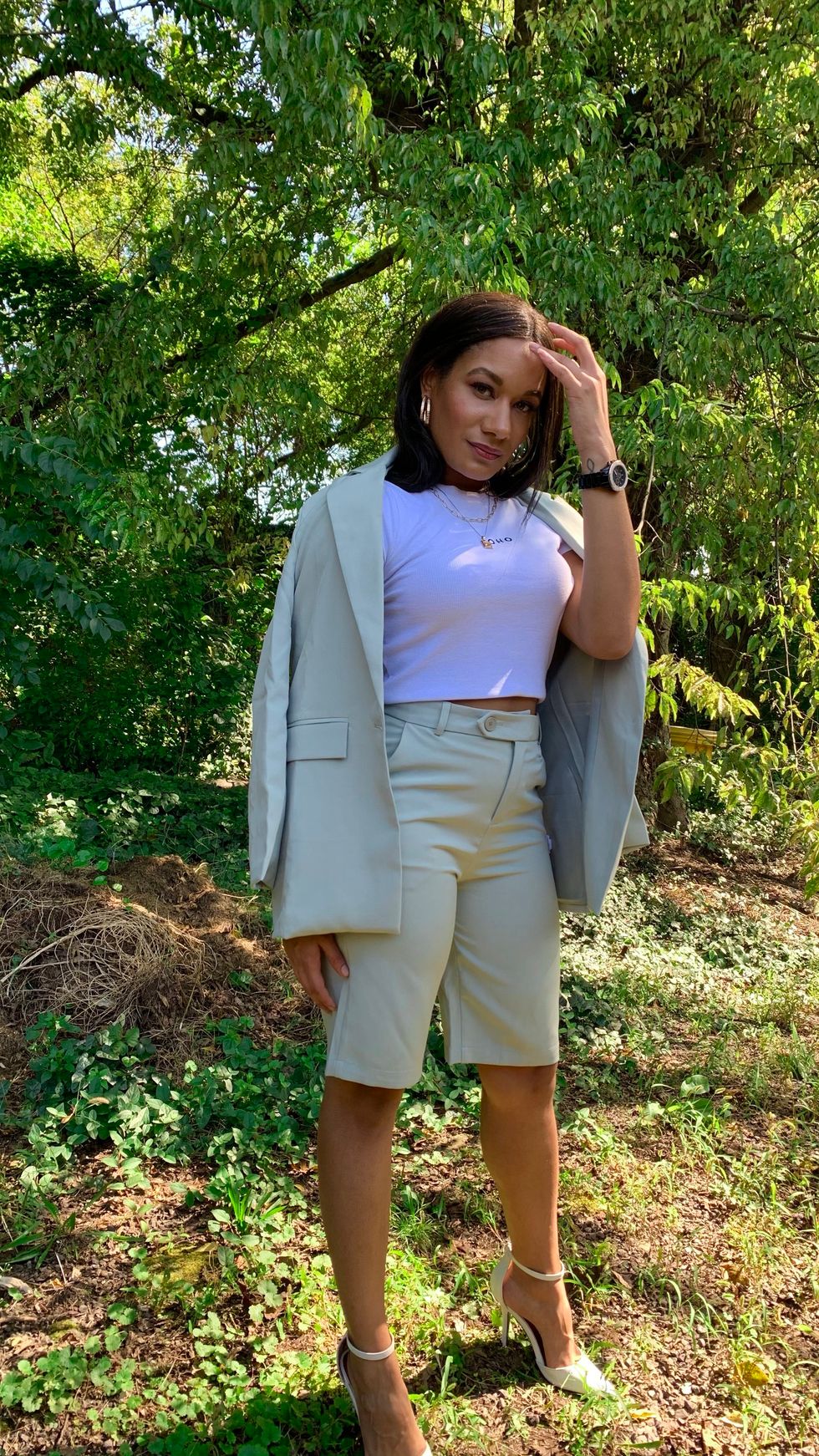 Courtney Simpson for xoNecole.com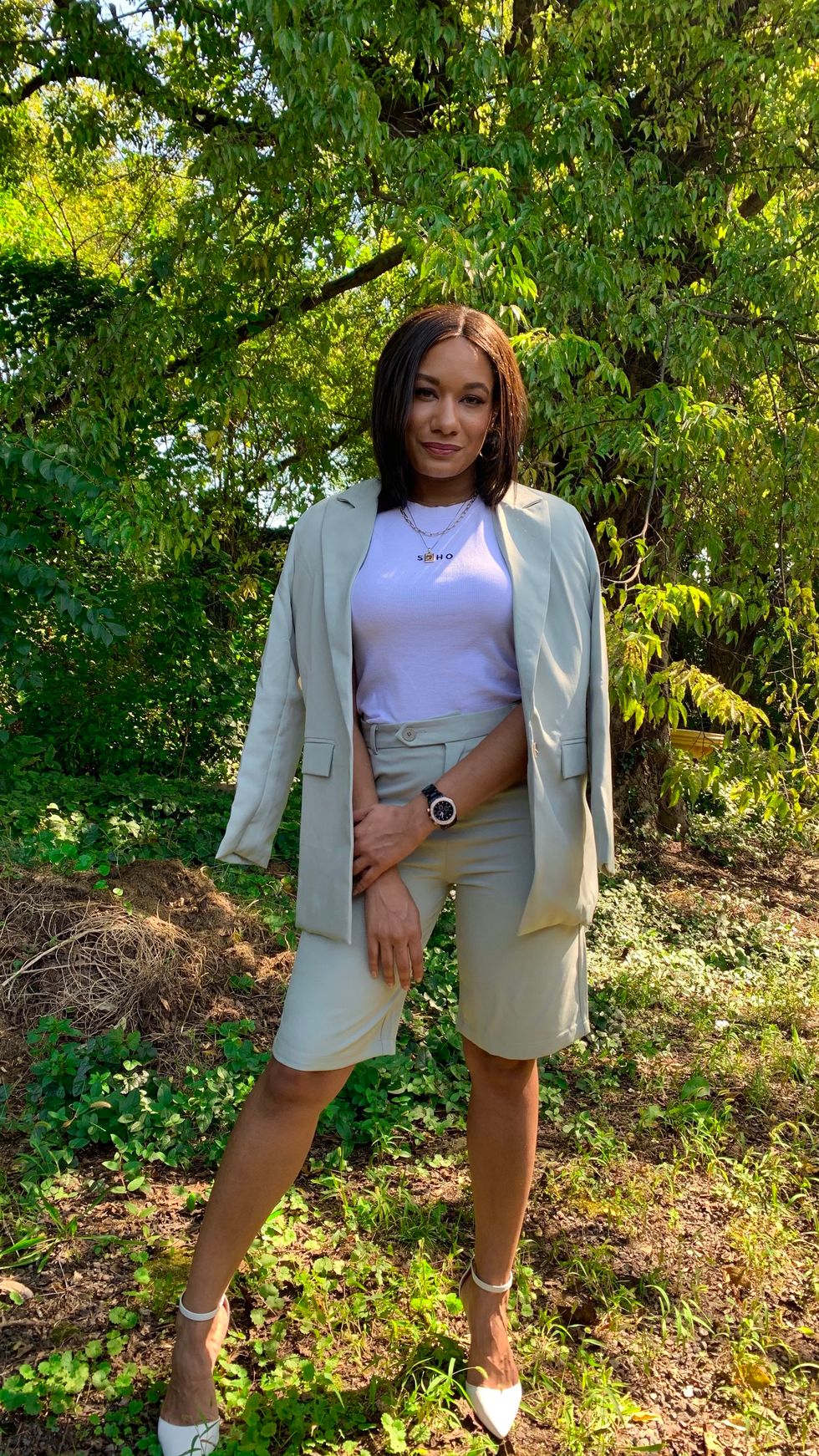 Courtney Simpson for xoNecole.com
We all know monochromatic is the way to go if you want to stunt. Sage is the color of the year (especially for mental health purposes) and compliments every skin tone. While green symbolizes warmth, this particular hue is exceptionally calming and brings tranquility. As opposed to a longer set, the shorts set is more youthful and a better option in warmer climates. You can easily dress this down for a more casual vibe by pairing it with a t-shirt instead of the traditional blouse, and sneakers instead of ankle-strap heels.
The 'Let's Brunch' Suit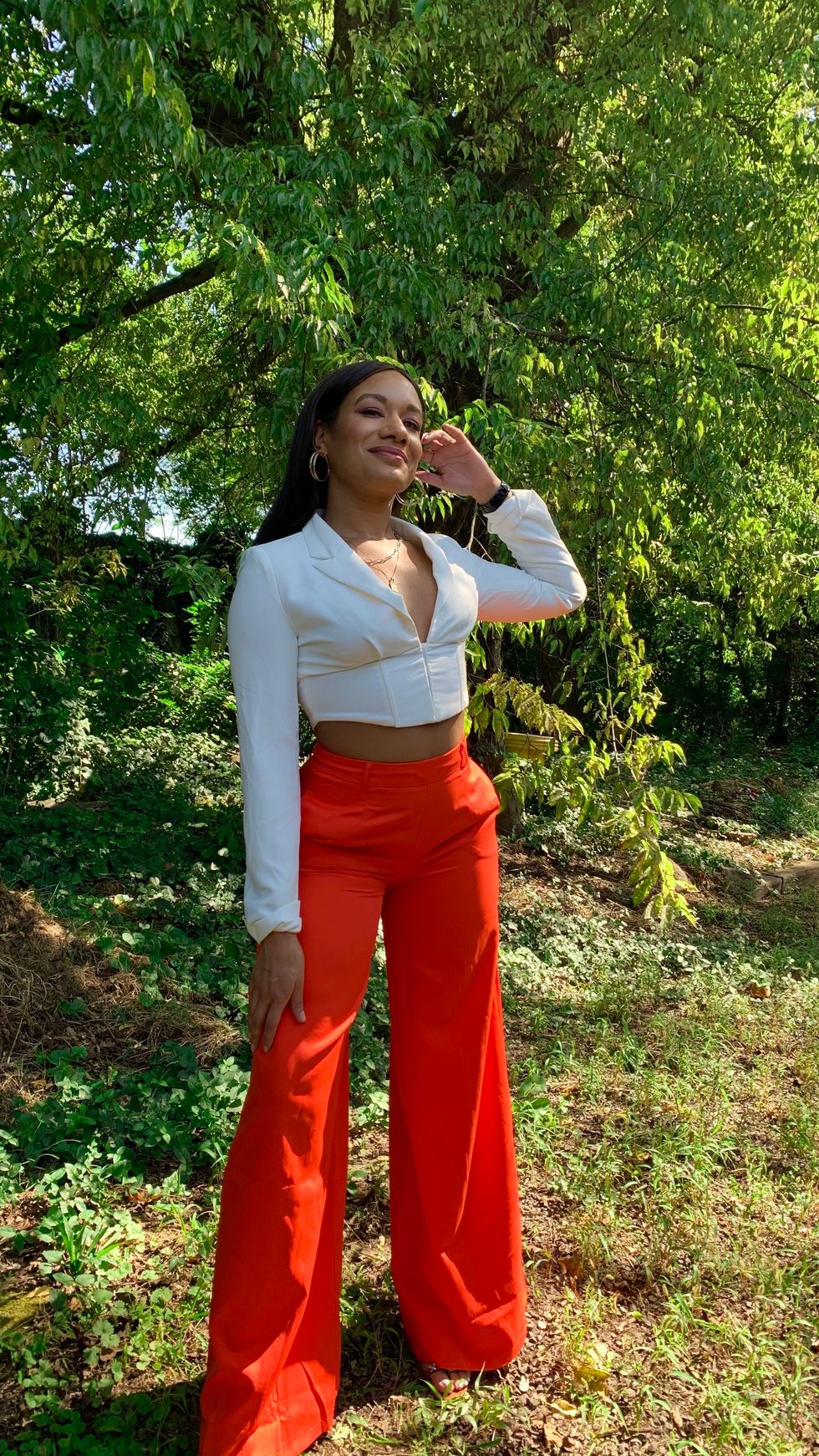 Courtney Simpson for xoNecole.com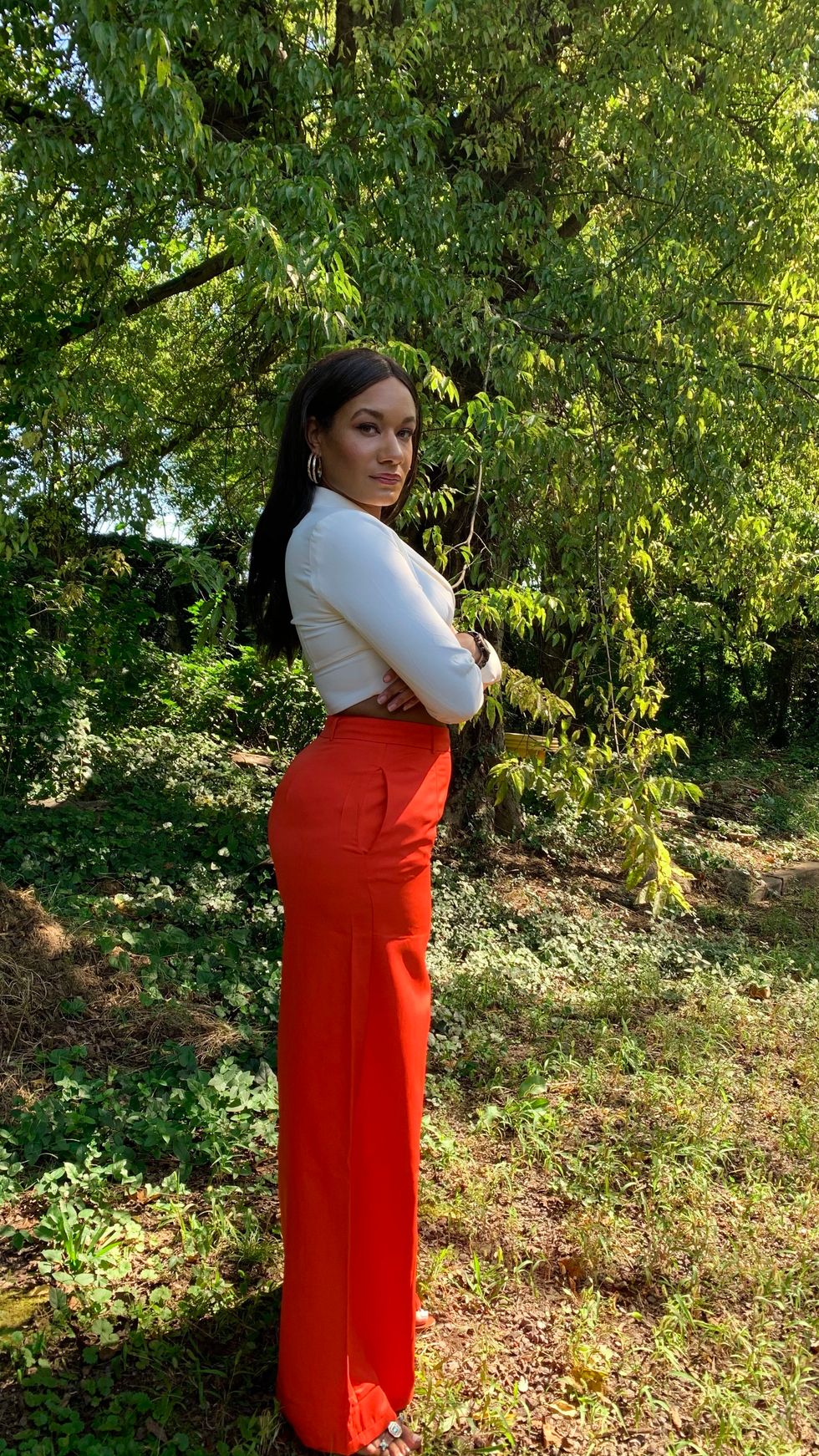 Courtney Simpson for xoNecole.com
While everybody loves a good monochromatic moment, the most dynamic and stylish looks are mixed and matched . A cropped blazer is one of my favorite items in my wardrobe right now. The neckline is seductive yet not too revealing, while the structured shoulder adds a hint of professionalism . The high-waisted pants elongate the legs, while the exaggerated bell-bottom is very on-trend for fall/winter. Step out of your comfort zone and play with statement colors that elevate your look.
The 'Off Duty' Suit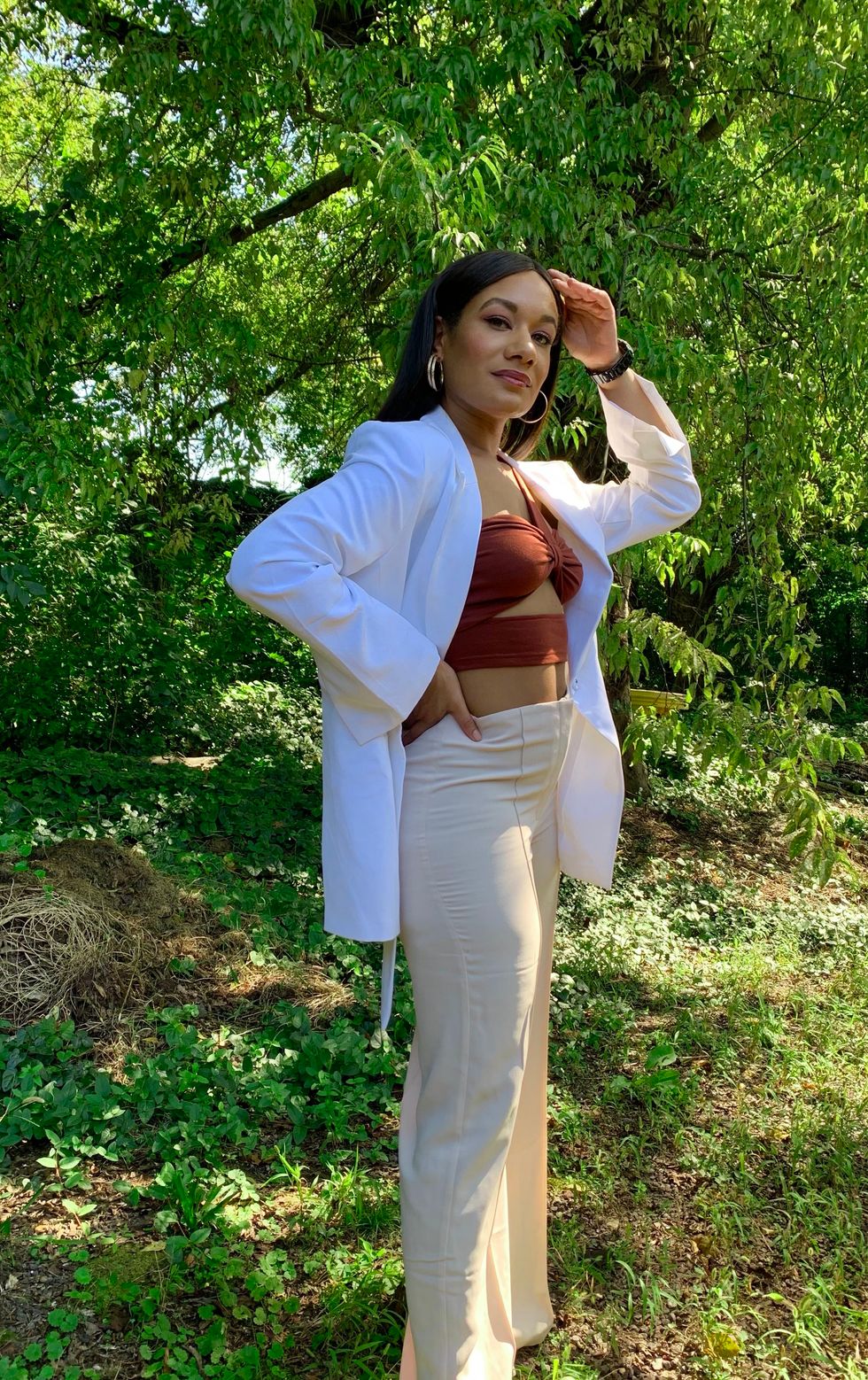 Courtney Simpson for xoNecole.com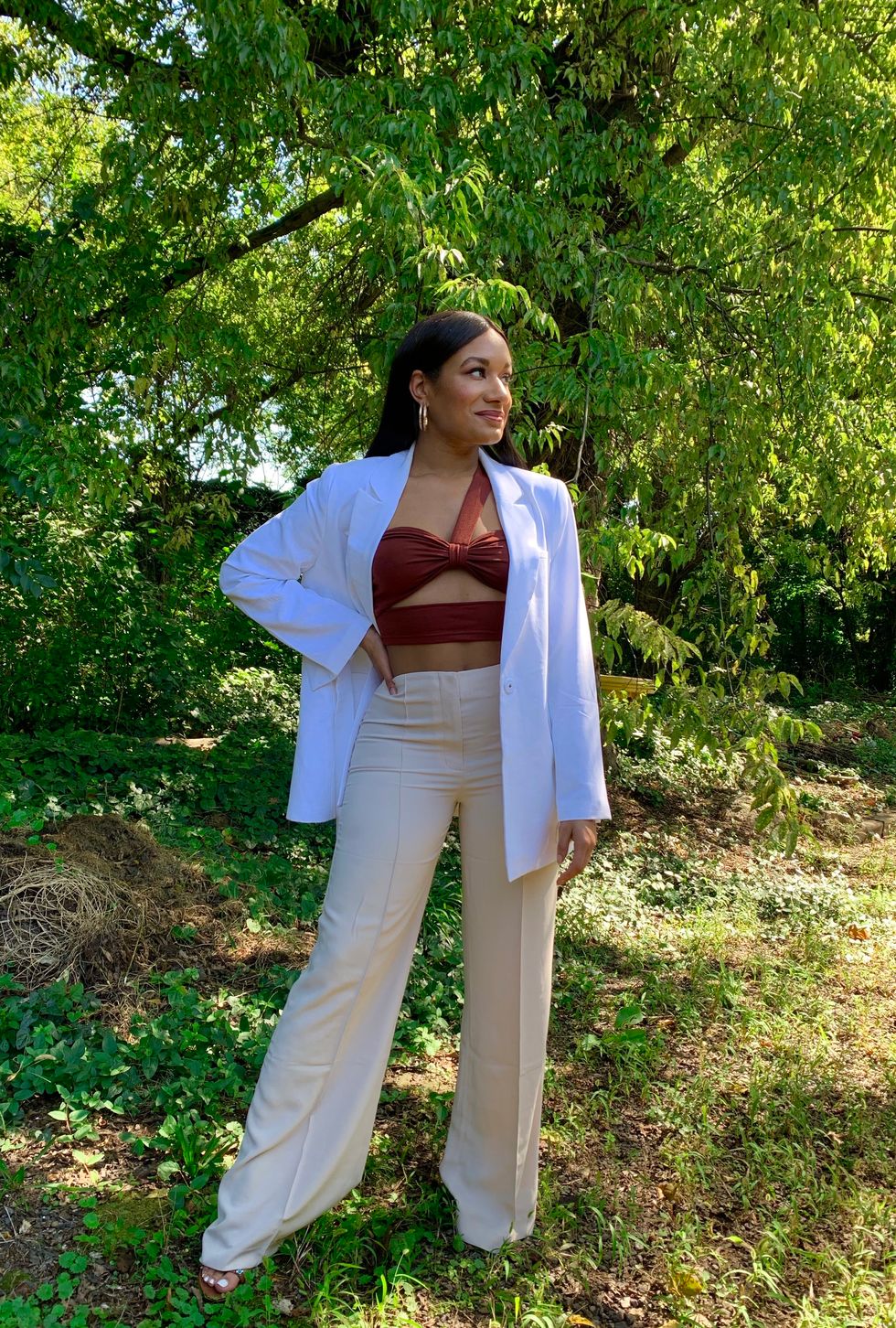 Courtney Simpson for xoNecole.com
The transitional season is great for mixing your summer staples with new-in winter pieces, and this outfit is a prime example of that. The relaxed suit is a prominent piece in the A/W season and heavily influenced by the recent rise in athleisure . You can style up the pants by opting for a longer hem, which works perfectly with heels or fresh white sneakers. The asymmetrical crop is a summer favorite and necessary for defining your shape under the loose-fit blazer. This look is off-duty chic and gives off a relaxed, tailored vibe. Don't be afraid to play with neutrals , either! They aren't just for summer; winter white is a whole look itself!
What look suits you best?
Are you a member of our insiders squad? Join us in the xoTribe Members Community today!

Featured image by Courtney Simpson for xoNecole.com
Courtney Simpson
Courtney is a contributing writer, based in Puerto Rico by way of Tennessee. Interested in the intersection of fashion and culture, she has an affinity for fashion, empowerment, and really good tacos. Keep up with her on Instagram (@hautecourtxo).
Amber Riley has the type of laugh that sticks with you long after the raspy, rhythmic sounds have ceased. It punctuates her sentences sometimes, whether she's giving a chuckle to denote the serious nature of something she just said or throwing her head back in rip-roarious laughter after a joke. She laughs as if she understands the fragility of each minute. She chooses laughter often with the understanding that future joy is not guaranteed.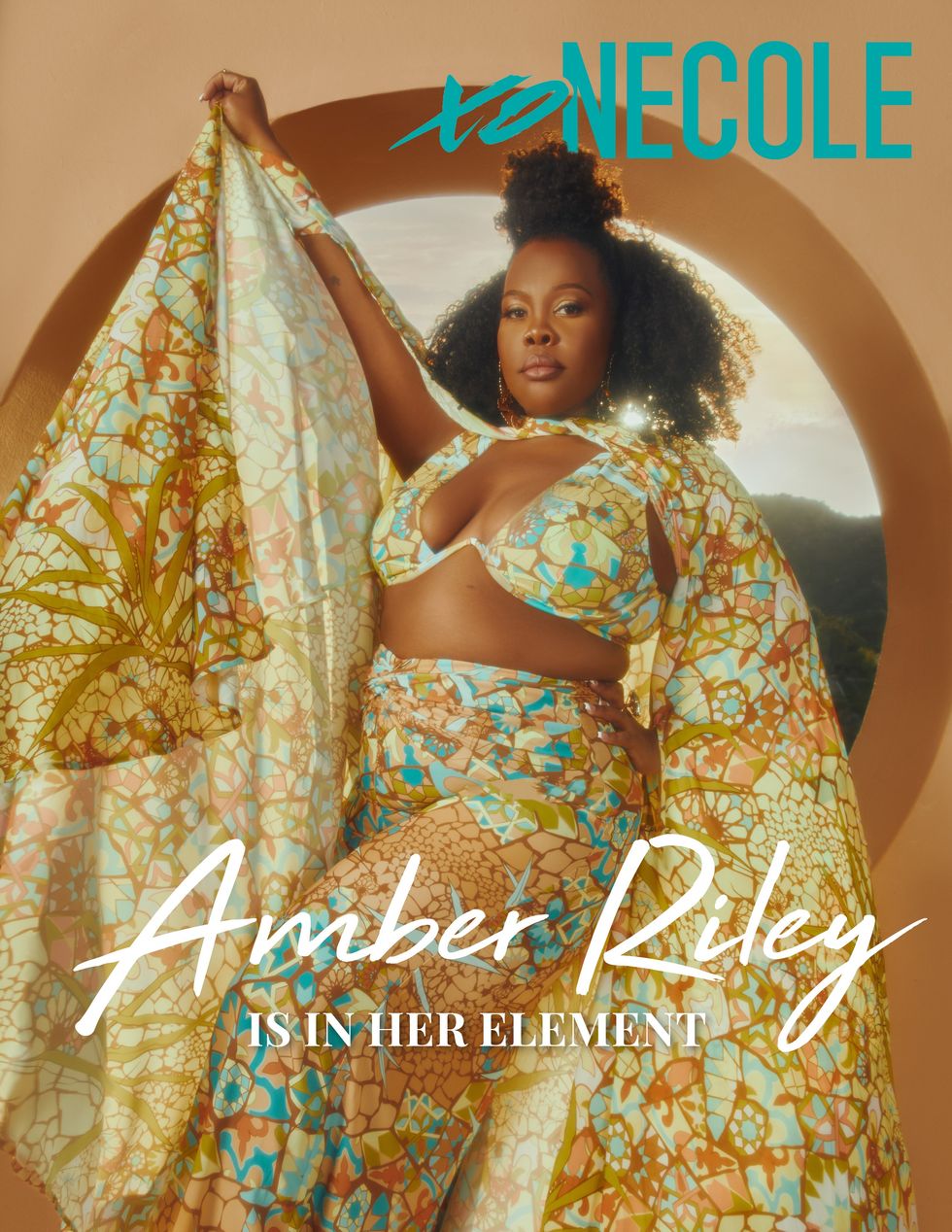 Credit: Ally Green
The sound of her laughter is rivaled only by her singing voice, an emblem of the past and the future resilience of Black women stretched over a few octaves. On Fox's Glee , her character Mercedes Jones was portrayed, perhaps unfairly, as the vocal duel to Rachel Berry (Lea Michele), offering rough, full-throated belts behind her co-star's smooth, pristine vocals. Riley's always been more than the singer who could deliver a finishing note, though.
Portraying Effie White, she displayed the dynamic emotions of a song such as "And I'm Telling You I'm Not Going" in Dreamgirls on London's West End without buckling under the historic weight of her predecessors. With her instrument, John Mayer's "Gravity" became a religious experience , a belted hymnal full of growls and churchy riffs. In her voice, Nicole Scherzinger once said she heard "the power of God."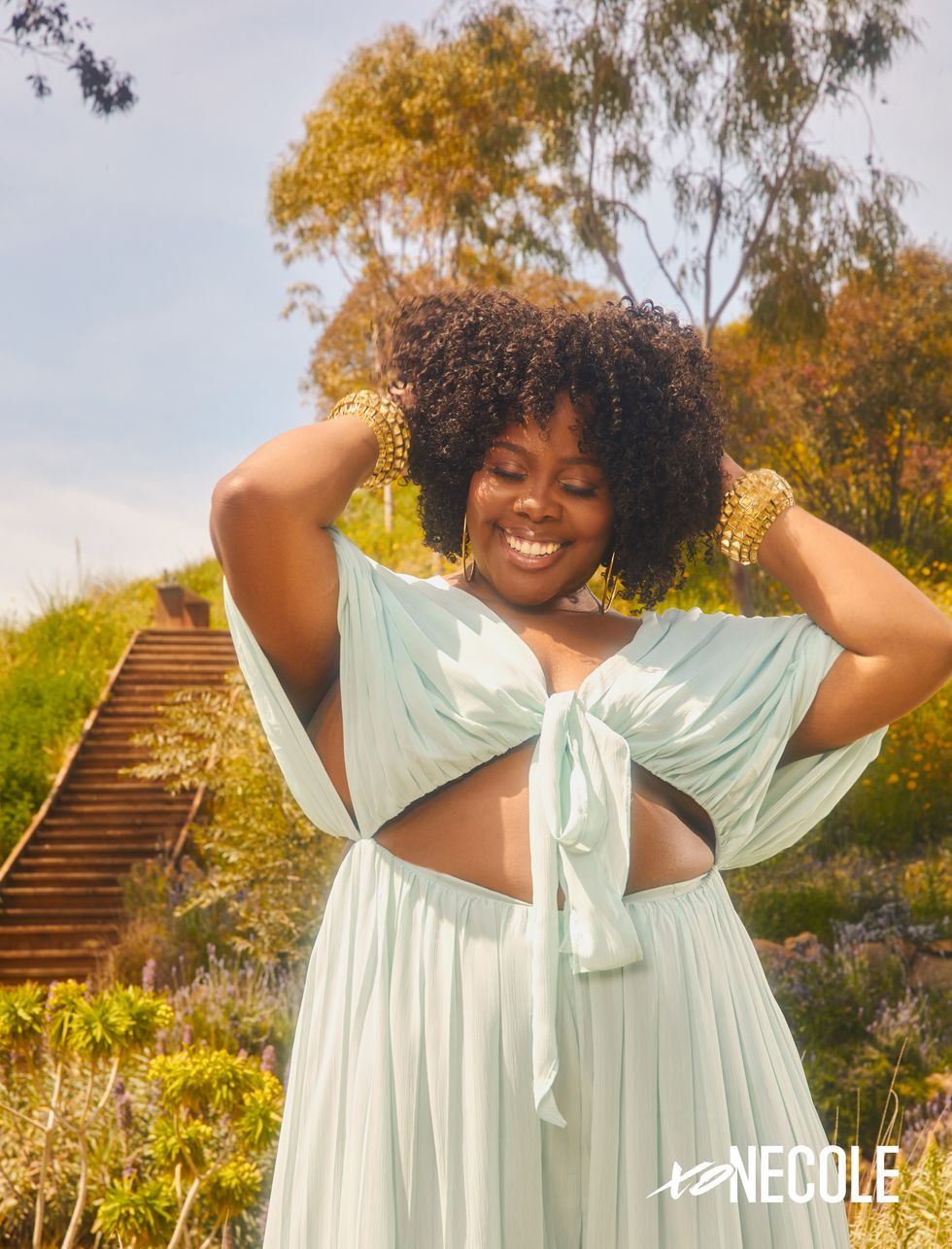 Credit: Ally Green
Riley's voice has been a staple throughout pop culture for nearly 15 years now. Her tone has become so distinguishable that most viewers of Fox's The Masked Singer recognized the multihyphenate even before it was revealed that she was Harp, the competition-winning, gold-masked figure with an actual harp strapped to her back.
Still, it wasn't until recently that Riley began to feel like she'd found her voice. This sounds unbelievable. But she's not referring to the one she uses on stage. She's referencing the voice that speaks to who she is at her core. "Therapy kind of gave me the training to speak my mind," the 37-year-old says. "It's not something we're taught, especially as Black women. I got so comfortable in [doing so], and I really want other people, especially Black women, to get more comfortable in that space."
"Therapy kind of gave me the training to speak my mind. It's not something we're taught, especially as Black women."
If you ask Riley's manager, Myisha Brooks, she'll tell you the foundation of who the multihyphenate is hasn't changed much since she was a kid growing up in Compton. "She is who she is from when I met her back when she was singing in the front of the church to back when she landed major roles in film and TV," Brooks says. Time has allowed Riley to grow more comfortable, giving fans a more intimate glimpse into her life, including her mental health journey and the ins and outs of show business.
The actress/singer has been in therapy since 2019, although she suffered from depression and anxiety way before that. In a recent interview with Jason Lee , she recalls having suicidal ideation as a kid. By the time she started seeing a psychologist and taking antidepressants in her thirties, her body had become jittery, a physical reminder of the trauma stacked high inside her. "I was shaking in [my therapist's] office," she tells xoNecole. "My fight or flight was on such a high level. I was constantly in survival mode. My heart was beating fast all the time. All I did was sweat."
There wasn't just childhood trauma to account for. After auditioning for American Idol and being turned away by producers, Riley began working for Ikea and nearly missed her Glee audition because her car broke down on the highway while en route. Thankfully, Riley had been cast to play Mercedes Jones. American Idol had temporarily convinced her she wasn't cut out for the entertainment industry, but this was validation that she was right where she belonged. Glee launched in 2009 with the promise of becoming Riley's big break.

In some ways, it was. The show introduced Riley to millions of fans and catapulted her into major Hollywood circles. But in other ways, it became a reminder of the types of roles Black women, especially those who are plus-sized, are relegated to. Behind the scenes, Riley says she fought for her character "to have a voice" but eventually realized her efforts were useless. "It finally got to a point where I was like, this is not my moment. I'm not who they're choosing, and this is just going to have to be a job for me for now," she says. "And, that's okay because it pays my bills, I still get to be on television, I'm doing more than any other Black plus-sized women that I'm seeing right now on screen."
The actress can recognize now that she was navigating issues associated with trauma and low self-esteem at the time. She now knows that she's long had anxiety and depression and can recognize the ways in which she was triggered by how the cult-like following of the show conflicted with her individual, isolated experiences behind the scenes. But she was in her early '20s back then. She didn't yet have the language or the tools to process how she was feeling.
Riley says she eventually sought out medical intervention. "When you're in Hollywood, and you go to a doctor, they give you pills," she says, sharing a part of her story that she'd never revealed publicly before now. "[I was] on medication and developing a habit of medicating to numb, not understanding I was developing an addiction to something that's not fixing my problem. If anything, it's making it worse."
"[I was] on medication and developing a habit of medicating to numb, not understanding I was developing an addiction to something that's not fixing my problem. If anything it's making it worse."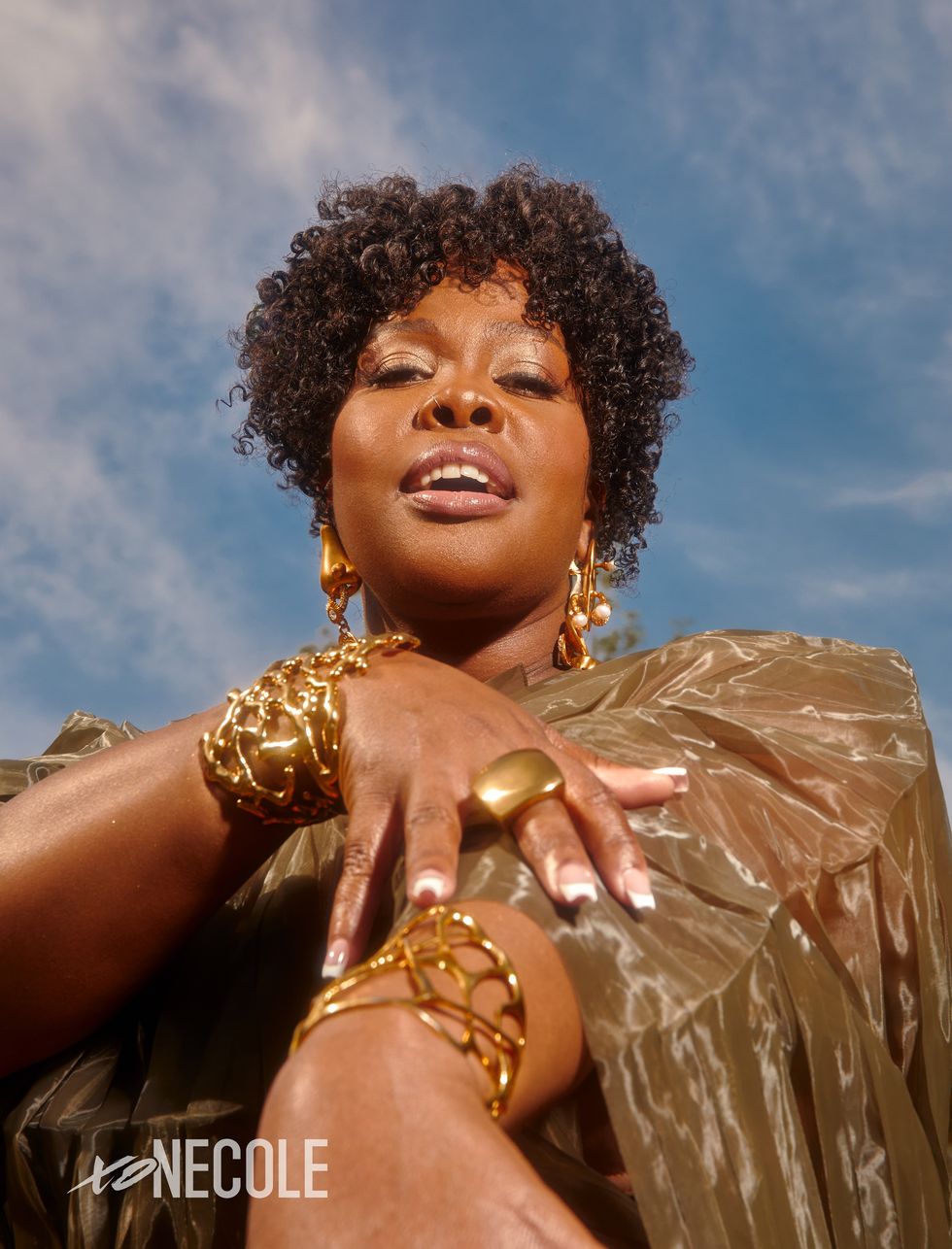 Credit: Ally Green
At one point, while in her dressing room on set, she rested her arm on a curling iron without realizing it. It wasn't until her makeup artist alerted her that she even realized her skin was burning. Once she noticed, she says she was "so zonked out on pills" that she barely reacted. Speaking today, she holds up her arm and motions towards a scar that remains from the incident. She sought help for her reliance on the pills, but it would still be years before she finally attended therapy.
This stress was only compounded by the trauma of growing up in poverty and the realities of being a "contract worker." "Imagine going from literally one week having to borrow a car to get to set to the next week being on a private jet to New York City," she says. After Glee ended, so did the rides on private planes. The fury of opportunities she expected to follow her appearance on the show failed to materialize. She wasn't even 30 yet, and she was already forced to consider if she'd hit her career peak.
. . .
We're only four minutes into our Zoom call before Riley delivers her new adage to me. "My new mantra is 'humility does not serve me.' Humility does not serve Black women. The world works so hard to humble us anyway," she says.

On this Thursday afternoon in April, the LA-based entertainer is seated inside her closet/dressing room wearing a cerulean blue tank top with matching shorts and eating hot wings. This current phase of healing hinges on balance. It's about having discipline and consistency, but not at the risk of inflexibility. She was planning to head to the gym, for instance, but she's still tired from the "exhausting" day before. Instead, she's spent her day receiving a massage, eating some chicken wings, and planning to spend quality time with friends. "I'm not going to beat myself up for it. I'm not going to talk down to myself. I'm going to eat my chicken wings, and then tomorrow I'm [back] in the gym," she says.
"My new mantra is 'humility does not serve me.' Humility does not serve Black women. The world works so hard to humble us anyway."
This is the balance with which she's been approaching much of her life these days. It's why she's worried less about whether or not people see her as someone who is humble. She'd rather be respected. "I think you should be a person that's easy to work with, but in the moments where I have to ruffle feathers and make waves, I'm not shying away from that anymore. You can do it in love, you don't have to be nasty about it, but I had to finally be comfortable with the fact that setting boundaries around my life – in whatever aspect, whether that's personal or business – people are not going to like it. Some people are not going to have nice things to say about you, and you gotta be okay with it," she says.
When Amber talks about the constant humbling of Black women in Hollywood, I think of the entertainers before her who have suffered from this. The brilliant, consistent, overqualified Black women who have spoken of having to fight for opportunities and fair pay. Aretha Franklin. Viola Davis. Tracee Ellis Ross. There's a long list of stars whose success hasn't mirrored their experiences behind the scenes.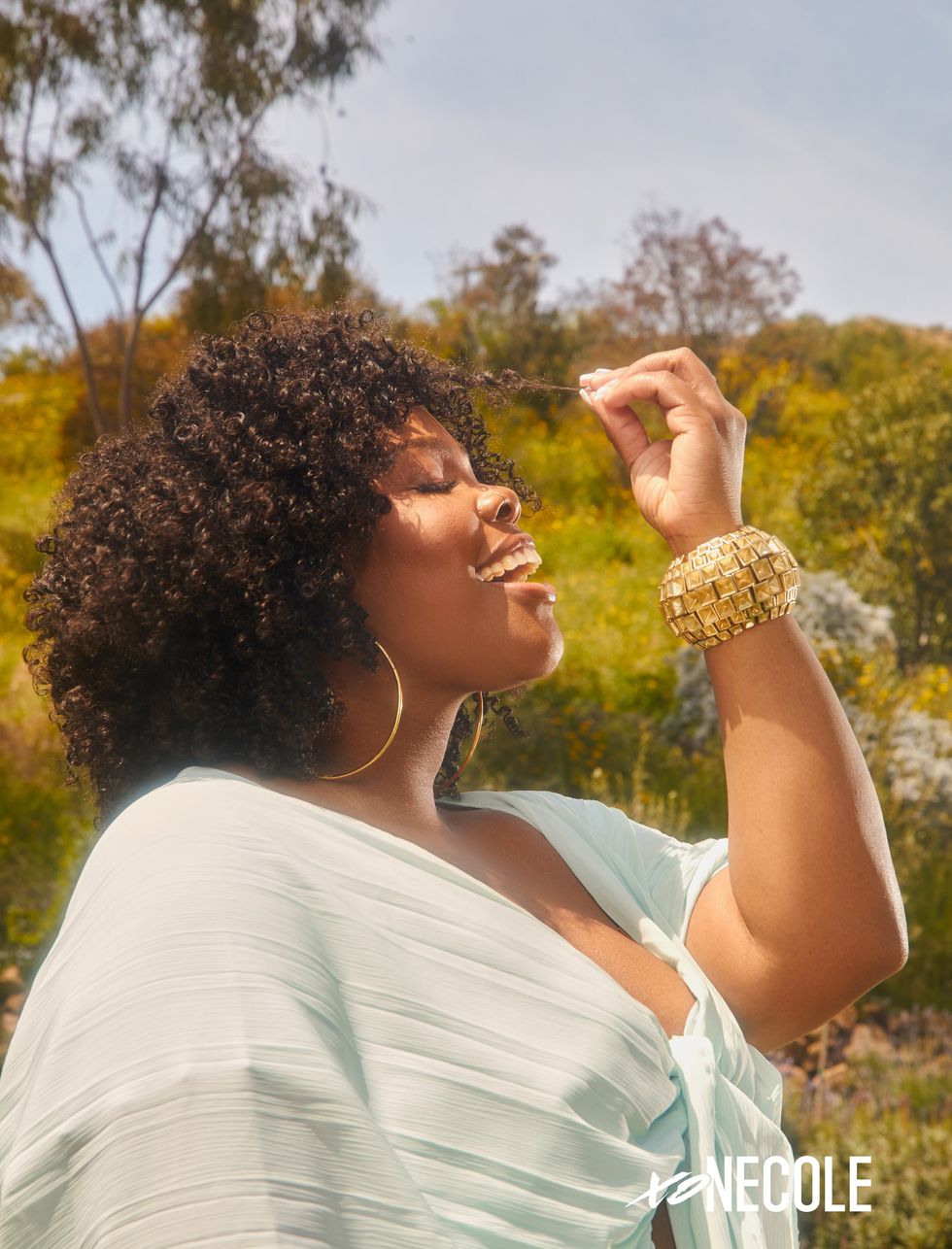 Credit: Ally Green
If Black women outside of Hollywood are struggling to decrease the pay gap, so, too, are their wealthier, more famous peers.
Riley says there's been progress in recent years, but only in small ways and for a limited group of people. "This business is exhausting. The goalpost is constantly moving, and sometimes it's unfair," she says. But, I have to say it's the love that keeps you going."
"There's no way you can continue to be in this business and not love it, especially being a plus-sized Black woman," she continues. "We're still niche. We're still not main characters."
"There's no way you can continue to be in this business and not love it, especially being a plus-sized Black woman. We're still niche. We're still not main characters."
Last year, Riley starred alongside Raven Goodwin in the Lifetime thriller Single Black Female (a modern, diversified take on 1992's Single White Female ). It was more than a leading role for the actress, it also served as proof that someone who looks like her can front a successful project without it hinging on her identity. It showcased that the characters she portrays don't "have to be about being a big girl. It can just be a regular story."
Riley sees her work in music as an extension of her efforts to push past the rigid stereotypes in entertainment. Take her appearance on The Masked Singer , for instance. Riley said she decided to perform Mayer's "Gravity" after being told she couldn't sing it years earlier. "I wanted to do 'Gravity' on Glee . [I] was told no, because that's not a song that Mercedes would do," she says. "That was a full circle moment for me, doing that on that show and to hear what it is they had to say."
As Scherzinger praised the "anointed" performance, a masked Riley began to cry, her chest heaving as she stood on stage, her eyes shielded from view. "You have to understand, I have really big names – casting directors, producers, show creators – that constantly tell me 'I'm such a big fan. Your talent is unmatched.' Hire me, then," she says, reflecting on the moment.
Recently, she's been in the studio working on original music, the follow-up to her independently-released debut EP, 2020's Riley . The sequel to songs such as the anthemic "Big Girl Energy" and the reflective ballad "A Moment" on Riley, this new project hones in on the singer's R&B roots with sensual grooves such as the tentatively titled "All Night." "You said I wasn't shit, turns out that I'm the shit. Then you called me a bitch, turns out that I'm that bitch. You said no one would want me, well you should call your homies," she sings on the tentatively titled "Lately," a cut about reflecting on a past relationship. From the forthcoming project, xoNecole received five potential tracks. Fans likely already know the strengths and contours of Riley's vocals, but these new songs are her strongest, most confident offerings as an artist.
"I am so much more comfortable as a writer, and I know who I am as an artist now. I'm evolving as a human being, in general, so I'm way more vulnerable in my music. I'm way more willing to talk about whatever is on my mind. I don't stop myself from saying what it is I want to say," she says.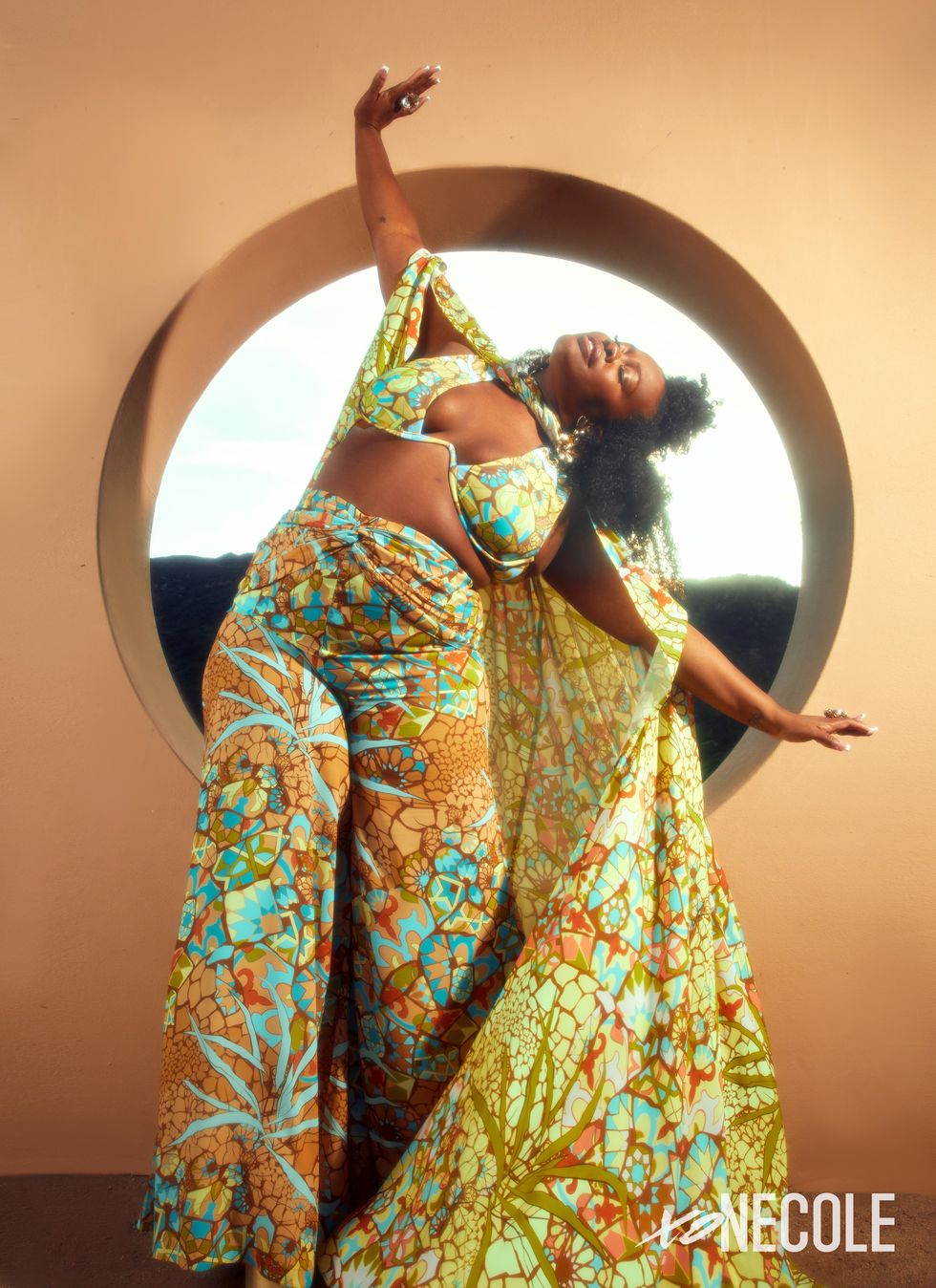 Credit: Ally Green
"Every era and alliteration of Amber, the baseline is 'Big Girl Energy.' That's the name of her company," her manager Brooks says, referencing the imprint through which Riley releases her music after getting out of a label deal several years ago. "It's just what she stands for. She's not just talking about size, it's in all things. Whether it's putting your big girl pants on and having to face a boardroom full of executives or sell yourself in front of a casting agent. It's her trying to achieve the things she wants to do in life."
Riley says she has big dreams beyond releasing this new music, too. She'd love to star in a rom-com with Winston Duke. She hasn't starred in a biopic yet, but she'd revel in the opportunity to portray Rosetta Tharpe on screen. She's determined that her previous setbacks won't stop her from dreaming big.
"I think one of my superpowers is resilience because, at the end of the day, I'm going to kick, scream, cry, cuss, be mad and disappointed, but I'm going to get up and risk having to deal with it all again. It's worth it for the happy moments," she says.
If Riley seems more comfortable and confident professionally, it's because of the work she's been doing in her personal life.
She'd previously spoken to xoNecole about becoming engaged to a man she discovered in a post on the site, but she called things off last year. For Valentine's Day, she revealed her new boyfriend publicly. "I decided to post him on Valentine's Day, partially because I was in the dog house. I got in trouble with him," she says, half-joking before turning serious. "The breakup was never going to stop me from finding love. Or at least trying. I don't owe anybody a happily ever after. People break up. It happens. When it was good, it was good. When it was bad, it was terrible, hunny. I had to get the fuck up out of there. You find happiness, and you enjoy it and work through it."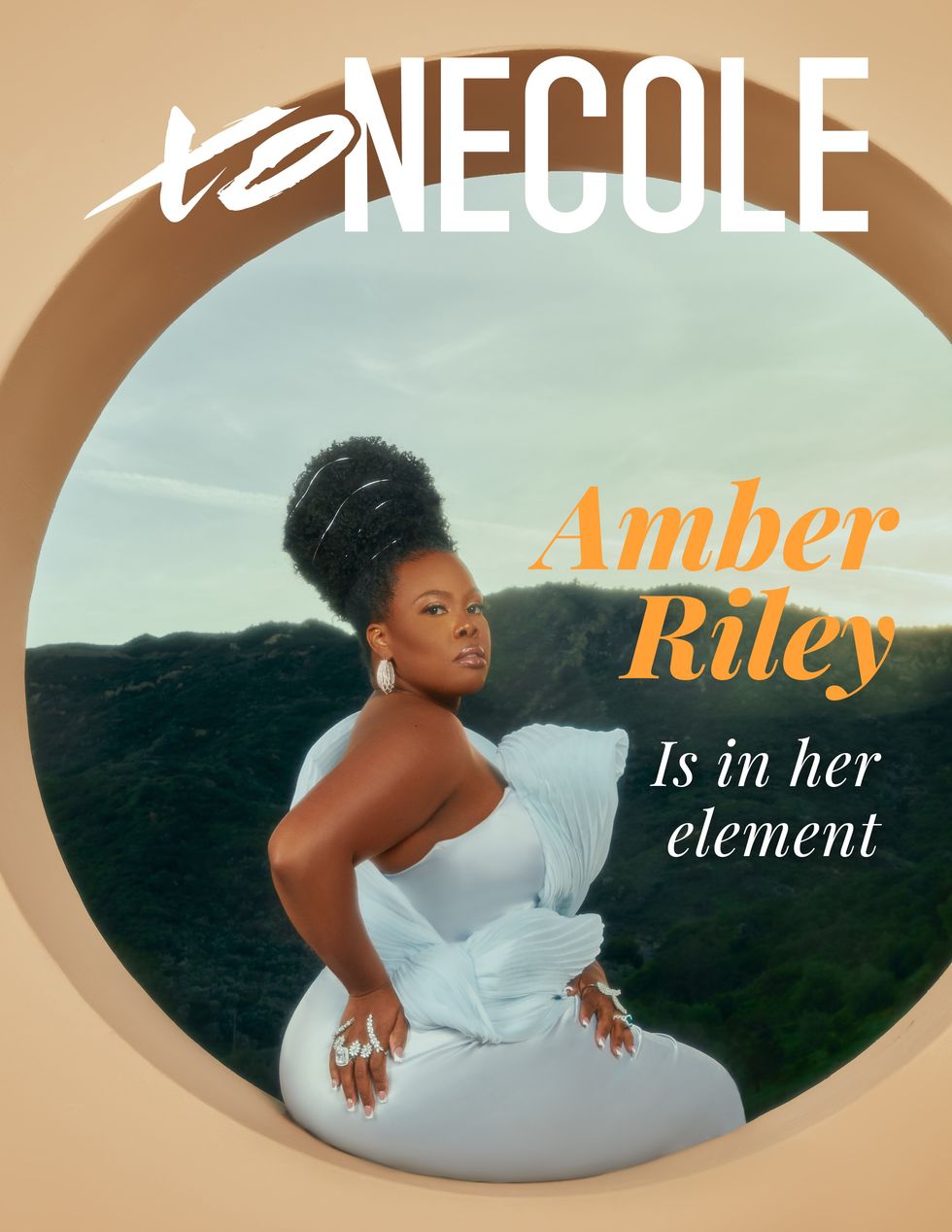 Credit: Ally Green
"I don't owe anybody a happily ever after. People break up. It happens. When it was good, it was good. When it was bad, it was terrible, hunny. I had to get the fuck up out of there. You find happiness and you enjoy it and work through it."
With her ex, Riley was pretty outspoken about her relationship, even appearing in content for Netflix with him. This time around is different. She's not hiding her boyfriend of eight months, but she's more protective of him, especially because he's a father and isn't interested in becoming a public figure.
She's traveling more, too. It's a deliberate effort on her part to enjoy her money and reject the trauma she's developed after experiencing poverty in her childhood. "I live in constant fear of being broke. I don't think you ever don't remember that trauma or move past that. Now I travel and I'm like, listen, if it goes, it goes. I'm not saying [to] be reckless, but I deserve to enjoy my hard work."

After everything she's been through, she certainly deserves to finally let loose a bit. "I have to have a life to live," she says. "I've got to have a life worth fighting for."
Credits
Director of Content: Jasmine Grant
Campaign Manager: Chantal Gainous
Managing Editor: Sheriden Garrett
Creative Director/Executive Producer: Tracey Woods
Cover Designer: Tierra Taylor
Photographer: Ally Green
Photo Assistant: Avery Mulally
Digital Tech: Kim Tran
Video by Third and Sunset
DP & Editor: Sam Akinyele
2nd Camera: Skylar Smith
Camera Assistant: Charles Belcher
Stylist: Casey Billingsley
Hairstylist: DaVonte Blanton
Makeup Artist: Drini Marie
Production Assistants: Gade De Santana, Apu Gomes
Powered by: European Wax Center

Could a new romance be brewing for Megan Thee Stallion ?
The rapper' s dating life took center stage recently after she was captured on various occasions sharing intimate moments with Belgian soccer player Romelu Lukaku as the pair attended a wedding for his close friend and teammate Lautaro Martinez in Lake Como, Italy.
During the event, which occurred over Memorial Day weekend, Megan and Romelu were spotted getting close and holding hands. Although neither party commented on the recent images, it sent shockwaves on social media as it circulated online because many assumed that the "Her" emcee was still dating her longtime partner Pardison "Pardi" Fontaine .
\u201cFound another video of Lukaku and Megan Thee Stallion at Lautaro's wedding \ud83e\udee1\u201d

— Lili \ud83d\udd2e\u2728\ufe0f (@Lili \ud83d\udd2e\u2728\ufe0f) 1685398844
Megan and Pardison have been together for over two years. Rumors about a supposed split arose in early 2023 when the "Savage" lyricist allegedly unfollowed Pardison on Instagram . To date, Megan and Pardison have seemingly wiped all posts of one another on their respective Instagram pages and have yet to confirm their split.
In light of Megan's new alleged romance with Romelu, xoNecole digs deep into the 30-year-old's life and shares a few facts many may not know about the soccer star.
Romelu Is A Belgian Soccer Player, And Megan Was Allegedly Spotted At One of His Games Recently
Romelu, who is Belgian and Congolese, has played soccer professionally since 2009 and is currently a forward for the Belgium national team and Inter Milian.
Earlier this month, Megan appeared to have attended one of his games after uploading a photo dump on Instagram. On May 2, while informing her fans about what she has been up to, including sightseeing and shopping, Megan shared an image of a soccer field.
Romelu Comes From A Family Of Athletes
Romelu's passion for soccer began early on due to his family's background. The star's father, Roger Lukaku, is a former soccer player and participated in numerous Belgium clubs as a forward before retiring in 2007. In addition to his father, Romelu's younger brother Jordan Lukaku and cousin Boli Bolingoli-Mbombo are also professional soccer players.
The last team Jordan
played for was SD Ponferradina
. At the same time, Boli is
a defender for KV Mechelen
.
Romelu Was One Of The First Big Premier League Players To Sign To Roc Nation Sports
\u201cJUST IN: Jay Z\u2019s Roc Nation Sports has signed their first big Premier League player: Manchester United\u2019s @RomeluLukaku9. Joins @JB17Official as soccer clients.\u201d

— Darren Rovell (@Darren Rovell) 1524139645
Although there are limited details of how Romelu and Megan may have met, many could assume it's due to their Roc Nation connection .
In 2018, the father of two made headlines after signing with Roc Nation Sports. The commotion mainly occurred because Romelu was one of the first big premier league players to sign with the company. A year later, Megan joined the Roc Nation team .
Romelu starred on Reality Television As a Teen
Prior to his success on the soccer field, a teenage Romelu and his classmates starred in a reality television series De School Van Lukaku , for the Dutch Network Eén.
The show followed the students' lives as they dealt with various struggles, including love and friendship, while attending Saint-Guidon Institute in Brussels. During that time, Romelu was playing for the Anderlecht youth team.
Romelu Stands Up For Racism
Over the years, Romelu has showcased he isn't afraid to fight for what is right. In 2021, during an interview with CNN , the star disclosed why he felt taking a knee before the start of the game in protest of police brutality and racism wasn't enough.
Romelu told the news outlet that even with the particular gesture, it wouldn't stop others from treating people like himself or his family poorly. Romelu went on to add that he would continue to fight this battle head-on because it needs to be done to create a change for the future generation.
"I think we can take stronger positions, basically. Yeah, we are taking the knee, but in the end, everybody's clapping but… sometimes after the game, you see another insult. I have to fight, because I'm not fighting only for myself. I'm fighting for my son, for my future kids, for my brother, for all of the other players and their kids, you know, for everybody," he said.
Toward the end of the conversation, Romelu shared that the game of soccer, also known as fútbol in other countries, should be an "enjoyable" experience for all and not a place where people feel unsafe due to the "opinion from some uneducated people."
"At the end of the day, fútbol should be an enjoyable game… You cannot kill the game by discrimination. That should never happen," he stated. "Fútbol is joy, it's happiness, and it shouldn't be a place where you feel unsafe because of the opinion from some uneducated people."
Romelu's Past Relationship With The Mother of His Child
Before dating rumors between Romelu and Megan went rampant online, the soccer star was romantically linked to Belgium model and entrepreneur Sarah Mens.
News outlets are reporting that Romelu and Sarah met in 2016 while she was interning in Miami. Following their brief encounter, the pair would ultimately become a couple. Romelu and Sarah, who share a son Romeo Lukaku, reportedly dated for five years before calling it quits in 2021. Years following their breakup, Romelu would welcome another son Jordan Lukaku with an unidentified woman.
Despite the limited information about Megan and Romelu's alleged new romance, one thing is for sure it will indeed be a hot girl summer for the rapper.
Feature image by Jeff Kravitz/Getty Images for CMT