---
Since her scene-stealing performance in Girls Trip, Tiffany Haddish has been running comedy and it doesn't look like she plans on stopping any time soon. She's everywhere you turn, from starring alongside Tracy Morgan in FX's The Last O.G. to having two summer blockbusters under her belt with Night School and Uncle Drew. This is far from an overnight success story, but rather the story of a girl from South Central Los Angeles with the gift of comedy now at 38 fully living out her purpose. In her cover story with The Hollywood Reporter, Tiffany shares her journey of being homeless, her multiple auditions for Girls Trip, and even more crazy celebrity stories including Leonardo DiCaprio and Roseanne Barr.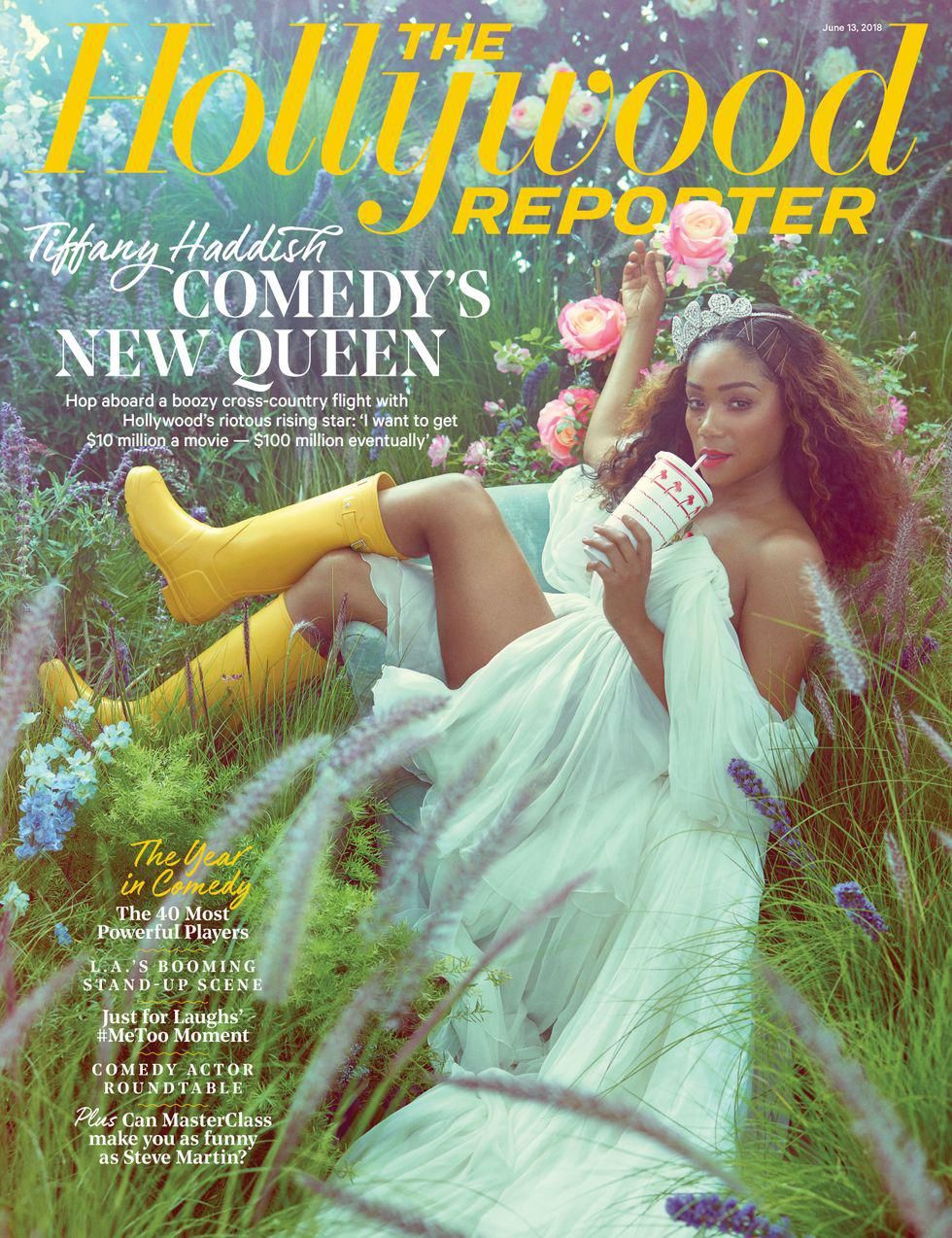 Miller Mobley/The Hollywood Reporter
Tiffany started comedy as a way to defuse her mother's anger, who had been in a car accident that resulted into a brain injury. The injury turned her mother into an abuser and cracking jokes was the only defense Tiffany had. It also served as a coping mechanism to keep her sanity in tact.

Her and her younger half-siblings found themselves going from one foster home to the other, and hustling became Tiffany's game. She worked various jobs such as being a pimp and a sex phone operator, but lack of finances had her homeless at times. Fellow comedian and now co-star Kevin Hart was one of her angels that helped her have a place to lay her head, keep her mind focused on building her career, and began the turnaround of her becoming a comedian that now everyone is fighting to work with. Tiffany became fully aware of that fact after Girls Trip opened at $31.2 million and wanted what she deserved for shows booked prior to the summer hit.

"I could've been paid $80K, probably $90K, a show, but because we booked those before 'Girls Trip' came out, I was getting paid like $20K, $15K, and it f-cking sucked. I said to my manager, 'I think we should just cancel them all, and then if they want to reinstate them, they gotta pay us this much money.' He's like, 'Tiffany, that's not a good way to do business.' He said that's like being a scoundrel, and I was like, 'No, I'm being a pirate. I want all the booty.'"
Anyone who has watched Girls Trip feels as if the character of Dina was created just for Tiffany, but the role wasn't secured after her first audition. Director Malcolm D. Lee and his team were looking for another Hollywood star to complete the main cast, but there was no getting closer to Dina than Tiffany.

Along with being a comedian, Tiffany is also a natural storyteller and the kind that leaves no details behind. She made headlines after telling GQ the shocking story that an actress bit Beyoncé's face at a party last December. The hashtag #WhoBitBeyonce stormed social media. Tiffany has put an end to the mystery actress: it's Sanaa Lathan. She further addressed to The Hollywood Reporter the aftermath of her story:
"I'm super good friends with her stepmom and her dad [Stan, a producer-director], and they were mad at me," she reveals. "They were like, 'Why would you do this to the family? You know, black actresses, you guys have to stick together, it's so hard for you guys to get work as it is, why would you try to ruin her career?' But I didn't try to ruin her career. I never said her name! I was just trying to say how Beyonce kept me from goin' to jail that night. I coulda just shut my whole career down."
There were critics that expected a downfall of Tiffany's career, but the chaos only led to even more of a spike in her popularity.
"The other day, someone was saying, like, 'Oh my God, you should keep your mouth shut 'cause now you're never gonna be invited to parties,' but I got invited to way more parties after that. It's ridiculous how many parties. 'Can you come to my party?' 'Can you come to my thing?' They want me to talk about something at their thing 'cause they think, like, 'This is gonna put me back on if Tiffany says something.'"
Tiffany has a lot lined up on her plate with filming the mob drama series The Kitchen with Melissa McCarthy and Elizabeth Moss, stand-up gigs, more promo, and hosting this year's MTV Awards. But the grind and chasing dreams never stop and just as her catchphrase goes, "She ready!"

"I want to make a cookbook. I wanna make a gardening book. I want a clothing line. I want a jewelry line. I want a perfume. And then I want to buy two streets that intersect, Tiffany and Haddish, and I'm gonna build a big youth center, a mental health center, I might do some transitional housing, too. But I'm gonna own it. And I'm gonna have music and all the other stuff they're taking out of schools. Right now, my mind's on one street, but it might be in every city, every metropolis, and it might turn into a big thing. It's gonna be amazing."
Read Tiffany's full feature story with THR here.
Featured image by Kathy Hutchins / Shutterstock.com