When Tiffany Haddish was 13, she was put into foster care due to her mother's inability to take care of the young actress and her siblings. After a tragic accident left Tiffany's mother handicapped and mentally ill, Tiffany was forced to fend for herself against bullies and predators.
---
Tiffany's hardship followed her throughout her high school career, where she was virtually illiterate and had to plagiarize and copy the work of her classmates to earn her degree. Fast forward years later and the same woman who couldn't read words longer than two or three letters is now the first black woman to gross more than one billion dollars in the box office.

Tiffany Haddish is a reminder that we can accomplish every one of our dreams in spite of where we come from. This week's episode of The Red Table Talk featured a candid conversation between Tiffany and Jada Pinkett Smith, who have similar backgrounds. Both actresses were at risk of being trapped by their surroundings and becoming products of their environment, but were faced with very different outcomes.

"I thought I was gonna be a baby mama. I thought I was gonna be a baby mama with, like, five kids, four baby daddies, like, collect a county check."
Tiffany told Jada that after her mom had been thrown through the front window of her car in a traumatic vehicular accident, she or her mother were never quite the same, and her journey would only get harder with time.

"I remember being at the hospital and the doctor saying 'Your mom she'll never be the same you're gonna have to help her a lot more now.' So, she wasn't able to do a lot of things. So basically everything she had taught me up to that point, I was teaching her. But she became very abusive and violent, and never came back to being my mom. She's somebody else."
Although she had to develop tough skin to deal with life after she was put into foster care, you need more than that to become one of the most highly publicized entertainers in the game. That takes heart, and that's something that Tiffany has a whole lot of.

Thanks to the positive reinforcement of adults in Tiffany's life, she was able to overcome the deep-seated insecurity that had been embedded in her since childhood.
"My step-dad he used to tell me 'you stupid', then my grandma would be saying I was stupid and then my aunties would tell me i'm stupid, and then my mama would say I'm stupid. At that point in time in my life, anytime somebody said something to me, I would take it literal that I was stupid. So I didn't really put forth a lot of effort to try to learn how to read. It was difficult already, and if I'm stupid then what's the point? I'ma be a baby mama anyway. I already take care of kids, what I need to know how to read for? I know what hot dogs look like, I know what rice look like and I know how to cook that. I know how to use a measure cup, I know numbers so, it was like to me, not necessary."
It wasn't until a misunderstanding with a co-worker in her late teens that she realized her gift and chose to pursue her passion with rigor despite her troubled personal life. Tiffany told her Girls Trip co-star that her road to fame had not been easy, but every tear was worth it.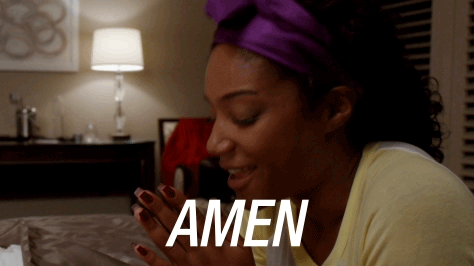 "Everything I've been through has prepared me for this journey."
When we look at celebrities, it's easy to imagine their silver spoons, but Tiffany reminds us that she's not any different from any other black woman in this world who has experienced trauma and disappointment. Her bank account doesn't care that she came from a less than perfect background because she has the hustle to back it up.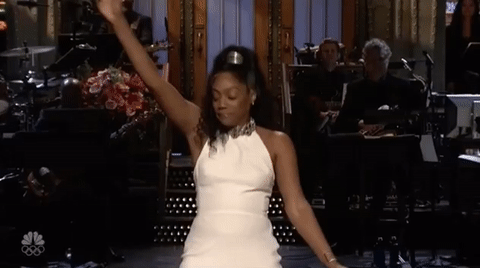 The easiest thing you can do is let your situation determine the height of your success. Although Tiffany suffered through unimaginable horrors, she survived to tell the tale and made a couple of bank rolls in the process.

In an emotional moment, Tiffany shared that her mother was recently released from her mental institution and is now being taken care of by the best doctors. The actress said that one of the best moments in her life was when her mother told her how proud she was. Tiffany knew that she wouldn't have been able to experience that moment if she had given up prematurely.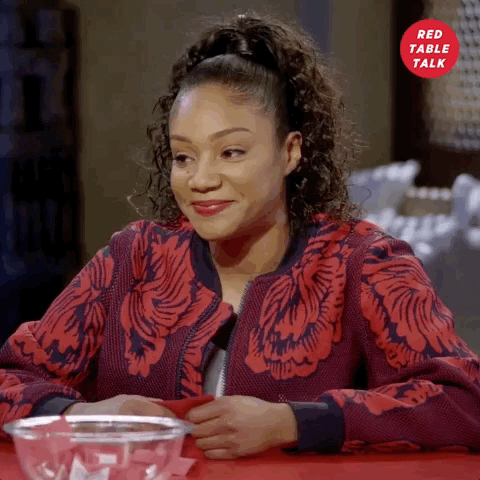 In the episode, Jada and Tiffany both mentioned that in their childhood, they were afraid of becoming statistics. Luckily, with the increased number of sisters with degrees and boss business chicks of color, the status quo has changed. Soon, we'll be able to model our statistics around women like these two actresses, who came from hardship and succeeded in spite of it.

Tiffany is a reminder that no matter what your history may be, you are given a new opportunity each day to create a future that's beyond your imagination.
Who's cutting onions in here? To watch the full episode, click here.
Featured image by Giphy