---
Meagan Good is a fighter. No, not the type that's pulling weaves and throwing drinks on reality TV, she's been fighting for her career. It's far from easy to transition from being a child star to a well-respected actress, and equally as hard to make a shift from a sex symbol to a leading lady. While many young women are trying to set thirst traps on the 'gram, Meagan has naturally mastered the art of seduction. Ask any guy before social media and they'll tell you that she was their "Woman Crush Everyday". Meagan may exude sex, but don't forget, she's also a Christian and married to a preacher! Ironically, she connected with her husband, DeVon Franklin, on set of Jumping the Broom--a film in which he produced as a former executive at Sony Pictures.
In her two decades of acting, the 34-year-old has played in many supporting ensemble roles including Linda Jackson in Anchorman 2, Mya in Think Like A Man (1 & 2) and Kali in Californication. It's now time for her to play the lead. As the former star of the NBC drama Deception, and the TV adaptation of Minority Report on FOX, it's safe to say that Meagan is now within an elite group of actresses that have appeared on network TV including Kerry Washington (Scandal), Nicole Beharie (Sleepy Hollow), Gabrielle Union (Being Mary Jane), Taraji P. Henson (Empire), and Tracee Ellis Ross (black-ish) who are at the helm of their own series. Meagan's presence was felt at the Emmys when Viola Davis shouted her out while winning the award for Best Lead Actress In A Drama.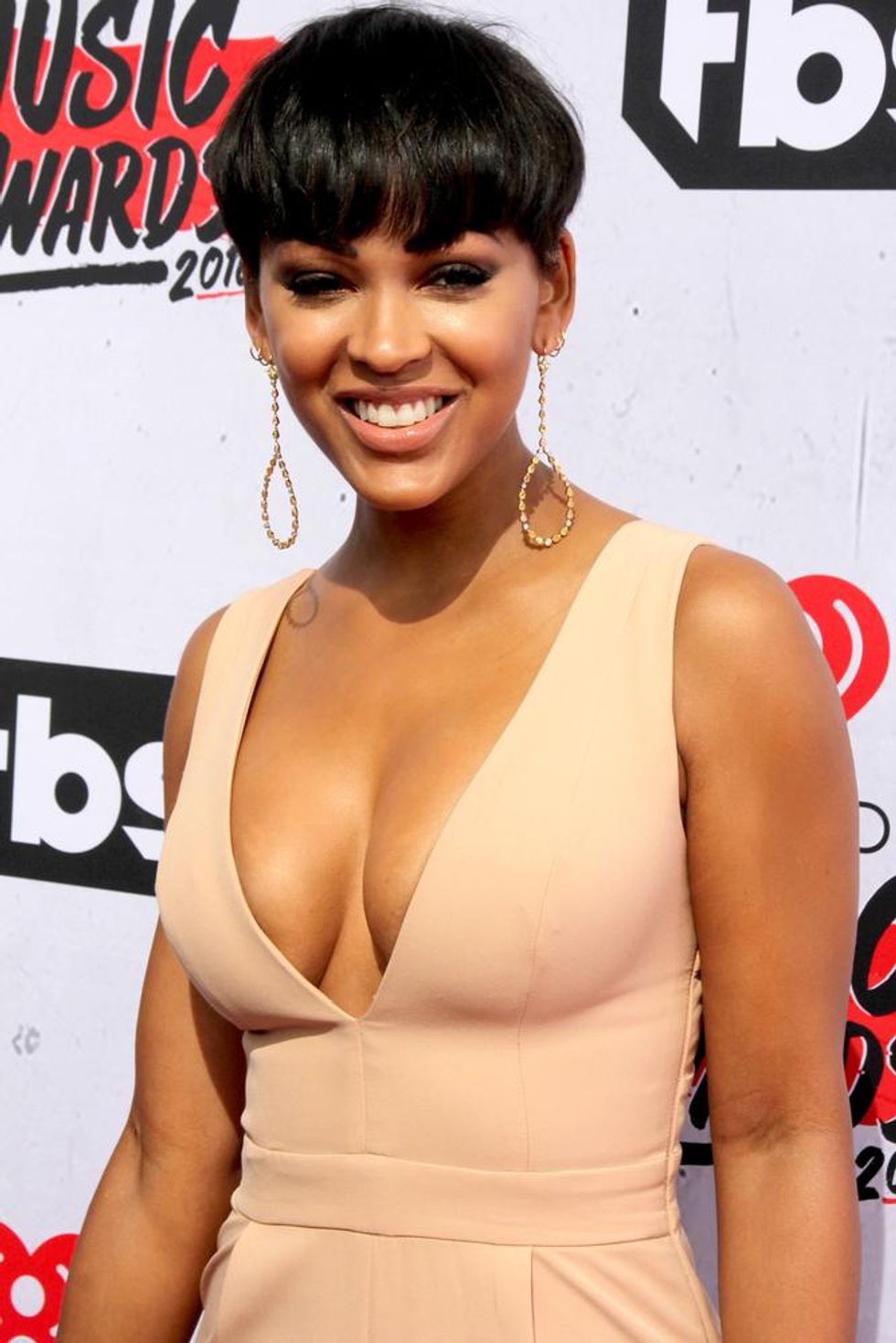 Kathy Hutchins / Shutterstock.com
For aspiring actresses looking at Meagan's career for inspiration, note that she has and continues to choose her acting roles by faith. While it may be tempting to take any and every role that comes across her path, Meagan shares that she's passed on various opportunities that weren't in line with what she's prayed for. This discernment has also helped her to cut off toxic relationships.

She speaks with xoNecole on how her growth as a woman and as an actress, as well as giving insight on what she and her sister are doing to make a lasting impact on students who want to pursue careers in the arts.
xoNecole: In a previous interview you said, "I think most of the damage that happens, especially as adults, comes from relationships that we should've never had or been in, in the first place." Earlier in your career, how did you discern who wanted to be your friend or in a relationship with you for the wrong reasons?
Meagan Good: Pray about every relationship that you allow into your life and you'll receive discernment. The truth is if what we want to do and what we're supposed to do are conflicting, that feeling is what causes confusion. But there's no confusion when you know deep down inside what's the right thing to do; it's just usually not what you want to do.
I went through that a lot in my twenties. There were so many friendships that I wanted so badly. I loved these people so much but the things they would do to me, other people or to themselves, I would make excuses for. I'm really good at assessing why people do what they do, but what I've learned later in life is regardless of the "why" they're still doing those things.
You have to believe and release someone when they show you who they are. It doesn't mean you can't love them. Doesn't mean you can't be there for them, but sometimes it has to be from a distance to protect your own spirit. Look at people's actions and really pray about it, and that's how you'll be able to discern their intentions. When you feel confused, just know it's not what you want to do or it's probably not what you're supposed to do.
With the challenges women of color face with getting leading roles in Hollywood, what validation did you feel when Viola Davis mentioned your name in her Emmy speech?
I cried. It meant so much to me to be acknowledged by someone like Viola, whom I have so much respect for. We all face challenges in this business, especially as Black women. It's been a really long crawl for me to transition from being a child actress to an adult actress, in addition to being in that "sex kitten" role in my early 20s and fighting to be taken more seriously. It's been a really long journey and to hear her say my name really blessed me. To listen to her journey and to know what she's gone through to be acknowledged for the great actress that she is…it's all of our struggles to get out of the box that people always try to put us in.
It's an incredible time for women and minorities in TV and film. There's been a massive shift that we've all been patiently waiting for. I'm a big believer in not complaining about the things that are wrong. Instead, I place my energy into being on the front line of change, having a positive attitude and fighting to see things shift. To be in Hollywood right now and have these opportunities as the shift is coming is incredible.
I loved your NBC show Deception. I was so sad that it only got one season, but it seemed to have been pitted against Scandal. Now we have so many more options of women of color on TV. You mentioned in another interview that you turned down another action role prior to landing Minority Report. How have you learned to wait for the right role instead of jumping at every opportunity?
I pray and read my Bible every single day, I stay close to God because He's what matters the most--everything else is secondary. My career can never give me what God can give me. When Deception initially came to me, I was afraid to do TV because it's a huge time commitment and you'll potentially be playing the same character for several years. And for at least six months of the year you're away from your family in a different state or even a different country.
I had all of these stipulations about what the situation had to be in order for me to do television. When the opportunity for me to star in Deception presented itself, it was everything I said it had to be, so I knew it was God. When it ended, I was very thankful because it created so many other opportunities for me in the process. Deception opened the door for Minority Report as well as my role in Anchor Man 2: The Legend Continues. God wanted me to have those different roles to be able to build a platform where I could be more affective as a Christian.
Deception allowed people to see me in a really different light. At the time I had just gotten married and being away from my family I had a lot of time to grow personally and professionally. So I wasn't disappointed when the show got canceled because I knew God had something else lined up. Similarly with Minority Report, I asked God for certain things within the role and it was everything I said it needed to be. It's a testament to not settling. I trust God so much that even if my decisions don't make sense to other people, I know that God knows what He's doing.
You and your sister, La'Miya established a foundation, For The Greater Good where you developed an arts education curriculum for the Compton Unified School Districts. How do you relate to the kids and what made you and your sister want to go above and beyond a traditional mentorship program?
You can definitely make a difference sharing your story through speaking engagements, but you don't really get to follow up and be a consistent part of their lives. My sister and I developed a curriculum to figure out how we could impact this generation in a consistent way. Growing up in the school systems, you're made to think something is wrong with you because your brain is creative. As a kid, I wasn't super book smart but I had a lot of wisdom. Our curriculum is geared towards the kids that learn creatively. They need to have history, math, science, etc., but it's infused with art and music. It definitely helps keep these students out of trouble and it includes mentorship at the same time.
We wanted to do something that had a lasting affect. We want to expand the reach of the program because this generation has a lot of negative influences. Young ladies are being encouraged to sleep around, do drugs and compromise their integrity. The images that are out there of what you need to do to get guys attention and what you need to do to be valuable are going to lead them in a direction that's destructive. So, we want to do what we can to give students another option.
Featured image by Kathy Hutchins / Shutterstock.com