---
Saweetie has captured all of our hearts, simply by being her joyous, carefree self. She's unproblematic, she minds her business. She lives out loud and by her own rules. And she loves her boyfriend, Quavo, publicly for the world to see. The two began dating in 2018, when Quavo infamously slid in her DMs with a cute—or cheesy, depending on who you ask—pick-up line. Since, the two have been inseprable, making headline after headline, traveling the world, and attending various (pre-COVID) award shows as young hip-hop royalty.
And even so, Saweetie never allowed her personal life to deter her from knowing boldly, and unapologetically, that she's exactly where she's supposed to be.
She discussed what this means recently, while on the promo trail for her current projects. When asked about her bae, and how she navigates her high-profile relationship, she told the ladies of The Real:
"In the beginning, it was difficult because as a woman, especially a woman in hip-hop, they're always trying to credit a man for a woman's success, which is why I kind of tip-toed around the relationship, and which is why I gave y'all the answers that I gave y'all back in the day."
She continued:
"But now that I am just continuing to persevere with success and just consistency, the relationship is what it is now. We love each other, we support each other, we give each other advice, so it's nice, it's cute, and it's...relationship-y."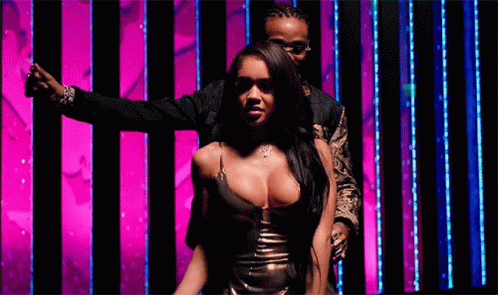 In a past visit to the show, Saweetie downplayed their relationship, saying instead that "they had worked together" and "been getting to know each other" to which the ladies saw through all the Maybelline and called her out various times. And playing coy likely worked in the long run, being that she has had multiple chart-topping singles, and one in current rotation, "Best Friend". She also has even began adding acting credits under her belt, which is the direction she plans on taking her career once she becomes more rooted in her current passion of music.
"I know I'm known as a fashion girl, music girl, beauty girl, but before all of that, I'm a business girl."
*poetry snaps*
And not only does Saweetie take credit for her own damn success, her brand is also based on pulling up other women with her with frequent collaborations with other female artists, creating what she describes as "empowering, inspiring, but also fun," music, thus redefining and proving her bankability—which is all part of her very calculated master plan, of course.
Aight, sis, tap in.
Are you a member of our insiders squad? Join us in the xoTribe Members Community today!

Featured image by Ron Adar / Shutterstock.com