---
For Saweetie, having a morning routine is super important.
So important, that the "Tap In" rapper recently shared it in Elle's November episode of Waking Up With. From giving us the tea on her skincare faves, to introducing what she calls her "Skin Safe" (a safe of her favorite beauty products that she takes everywhere with her), sis definitely put us on game all the way down to the affirmations that she recites to herself.
But what caught our attention most, wasn't the type of products she uses for her clear AF skin. It was actually her deodorant hack, which consists of not wearing any at all. She uses lemons instead, which she credits for her smooth and clear pits. This hack has been so rewarding for her, that Saweetie ensures that she has lemons everywhere she goes. In regards to the hack, she said:
"A lot of people don't know this, but when you use deodorant, it traps the toxins in there, and that's why you always be musty. In order to alleviate that, put lemons instead of deodorant under your armpits!"
She went on to show us how she used them and explained why as she applies them over deodorant:
"It also lightens it. So dark marks, and all the funk, that's caused by bacteria. So, instead of putting that nasty, unhealthy deodorant that blocks your pores, get you some lemons."
#WigAdjust
So, get into waking up exactly like Saweetie, from start to finish! Her full morning routine, as told by her, is below:
First things first, wash your face, sis!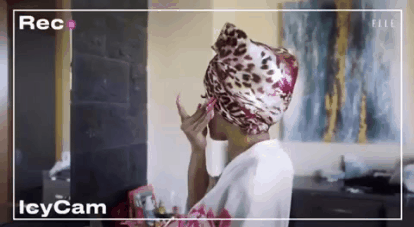 Elle/YouTube
First, the Icy Girl washes her face, using hot water to open up her pores and wake her up.
Next up, Saweetie grabs her favorite toner, and has a chat with God.
As she applies her favorite toner (or Vaseline), she takes a moment to thank the Almighty.
"I always just thank God for waking me up and giving me another day just to be grateful. I always just thank God for the position I've been put in because I'd rather be doing this than doing what I was doing four years ago, so I really should not be complaining at all."
She continued:
"I love to pray, I like to make sure I'm mentally prepared for the day. I like to take care of my skin, and if I have some time, I normally schedule in a massage 3-4 times a week because if mental is not good, if the skin's not good, or the body is not good, then Saweetie don't work and if Saweetie don't work, nothing works, OK? I think it's really important to take care of yourself so that everything else can function nice and smooth, with clarity and purpose and with intention."
Saweetie has a designated skin safe, full with all of her skincare faves inside.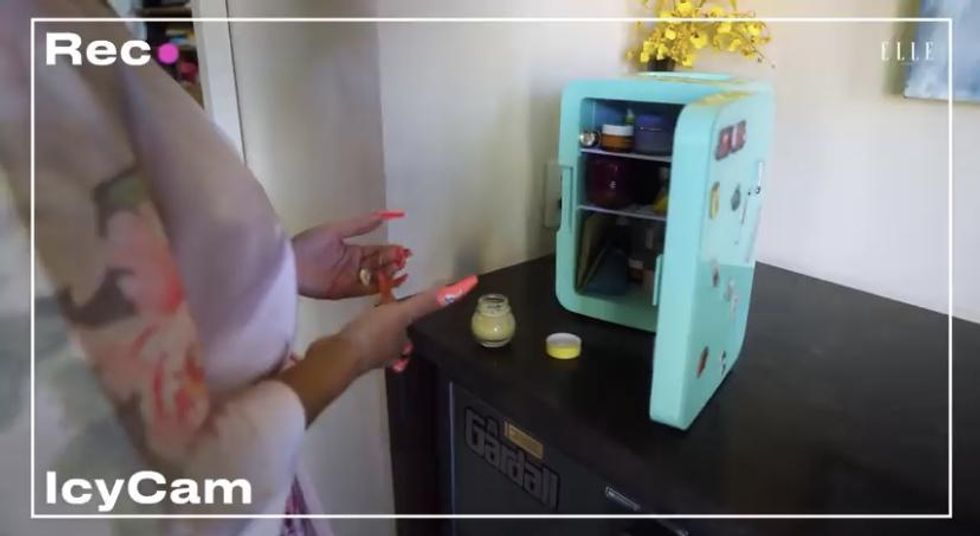 Elle/YouTube
Saweetie then grabs some of her favorite products to begin applying her skincare routine. First up is Glow Recipe Banana Soufflé Moisture Cream ($39). This is Glow Recipe's latest banana-scented moisturizing formula that soothes and hydrates the skin.
"So, now I am about to go to my little skin cabinet--gotta moisturize. [Make sure] the face is nice and succulent and glowing."

Also in Saweetie's Skin Safe was theTatcha Violet-C Radiance Mask ($68).
Saweetie then massages lemons into clean armpits.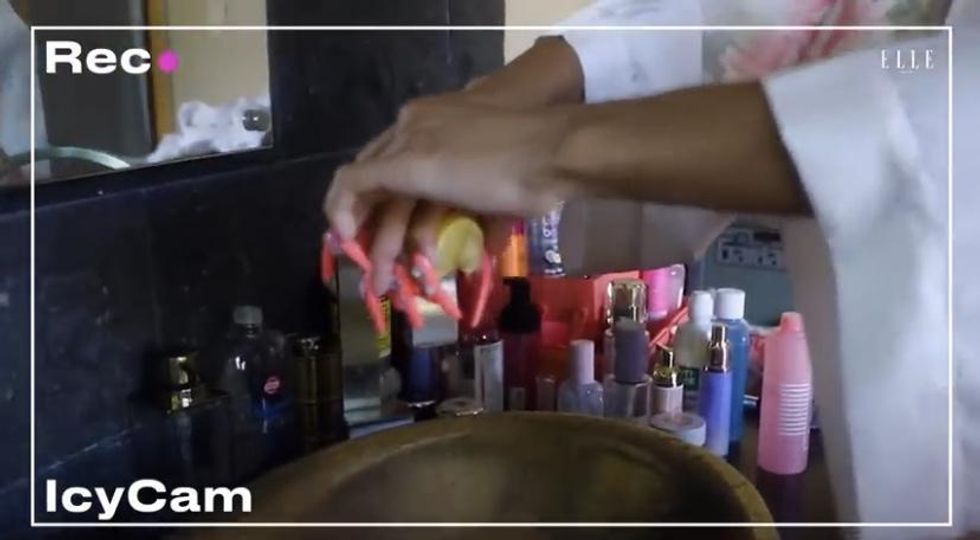 Elle/YouTube
"Just squeeze it to get the juices flowing. I'm going to let that sit for about 15 minutes and then we'll wash it off."
Saweetie then applies *refrigerated* gel eye masks.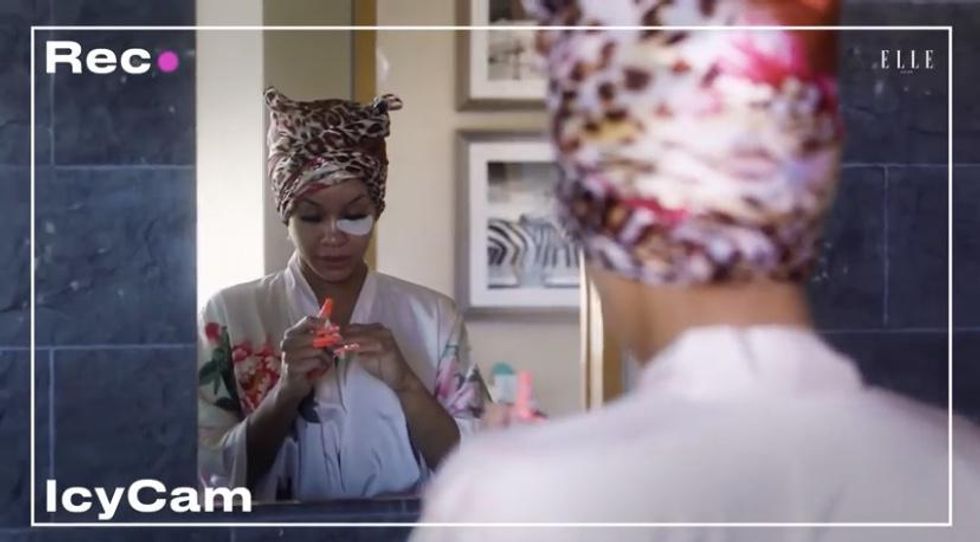 Elle/YouTube
While waiting on the fresh lemon juice to dry under her armpits, she applies her boscia Triple Hyaluronic and Honeydew Moisture-Boost Gel Eye Masks ($26).
"These are some of my favorite strips, I normally put them on before I start my day. When you put these strips on, it's really soothing, especially when you keep them refrigerated."
Time to wash off the lemon juice, boo.
"Alright, it's been 15 minutes, and now I'm going to take off the lemon juice. [After wiping it off] you should be good for a couple of days. I only do it like once a week, but if I have a hectic schedule from eating bad, I might have to put lemons on my armpits like three times a week. When I'm eating good and drinking a lot of water, I can do the lemon treatment like once a week. And then you don't have to use deodorant no more! You save the money, and you put some natural good ingredients God made, so do that. It makes you smell nice and clean."
Next, she books that appointment for a relaxing massage.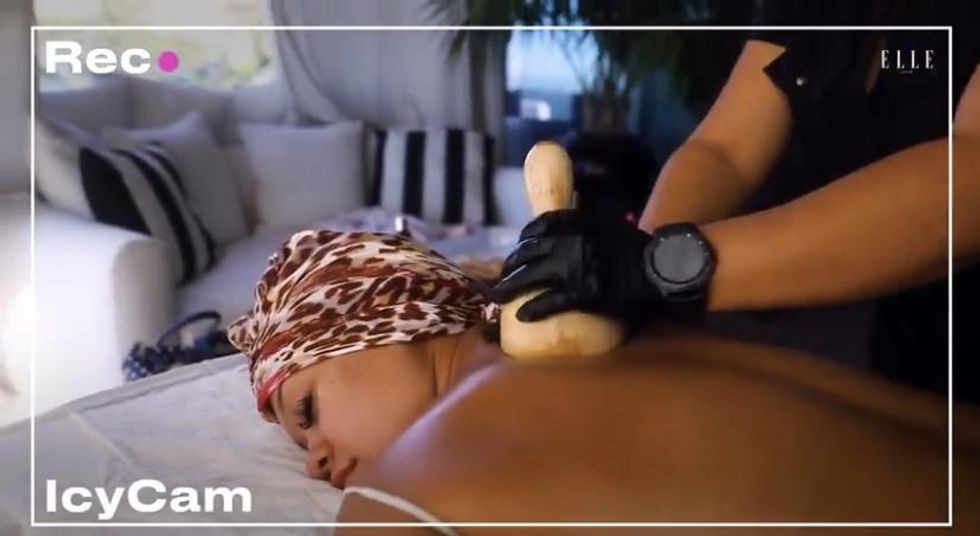 Elle/YouTube
"I'm going to let these eye patches sit, and I'm going to go out and get my massage."
Last, Saweetie recites her affirmations and is ready to face the day!
"Another thing I like to do is I like to have my affirmations because when you train yourself to think positively, positive things will happen. I'm all about mental peace, positivity, and thinking in ways to make sure I am doing what I am supposed to do. My days usually end at around 1am, which is why I think it is so important to take care of self mentally, spiritually, and physically."
Saweetie concluded her morning routine on a peaceful note before heading to wash off the morning and start her day.
Such a refreshing morning, we feel more relaxed already! Would you try Saweetie's morning routine?
Watch the full video here or below.
Are you a member of our insiders squad? Join us in the xoTribe Members Community today!

Feature image via Saweetie/Instagram