---
This past December, like many other descendants of the African diaspora hoping to end 2019 with a bang, I went to Accra, Ghana for what the country deemed---in arguably the most successful tourism marketing plan to date---the "Year of the Return". Anchored by the Afrochella festival as well as newcomer, Afronation, the return to Ghana was anticipated to be an opportunity to connect with our roots, party, unwind, and enjoy great food and culture. After securing my *whispers* very affordable flight in November, I was ready. Or so I thought.
Unlike most trips, coordinating all the moving parts in Ghana took a bit more advanced planning, patience, and research than I was used to. But after getting everything in place, I was so excited!
This was being heralded as the place to be for the holidays, where everybody and they mama (or Beyonce's mama) were expected. And Accra delivered! During my three weeks in Ghana, I partied in the jungle in Aburi, crossed the seven bridges in Kukum, visited the Elmina and Cape Coast slave dungeons, ate a traditional Fulani mat dinner, saw the dopest fire-breather performance at Polo Beach Club, ate at the famous Buka restaurant, danced the night away at Bloom Bar, and connected with amazing friends both old and new.
I also encountered a lot of things that, if avoided, would have enhanced my trip that much more. Here are 10 things to keep in mind to optimize your experience if attending "Beyond the Return" this December: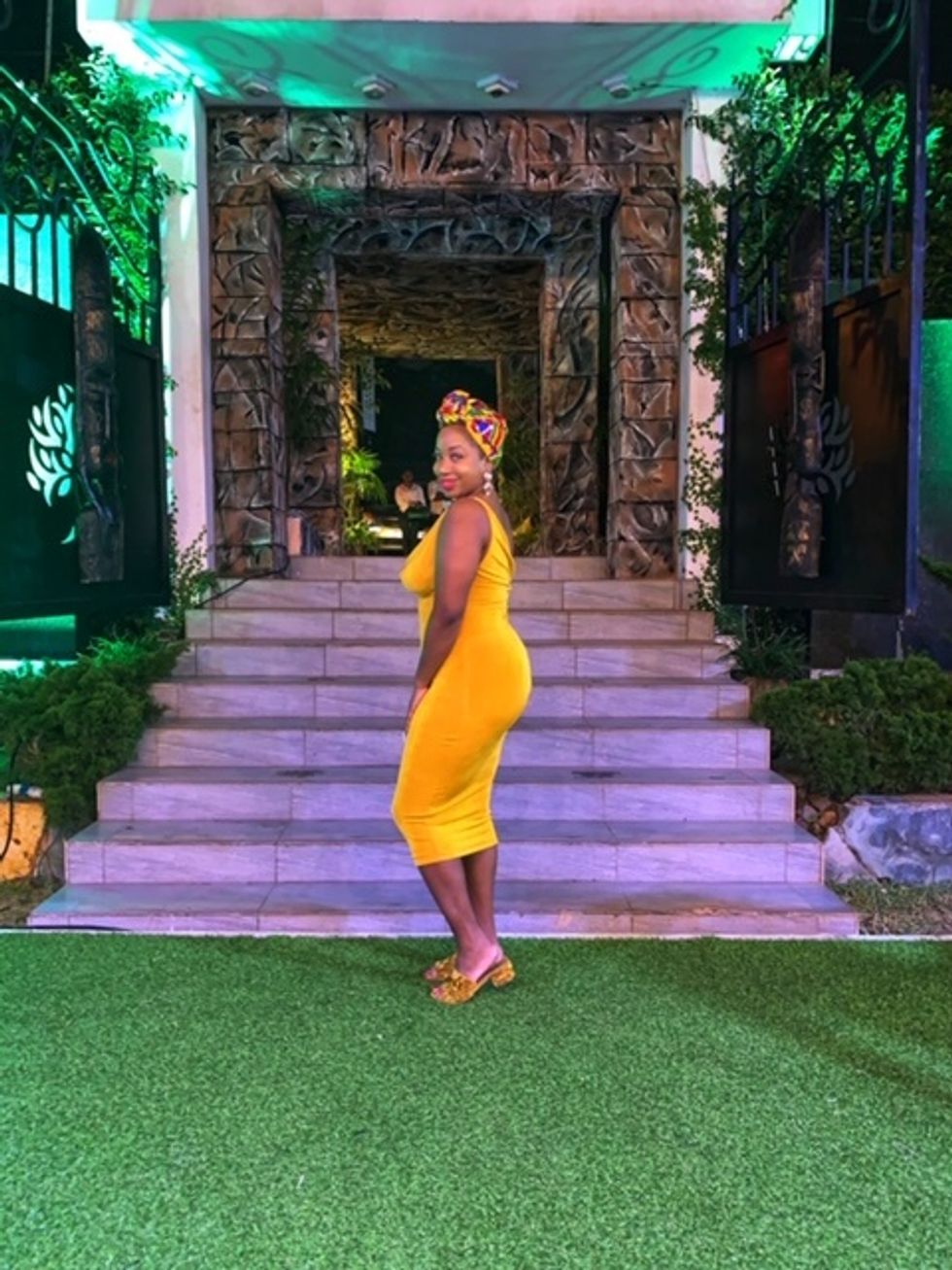 Courtesy of Amanda Gayle
Follow All Medical Precautions, Both Required And Recommended
One of the consequences of my late travel arrangements were the limited remaining options in finding a yellow fever provider within my budget. After finally settling on an office, I paid my whopping $265, and received my yellow fever card and malaria prescription. But to my dismay, when I landed in Ghana, border control could care less about my little yellow fever card and didn't even open it. I must have been so disappointed that I actually lost it and haven't seen it since. Welp. Funny enough though, during my departure, border control insisted on seeing it. But for the gift of gab, I'd likely still be there trying to convince them why I didn't need to receive another shot just to fly home. But I digress.
While experiences varied, most opted to receive the yellow fever shot in the States, despite its availability at the airport for the affordable price of *drumroll* $20.
Did I know that? No. But now you do. You're welcome. Ultimately, it's up to you to decide where you're most comfortable getting the shot, but once you do, keep your card handy.
After filling your recommended malaria prescription, do yourself a favor and actually take them. I avoided them initially after hearing horror stories of people having nightmares and stomach pain, but, take them. You don't want to end up like me in a pharmacy on your way to a friend's fashion show feenin' for malaria pills like Halle Berry in Jungle Fever because a mosquito bit you in Kukum and the "cold" you thought you had sounds more like malaria, according to WebMD. Luckily, the pharmacists in Ghana are fantastic and wonderfully patient. They promptly tested me for it and luckily, it turned out I didn't have malaria---just a bad cold. But I could have had it. Take your pills.
Don't Nickel-And-Dime Your Accommodations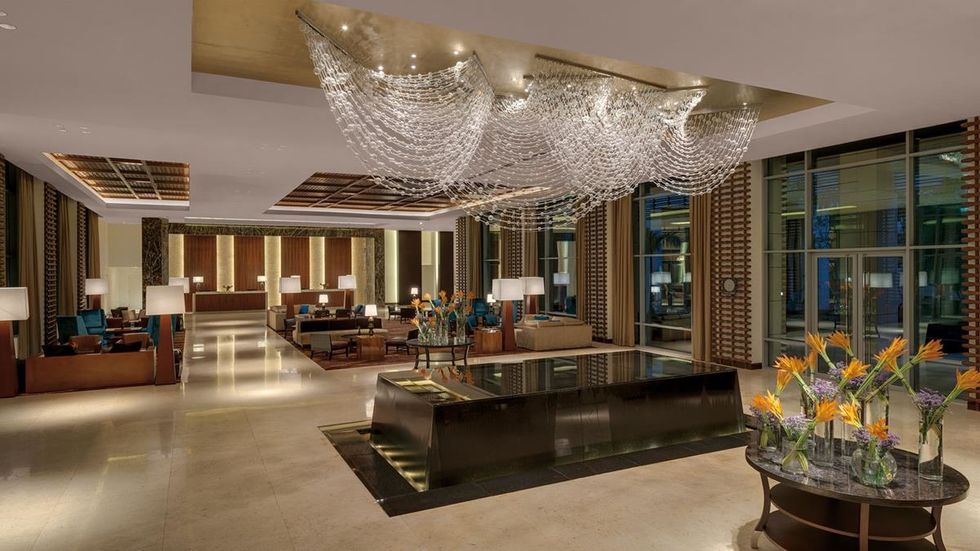 The Kempinski Hotel, a great option for a stay in Ghana.
Image via kempinski.com
As Americans when we think of budget hotels, we think of a no-frills, no-fuss Holiday Inn which at the very least are clean and at best are quite nice. (The Holiday Inn in New Orleans even has a rooftop pool). Even budget or boutique hotels in Europe deliver quality with the occasional luxury surprise. During my layover in Portugal, for example, I stayed at the most amazing boutique hotel for $52 and was wonderfully surprised by how nice it was.
But in Ghana, budget hotels, aka those under $75 a night, take on a different meaning. For brevity's sake I'll spare you the stressful details. Let's just say some of my very worst days were spent making special requests for running water, dealing with hotel managers who didn't understand that it isn't OK for the electricity to disconnect every hour, or canceling confirmed reservations.
Save yourself the hassle. Spring for the nice hotel.
Listen, I get it, traveling can be expensive, especially if you're staying somewhere for an extended period of time. If you can't quite afford the Kempinski, Alisa Hotel is a great affordable choice, but don't nickel-and-dime your experience. It'll cost you more in the end.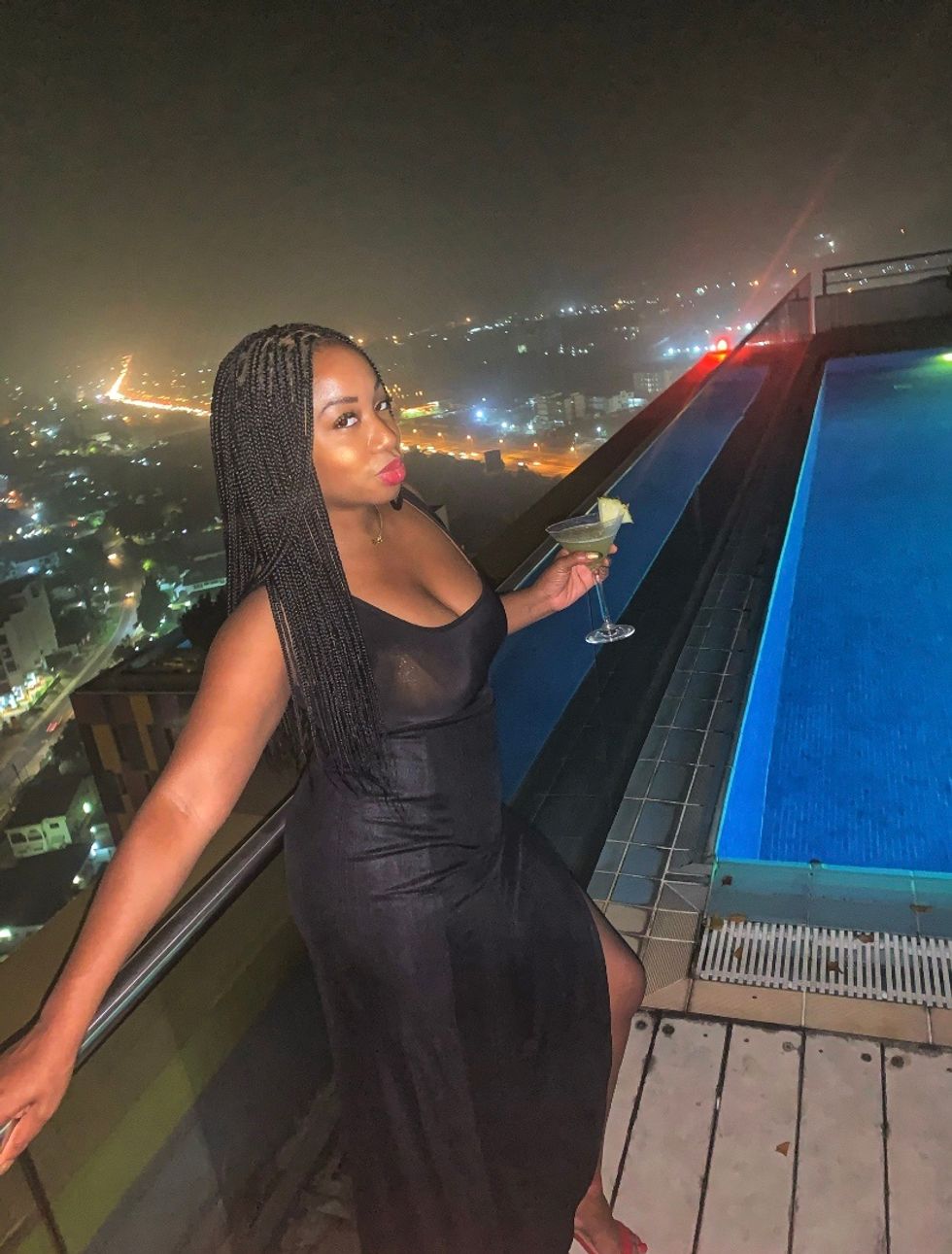 Courtesy of Amanda Gayle
Pack Your Patience
As a born-and-bred New Yorker, most would assume that I'm used to a fast-paced, hustle-and-bustle lifestyle, and they're right. New Yorkers tend to move at lightning speed, always running for the train or to work and keeping up with our busy lives. As a New Yorker who also drives, I'm equally accustomed to insane traffic, but Ghana was on a whole other level. I can't count how many times I had to just get out of my Uber and walk the remainder of the way. Not a patient person?
I strongly suggest staying very close to where most of your events and activities will take place to avoid getting stuck.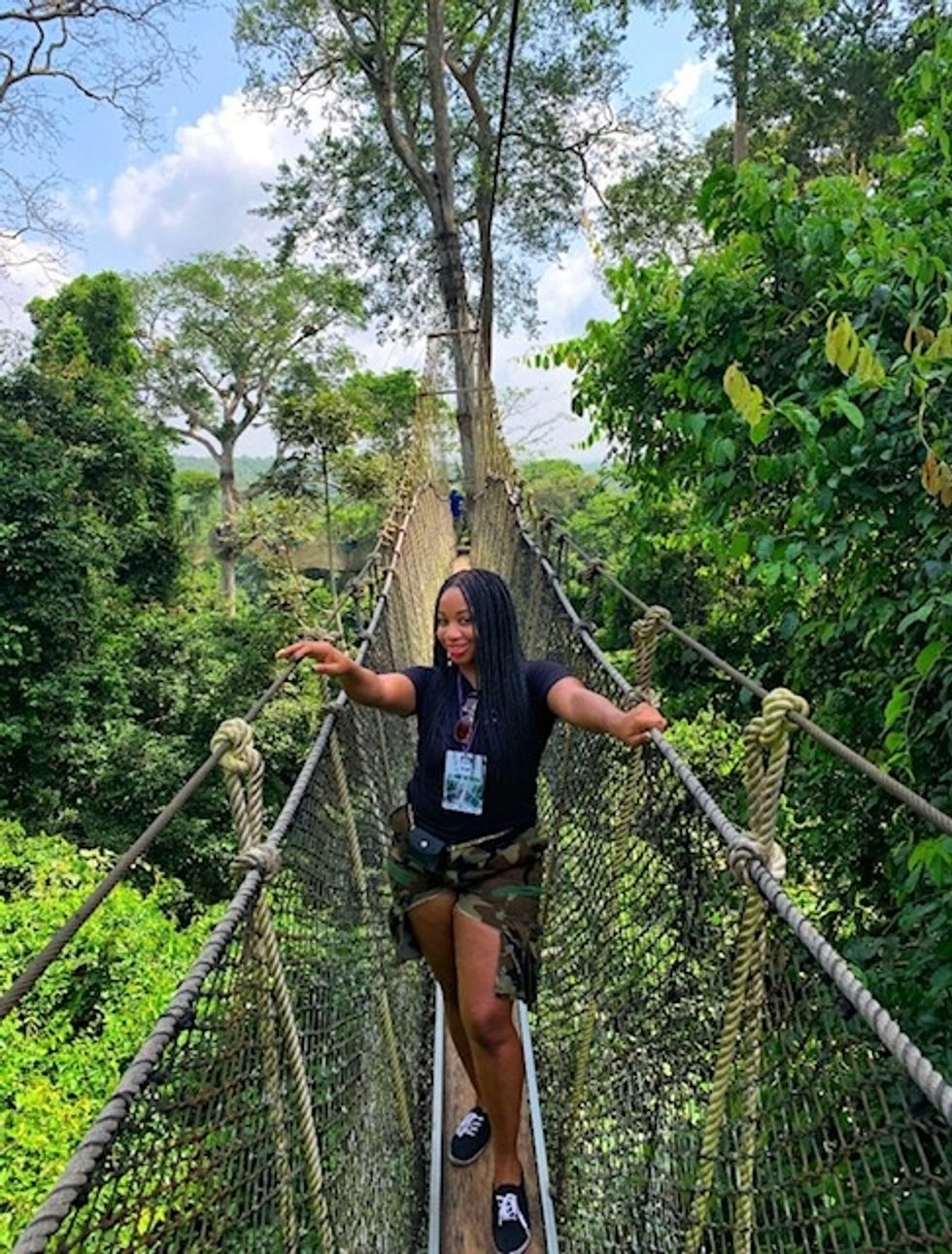 Courtesy of Amanda Gayle
Consider A Tour Company
As you're planning your trip, you'll quickly see that there are literally hundreds of tour companies ready to take you on every excursion and curate your trip for you.
Usually I would caution visitors against booking tour companies to save a few coins, but in Ghana, a trusted tour company may actually enhance your trip.
Some of my favorite experiences were planned by a tour guide. My friend had used him several times before and not only was he well informed about the estimated travel time and where to go to get the best/safest food on the route, he even knew the manager of the Cape Coast castle who let us in at closing because we were stuck in traffic.
I also really enjoyed some local events planned by TasteMakers including the most beautiful Fulani Christmas dinner hosted at Olma Colonial Suites. The food was delicious, we learned about the Fulani culture and the vibes were perfect. I enjoyed it so much, I ventured to my second Tastemakers event later that week, the Cookout. After being there for an hour I lovingly renamed it Grits in Ghana (Don't try me. My trademark is pending) and deservedly so. The DJ executed dope NYE vibes, the drinks were strong and free, and the space was perfect. In the future, I'd confidently attend any other events they plan. But do your research. Read reviews. Find a company that you trust, think about where you want to go and consider whether a company would enhance your experience.

Choose Your Concert Wisely
So part of the draw to visit Ghana during the holiday season is the festival experience, specifically Afrochella. Known for the opportunity for the flyest and most daring to show up and show out in their best African garb, people come from everywhere to perch up as royalty and be among the lit. However, as a budding festival, Afrochella may need some more time to find their footing, as the actual concert experience was lacking.
Most of the night, in lieu of actual performances, there were DJ sets and well into the early morning hours, a sprinkle of performances from virtually unknown artists. I was really disappointed, after declining friends' invitations to attend Afronation, which by most accounts turned out to be the better concert, bringing out Burna Boy and other fan favorites. I also heard good things about the Detty Rave concert, but unfortunately missed it because of my cold.
Ultimately, even though Afrochella is the original event and may still be worth a visit for vibes, consider your other options.

Prepare For Long Commutes
One of the biggest surprises for me when I got to Ghana was how far away most of the special sites were. Not only was Cape Coast a three-hour ride away, most of the nice beaches (aside from Labadi Beach) including Bojo Beach were at least 90 minutes away from the City Center. The same was true for Aburi Gardens and Aqua Safari, which are definitely must-see destinations. Some places are so far, I highly suggest preparing for a full day trip to each destination and possibly even staying overnight to avoid the traffic. If you opt out of staying overnight, pack on your patience because although traffic in the A.M is bearable, you may not be so chill about it after a day's worth of activity.

Carry Cash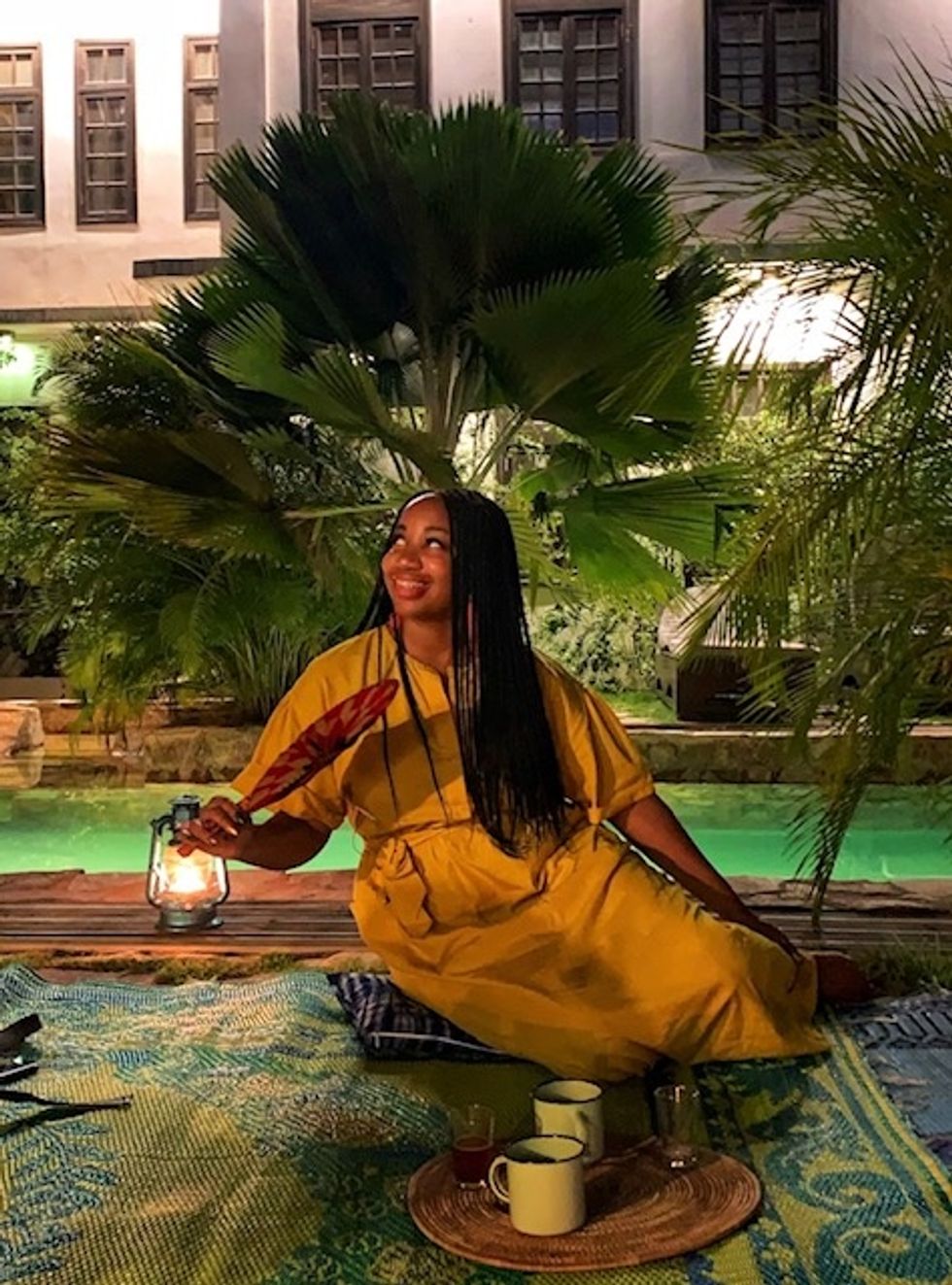 Courtesy of Amanda Gayle
While credit cards are accepted, cash rules everything out in Ghana. From bargaining for souvenirs to getting into parties or a certain Members Only Club (I see you, Front & Back), having Ghana cedis on hand, will definitely yield better results.

Indulge In Local Cuisine But Be Careful
So, in my veiled non-medical medical advice above, I may have left out one of the reasons I got sick during the trip. When I first arrived, I was so excited I opened my mouth while brushing my teeth and ingested some water a la Charlotte in Sex and the City 2. Now, that may not have been the only reason I experienced "the runaways" but many cautioned me against ice in my drinks and indulging in sauces. I didn't listen. You do better.
Decide Between Uber Vs. Private Drivers
Contrary to what most people have heard about Africa---Ghana specifically---it is a well-developed country and they do have Uber. However, be prepared for smaller cars and cash payments. In order for your Uber app to even work in Ghana, you'll need to update your settings to cash payments and use a local Sim card. Bolt is another option which usually offers an introductory promotion for reduced rides.
You can choose to hire a private driver if you need a larger vehicle or if you just want to have someone at your beck and call. Just be sure to estimate the price of rides in advance and get some referrals from friends in travel groups who have gone to Ghana.

Know Your Intentions For Visiting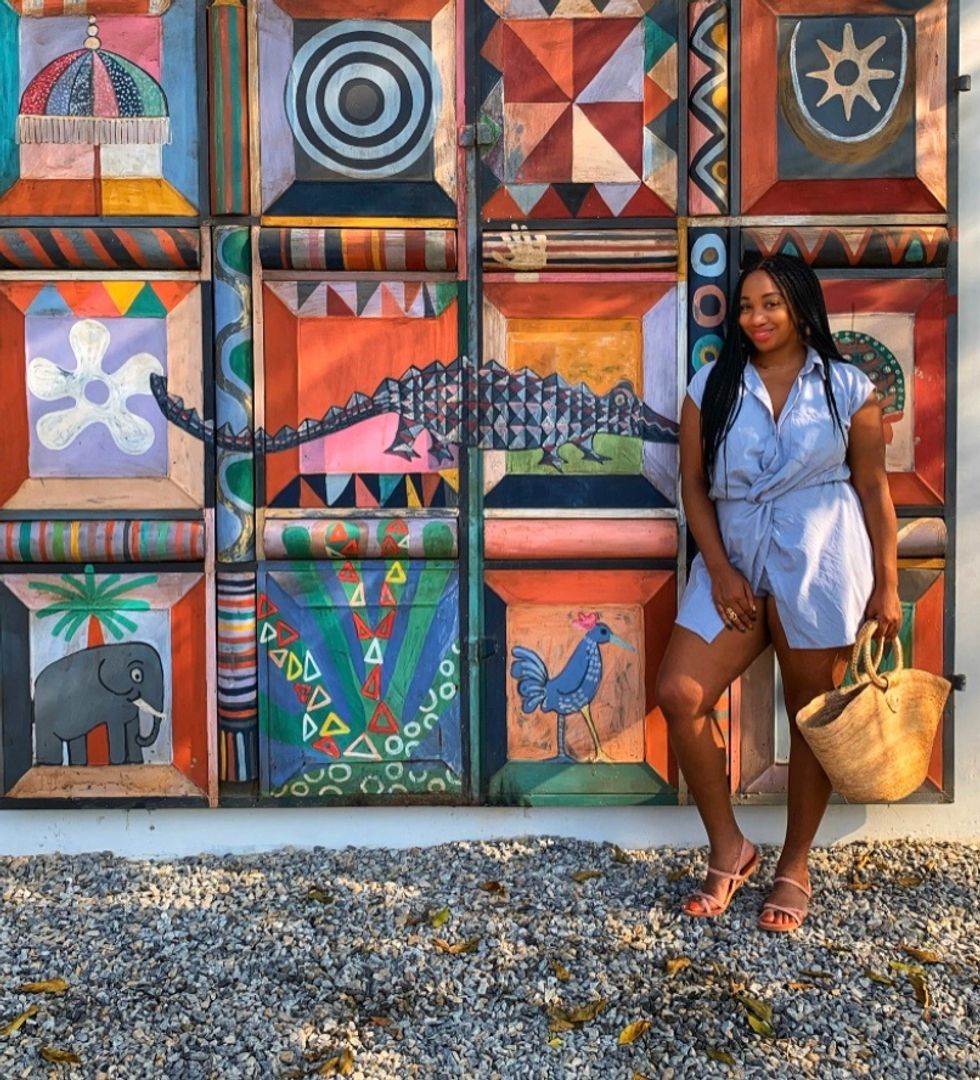 Courtesy of Amanda Gayle
Most important when traveling to Ghana is knowing why you're going. Most people visit during the holidays to mix and mingle with celebrities, attend the flyest parties, and meet their African prince and princess. If that's you, do you. Live it up. However, if you're visiting to truly immerse yourself in the culture, opt for more of those experiences and be intentional in seeking them out. One of my intentions in visiting Ghana was to volunteer and impact the youth, so I was so excited to volunteer for Afrochella Reads, an opportunity to visit and spend time with Ghanaian orphans during their school day. It was truly one of the top highlights of my trip.
Volunteering not your thing? Take a cooking class and learn how to compete in the jollof wars. Visit the Shea Butter Museum and discover the source of the ultimate ash warrior, the gift of shea butter. Whatever your interests are, Ghana has so much to offer. The opportunities for enriching experiences are numerous. Once you strip away the glitzy appeal, the rooftops, and the mystique about Ghana, remember that there is a rich culture and local experiences that are way more valuable than rubbing elbows with Boris and Nicole. Focus on being present and make the most of your return.
xoNecole is always looking for new voices and empowering stories to add to our platform. If you have an interesting story or personal essay that you'd love to share, we'd love to hear from you. Contact us at submissions@xonecole.com.
Featured Image via Amanda Gayle