As little girls, we use mainstream media as a model for our own standards of beauty. When I hit puberty, my breasts quickly grew to the size of watermelons. Middle school boys would oggle my chest, which protruded through my too small uniform shirt. Although I admit that the attention was flattering at times, this was the beginning of my budding negative self-image. My boobs were big, my ass was flat, and I in no way fit the portrayal of beauty made popular by the stars.
Even as women, depictions of beauty that are perpetuated still have a tremendous effect on our self-esteem. Social media has prompted a mindset that encourages comparison and insecurity, and not even celebrities are exempt from this perpetual search for perfection.
Karrueche Tran recently sat down with Paper to discuss how her own insecurities almost led her as far as physical augmentation.
"I used to think I had to be thick and have big boobs. I thought about getting my boobs done, but I was like one: I don't know how my body's going to react to that, and two: why am I changing who I am because of other people's' comments?"
Preach.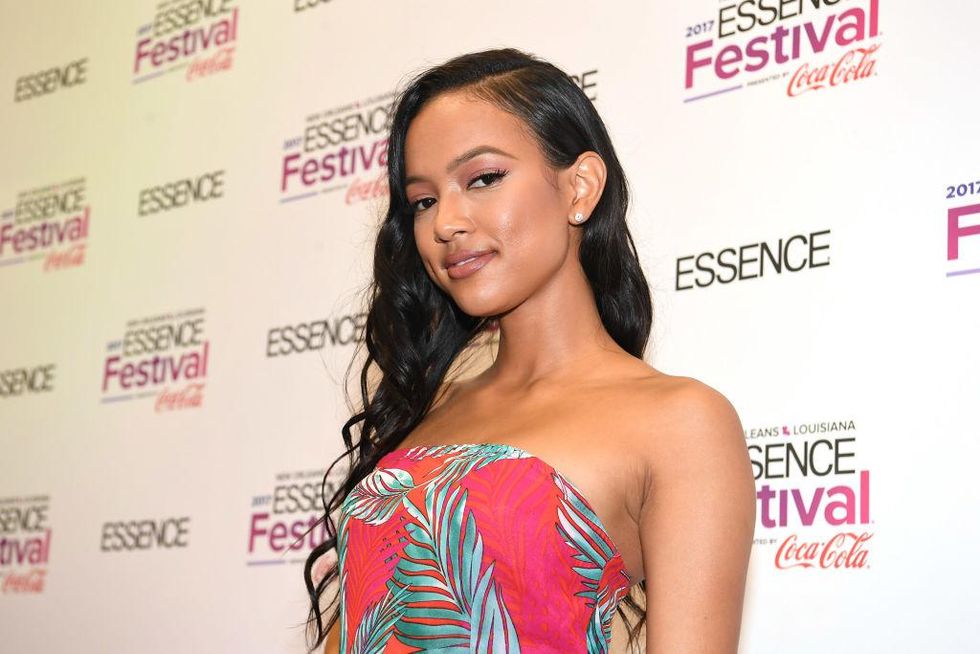 Paras Griffin/Getty Images for 2017 ESSENCE Festival
In our millennial-centric world, surgery is said to be the key to insecurity. Artists like K. Michelle and Get Bodied By J have been transparent about their experience with butt injections, which eventually led to hospitalization and painful coveries.

Thanks to the honesty of these women and stars like Karrueche, little girls and women can find peace in knowing that our bodies are beautiful naturally. Karrueche said:
"I can represent other girls out there and make them feel confident, which is hard in this world where everyone just wants to be thicc. I had to learn to deal with everything, or else I'd be in a corner crying somewhere."
Once you can break free of who other people think you should be, you can be who you truly are. Karrueche found power in self-love, which ultimately led to self-discovery. During that self-discovery, she found her passion in acting.
The second season of Claws premiered and proved that Karrueche is a force to be reckoned with in the film industry, but the vibrant confidence she has onscreen wasn't always a reality for Karrueche. She told Stylecaster:
"I felt ashamed and embarrassed, like people weren't taking me seriously because I didn't have this substantial résumé. Like I didn't qualify to call myself an actor."
"What I had to realize is everybody has their own story and just because I didn't grow up in theater or on Broadway or as a child actor doesn't mean I can't do this."
Karrueche had to realize that not everybody will see your vision. The Claws actress turned her self-doubt into self-confidence, and now she's at the top of her game. And she didn't have to be "thicc" to do it.

"Just a few years ago it was an idea. Acting was something I was intrigued by, but I didn't know if this could actually be a career for me, and now here I am. I can just continue to go up."
Check out the interview in full by clicking here.
Featured image by Paras Griffin/Getty Images for 2017 ESSENCE Festival