When a breakup occurs, unless you happen to live thousands of miles away from each other or have no mutual friends, "the end" is never really the end.
---
You see each other at mutual meetups, shopping malls, and grocery stores and are continually faced with that awkward conversation neither one of you wants to have, which starts off with an insincere, "So, how you been?"
It's a perpetual loop of unwarranted conversation that never really ends. Luckily, this is also the case with our favorite #ExBae of all time on this season of Insecure. Jay Ellis, who plays Lawrence, recently sat down with Vulture to talk about his growing fanbase, viral hashtag, and revealed the reason why his character made a sudden return on last week's episode.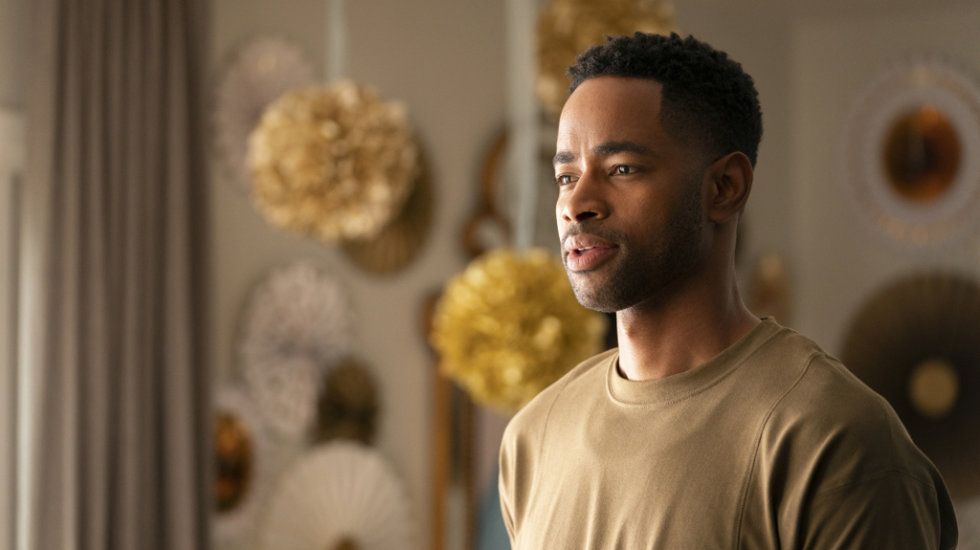 HBO/Insecure
After an abrupt yet seemingly never-ending breakup between the show's lead character, Issa, and her beau of several years, we were pretty sure we would never see Lawrence again. Last Sunday, Jay proved those viral fan theories wrong. When asked when his character was absent for the first few episodes of season 3, he replied:

"It's something that happens in real life. You break up with someone and you take a break. That's just the nature of relationships, the seasons of relationships, and the seasons of life, right? That's what we were seeing with Issa and Lawrence. The two of them were… not even taking a break, they were just living their lives, and for them to live their lives doesn't mean they're necessarily going to cross paths anymore."
Over the summer, word leaked that Lawrence would not be returning for season 4 of the series, and left Twitter in shambles. In fact, some fans, were so dismayed by the fact that they started a petition. Jay told Vulture:

"Yeah, somebody put a petition on Care2. Also, they reached out to me about it. They're really lovely people. They're actually really, really cool people. If you go back to the finale of episode one and you see the creation of this #LawrenceHive hashtag, which became a big thing from that finale and then obviously carried on through season two, all of a sudden for that character to just disappear and create this void…I mean, I don't think I ever expected it to grow to what it grew to be, but I hoped people would miss Lawrence. I hoped he would resonate with people and that people related to him enough where they'd be like, 'Man, I miss him, I want to see him on TV,' because you don't get to see a lot of guys like him, especially a lot of black characters of color who are going through all the ups and downs he's going through – the relationship stuff, the vulnerability."
Weeks later, another fan took project #BringLawrenceBack a step further by igniting a real protest during one of HBO's show screenings in California. Jay continued:

"Another friend sent me a video of a dude protesting in L.A. at a bar that does its own Sunday night watch party. There were two dudes standing outside protesting, obviously petitioning like crazy. So those things, the media ran wild with it, and the amount of articles that I saw were absolutely insane. I mean, the articles were insane! Anything from like, where Lawrence could possibly be and what he's doing now, to who Lawrence is with, to why Lawrence is gone, to if Lawrence is coming back and when and where he comes back. My Twitter feed was, like, blowing up for weeks and weeks and weeks! It still pops in every episode – 'where are you? When's he coming back? Why isn't he here? We need him back!' It's really cool. I don't think I'll ever be able to fully explain it."
These extreme acts of loyalty have not gone unnoticed by the Insecure actor, who says he's eternally grateful for the opportunity to shed a new, three-dimensional light on men of color in Hollywood.

Jay also affirmed, that just like many of our exes, we haven't seen the last of him.
"Next season they just got picked up for, for season four, so I'm very, very excited. But yes, I'll be around. I'll always be here."
To read the full interview, click here.
Featured image via Insecure/HBO