---
What do you get when you bring together 34 of the dopest game-changing women on the planet? You get the 2019 Support Your Girlfriends "Glossy Possé" Retreat at Moon Palace Resort in Ocho Rios, Jamaica! This is what took place in August as leaders in television, women empowerment, non-profit, finance, technology and more set aside five days to cultivate sisterhood on a distant shore.
While most people would have anticipated drama and chaos when traveling abroad with strangers, we experienced nothing of the sort. In fact, our bonds began at our local airports, moved through our WhatsApp group, and landed in Montego as we met our VIP concierge from MoBay to take ground transportation to our home away from home.
Founder and visionary Nikkia McClain established this getaway three years ago as a retreat for herself and her favorite girlfriends, empowerment leader Lucinda Cross and social justice activist Tamika Mallory. What began as a simple relax and relate escape for these girlfriends has now turned into a full five-day connection retreat for like-minded women to connect at heart and curate our own girlfriend experiences in Jamaica and beyond.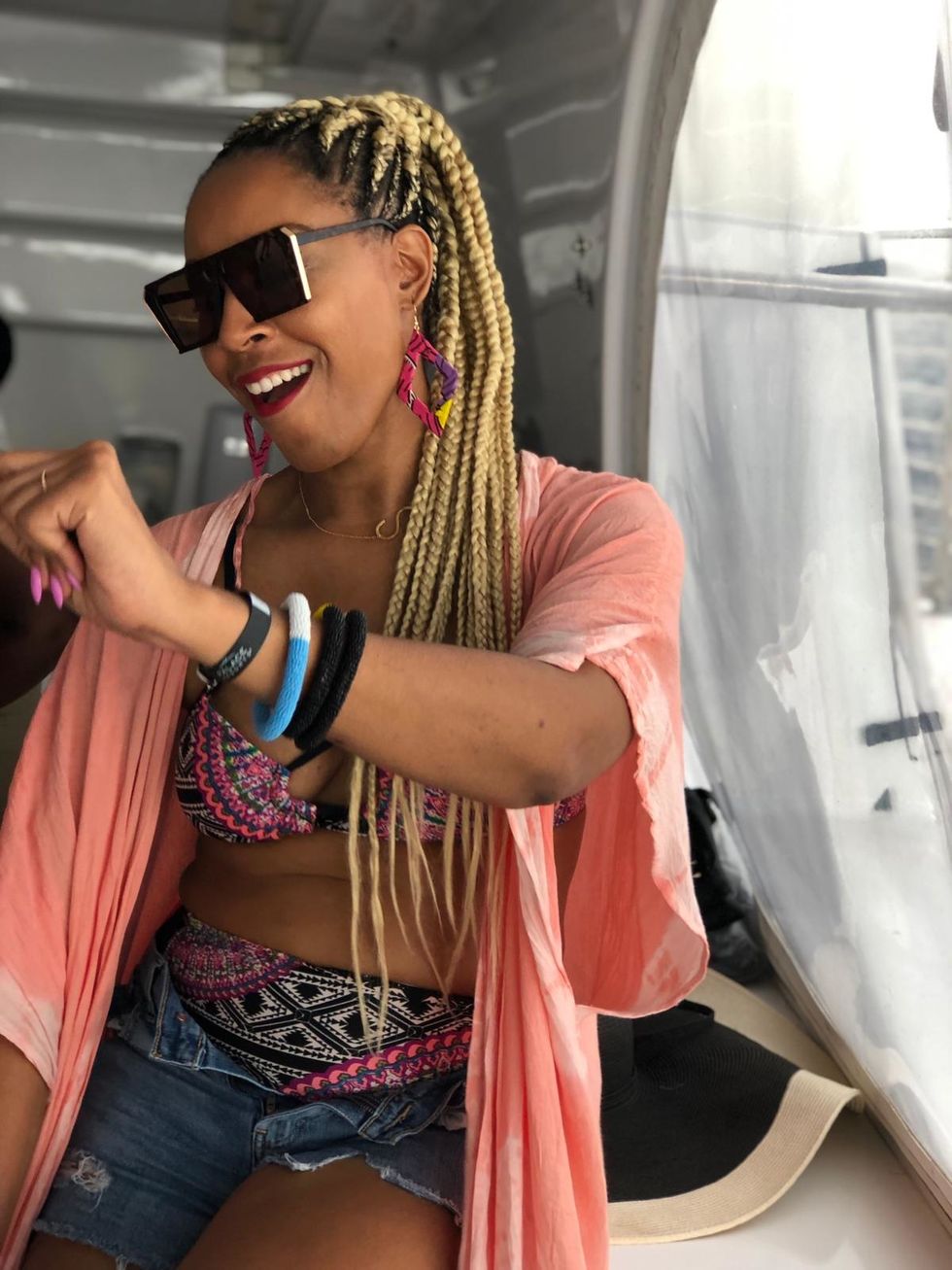 Writer Sybil dancing Sybil Clark-Amuti
Landing in Jamaica, I was immediately greeted by my VIP transport representative and matched with a fellow travel partner. After a brisk move through customs and luggage collection, we were driven to grab local eats at Scotchie's (shout out to Hugh, our driver and fellow foodie) for the best jerk chicken I've ever had in my entire life. With a scenic ride ahead, my newest girlfriend and I broke ground over chicken and travel and realized the beginnings of our Glossy Possé connection had officially begun.

Yes, Jamaica has so much to offer, but my new Glossy Possé provided so much more! Moon Palace Resort was the perfect destination to house our moments and curate the memories that every girl's trip commands.
Here's what happened at Support Your Girlfriends Retreat:
We stepped outside of our comfort zones and created new relationships.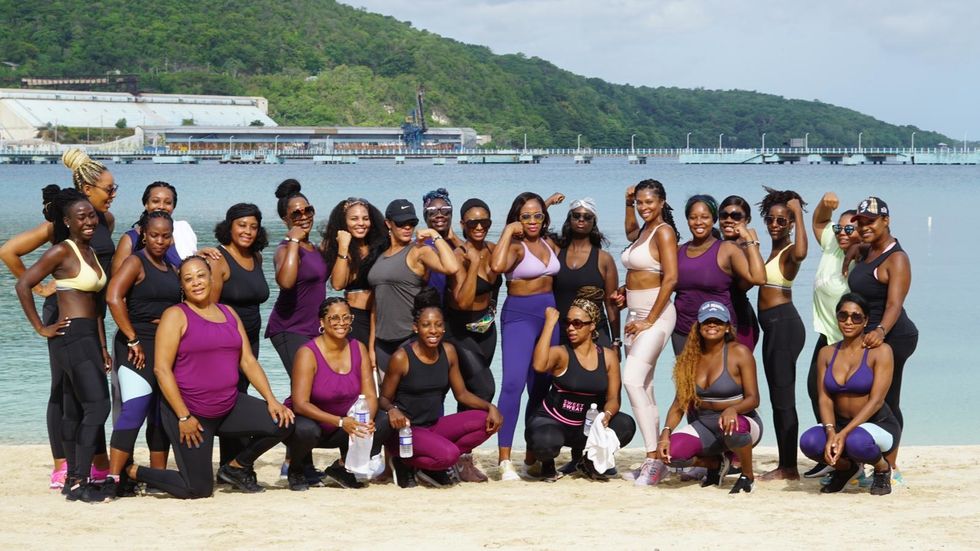 Power Workouts With Jennifer Williams
Tene Nicole
With busy schedules and a ton of responsibilities, each one of us said "yes" to the unknown and jumped a flight to Jamaica where we roomed with new girlfriends, feasted over fresh Jamaican cuisine, and were challenged to sit back and let the itinerary take charge.

We shared our story.
With digital strategist Sandra Garcia-Lowery as our host, we learned to be vulnerable and own our stories to create bridges that we can cross in the present and future.
We got movin'.
With Jennifer Williams as our beach body and fitness lead where we tackled 60 minutes of high-intensity physical release on the sands of Ocho Rios.
We hydrated our hustle.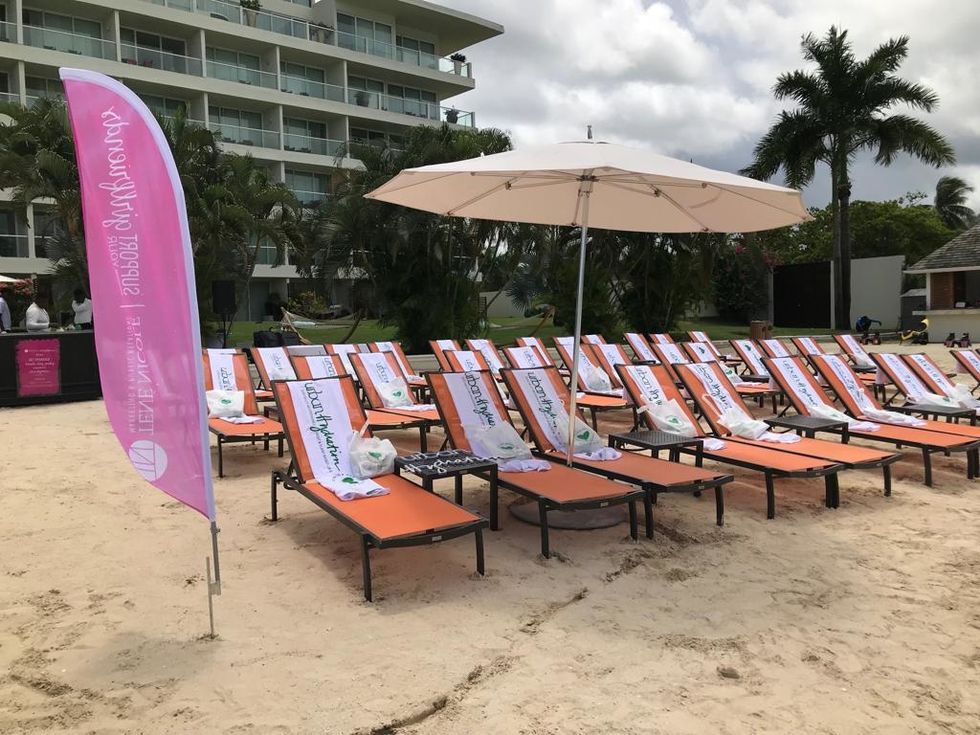 Get Hydrated Urban Hydration Beach Day
Urban Hydration
With Psyche Terry, founder of Urban Hydration, we were taken through an exhilarating mind and body experience, aligning our hearts and minds for optimal hustle!
We shined each other's crowns.
As the author of Boss Brides, Charreah Jackson led us through a healing moment where we looked into our sister's souls to truly see one another for who we really are, QUEENS.
We yachted on a private island tour where we danced the day away!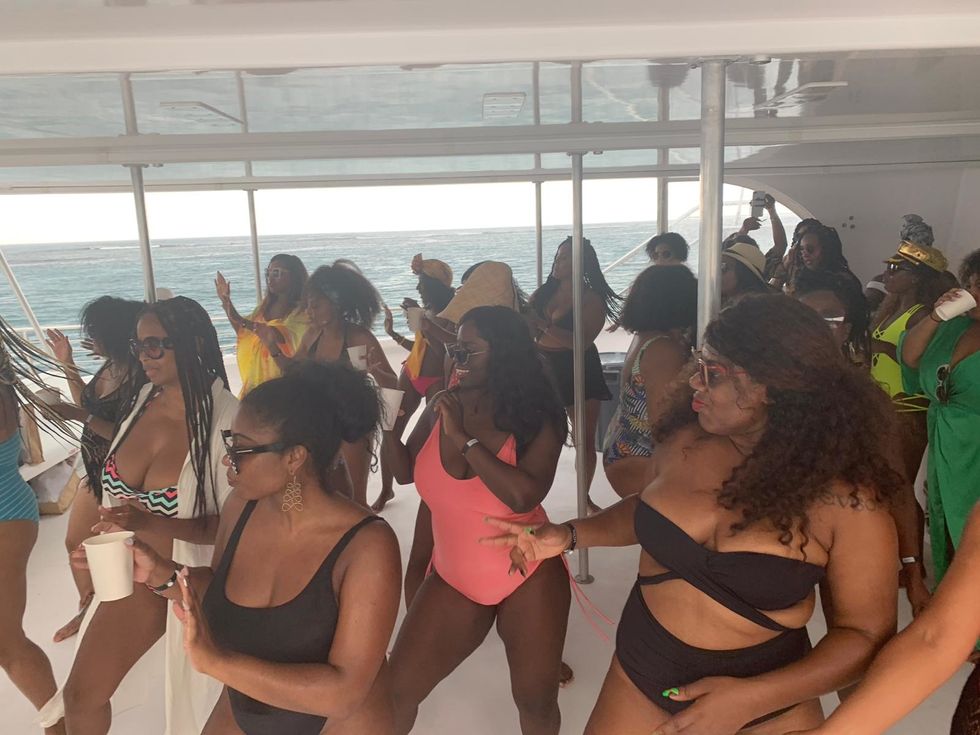 Yacht Outing Group Shoot (Dancing)
Sybil Clark-Amuti
We made a BIG ASK.
With empowerment speaker Lucinda Cross, we pushed past our boundaries, got honest about our dreams, and spoke them aloud. POWERFUL!
We took control of our money.
With finance leader Shekera Green, we started taking small steps towards the generational wealth we all desire!
We took our place in the movement.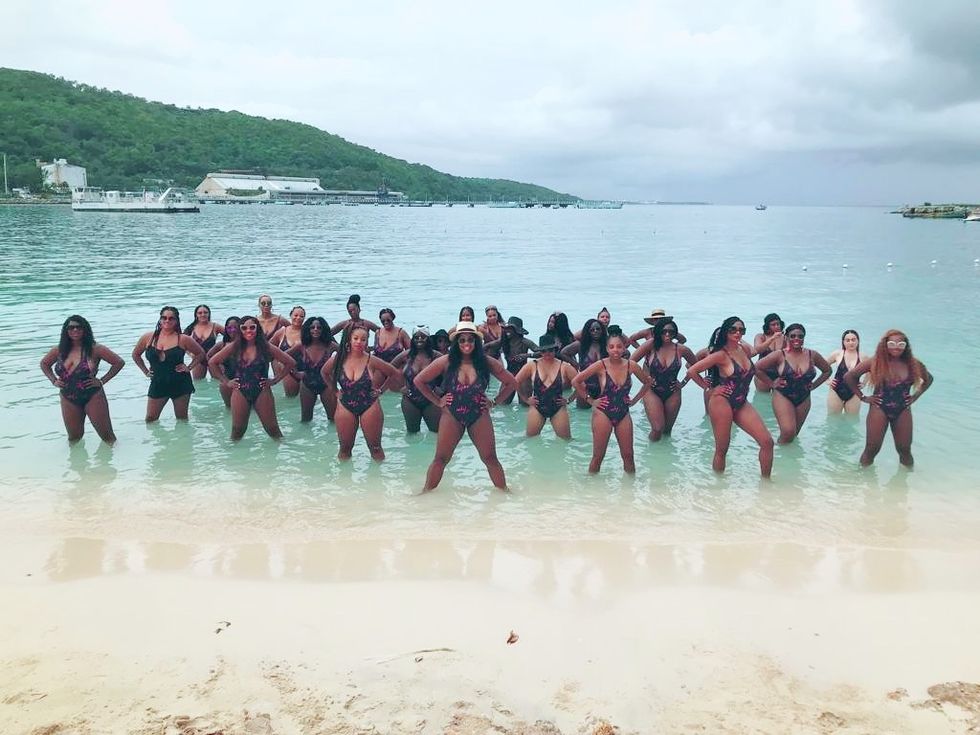 Group Beach Shot
Tene Nicole
As activist Tameka Mallory reminded us, we must do our part to carry the legacy that our ancestors started as freedom-fighters for humanity.
Needless to say, Jamaica owes me NOTHING! From the super swagilicious welcome bags filled with treats from air pods to athleisure and more to midnight dancing at the Moon Palace night club, I am FULL. Nikkia reminded us that we are the missing piece to our sisterhood puzzle. We give the quality of the sisterhood that we'd like to receive, and we can spread that "Glossy Possé" sisterhood everywhere we go.
Special thanks to Nikkia McClain of Tené Nicole Marketing and Public Relations, Moon Palace Resorts, the Jamaica Tourism Bureau, Urban Hydration, All Day Alba, and Indique Hair for making the Support Your Sisters Retreat unforgettable!
For more information, follow Support Your Girlfriends on Instagram.