I don't usually take most of what I see on VH1 seriously, but Monday night's episode of Love and Hip Hop: Hollywood took a different direction and actually featured a segment that wasn't all Vodka Redbulls to the face during a brunch brawl. Or the main chick and side chick beefing over breakfast while their man sits between them scrolling through Twitter.
---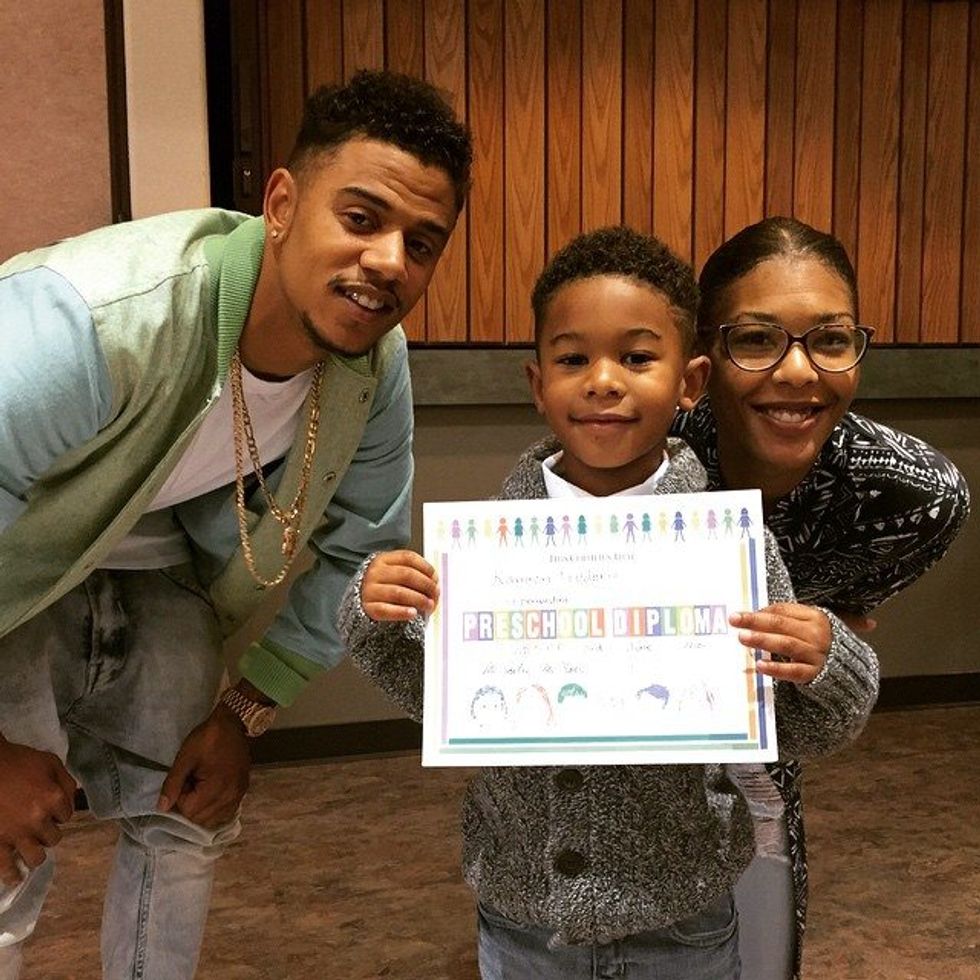 Instagram
Lil' Fizz is pretty much the closest thing to Father-Of-The-Year by reality show standards, and took a moment on the last episode to remind us about the importance of having solid support systems. If you aren't familiar with the cast, I'm referring to Omarion's homeboy, "Lethal Like Danny Glover" Lil' Fizz of B2K fame. Fizz (whose real name is Dreux) has a son with Moniece Slaughter, who has always been made to appear a little all over the place being romantically linked to celebs like Shaquille O'Neal and Rich Dollaz as of late. Her professional career has consisted of everything from singing to sex toys, but unfortunately what she's probably most famous for is a very public custody battle she has with Fizz over their son, Kameron.
Since joining the show, the two have had conflicting stories about their parenting skills and how Fizz came to have primary custody over Kameron, but if anything is clear it's that Fizz has taken a bulk of the responsibility for some time when it comes to Kameron's daily care including paying his school tuition and buying clothes and other necessities. And while I don't believe Fizz is asking for a chocolate chip cookie with sprinkles for fulfilling his duties as a father, he did remind me Monday night about how hard parenting can be, especially when you're forced to do it on your own.
On Monday's episode, Fizz took it upon himself to approach Moniece's mother, Marla, about pitching in more in Moniece's absence to help out with Kameron's care. He points out that Moniece is falling back into bad habits by taking a raincheck on her scheduled weekends with Kameron. Basically Fizz lets her know he's tired of getting his single super-dad on all the time, and feels that if Moniece can't handle motherhood while dealing with her own issues, he should at least be able to depend on her parents to jump in for the sake of their grandson. Just so we're clear, Marla doesn't strike me as the type to spend her Sundays perfecting her peach cobbler and killing it at choir practice. She gives me more of a "spin class" and Scandal stan vibe, but regardless of her interests, it's clear that she is very critical of Moniece and her life and relationship choices. Moniece has revealed in the past what led to their strained relationship:
 "Growing up, I definite didn't have a friendship with my mom or a real relationship with my biological father, either.  I was really more into the relationship with my stepdad. I felt growing up he was the only person…that really considered me."
And Marla's response to Fizz's plea isn't exactly #TeamMoniece as she suggests the only way to successfully co-parent with Moniece in Kameron's best interest is to take Moniece to court and get complete custody. Now, my feeling is a lot of things are being unsaid and maybe Marla is just practicing a little tough love, but in the most mature moment I would argue in Love and Hip-Hop history Fizz declares that what is in the best interest of Kameron is for Marla to be a solid support system for both her grandson AND her daughter.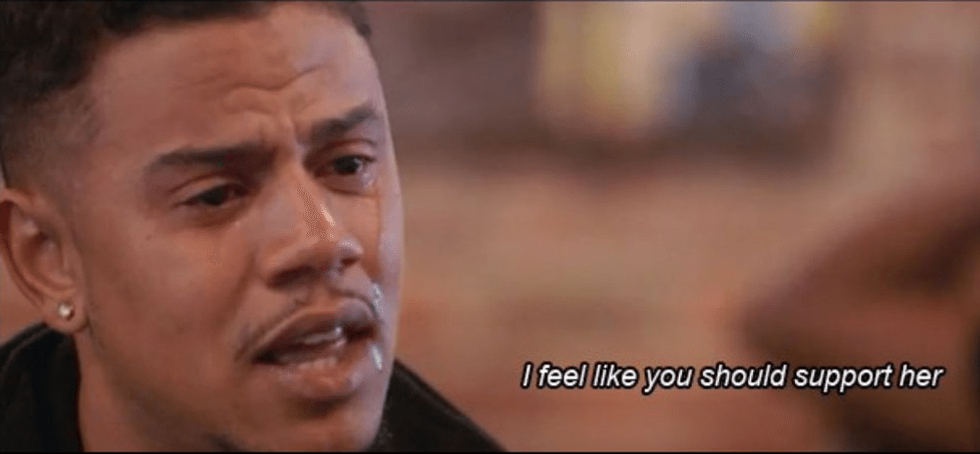 Say what you want about the boy's messy romantic choices, but at that moment I wanted to bottle up Fizz's maturity and sell it on Amazon Prime. At first, I found myself co-signing Marla's advice. I've seen too many parents casually have kids only to dump them on their grandparents as soon as those terrible two's hit and turning up every day is way more of an attractive priority than keeping your kid from gluing the pets together. I even caught myself verbally saying, "Naw, Fizz, now you're doing the most. Marla is done raising her kids." But Fizz is right, and being a parent is a lifetime responsibility that doesn't just end after 18 years. As much as Marla tries to call him out on his questionable decision to date Moniece and raise a family, he pleads with her through tears:
"If you're gonna be a parent to Moniece, Marla, I feel like you should support her through her demise. Period."
Marla reveals that she herself is a mere 47-years-old and can relate to his single-parent struggle after having Moniece at 19 and for the most part raising her on her own. When Fizz later brings up the conversation to Moniece, she has a mini-breakdown reiterating that, "No one cares!" and it's obvious that her own parenting (or lackthereof) is probably the result of a cycle of poor communication and inconsistent support. Fizz is the epitome of unconditional love when he responds:
""You're attacking me, and I'm the one that's been helping."

"I love you and I know that Kameron loves you, and I need you to figure this out, Moniece."
Maybe I'm being extra, but if that doesn't hit you straight in "the feels" I don't know what will.
What I'm learning about parenting is that all you can do is the best you can with what you have. I don't like asking folks for help. I don't like feeling indebted to anyone or placing myself in a position where people can make or break my life.  I think in many ways, especially being a black woman, asking for help is more like admitting a weakness or flaw. But let me let you in a little secret: No one raises a child alone, and better still, no one should have to.  Unfortunately, people find themselves as single-parents every day. Does that mean you should put up with baby mama drama or shiftless baby daddies? Hell to the no. But even if you're lacing up your cape every day and single-handedly killing supermom status, what's in the best interest of a child is a well-balanced parent who knows the importance of self-care and being able to ask for help. And you can only accomplish that when you have a team to talk you off the ledge when the score is You: 0, The Parenting Struggle: 1000.
I can't tell you how much having two sets of fully supportive grandparents this past year has saved me in childcare expenses, as much as my patience and sanity. Whether my husband and I both have to work overtime or I need that happy hour once a month to make the difference between parental bliss and breakdown, I am glad to have parents that are committed to their new role as grandparents: to help me in my parenting journey and step in for their grandchild if for whatever reason we are unable to. I still don't think grandparents should have the task of raising kids all over again, but I do think any good support system recognizes that parenting doesn't just end when your children have kids of their own. I applaud the single parents out there who are raising awesome kids all by themselves, but the truth is Fizz isn't alone in admitting that child support is about more than what's taken from your check each month. Whether it's a "Pop Pop," your cousins and 'nem, or your pastor, what's in the best interest of the parent and child is a solid support system.
Take a look at Fizz's moment of truth below: