Claws is returning for a second season soon, and I'm already visualizing my summer nail inspo to match the occasion. The show's eccentric group of characters drew viewers in by telling the story of five manicurists struggling to make ends meet who encounter danger and adventure on their way to the top. On June 10, the fiery cast will have us back on the edge of our seats again.
Niecy Nash is the leader of the pack, Desna, a foxy nail tech from Florida, whose dreams always seem to be stifled by her circumstances. She and her quirky crew of nail mavens encounter colorful characters and personal crossroads as they solidify their position in the Florida drug game through cheating, money laundering, and doing business with getting involved with some shady Russians.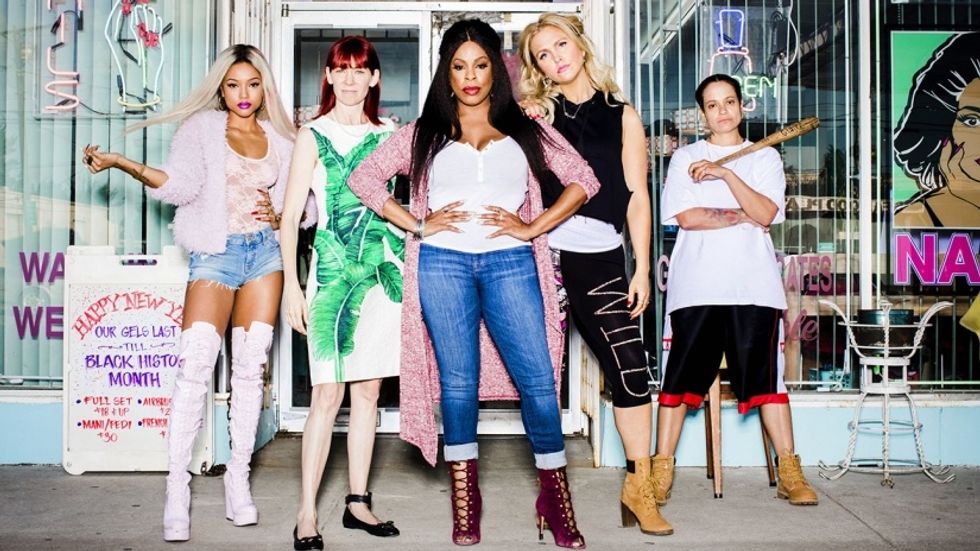 Claws/TNT
The star-studded cast has been hesitant to release details about this season, but Niecy Nash says that we can continue to expect unapologetic slayage from the entire cast. Nash told Gold Derby:
"They are unapologetic, fierce and badass. It was time for this story to be told through these women. The men on the show have leaned into the women taking the lead. And I think they like it."
Karrueche Tran told Bossip that we can expect even more chaos from her character Virginia this season, and we are here for it.
"There's so much that is going on, but we can't say much. If you've seen season one, it's crazy. Season two is times 100 and with Virginia, you still see more layers being pulled back of who she is, her struggles. You see this wonderful relationship develop between her and Dean, and more situations and life-changing moments for them…we go through some real s**t."
Niecy Nash chose to fully commit to her character this season by seeking out a mentor. She told Bossip: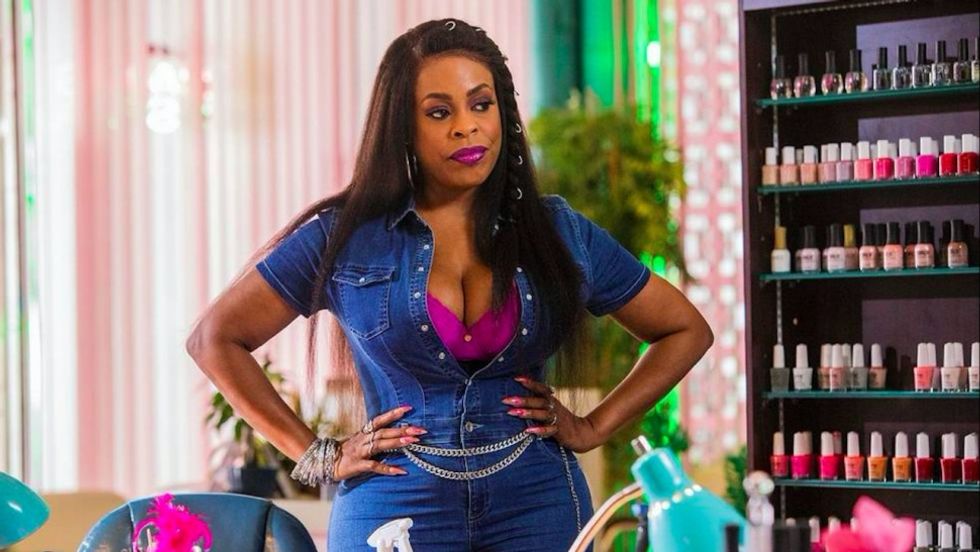 Claws/TNT
"I have a new mentor this season. She is really giving me a Baptism in what means to be a Queen Pin in the mafia. I think season one, I was trying to get out. Season two, I'm leaning in."
Though the actress had to get hip to some of the drug innuendos, she said that she was able to portray Desna so well because Desna was someone who was familiar to her reality.

"I love playing Desna. She is so many women that I know, on the south side of 40, no kids, no man to speak of. SHE'S SO THICK! I can't breathe after the end of the day wearing those jumpsuits. She's complicated, flawed, sexy, and real. I love that you get to see her making love on television, we don't always get to see us that way."
Claws is an ode to femininity and the sisterhood that's formed when we discover the complexity of our womanhood. Having a team of women that have your back, especially in the professional world is essential to creating dope experiences. Nash mentioned that one of the most valuable things that she's gotten from this project was the sisterhood that she was able to develop with her fellow castmates.
"I've learned what sisterhood really looks like from working with the women. Because we care for each other. [An example of this was when the women had a fight in the salon.] In the scene, there's a big group fight. But when they yelled, 'Cut,' everybody is checking on the other. We'd ask, 'Are you ok?', 'Did I grab you too hard?', 'You know I really love you, right?' It's always a good time when all the ladies work in a scene together."
Make sure to tune in for the first episode of the second season, premiering June 10 on TNT.
Featured image via Instagram