Festival season is in full effect!
---
If you've been following us on Instagram, you'd know that two days ago, the xoNecole team touched down in Cincinnati for the 2018 Cincinnati Music Fest.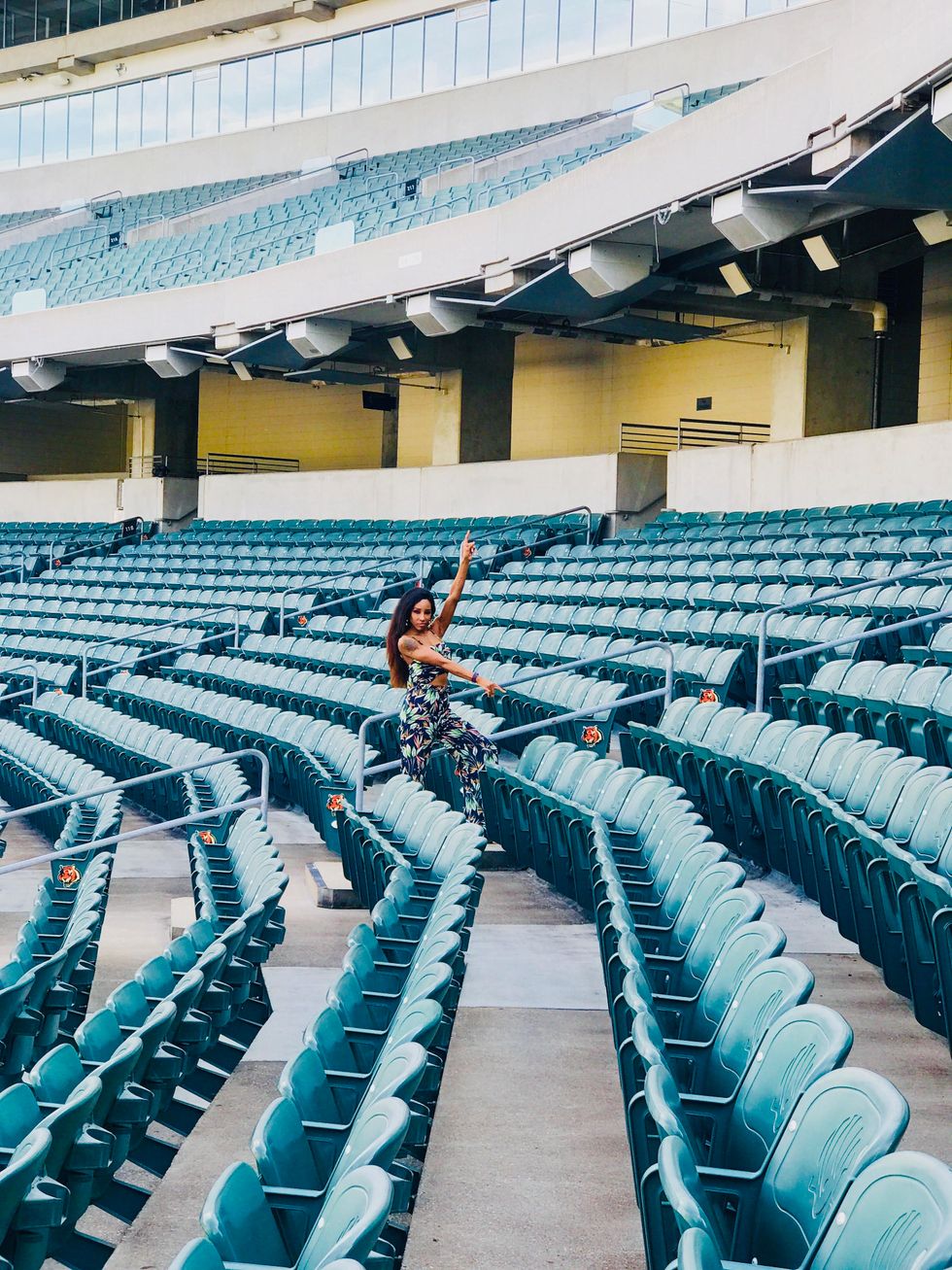 The festival is coined in the Queen City as the "Essence Fest of the Midwest." With their infectious nod to the 90s with music acts from back in the day, I am definitely feeling those nostalgic vibes, and I'm not mad at it! Each year, CMF brings out nearly 100,000 people to join in on the fun and mecca for black music and black culture.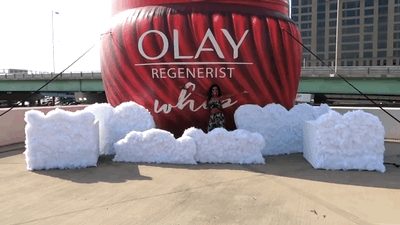 Although, Day 1 had me swaying to the beat and doing my best two-step on the stadium floor to the sounds of After 7, Tamar Braxton, and Xscape3, I was also in love with the interactive immersive experiences that were located around the Paul Brown Stadium CMF had to offer. Alongside their retail partner Kroger, P&G (Procter & Gamble) created the experiences so that attendees could easily engage with familiar brands in fun, memorable, and resonating ways.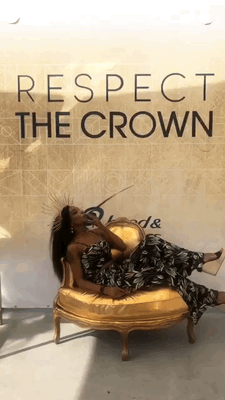 The Goddess Patio Spa is by far one of my favorites. It speaks to the inner Queen in me, and with a photobooth that has the words "Respect the Crown" front and center, I am reminded of the magnitude of my Queendom. The Goddess selfie booth also allows you to channel your inner Beyoncé with plenty of sun crowns to choose from, helping the ladies to further illuminate their glow from within.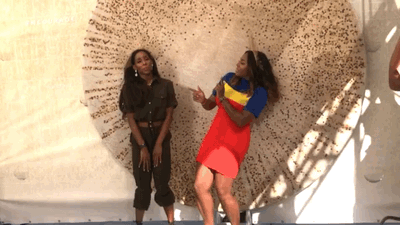 The experience also features self-service beauty bar with complimentary hair touch-ups and stylist consultations, as well as product samples from the likes of the Pantene Gold Series. My Black is Beautiful provides the roll-out with plenty of the platform's branding everywhere, as well as a free t-shirt (heyyy!). In its center, Olay offers a product demo Beauty Bar. All of the gold accents scream royalty and I am living.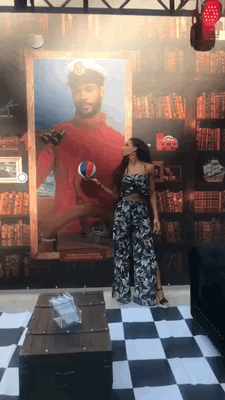 Old Spice and Head & Shoulders' Kickback Man Cave experience was another one I loved. From the branding, to the card games, basketball, and billiard tables, I was here for it all! In addition to one on one gaming fun, the interactive experience also had product samples galore and came with sneaker cleaning services for our baes' kicks. It was the male equivalent to the Goddess Spa, but also something the ladies could enjoy too.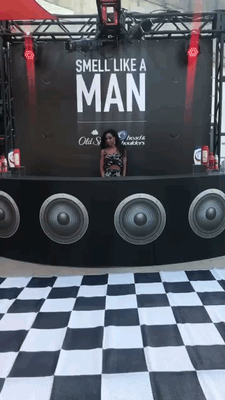 In the background of all the fun, OWN was doing behind the scenes work in partnership with P&G to give the OWN audience an all-access look at the "best of the fest" featuring host and influential OWN cultivator, Kela Walker. And you know me, I had to partake and get my groove on in a scene or two. Be sure to catch the finished product on July 31, airing before our favorite new OWN series Love Is__.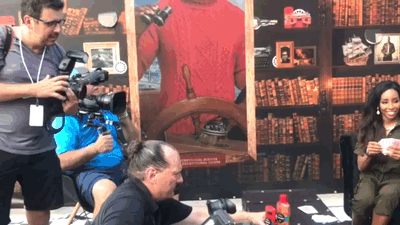 Tide also showed up and showed out with their Tide Spin Cycle activation. The immersive experience consisted of a giant washing machine structure that attendees can go through and learn the journey of a Tide Pod, and cop a Tide Pen or two. And, once you come out of the "washing machine" so fresh and so clean, clean, you can pause and take a photo opp featuring bubbles galore.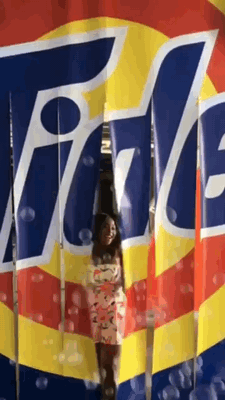 And although the weather is amazing in Cincinnati, not too hot and humid, just right – with all of the excitement going on at CMF, you might want to stop at one of the Secret and Always Restroom Refresh Stations where you can take a minute, get your product sampling on, and grab a fan and cool off for a bit. Yasss.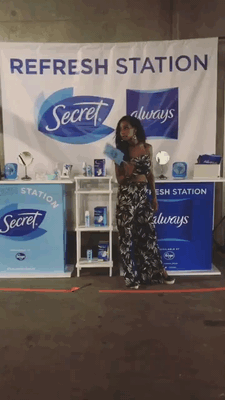 With my fitness competitions and Essence Fest, July has been quite the whirlwind, but surprisingly, Cincinnati Music Fest has been a breath of fresh air and I've been able to recharge in a lot of ways. CMF and P&G have been doing their thang with insuring this experience feels like the 90s and I must say, it has been the restorative weekend I didn't know I needed.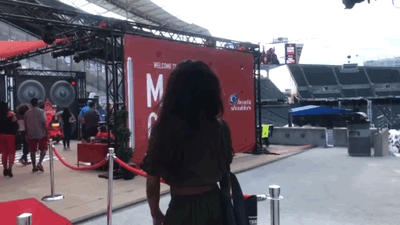 Day 2 is officially here and I can't wait to see Jill Scott, Common, and your shining faces at the brand activations mentioned above! Let us know in the comments if we'll see you at CMF!