Necole Kane
Necole Kane is the founder and Editor In Chief of xoNecole.com. After spending 7 years as a successful celebrity gossip blogger, the Maryland native launched xoNecole.com with the mission to promote positive images of women of color as well as empower, educate, and inspire millennial women to live their best lives. Keep up with Necole on Instagram and Twitter @hellonecole, or through her personal website NecoleKane.com.
At first glance, Corey Calliet may come off as a bit intimidating. With a beautiful smile complementing his chiseled frame, the modern-day Adonis, who ironically trained Michael B. Jordan for his role as Adonis in the Creed series, has a well-deserved reputation for building the bodies of some of your favorite Hollywood celebrities.
But the vision the self-proclaimed body architect has for his career doesn't end in the gym or on the red carpet. In addition to training some of the top stars in Hollywood, he has his own apparel company (Levelz), is a featured trainer on Revenge Body with Khloe Kardashian, and has more recently caught the acting bug.
Despite having an impressive resume, it's the trainer's rags-to-riches story that has us begging for more. Growing up between New Orleans and Baton Rouge was no easy feat for Calliet. After losing his mother at the age of four, he was shuffled between his sister and grandmother before finally settling with his aunt and uncle in a crowded home. Enticed by the street life, Calliet learned the art of the hustle that eventually carried him into a successful career.
But he didn't leave home without picking up a few relationship gems from the women who raised him. "We saw love where no matter what you were going through, you weren't going to give up. No matter how bad the situation was, no matter how hurtful, they never quit."

While he may rock sweatshirts that say he's "emotionally unavailable", we can't help but to sneak a peek into this Cancer's emotional side, and dare we say that we like it. As the saying goes, never judge a book by its cover, so we're taking a dive between the sheets of this open book to find out his thoughts on love, why he's not looking for an independent woman, and his biggest fear in a relationship.
Necole: Your life sounds very busy. How do you keep the fire going when you are in a relationship?
Corey Calliet: It takes a very special woman, and I'm single right now, so I haven't mastered it. Every time I get into something serious, I get better, and it's hard because you can't give the love that you want because we know that love is patient, love is kind, love is all of these things. I can't give that to a person all the time. So, it's hard and to be honest with you, I haven't found that woman that can understand what I got going on.

You get up and train early every day. If you were with someone, how does she fit into your mornings? 
When I'm with a woman, she comes first.

When I wake up, I have to make sure she's okay. Is there anything I can do before I get my day started? Anything I could do to make you comfortable? If she's hungry, I need to get breakfast. I need to make sure that everything is taken care of with her first because she's laying next to me, and this is my girlfriend now, this is not some random situation. This is somebody I take care of, somebody I want to be with. So I make sure she has the things that she needs and then I carry on to take care of what I need to take care of myself.
What are some important qualities that you look for in a woman? 
Maybe this is wrong, but I don't need the most independent type woman. We have a generation of women that are coming up and saying, "I don't need you for nothing." I need a woman that's caring, that's nurturing. I need a woman that loves God. She doesn't have to be super successful, just be passionate about what you do. Love what you do. Love yourself. I need a woman, not to just love me, but to like me because if you notice, a lot of people love each other, but they don't like each other. I want a woman that will love my daughter as if she has hers. I want a woman that's strong. A woman that could have my back.
I feel like a woman could bring substance into my life. She could be my foundation. She could recharge me when I need it and we recharge each other.
My thing is, I didn't have a mom. So, I don't know what that's like. So, I don't look for a mother in every woman, but I look for her to have motherly qualities, especially if we plan on having kids. I'm already successful. I probably could help make her life even better. Just support her and build her up.
Sometimes, people want the person they're going to end up with to make a certain amount or at least be financially well-off, and some people don't care. Where are you on that?
I'm not going to say I don't care, but bring something to the table. I'm going to give the analogy of, if I bring a plate, the spoon, the fork, at least just bring the glass. That's it. Just bring the drink. I got everything else.

Looking back on your most recent relationship, if you could name one thing you would have done differently, what would it be? 
I would have paid attention a little more. A lot of times we assume and do stuff that we shouldn't do because we didn't pay attention. I would have paid attention, and she would've been able to understand me because I wouldn't have got it wrong all the time. If I paid more attention, I would have known that I was going down the wrong road, and I would have seen the signs.
If I had a meeting with one of your exes, and I said tell me one thing I should know about Corey, what would she say? 
He's emotional. [laughs]. 100%. She'd say, don't let that hard rock fool you. Don't let his tone fool you. Love him, and tell him that. Let him hear it, and he will give you everything you want. Nobody has been able to do that.
What is your love language?
My first love language is words of affirmation. I want you to be able to look me in my eyes and tell me how much you love me, and how much you care about me. I want to hear it.

To be honest, sometimes the words, "I love you," "I care for you," "I need you," and "I want you" – hearing those words are better than sex.
When you are personally going through something, and your partner has to stand in the fire with you, how would you like for her to support you?
I remember I used to date someone and she'd always say, "I don't have as much as you have. I don't have this. I don't have that." And I told her, "Take away all the accolades in the world and just give me you."

What happens is when I'm going through a place, I don't need nothing that you come with, I need YOU because those things will not last forever. Physically, mentally, emotionally, and spiritually, be there. Be my person that says, "You know what? No matter what, I got you. It's okay. We're going to get through this."
Do you have a fear of abandonment?  
Yeah, to being rejected and shut out. That hurts. That was one of the issues in my past relationship before I moved to LA. She would shut me out at the drop of a dime. She would just cut me off. She lived almost 40 steps away from me, and she would just drop me. Don't answer the phone. Don't answer the door. Don't answer my texts. Don't do nothing. Just cut me out, and I believe that that takes a special type of mean person to just cut a person out completely, and then drag them back in when they feel like it. Like tell me, "I need time. I need space, but I'm letting you know I need this. I will be back, but I just need this."
Don't just cut me off. That's one of my reasons of being afraid of letting people in too close, but I can't help but to let them in 'cause that type of person I am.
So if there's a disagreement, who apologizes first? 
Me. I'm going to apologize first unless you beat me to it. I have the gift of seeing things both ways. I take a step back and understand where you are coming from and why you may not have understood my point, and I will apologize for my actions and my wrongs. I will apologize even if I'm right just to get you to open up, and tell me why you handled things like you did, and what was going on.
Is sex an important part of the relationship?
Sex is very important, but don't overthink it. Sex shouldn't become something we have to do like a time schedule. Sex is about two people wanting each other. When I get married, sex is important, but I'm not going to put a strain on it, like, do we have to have sex every single day? Hell, no.
Your daughter is getting to that age (13) where boys are going to be interested soon. How are you preparing her for that? You got to get your shotgun ready?
I talk to my daughter all of the time. I think the best situation is being able to have an open relationship with the child. Me and Cammy have real conversations like she's almost my age, which is the great thing because we have such a close bond since she was a little girl, and having that open relationship and being able to talk, I think that's how I'm able to prepare her for what's going on. I don't hide nothing from her. I'll let her know what's going on because I need to let her know now so that she can be prepared for it in the future.

When you're dating someone, what's the prerequisite for who gets to meet your daughter? 
Most of the time that she's with me, she meets who I have in my life, but Cammy has this thing where she says, "I'm not getting attached to anybody." She experienced something with my last big relationship with my ex-girlfriend. When we stopped talking, my ex cut her off too, and my girlfriend was like a stepmom to her. She told me she'll never get close to no one again.
For more of Corey, follow him on Instagram.
Featured image via Kathy Hutchins / Shutterstock.com

Originally published on March 4, 2019
It's been 5 years since we've launched xoNecole, and as I reflect on the journey I can't help but be filled with gratitude. I left behind the celebrity gossip world to create something that was uplifting and elevating for women of color as they navigate different aspects of their lives, a decision that admittedly was both terrifying and exhilarating. There were many times when I questioned whether or not I had made the right move:
Would people shift with me as I transitioned out of the celebrity-obsessed culture to create more positive content?
Could I grow a community of dope, fearless women who were on a mission to become their best selves?
Would the risk prove to be rewarding?
The answer is it a resounding hell yes!
Thanks to you, xoNecole has expanded above and beyond my wildest dreams. You've fearlessly shared your stories, showed up and showed out from the digital space to live events, and championed your fellow tribe of women along the way. The xoNecole community is one that I'm proud to laugh, cry, and learn with on a daily basis. Without a doubt, you guys have been instrumental in the success of the brand and how far we've come, and it wouldn't be a party without having you there to celebrate this milestone with us.
So join us TONIGHT as we give a virtual toast to 5 years with our xoTribe. You'll meet the key players on the xoNecole team as they share the ups and downs of building the band, and hear testimonies from the women who were instrumental in the launch and growth of this empowering platform. I hope that hearing about the beginnings and how it all transformed into the beautiful brand it is today will inspire you to aim BIG!
Note: Must be a member of our xoTribe community.
As a person who rarely watches TV and doesn't get into a lot of shows, especially reality TV, I've been seriously pondering over what made me so invested in Netflix's #LoveIsBlind series.
The show was set up as a social experiment where they took 30 women and men, cut them off from the real world, and set them up on rounds of speed dating for 14 days to see if strong connections would be made. At the end of the 14 days, six couples walked out of the pods engaged, and they were whisked off to Mexico where they would spend time with each other for the first time. Only five couples made it out of Mexico, and they were thrust back into the real world to take on the task of meeting each other's friends and family and having to explain that they were in love and would be getting married in less than 30 days to someone they had just met just two weeks prior.
Whew chile, the mess of it all, but I couldn't stop watching!
After watching a cringe-worthy scene that involved the only black man that got shine on the show yelling at his fiancee, "That's why I don't date b*tches like you," a crass statement made after she couldn't quite process that he forgot to tell her he dated both men and women, I had little hope that a sista was going to make it out of this with a love story she could tell for ages.
But then there was breakout star Lauren Speed, who reminded me that the seemingly impossible was indeed possible.
The Detroit-bred, Atlanta transplant reeled me in from Episode 1 with her charming exchange with her soon-to-be real-life Prince Cameron Hamilton. By day two of the experiment, they were crying together and completely smitten over one another (while separated by walls mind you) and she became the first woman to get engaged.
Although I was rolling my eyes during the "I love you's" in the first episode, I was wiping my eyes by the finale. If I for one moment doubted Cameron loved Lauren before ever seeing what she looked like in Episode 1, all doubts were erased by Episode 9 as he never wavered, and tirelessly proved his love for her scene after scene.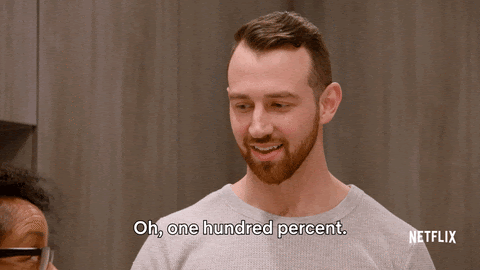 It's not hard to see why there's so much hype around this couple, who has single-handedly driven the show to an international phenomenon. Here, we see Lauren, the epitome of #BlackGirlMagic, who is extremely independent, vocal about the plight of black people and the importance of a strong black family structure, fall for a man she wouldn't have otherwise dated under different circumstances. And he, too, was smitten throughout every single scene as she showed up as her full, authentic self (rocking a bonnet to bed on their first night together and all), and reassured everyone who would listen that he had landed the most beautiful woman in the world and he couldn't believe he was so lucky.

I hate to admit it, but this show made me believe in love again.

It made me wonder, what would life be like if you took away the distractions of social media, the followers, the titles, the accomplishments, the ability to Google and do your background searches, the doubtful opinions of family and friends, and able to date and fall for someone purely off of their character, soul and spirit with physical being an afterthought? Love in its purest form.
Last week, I caught up with Lauren and Cameron at the Love Is Blind finale party and they seemed even more in love than when they said their "I do's" in November 2018. I was curious to know how the marriage was working out for them after the honeymoon stage had worn off, and from the looks of things, they are proof that love is truly blind.
Here's what they told us:
xoNecole: You guys have received a tremendous reaction to the show as well as yourselves as a couple, what has been the most surprising reaction so far?
Cameron: Shonda Rhimes! It was awesome to see her tweeting about this show and saying that she was waiting on edge, just as we had been waiting on edge to see shows like Scandal.
Lauren: Yeah! It was awesome to see she was team Lameron. The love and support that we are receiving for our relationship is amazing.
How much did your family and friends know about the process when you were taping the show?
Lauren: Basically, our parents knew that we were going on a dating show that could possibly lead to an engagement or marriage. So, there were 10 days, or two weeks, where you couldn't talk to your friends or family. We were supposed to take those two weeks and focus on each other as a couple and the relationship. So, after we completed the show, it was like, "Hey mom and dad, I found somebody and I'm engaged." They were like, "What the hell? What do you mean you found somebody?" Then you had to explain to them that I met this person and I'm in love and it's kinda like…that's when things get a little…
Cameron: Yeah, they were skeptical on both Lauren and I's side. "We don't know about this, it sounds kind of sketchy..."
Lauren: Which is understandable.
Cameron: My parents advised me not to do it but I just had a feeling that it was the right thing for me to do.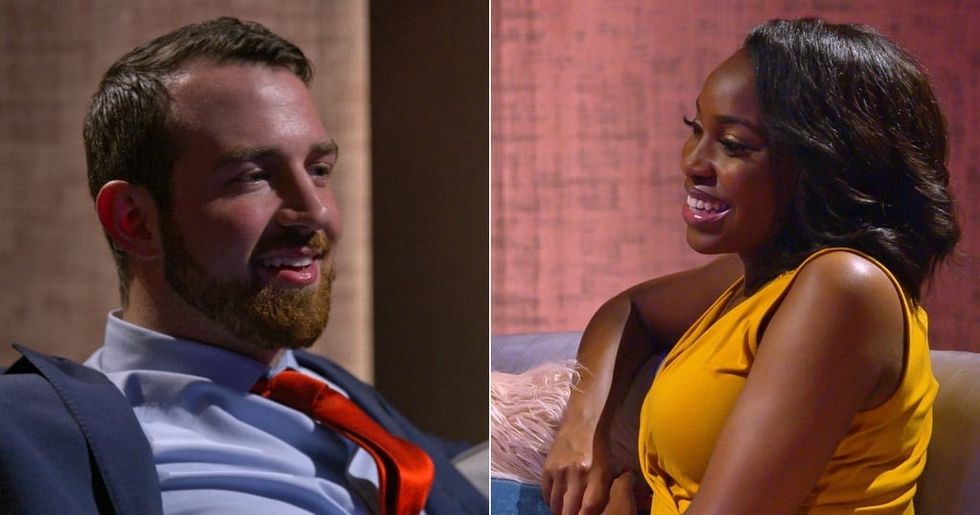 Netflix
​While watching, I felt like the cast was given questions or prompts from the producers that helped move the relationship along. I think naturally when you first meet someone, you are afraid to go deeper on the first few dates, but you guys had to go deep pretty quickly. So, what do you think were some of the questions that really helped you to get to know him on a deeper level and vice versa?
Lauren: For me, when I asked him when was the last time that he cried. That's the type of stuff, like do you ask that on a date? No, not really. But that can tell a lot about a person. What makes you cry? What's important to you? What motivates you to get up in the morning? What are you scared of? What are your fears? Those types of things can tell a lot about a person, about their lifestyle, and their personality. So yeah, those are the type of questions I was asking. I went for the jugular with the deep stuff.

"What makes you cry? What's important to you? What motivates you to get up in the morning? What are you scared of? What are your fears? Those types of things can tell a lot about a person, about their lifestyle, and their personality. So yeah, those are the type of questions I was asking. I went for the jugular with the deep stuff."
Cameron: Yeah, we were asking questions like, What are things you have done that you are not proud of? What are your deepest fears? What really drives you? Where do you envision yourself being in five years?
Lauren: Yes, life plans.
Cameron:How do you want to raise kids? Do you believe in spanking?
Lauren: Yes!
Cameron: We are on the same page about that!
After getting married and living together, what did you guys learn about yourselves?
Lauren: A lot! Whew, you're about to make me get deep. Cameron's parents were married for 33 years and my parent's marriage ended in divorce. So for me, I haven't had an example of a successful marriage and what it means to be a successful wife to a husband. I had to learn how to be a wife and I had to learn to be a partner. I've been living independently for so long that I hadn't really evolved that part of myself. I had to learn to really grow and learn how to partner with someone.
"Cameron's parents were married for 33 years and my parent's marriage ended in divorce. So for me, I haven't had an example of a successful marriage and what it means to be a successful wife to a husband. I had to learn how to be a wife and I had to learn to be a partner. I've been living independently for so long that I hadn't really evolved that part of myself. I had to learn to really grow and learn how to partner with someone."
Cameron: Yeah, we had to learn how to be together as a team on a daily level. Even that kind of minute, boring stuff—or how to keep things exciting when you both are working from home all the time and you know, not get tired of seeing each other. Giving each other space when you need to, but also have romance, go out on dates and all of that kind of stuff too.
So, did you keep your apartment?
Lauren: NO…
You know we noticed that background from the house tour in your Instagram photos…
Lauren: We got married and I kept it for three months, so that was a little transitional period. So, I would go over there sometimes and come back, but after the three months, I was like, you know if we are going to do this, let's do this. I'm all in.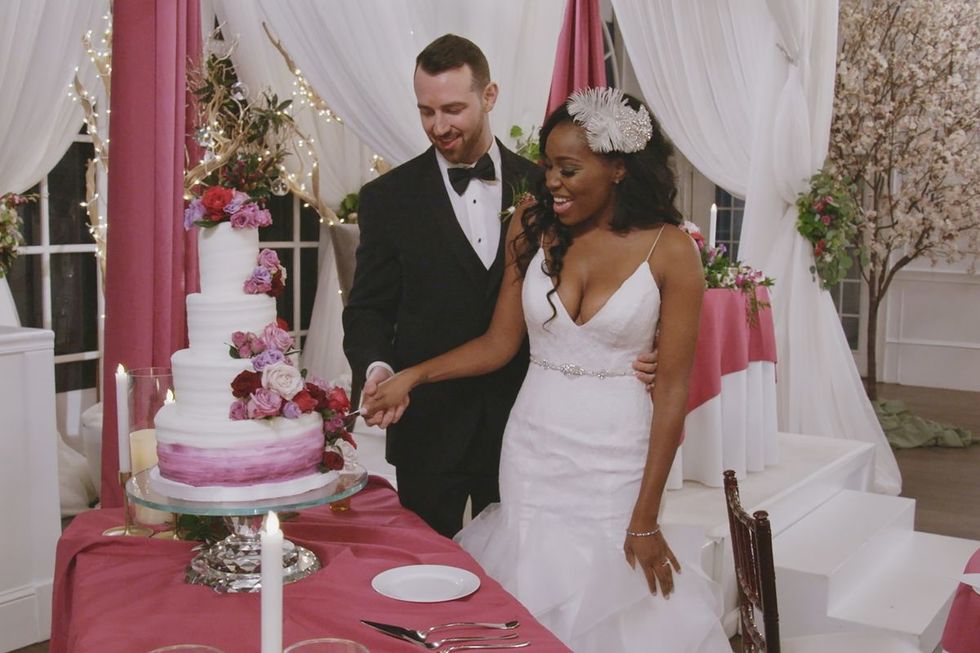 Netflix
I heard Michelle Obama talking about Barack and she said I hate the way he chews. So, what gets on your nerves that you guys do to each other? Can you share that?
Lauren: Ohhhh…
Cameron: I've got something too, but go ahead.
Lauren: Okay, I can't stand when Cameron leaves dishes around the sink. All you have to do is rinse it and put it in the dishwasher. It's nothing serious.
Cameron: I was going to say, you don't know how to load a dishwasher. There is no rhythm or reason to it, she just kind of throws it in there.
Lauren: At least it's in there…
Did it take the time you had in the apartment to figure this out or was this after you got married?
Lauren: He was like, "No, the cups go on the top and you have to rinse it before you put it in there." Probably after moving in, once you start to share space, then you are like, ohhh, he does this like this…
Cameron: Well, you know, I think the things that we work on, and have worked on, are things I would assume all married couples would work on. Despite the fact that the experiment was unorthodox, I mean we are a normal married couple in most respects. I'd like to think we have a healthy marriage and we're not perfect but we work through the things and I think that's the biggest part. We communicate, even though at times that we don't want to. We talk about it and we work through it.
"Despite the fact that the experiment was unorthodox, I mean we are a normal married couple in most respects. I'd like to think we have a healthy marriage and we're not perfect but we work through the things and I think that's the biggest part. We communicate, even though at times that we don't want to. We talk about it and we work through it."
For more Lauren and Cameron, follow them on Instagram! And check out the Love Is Blind reunion, currently available on Netflix.
Featured image via Netflix

If you have any doubt that H&M is doing it for the culture in 2020, their latest capsule collection is proof that the brand has turned a new leaf. On Friday, February 21, the clothing brand threw a Ruthless Block Party in Atlanta to celebrate their new drop with iconic costume designer Ruth E. Carter.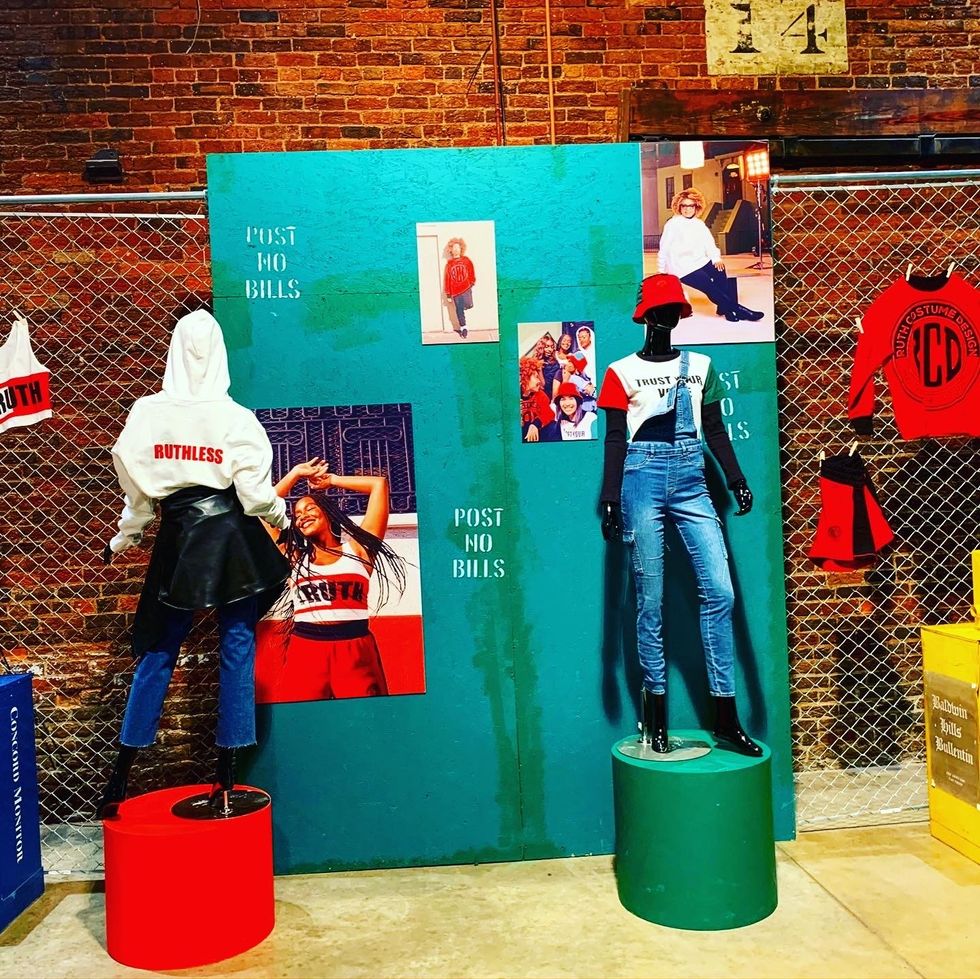 Walking into the Georgia Freight Depot felt more like a walkthrough of a '90s Harlem block party with bleachers, basketball courts, boombox-inspired props, and attendees dressed in '80s and '90s fashions filled the venue.

The event also featured a unique exhibit that featured some of Ruth's most iconic looks from films like Black Panther, BAPS, I'm Gonna Get You Sucka, Malcolm X, and Dolemite Is My Name.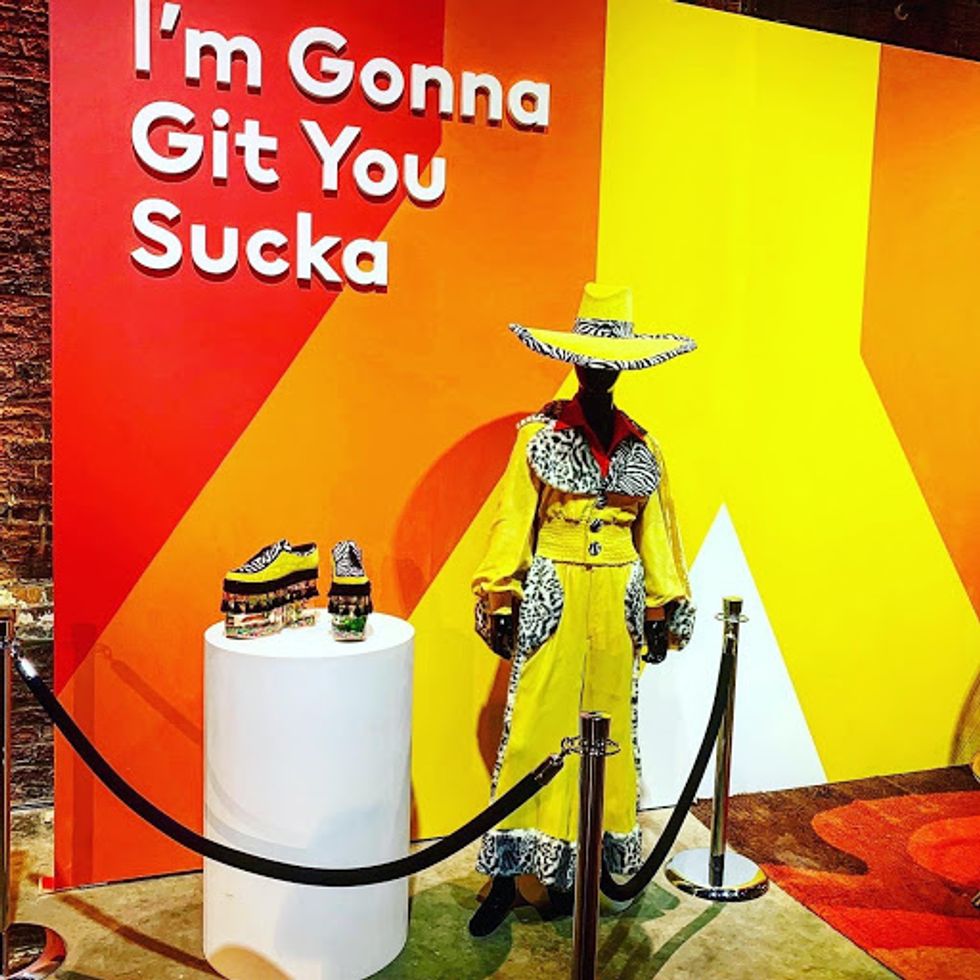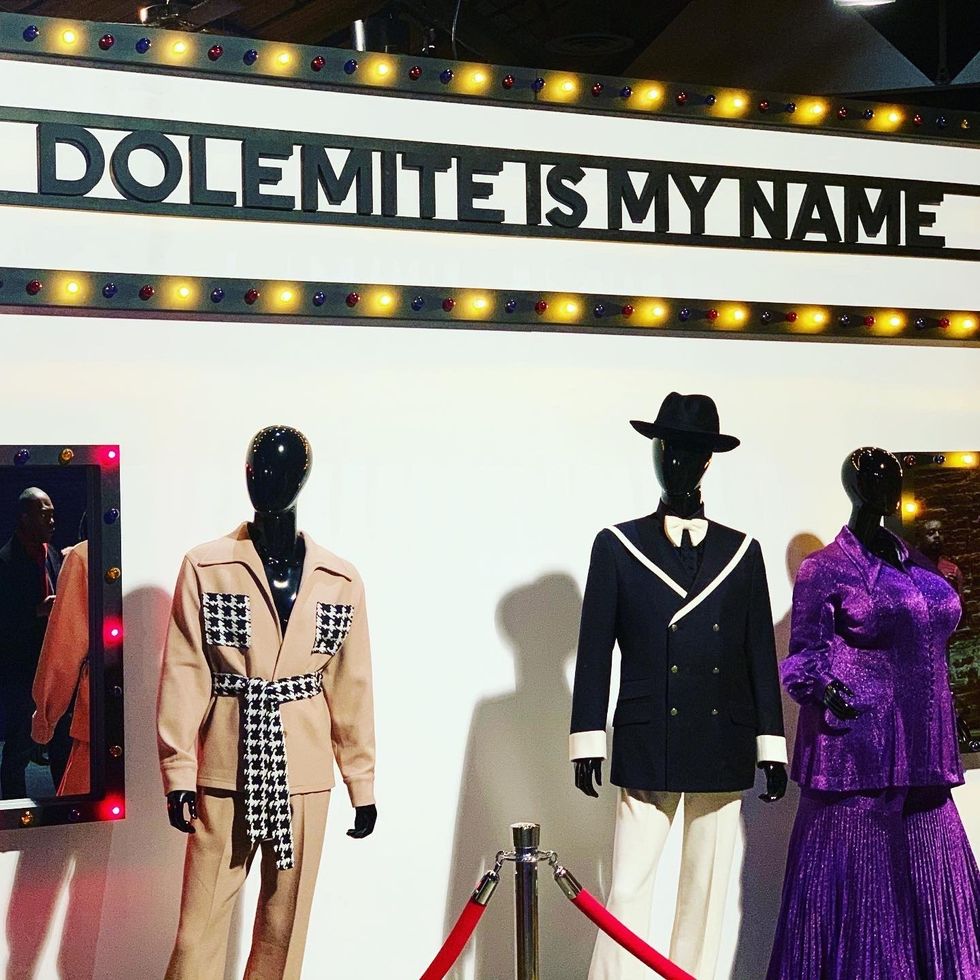 During the event, Sway In The Morning co-host Tracy G had the opportunity to chat with Ruth about the inspiration behind the new line, which features an assortment of tees, sweatshirts shorts, and bucket hats commemorating the fashions of the 80s and 90s golden Hip Hop era.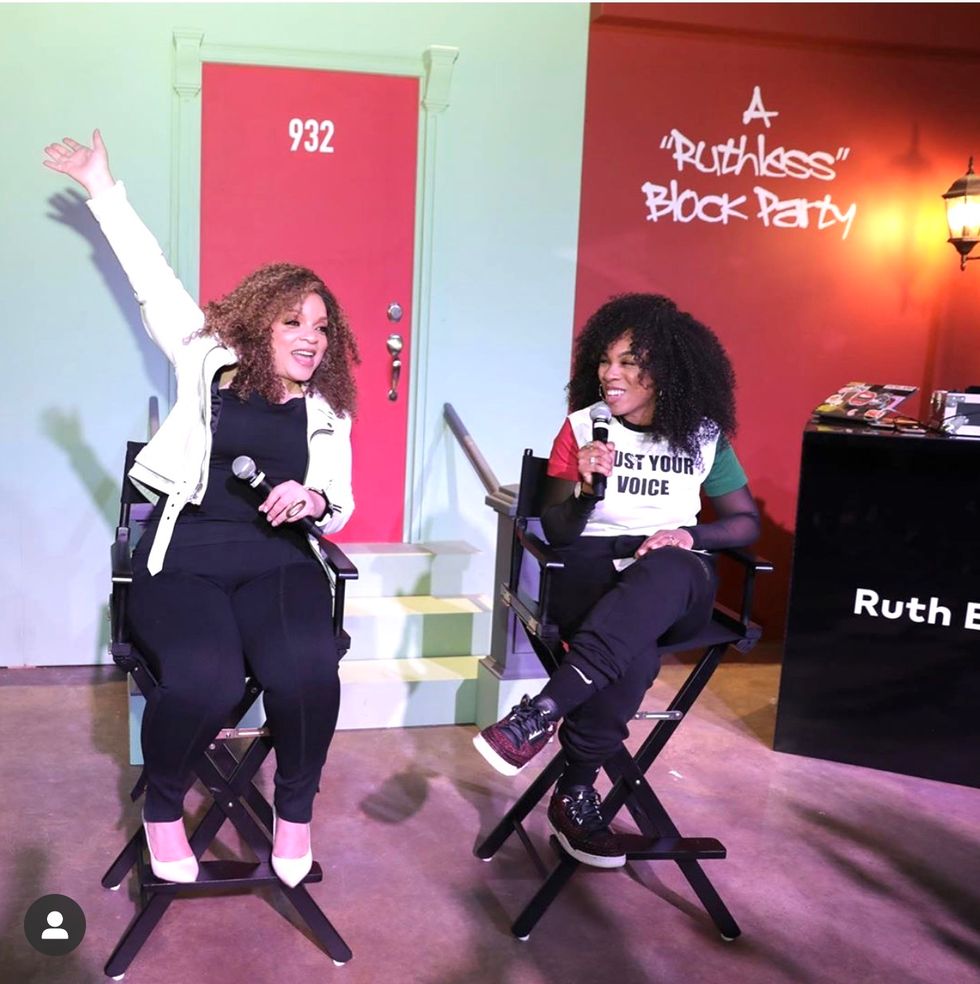 Ruth also pulled inspiration from the costume design work she did in various Spike Lee films like Do The Right Thing and Malcolm X while using the symbolic colors of black, green and red as a celebration of black heritage and to honor the liberation flag. The phrases "Truth" and "Trust Your Voice" adorn some of the tees as a reminder to dream chasers to follow their passions and trust their inner calling.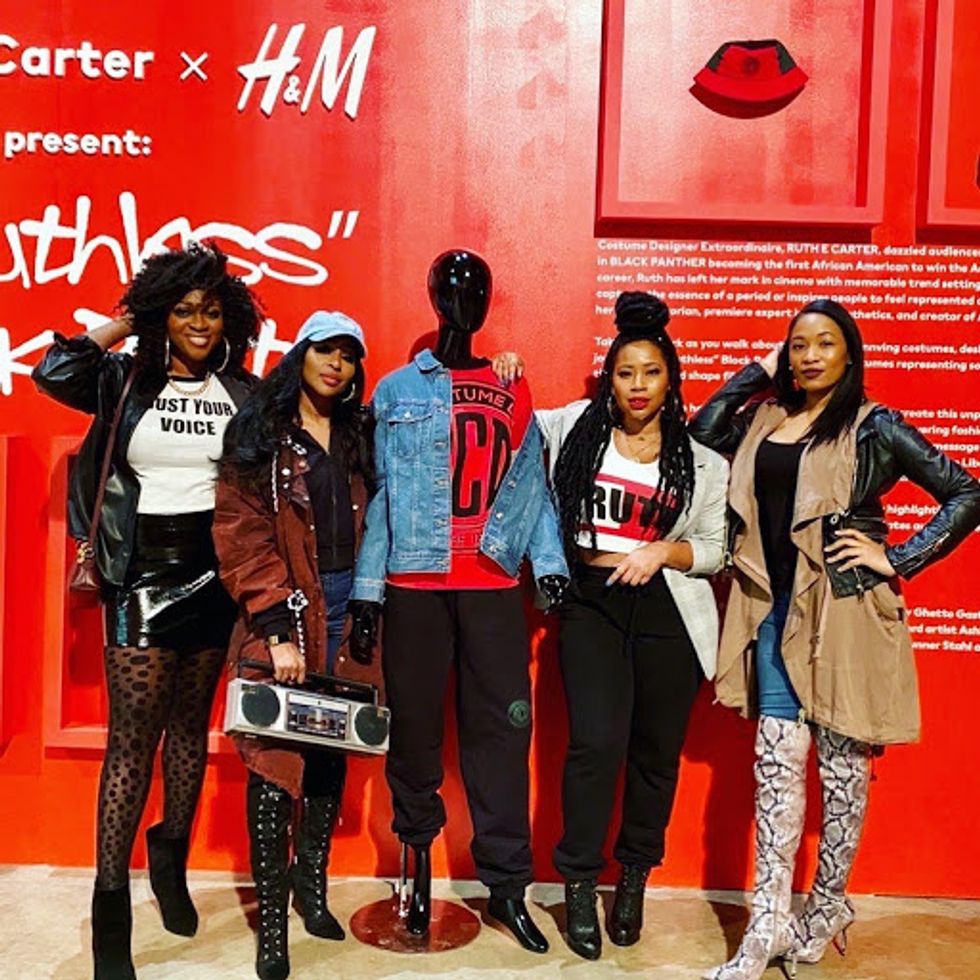 This latest collaboration with Ruth Carter is a part of H&M's mission to highlight and celebrate new and established creatives. Last year, the Swedish retailer dropped its first African collaboration with designer Palesa Mokubung.

This post is in partnership with Pantene.
You've probably heard the news by now: Black women are the fastest growing group of entrepreneurs in the nation!
And to spell it out even further, since 1997, our women are holding it down with entrepreneurial growth rates that are peaking at a whopping 518 percent.
518 percent. Yasss, queens.
This is all good news for us, right? Well…
According to a 2018 State Of Women-Owned Businesses report, there is a huge revenue gap and Black women-owned businesses averaged revenue of just $24,000 versus $142,900 by all women-owned businesses. Furthermore, 88 percent of women-owned businesses are reportedly making less than $100,000 per year, and only 1.8 percent of women-owned businesses are successful in scaling past $1 million dollars in revenue. In 2015, only 2 percent of venture funding went to women founders and less than 1 percent went to black women.
Ladies, we are securing less than 1 percent of the pie.
When reflecting on my own entrepreneurial journey, I realized how fortunate I was to have reached an acquisition that came with a set of business development advisors and helped propel my brand to accomplish things I could only dream of.
But for those of us who aren't privy to the basics of acquisitions, or optimizing investment funds and shareholders, the question for me has become, how can we better educate women on how grossly imbalanced our entrepreneurial growth rates are to capital access? I knew that I needed to be present in spaces that allowed me to provide more. I knew we needed more bridges, more ladders, and more step stools.
My solution: get involved.
In December, I was invited to West Hollywood to join an expert panel for The Wing's Inaugural Pitch Perfect event in partnership with Pantene. In addition to myself, the panel also included Maris Croswell of Pantene, Susan Lyne of BBG Ventures and Lauren Kassam of The Wing.

During the inspiring evening, five finalists pitched their businesses in front of a live audience—with the ultimate prize being a chance to explore future investment opportunities with BBG Ventures (who has actually recently invested in two black women-owned brands, Mented Cosmetics and RadSwan).
The purpose of Pitch Perfect was for each brand to promote and potentially fund their business, while simultaneously bringing an awareness to the lack of diversity of awarded investment opportunities.
Pitch finalists included five innovative brands who were disrupting their respective industries: The Baalm, a membership-based skincare community, Glow Up Games, the self-described 'Fenty Beauty of Interactive Entertainment' gaming firm, Huggable, an organic baby formula alternative for moms transitioning from breastfeeding, Varnish Lane, a non-toxic and waterless nail salon, and Spacey Studios, a direct-to-consumer affordable art collaborator and curator.
"We believe that that is a massive gap in the amount of female-founded new ventures," Croswell of Pantene says. "We really just wanted to have a supportive environment where people could get feedback on their business opportunities and really have that exposure," adds Kassam.
Prior to going on stage, Mandi Nyambi of The Baalm, revealed to me that although this wasn't their first pitch opportunity, they have never pitched a woman before, let alone a black woman.
This moment stood out being that I knew over 90 percent of all capital investments were awarded by white men, to white men. And I knew women who had previously gotten the opportunity to pitch to investors, would have to go the extra mile to prove their worth, as research shows that we are more likely to be asked questions centered around anticipated problems, whereas a white male's questions focus on growth-hacking areas.
So, on the surface, Mandi was grateful for the panel's diversity, but in reality, she was expressing current concerns that so many black women founders know all too well.

As the pitches continued through the evening, we each actively took notes, listened to what each finalist had to say, and threw out questions before convening to make a decision on who would win the ultimate prize.
We took deliberation very seriously—asking ourselves, and each other, the very criteria that a VC investment firm would ask themselves before investing:
Is the addressable market large enough?
Are they solving a problem that millions of people share?
Is their product or service unique enough that it is going to stand out?
Is it scalable and what kind of capital will it need to get there?
Are the economics of the business viable?
Do we have confidence in the founder(s)?
And in success, do we believe this has a shot to return 10x to the investors?
Business owners, I hope you wrote these down.
Eventually, we decided Glow Up Games were the finalists that stood out the most. They were the team that were going after a huge underserved market, of women and women of color, and they were disrupting a male-dominated gaming industry.
Most importantly, these ladies have a clear understanding of what their business would evolve into over time.
Glow Up Games now has the opportunity to meet directly with BBG Ventures to discuss potential future investments; an opportunity created by simply going after what they've envisioned. As if that wasn't a perfect ending to a night filled with Girl Power, Pantene's Maris Croswell revealed that all of the finalists would be receiving $20K each to go towards their business growth.
"At Pantene we believe that women and people are transforming their communities, their families, the world around them," says Croswell. "We feel that we have a responsibility to lift up those women who are transforming, so we thank you for the opportunity to do so with each of you and your business."
What an end to an inspiring night!
Featured image courtesy of Allison Zaucha/The Wing

Throughout my career, there has always been a black woman who had pulled me into her room.
Let me explain.
In 2014, I was invited to be included in a Cosmopolitan Magazine feature that ran online and in their physical magazine titled "4 Fierce Top Fashion Bloggers You Need To Know". On the day of the photoshoot, I walked into NYC's Cosmo Studios excited to be included.
The first thing I noticed were fully-stocked tables of jewelry and accessories that aligned one wall, rows of shoes in every color and pattern along another. The once bare, all-white room, was now vibrant and in full-effect.
The second thing I noticed was that I was the only black blogger involved in the shoot.
Shiona Turini, most known for her styling of Beyonce, HBO's Insecure, and the movie, Queen & Slim, was the reason I landed that spot in Cosmo's May 2014 issue. They were featuring bloggers, and she said, "We have to get a black girl!"
That black girl was me.
Another example is when I was contacted by The Wing in West Hollywood to be a panel expert for their Pitch Perfect event. Up until the event, I had no idea how I ended up on The Wing's radar, but I found out later that Shauna-Kay Campbell from their sponsor brand Pantene advocated for me to participate. When I arrived, she was chilling with a Howard U shirt on. A black woman at the event of a $1 billion company, representing an HBCU. I had never met her before in my life.
Tamisha Harris was responsible for showcasing me on "The Career Crossover" special which aired on HLN/CNN this past Sunday. She's a black woman at a major network that was in a position to highlight women like me, on a mainstream platform where there are so many who aren't familiar with who I am.
I share all of this to say, that as much as I thrive within Black Girl Magic environments, that magic often returns to me as opportunities that I wouldn't otherwise have access to.
My Cosmo photoshoot introduced me to households of a new audience that I hadn't reached before. Pantene allowed me to rub elbows with women who have raised 100+ million dollars in funding. My HLN special was aired on one of the largest media outlets and will be shown in airports throughout the country for the rest of the year.
As a black woman, I stand in full appreciation. Black women brought me to the table for these moments, and I'm in a position where I'm trying to be more intentional in, not only making room for us at these tables, but bringing us directly to them as well.
Data journalist, Sherrell Dorsey, recently shared this tweet that I'm loving at the moment:
Yes, sis.
We're only as successful as those we motivate. Let's purposefully seek moments that allow us to pull up other women to share our light—whether we have an invitation or not.
xo,
Featured image via CNN/HLN