Don't @ me, but Rihanna is one of the baddest there is. In a world that loves to put women in a box, Rihanna has become the epitome of artistic versatility and professional ambition.

---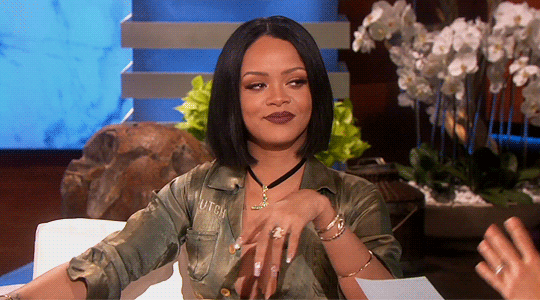 media.giphy.com
It's no secret that RiRi has been making some serious career moves lately — Fenty Beauty has recently expanded its line to include over 50 concealer shades, with the brand selling over $100 million dollars worth of products in its first few months. Savage x Fenty, her skin tone and body inclusive lingerie line, is heading into its second year. She serves Barbados as an ambassador for educational and tourism initiatives and has worked with the French President, Emmanuel Macron, to improve global education efforts, leading Macron to pledge 200 million euros to the cause. Plus, there has been recent buzz regarding an exclusive partnership deal with Louis Vuitton, making her one of the first black women to do so, and there are now rumors of her launching her own high-end Fenty clothing line.

Rihanna is an entertainer, makeup mogul, fashion designer, and noted philanthropist. Moreover, she's authentic, independent, dynamic – she's a BO$– and it's time to put some respect on her name.
Despite her laundry list of achievements, many of her closest stans have been vocal regarding their impatience for the release of her latest album, R9, which is rumored to launch before Summer 2019. Particularly on Twitter and Instagram, this impatience has turned hostile and downright unacceptable.

I've said it once and I'll say it again: leave Rihanna alone.

In a society dominated by male business leaders, across a wide majority of industries, Rihanna should be our entrepreneurship and career development goals.
Many of us are spending far too much time critiquing Rihanna's contributions to the music world (which are undeniably considerable) but are not hyping up her financial independence and numerous efforts to better our world and some of the most vulnerable communities within it.
While we all certainly cannot wake up and magically have access to her angel investors and musical talent, we can learn a lot from and aspire to reinvent ourselves professionally as Rihanna has done over the last few years.

Rihanna came onto the scene as an entertainer, and over the past decade, has now broken barriers and redefined our expectations in a number of completely different capacities. She has refused to be limited to a one-dimensional career path and so should you.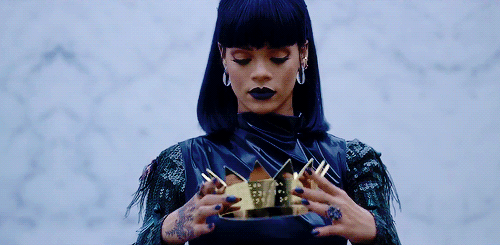 media.giphy.com
Take this moment to sit down and reflect upon what side hustles and career goals you have been sitting on for a while. Where do you want to see yourself in the next 10 years? What dreams have you continuously pushed aside? Speak your dreams into reality, and like Rihanna, refuse to be one-dimensional. Where you start does not have to be where you finish.
In the words of Robyn Rihanna Fenty: "Keep your eyes on the finish line and not on the turmoil around you."
Featured image by Andrea Raffin / Shutterstock.com