---
The new year is just around the corner so it's time to get to work in the gym.
Luckily, Massy "Mankofit" Arias, one of Instagram's most famous fitness trainers, has a selection of workouts you can do at home to help you snap it up and back just in time.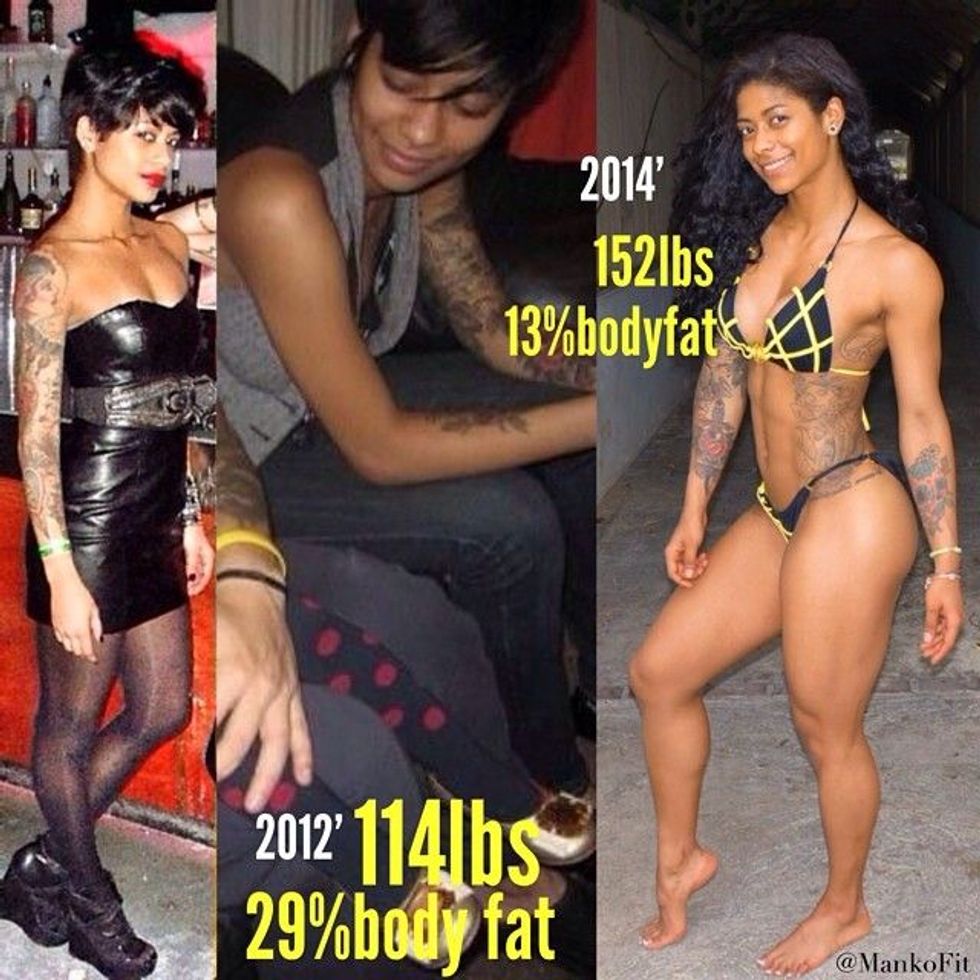 Mankofit's fitness journey began when she used exercise as a way to overcome depression. The Dominican beauty went from a slim 114 pounds, to a strong 152 pounds, all while documenting her fitness journey to her followers on Instagram over the past few years. Today, the certified personal trainer offers advice, inspiration, and a lot of challenging exercises to her 1.9 million followers on Instagram. She said to Cosmo back in 2013,
When I started sharing my fitness journey on social media, people saw me grow as an athlete and as a person. Now I want to encourage women to love themselves the way they are, because we come in very different shapes and very different dimensions, and we should be comfortable with who we are.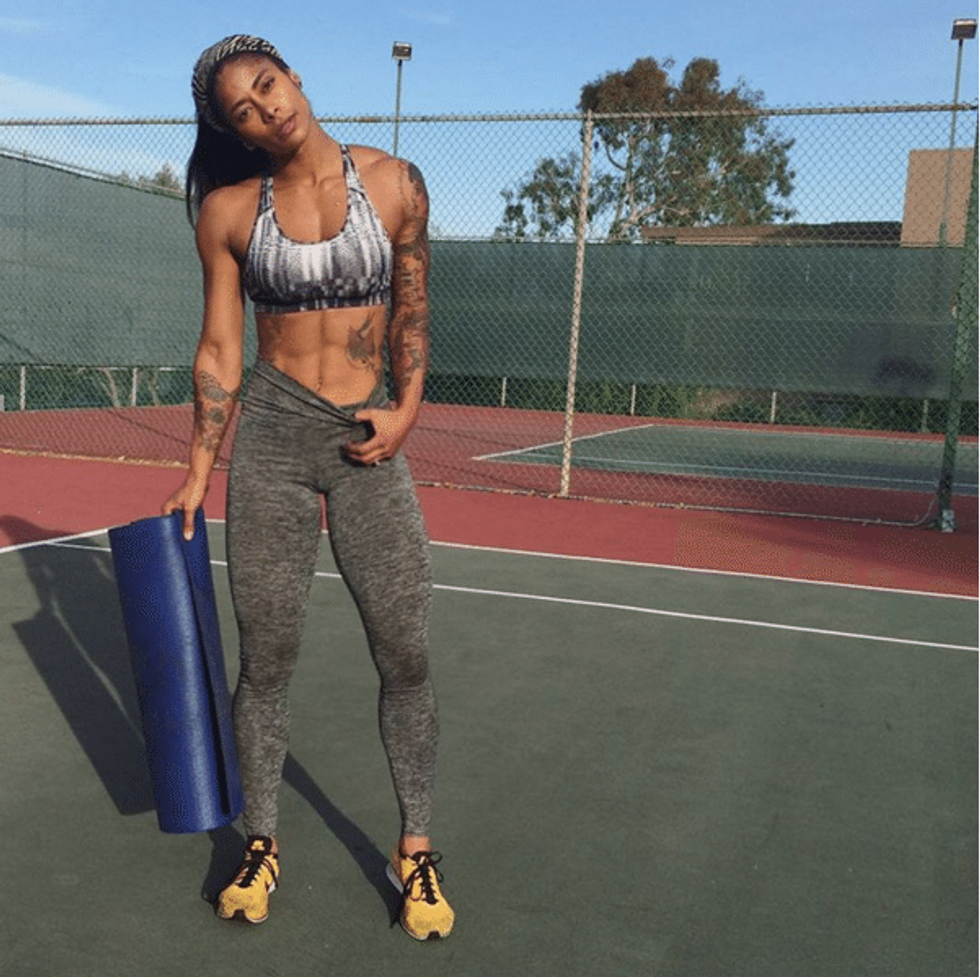 #Goals!!
If you're feeling her fitness journey, wait until you get into her Instagram workout videos. Here are six exercises that are sure to get some of those holiday dinner calories off of your butt. Check them out, and tell us which one you liked the best.
1. The "Coconut Booty" Challenge
Mankofit always refers to your butt as your "coconuts," and this squat challenge with a resistance band is sure to get you right. This exercise targets the hamstrings, the coconuts, and the the quads. Do 100 reps, or until fatigued, and rest 30-45 seconds. She says you should also remember this when doing the exercise,
Squat jumps work the coconuts, hamstrings, and quads. The trick to these is to squeeze and contract the glues, a.k.a. the coconuts, when you read the bottom to help you activate as you come up.
You can purchase fitness bands at Academy Sports, Champs Sports, Walmart, and Amazon.
2. "The 50"
The person in this video is one of her followers, and she's getting it in! This set of modified pushups, mountain climbers, and twists will really work your abs, arms, hamstrings, and glutes. I did about 3 sets of 20 of each exercise, and was good to go.
3. "The Leg HIIT Challenge"
I had to do this routine last week when it was raining outside. I performed this exercise for time (30 minutes), and my legs were on fire, but that's because this workout was meant to build and burn at the same time. Here is how you should do this routine,
CHALLENGE: perform circuit 8 times 1-2min rest in between sets.

Circuit: Weighted step ups superset with high knees + hip thrusters superset with side skies...Can be done with or without weight. If no equipment is available grab two gallons of water, get to the park and find a bench that will help you perform all these moves...


4. The "Mankofit Circuit Trainer"
This is is the kind of workout that will never ever get boring. Resistance bands, ball training, and weight training all in one circuit will get you back to right. Mankofit says this routine targets the whole body. All exercises are performed back-to-back with no rest in between. After each set is completed, take a 45 second to 1 minute res with 15 reps per exercise. Mankofit says that circuit training is her favorite style of training. She also says,
It is a form of resistance training that maximizes the volume of work dine in a short period of time, this means you will get the benefits of weight training and cardiovascular training all together.
5. "Around the world squat plate presses"
This exercise has been getting some great reviews on Instagram. Mankofit says that this move will be "working your quads, Jammies, coconuts, core, and arms. This is how the exercise is to be performed,
Challenge: 10 sets of ATWSPP w/10 second hold (1-2 min res in between sets) Beginners: Perform with just your body weight. Add resistance as you progress.
6. "The Renegade Row with T-rotation"
This exercise is very challenging and fun. It works your core, upper back, and improves your shoulder stability. You can do this routine with no weights. Just remember to maintain proper form.
She also says this about doing this routine safely:
Keep your back neutral at all times, making a straight line from shoulder to wrist when planking, and also when holding the T position.
Bonus:
If you are really about that life. This push up situation that rotates from using your hands than forearms is sure to get your core and arms looking right while speeding up your heart rate.
Who is your favorite Instagram trainer? List them below so we can follow, too!