Most of us learned in anatomy class that our skin is the biggest organ that we have. It's comprised of three layers — epidermis, dermis and hypodermis — and five million pores (20,000 just on our face alone!). Yep, our skin is pretty intricate and complex.
---
Unfortunately, until we get have a breakout, notice a little eczema, or we're trying to heal a scar somewhere, many of us aren't thinking about giving our skin any more attention than the soap we wash it with and the lotion (or coconut oil) that we apply to keep from looking ashy.

media.giphy.com
But I can personally vouch for the fact that setting aside 15-20 minutes each day to give your skin some TLC not only reduces blemishes and evens skin tone, it can also cause all sorts of random people to have a look of shock on their face when you tell them how old you are and they reply that they thought you were so much younger than that.

Things like lavender, Aloe Vera, Vitamin E are commonly-known remedies for treating skin. But if you're looking for oils, herbs, or vitamins that are great for daily skin maintenance and pampering, here are some lesser-known ones that are just as effective and can provide even more benefits to your face, neck, and body.
Frankincense Oil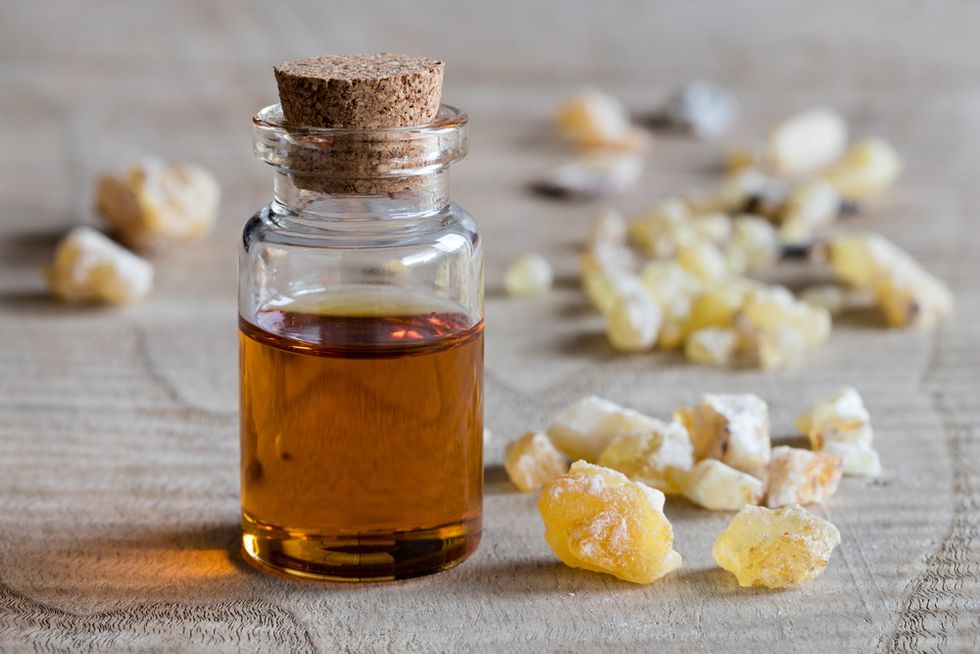 balanceblog.bistromd.com
A lot of us only think of frankincense oil around the holiday season (you know, frankincense and myrrh?) but it's something that is beneficial all year long. The properties in this oil make it a natural astringent and toner that can reduce pores and tighten skin. Frankincense also promotes cell and tissue regeneration and, when used regularly (at least three times a week), it can reduce the appearance of wrinkles, acne blemishes, and any scars on the skin too.
Helichrysum Oil
Helichrysum is a member of the daisy flower family. It's known as a miraculous essential oil due to its anti-microbial, anti-biotic, and regenerative compounds. Applying this oil to your skin will not only promote healthy skin cell growth, but it will also deeply moisturize your skin too. Something else that's awesome about helichrysum oil is, it's so gentle that it's perfect for skin that is highly-sensitive. And, if you've got any skin discoloration anywhere, it will even out the appearance of your skin over time.
Neroli Oil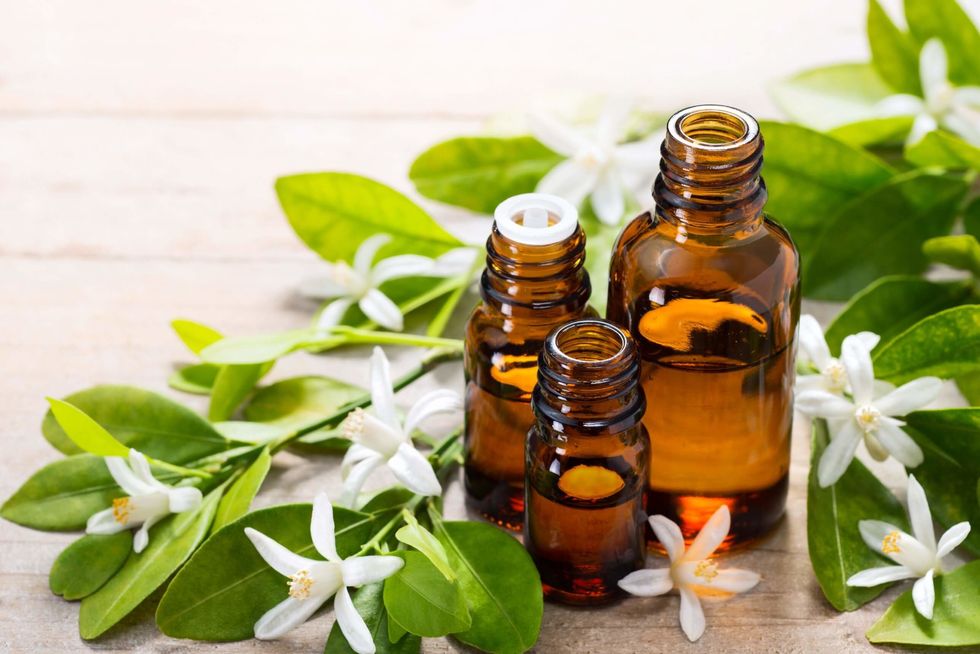 Shutterstock
Is your skin oily or highly acne-prone? Get yourself a bottle of neroli oil as soon as you possibly can! The antibacterial, anti-inflammatory and antiseptic properties that are found in this oil will balance out the natural sebum in your skin without drying it out in the process. Another cool thing about neroli oil is it's able to increase your skin's flexibility. Also, because it contains a significant amount of Vitamin C, neroli oil helps to elevate the production of collagen in your skin as well. That means it can make your skin look fuller and "plumper" in the very best way possible.
Horsetail
Horsetail is an herb that got its name because it looks a lot like a horse's tail. It's the kind that most of us don't hear about every day but should be in our skincare arsenal. That's because horsetail contains calcium, manganese, iron, flavonoids, tannins, and phenolic acids — all things that our skin desperately needs.
If you've got acne, try dipping some cotton balls into some horsetail tea; it will act like a toner for your skin as it pulls out toxins and reduces inflammation. If you want to tighten sagging skin, make your own horsetail paste by grinding some of the herbs with a plantain and water. Apply it to your freshly washed face, let it sit for 20 minutes and then thoroughly rinse with cool water.
Irish Moss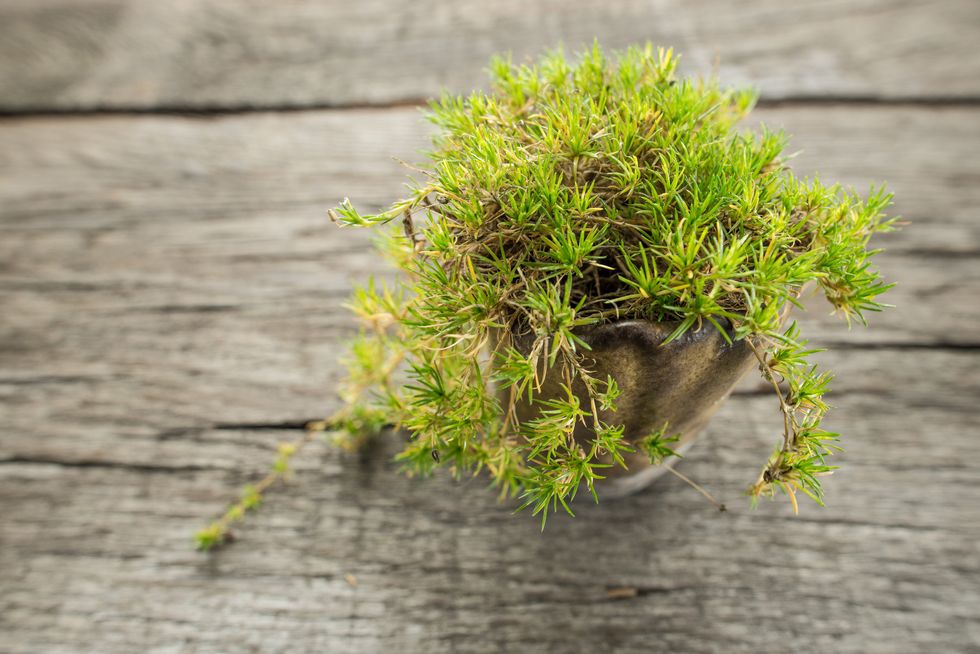 Getty Images
Irish Moss has a great reputation for balancing out thyroid production and also lowering cholesterol levels. It's also a cold-water seaweed that contains plenty of sulfated polysaccharides. This is important as it relates to your skin because sulfated polysaccharides have a remarkable ability to soften your skin as well as your scalp. Irish Moss is also the kind of herb that heals skin rashes and eczema and because it's also high in iron, folate, copper, vitamin-C, and chlorophyll, making it a blood purifier that can help to prevent breakouts too.
You can make your own Irish Moss lotion by combining a teaspoon of a powdered form of the herb with one cup of distilled water, ¼ cup of Aloe Vera gel, and two tablespoons of sweet almond oil. Boil the herb in the water for 20 minutes until it turns into a jelly-like consistency. Then add the Aloe Vera and allow the mixture to completely cool. Put the gel and oil into a blender and mix until it turns into a white-looking lotion. Then apply.
Dandelion Root
Probably the most popular way to get the benefits of Dandelion Root is to drink it in tea form. It's an herb that regulates the secretion of hormones, opens up pores, and contains properties that fight all sorts of infections including warts and ringworm. That's why it's so good at healing acne cysts. The antioxidants in this herb also softens fine lines, lightens the appearance of dark circles underneath eyes, and evens out T-zone skin.
If you'd prefer not to drink Dandelion Root, put a couple of tea bags into a boiling pot of water, let the bags steep and then put your face over the water. You'll automatically have a nourishing and healing face steam.
Vitamin F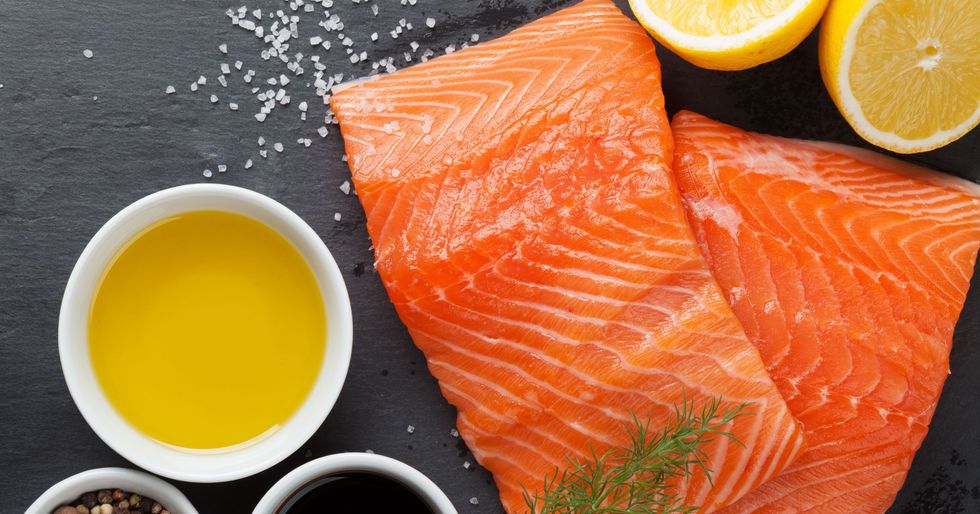 Getty Images
If you're wondering what the heck Vitamin F is, it's better known as an omega-6 essential fatty acid. It's something our skin needs plenty of, although most of us are low in it. Vitamin F is really good for dry skin, thanks to the healthy fats that are in it. If you take it regularly enough, Vitamin F can cause your face and body to have a natural glow. Something else that's awesome about this vitamin is it provides a barrier to protect your skin from environmental damage. Plus, if you suffer from eczema or atopic dermatitis, it can help to relieve those too.
It really is best to take Vitamin F in supplement form (around 12 grams per day) but if you wondering what foods contain it, sunflower seeds, English walnuts, and salmon do.
Selenium
Selenium is a mineral that has a great reputation for being loaded with antioxidants; that alone makes it a must-have for your skin. Since it neutralizes free radicals, selenium can protect your skin from cell damage. Since it's also the kind of mineral that increases white blood cells in your body, it can also reduce inflammation in your skin while keeping skin infections at bay. Selenium is so effective that it is even something that can help to relieve dandruff too.
Even though selenium is really good for you, when it comes to this mineral, you can get too much of a good thing. So, make sure that you take no more than 55 mcg a day. If you'd prefer to eat foods with selenium in them, consume grain or grass-fed beef, brown rice, or Brazil nuts.
Copper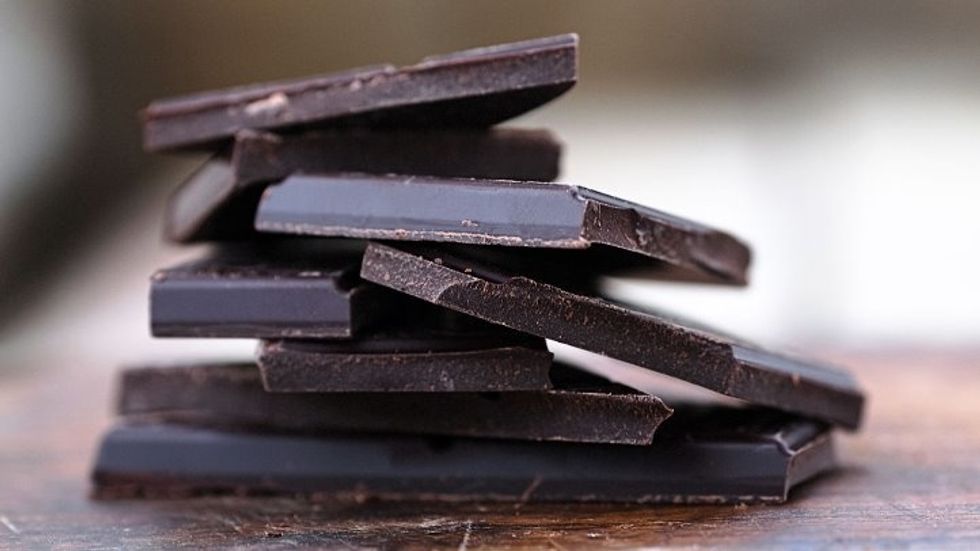 everydayhealth.com
Did you know that if you notice premature greying in your hair that it could be because you're not getting enough copper into your system? Copper is one of those minerals that constantly gets slept on yet provides all sorts of benefits. Skin-wise, it helps to maintain the collagen and elastin in your body; that makes copper one of the best anti-aging supplements around. Something else copper has the ability to do is repair DNA damage in your cells as it reverses inflammation, scars, and fine lines that you might notice on your face and neck.
Dosage-wise, it's best to take no more than 900 (mcg) a day along with a zinc supplement. As far as the foods that contain copper, you're gonna love reading this — almonds, oysters, sun-dried tomatoes, avocados, and (yes!) dark chocolate top the list. Every time you eat dark chocolate (that's 65 percent or more cocoa), you're loving on your skin, soooo…eat up, y'all!
Featured image by Getty Images.
Related Articles:
7 Herbs To Get You Through The Winter Season – Read More
The 7 Supplements That TOTALLY Changed My Life – Read More
These Herbs Will Help You Get Your Chakras All The Way Together – Read More