---
Women, in general, tend to disassociate during sex (myself included) and I hate that for us. But here's the thing: the year was 1960-something when white women are preaching, striving for sexual liberation, and coining terms like "the orgasm gap". Black women, we (our ancestors) were putting the same energy into the civil rights movement. The priorities were different and understandably so. Yet, I say all of this to say: the undoing and desire to close the orgasm gap began late for us, when in reality we needed a head start because so much of our sexuality has been colonized to begin with.
And, it shows! It shows in how we as Black women view sex and our sexualities, how we discuss it, and how we feel about it. For so long, sex was seen as something men do to us. So much so that I recall a time where so many women would rather not masturbate because her pleasure was intended to stroke the ego of men. The thing is, the orgasm gap that we face tells a different story in regards to the pleasure we're receiving in our sex lives. No, the orgams gap isn't specific to Black women, but much like the pay gap I imagine that this (the orgasm gap) too disproportionately impacts us.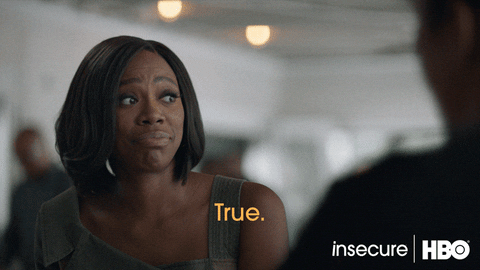 Giphy
But let me back up. What is the orgasm gap? The orgasm gap refers to the prioritization of the cis-het man's orgasm in the bedroom. It's the centering of pleasure around the patriarchy for any number of reasons, whether it be miseducation or willful "ill[CLIlT]eracy."

In a nutshell: it is the disproportionate rate of men to women receiving orgasms in the bedroom.
Though everyone's body is different and not all women are capable of having an orgasm, we should be able to enjoy the pleasure that comes along with a partner who tries their best to get us there. The biggest issue for an able-bodied clitoris is education, i.e. our grossly lacking understanding of our anatomy.
With over 5,000 nerves in the clitoris, it simply shouldn't be this hard for women to receive an orgasm. But men have to be able to find it, first. The best way to remedy this is a healthier sex education for all -- sex-positive sex education in our homes and in the school system. But because I'm in the business of talking about Black women specifically, I want to talk about some ways to close the orgasm gap specifically tailored towards us.
Featured image by Shutterstock