---
There's something about Summer Walker that has many of us with one hand over our eyes while watching her like a car wreck and in the next moment saying, "Same, sis." If it's not her beauty and talent, then it's her turbulent relationship with beau and the future father of her unborn child, London On Da Track. Summer, who recently confirmed her pregnancy with the successful music producer, is one of the hottest R&B artists out at the moment, and from the outside looking in, it should be a musical match made in heaven. However, as the two are both seemingly fighting their own demons, the off-and-on relationship has been everything but.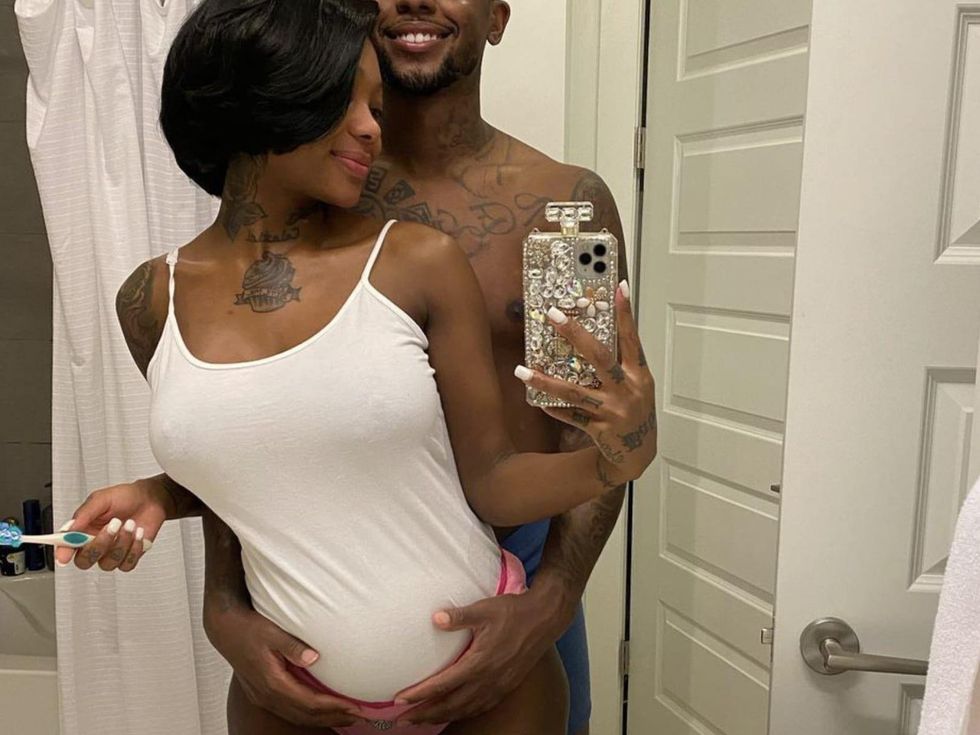 Summer Walker/Instagram
Summer and London's relationship is one that requires us to sit back and think about our standards and values as we watch their romantic lives unfold online. Among others, questions come up like, "How many times have I let a partner get away with treating me in a way that was less than I deserved?" or "How many times did I think if I just loved someone a little harder, I could change them?" Well, I can tell you at Summer's age (she's 24), my love life was a hot ass mess so I'm not here to shade her nor anyone else figuring out love. However, I am reminded of a lesson I learned and relearned while navigating love and relationships: you can't change a man, he has to want to change himself. The moment I find myself trying to change a man is the moment I need to direct energy back to myself.
Although she might have seen the signs that London could potentially be just as absent with their child as he is with his others, Summer would often defend him. Recently, the "Girls Need Love" songstress expressed her truth in the situation via a variety of posts on her Instagram stories:
"I tried to get him to spend time with his other kids as much as I could. He ain't want to because he's selfish. I tried to get his baby mama's to let him see the kids, they didn't want to cause they was bitter and hated me for no reason. I tried to get everybody to just get the f-ck along like one big happy family and instead, everyone just want's to sh-t on me and now I just have the sh-t end of the stick...
She continued:
"Black men gotta start doing better when it comes to being a father. My grandfather lame, my father lame, and dis n*gga lame. I guess the cycle will just continue. I guess n*ggas still dealing with the shackles of mental slavery or some sh-t, back when white men ripped you from your families and beat you to death if you tried to protect them. It goes deep. Sh-t's really sad.
"But that's how it goes when everybody spiritually and mentally undeveloped. Idk wtf I was thinking.
"But at least I can afford to take care of my child."
Summer Walker think she exposing London, but she really exposing herself and that she was cool sleeping with a man who was deadbeat to 3 separate kids until her child was one of the ones being neglected. SMH

— Qᴜᴇᴇɴ ᴏғ Aᴍᴇʀɪᴄᴀ (@KorySKirk) November 28, 2020
If you are thinking, "What in the Future is going on here?", you aren't alone, sis is probably asking herself the same question. Unfortunately, when it comes to relationships, especially romantic ones, the way that you allow a person to treat you is a direct reflection of how you feel about yourself. It is easy to observe that if Summer with all that she's accomplished, all of her potential, feels most valuable when she is out here hustling for her worth in her romantic relationship, she has a lot of work to do.
Regardless i hate manipulative men who are all around trash and narcissistic (for no reason). Spreading your seed shouldn't be a stamp of approval to your ego you turkey baster. Ground yourself... get a therapist maybe? Then your kids won't grow up resenting you

— astro girl (@therealkimj) November 28, 2020
If not for herself, then for her child that will be affected the most looking into the brokenness of their mother trying to find their reflection. This appears to be a very deep-rooted issue with self-value mixed with the terror of venturing out completely on her own. The pivot to a therapist's couch isn't an impossible one to make, just a little harder with a baby in her belly and her Bob-the-Builder tool belt on.

I don't know who needs to hear this, but you can't change that man, sis. You can only change yourself.
All of this is unfortunate. But she'll get it together. She has no choice now

— sagitterrrrrrroist (@Jahniquexo) November 28, 2020
Summer is making the best first step: admitting that there is a problem. She is with a man who has his fair share of issues in fatherhood and relationships. She did forge full speed ahead into a lifelong commitment with a man while ignoring all the red flags and writing on the wall. She did think that if she just loved someone outside of herself just a little bit harder she could change them. She's just like us, or like me for what it's worth, and she has the power to change her life if she so chooses.

It's never too late to level up sis and attract a love that you truly deserve.
Are you a member of our insiders squad? Join us in the xoTribe Members Community today!
Featured image by Instagram/Summer Walker