---
With the rise of more and more black women breaking away from traditional 9-5s to become their own bosses, the CEO is getting a revamp as the SHEeo. In the Meet The SHEeo series, we talk to melanated mavens leveling up and glowing up, all while redefining what it means to be a boss.
After recognizing that many stores lacked handbags that were unique and functional, Cheryl Williams used her gift for sewing and began designing one-of-a-kind handbags that reflected her personal style, and that held everything from credit cards to lip gloss without feeling weighed down. She launched 86 & Norman (then Double Clutched) in 2015 for eclectic women who want to carry what they need without sacrificing style. She currently works full-time as a Lead Business Analyst while juggling her growing business.

In this week's feature, meet Cheryl Marie Williams of 86 & Norman.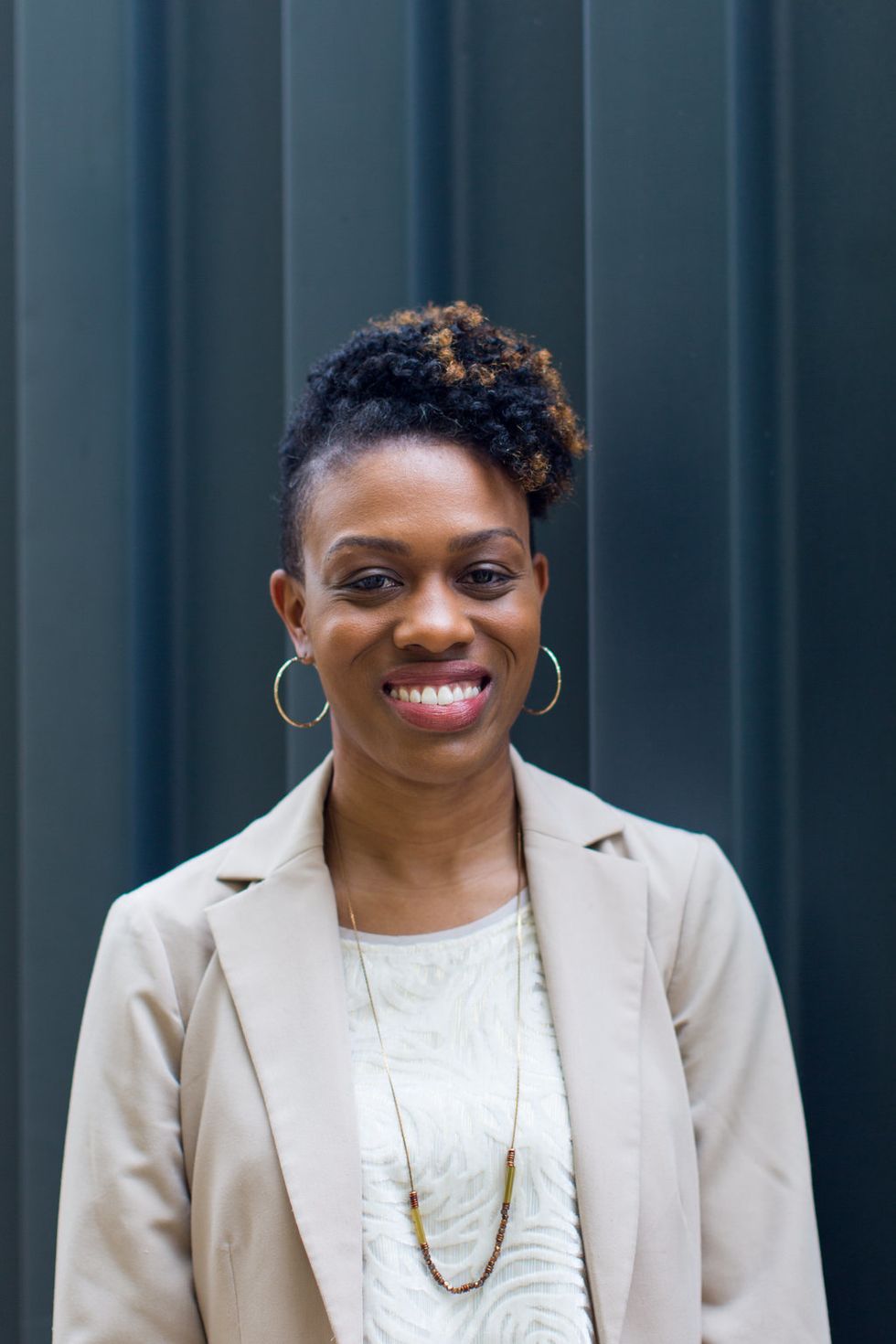 Courtesy of Cheryl Williams
Title:CEO of 86 & Norman

Year Founded: 2015 (as Double Clutched, rebranded to 86 & Norman in 2019)
Location: Columbus, Ohio
# of Employees: 1

30-Second Pitch: 86 & Norman accessories helps eclectic stylish women who want to carry what they need while looking super cute with handbags, clutches, and wallets.
What inspired you to start your brand? 
I launched Double Clutched (my former brand name) in June of 2015 because I quickly felt that handbags can be created to be so bold yet also functional. Everyone doesn't necessarily want the same styled tote or crossbody bag. They may want something only a few people can get and something that complements what they already wear and feel comfortable in.
I only pick designs based on [it] making sense and being functional. Fabrics have to be unique, likeable, and something that looks nice on a variety of designs. Those two together is what inspires me to create my bags. No two bags are alike. There's so much variation and that keeps it motivating and exciting.
In February 2019, I rebranded Double Clutched to 86 & Norman. 86 is the year I was born and Norman is the street of my Aunt's house when I was growing up that was like a second home to me.
What was your a-ha moment that brought your idea into reality? 
Creating my first wallet was my a-ha moment that showed me that other people could too benefit from my products. My first wallet had multiple card slots, a space for your phone, keys, and your favorite lip gloss. But it was perfectly slim and had a wristlet strap so you could be hands free, [without being] weighed down with a huge bag, and have everything you need.
Who is your ideal customer?
An ideal 86 & Norman customer is a creative thinker with a heart for uplifting people. She values her family and mental health. She is someone who always has great creative ideas and gives great food, fashion, and product recommendations. She loves Black-ish, black-owned businesses, Marvel movies, and tacos. She craves the culture that comes with diverse cities and is a foodie at heart. Girls' night outs and date nights are her favorite. Her idol is the one and only Michelle Obama. Stories about people doing good for other people warms her heart.
What makes your business different? 
The combination of both my style of print with my style of product makes 86 & Norman different. You won't find my unique fabric combinations with the form of bags, clutches, and wallets that I have anywhere else. And because each print/product combination is limited, each customer truly gets a limited-edition product.
To make 86 & Norman even more personal, I decided to name each bag after prominent African American women or TV characters. I think it's fun and it pays homage to those who I've learned about, read about, or watched growing up. My clutches just aren't a clutch. But it's the Jemison (Mae Jemison) Fold Over Clutch. I always called my products "she" and now all my she's have names.
What obstacles did you have to overcome while launching and growing your brand? How were you able to overcome them? 
Through starting my business and rebranding my business, my main sacrifices and obstacles were time and money. Working full-time and then coming home to do all the business things myself, was and still is hard. And at times, my personal funds have had to fund my business.
To overcome those obstacles, I had to implement money management practices (like using accounting software to keep track of what's going out and for what reasons) and I had to learn how to move my time management skills from my day time job to my business. Making to-do lists, giving myself deadlines, and sectioning out my free time on the weekends for fun vs business are what helps keep the back-end of my business going.
What was the defining moment in your entrepreneurial journey?  
I took a branding class last fall with the intention on fine-tuning what I had already created. Instead, I ended up doing a total overhaul. While Double Clutched will always be where I started, it wasn't really a brand. Just a business. With 86 & Norman, I have a target person, not just an audience but a specific target person, brand colors, a brand manifesto, mission and values, and a brand personality. I have all that locked down and now I know what will work for my brand and what doesn't fit. I know what events my people will be at and where they won't. I know what will speak to my customers when it comes to products and fabrics and what I shouldn't use the time to consider.
"With 86 & Norman, I have a target person, not just an audience but a specific target person, brand colors, a brand manifesto, mission and values, and a brand personality. I have all that locked down and now I know what will work for my brand and what doesn't fit."
Where do you see your company in 5-10 years? (The ultimate goal?)
I've love to open a brick and mortar store that features black women handcrafted makers and artists that also doubles as an event space with DIY workshops, a teaching space, and area where people can host small intimate gatherings.
Where have you seen the biggest return on investment? (i.e. marketing, ads, vending, social media)
My best investment has been taking the time and effort in rebranding everything. Name, website, print materials, social media, legal documents, look, feel, everything.
Do you have a mentor? If so, who? 
I have a few SHEeos I look up to. Melissa Butler from The Lip Bar, Jasmine Lawrence of Eden BodyWorks, Ade Hassan of Nubian Skin. I learned everything I know about branding from Lela Barker of Lucky Break Consulting.
Biggest lesson you've learned in business? 
Having a product isn't enough. You need a brand, a brand story, and very defined person you want to be of service to and a need you are fulfilling.
Anything else you would like for people to know, or take away from your entrepreneurial story? 
Keep being consistent. Keep posting. Keep sharing your "thing". Don't get discouraged because your journey isn't going as fast as someone else's. People are always watching and cheering you on.
For more of Cheryl and 86 & Norman, follow her on social: Instagram and Facebook.