Leon Bridges is a student of soul. One spin of his debut album, Coming Home, makes that clear.
---
His voice, a riveting time travel to days of old, emerges from an era where music made you feel--an era before his time.
Often compared to Sam Cooke, it might come as a surprise that the 28-year-old Texas crooner grew up on '90s R&B fueled by Usher to Ginuwine and Dru Hill to 112. Or that as an aspiring choreographer, he never anticipated he'd sign a deal with Columbia Records neither more earn two Grammy nominations for his first project.
"I knew that I had a gift, and that's why I was persistent with it," Leon tells me of his foray into singing. "Honestly, in Fort Worth, there isn't an infrastructure to make it even if you wanted to, so for me it was about taking it day by day and working to get better."

Leon is, indeed, a far cry from bussing tables to make ends meet but no less humble as made evident throughout our call. Even with an Australian tour behind him and tons of promo up ahead, the Fort Worth star is measured in tone as he touches on his journey to his second album, Good Thing.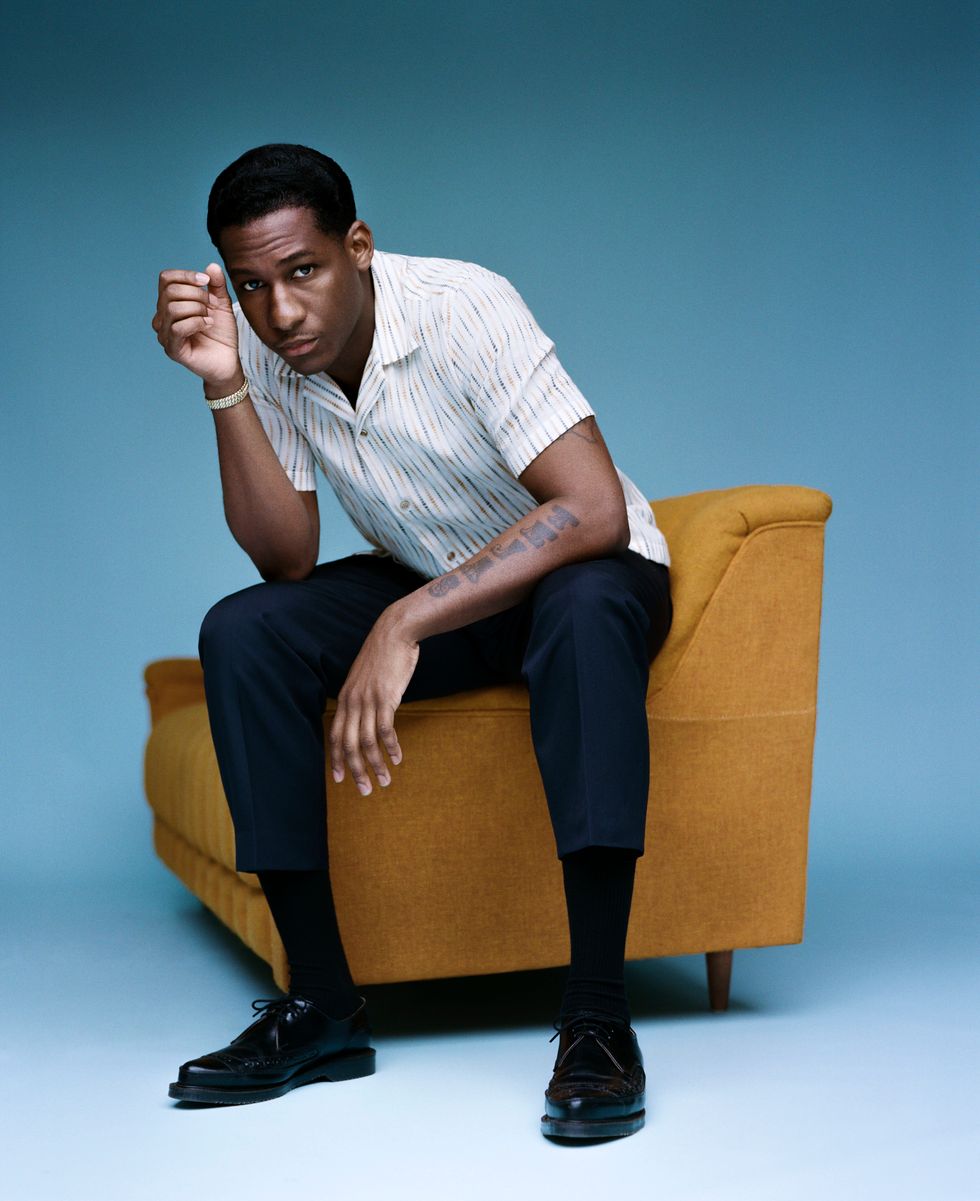 Courtesy of Leon Bridges
Had the onetime dance major not tried his hand at jam sessions with musicians he met in college, it's possible we wouldn't be holding our conversation this Tuesday afternoon. "Affirmation from the people around me sparked my interest in songwriting, so I took it a little further. Then, also being inspired by Making the Band 4 with P. Diddy was one of the pivotal points for me," he says with a laugh.

While sharpening his talent at local open mics, where he was discovered by White Denim guitarist Austin Jenkins, Leon would later find the depths of his voice within classic soul. "As a black man, I felt it was my duty to create that kind of music and bring it to the mainstream," he expresses.
"As a black man, I felt it was my duty to create that kind of music and bring it to the mainstream."
With songs like "Coming Home" and "Better Man," off his 2015 album, Leon accomplished just that as he lured national attention for his retro sound and refreshing takes on love. Ask him about the four-letter word, though, and he'll admit he's still taking notes. "I'm definitely no expert on relationships," he confesses. "The last relationship I've been in was in 2014."
While his career is top priority at this time, Leon isn't shutting down the opportunity to let love in if it comes his way. Nor is he shying away from the complexity of the topic in his music. On Good Thing, he paints a vast picture of the rollercoaster ride romance can be. Sometimes it's daunting ("Bet Ain't Worth The Hand"), other times fulfilling ("If It Feels Good, Then It Must Be"). Sometimes we're ready to test the waters with new interests ("Shy"); other times we're left to mend bruised hearts from the ones we trusted ("Forgive You").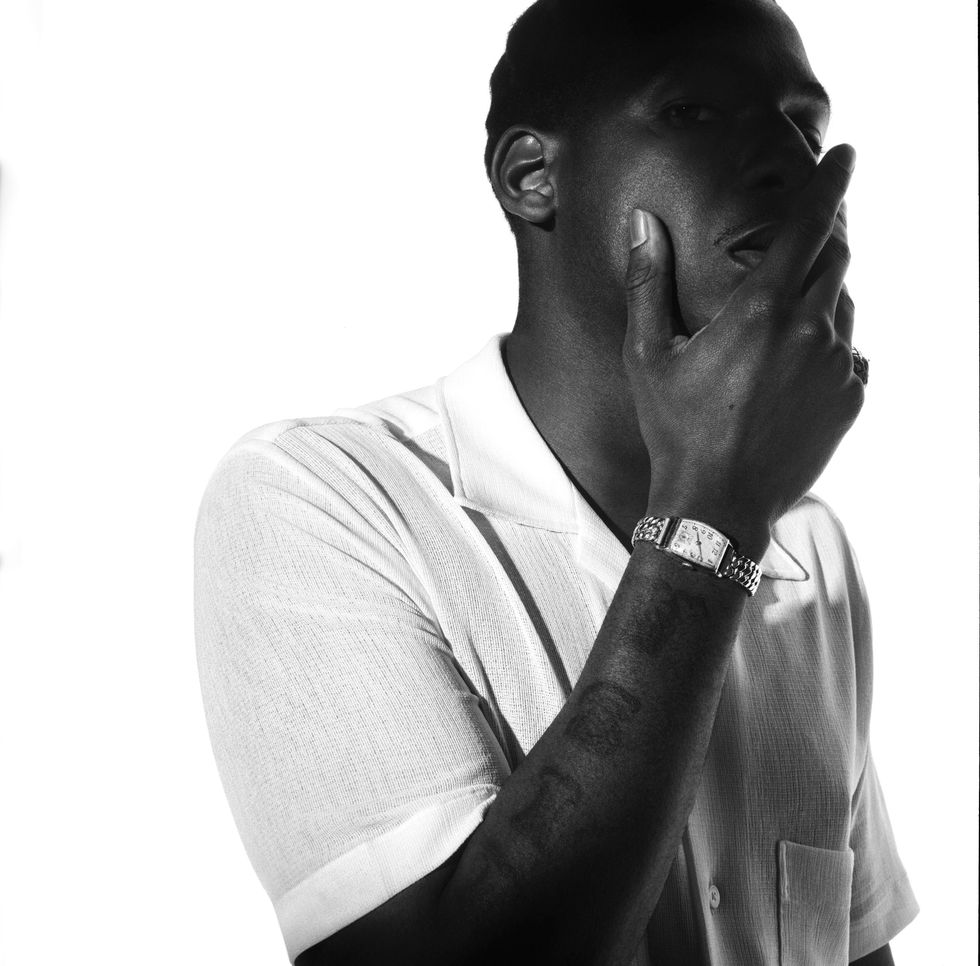 Courtesy of Leon Bridges
More than a personal diary, Leon notes that his music is ultimately for the people.
Whether he's writing a song or arranging a video, others are on his mind at all turns. With the help of director Natalie Rae, for instance, he released a timely visual addressing sexual harassment for his lead single "Bad Bad News" this March. "There are some women who are close to me that have been sexually violated, so I thought it was important to present that in the video but also show how the woman (Paloma Elsesser) is better than and persevered through the disrespect," he says.
But it's the album's final track, "Georgia to Texas," that reveals what has shaped Leon's outlook on love the most and nurtured his ability to tell stories beyond his own with such precision.

On the stirring number, Leon hits critical points of his origin story as he pulls his sophomore effort in for landing. In under five minutes, he traces his fleeting days in Atlanta, a difficult move to the Lone Star State (which made him hyper aware of his blackness), and his family's modest financial situation. "Growing up, it was hard to see my mother raise me and my siblings on her own," he reflects. "It taught me the importance of hard work and the value of loving others."
It was love, the singer explains, that kept them afloat in an ocean of hardship.
This isn't the first time Leon has made mention of his family on wax. On Coming Home, he dedicated the song "Lisa Sawyer" to his mother and "Twistin' & Groovin'" to his grandparents, whom he reveals he never had the chance to meet. "I'm very proud of my family history," he affirms. "I try to keep their stories alive within my music."

"I'm very proud of my family history. I try to keep their stories alive within my music."
What is new is his current detour from the 1960's feel he rekindled more than three years ago. "I wanted to make an album that's reflective of the different styles of R&B that I love," he describes Good Thing, citing The Whispers and Kool & The Gang among his influences this time around.
Just like his panoramic view on love and selfless approach to storytelling, Good Thing proves Leon's discography cannot be boxed in--something he hopes will be felt in years to come. "I want my music to transcend time. I make what's honest to me and true to who I am," he muses. "I feel it's a style that's universal. I hope when I'm gone that people will be able to connect with my tunes."
For more Leon, follow him on Instagram. And check out his sophomore album Good Thing, out now.