---
In xoNecole's quarterly series Dope Abodes, we tour the living spaces of millennial women, where they dwell, how they live, and the things they choose to adorn and share their spaces with.
Outside, the brisk January air sent cold shivers up our spines, but inside Jersey-based interior artist Bailey Li's firehouse station loft, warmth radiated from the bright hues and plush fabrics adorning her space.
Everywhere we looked – the textured, downy sofas in the living room, the canopied bedroom boudoir area, the gilded bar cart – vintage artifacts and structurally bold pieces intermingled in a delicate dance. No piece overpowered the other yet demanded attention in its own right. An artistic oxymoron if you will.
Even warmer than the heat radiating from the clusters of candles arranged throughout her space, Bailey's smile drew us in immediately. "Every time I design a space or paint a technique on a wall, I am tapping into infinite intelligence, source energy, and the pulse of unlimited love that I always have access to. I never want to forget to show love and compassion to others who could very well be out in the world feeling alone and/or suffering from depression— especially Black women. If I had my way, everyone would have a well-designed space that makes them feel extraordinary; I truly believe it's essential to one's well being."
Tell us about yourself.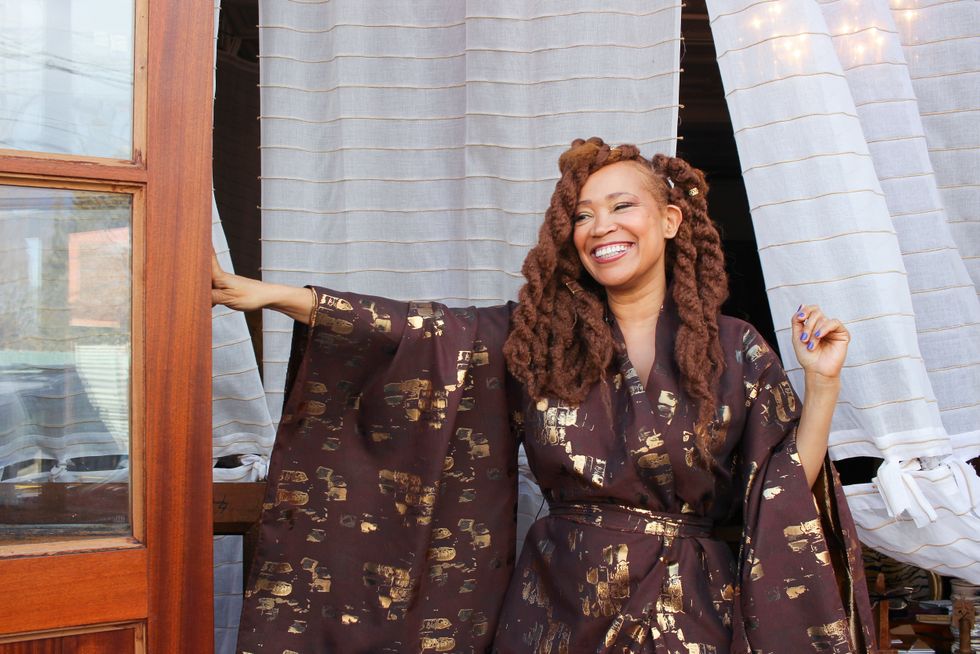 Photo by Ana Rice for xoNecole
"My clients say that I'm an artist. Lately, many of them have been calling me a 'life-changer', which is music to my ears! That's what this is all about for me – transforming spaces and lives through my artistry. I'd like to think of myself as an interior artist/creative who designs spaces, hand paints walls, makes bespoke chairs, and more. Interior design has helped me uncover my true passion—bringing out the best in people by interpreting who they are at their core and translating that through their environments. The impact that my work has on my clients' lives is truly the reward I seek."
Tell us a bit about what environment you were seeking to create in your space and the thought process behind your decorative choices.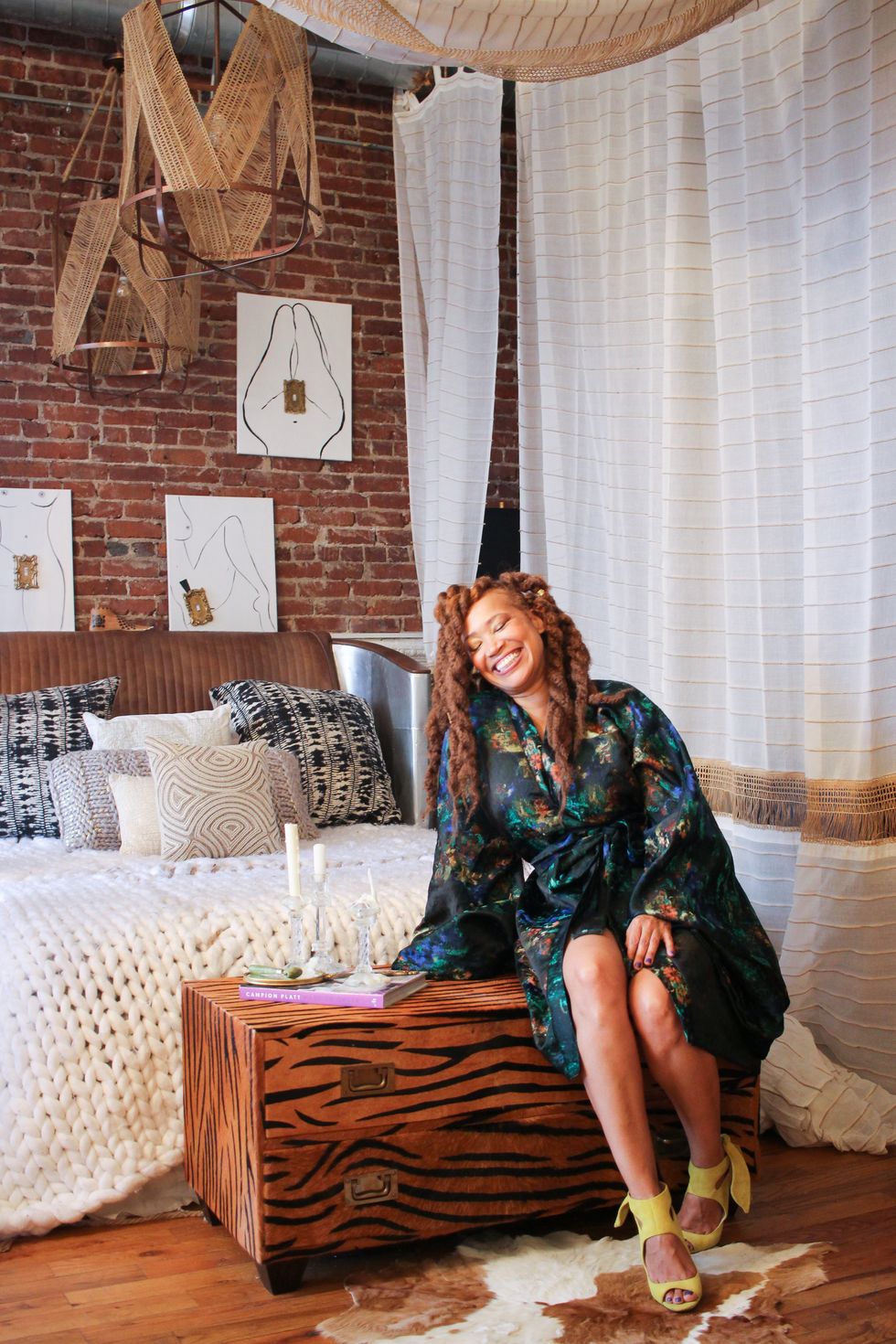 Photo by Ana Rice for xoNecole
"My space is representative of three components: who I was, who I am, and most importantly, who I am becoming! Deep down I've always been fearless, it's just who I am. It's exemplified through my work and now my home. My ability to curate and recreate the old with the new, adding a modern pop to an antique is something I've been doing for over 10 years. The craftsmanship and character of antique and vintage pieces are so intriguing to me.
"The fact that I live in a firehouse loft/art gallery blows my mind. It's a creative live/work loft and it speaks to the artist that I have become. I have pushed myself and stretched myself; as a result, many talents I had no idea I possessed emerged. My bespoke chairs and hand-painted walls have become my canvases. I truly feel like an artist in my home and my artistry is being actualized by the fact that I am able to live and create in the same space."
"It's a creative live/work loft and it speaks to the artist that I have become."
How did you approach finding and financing your place?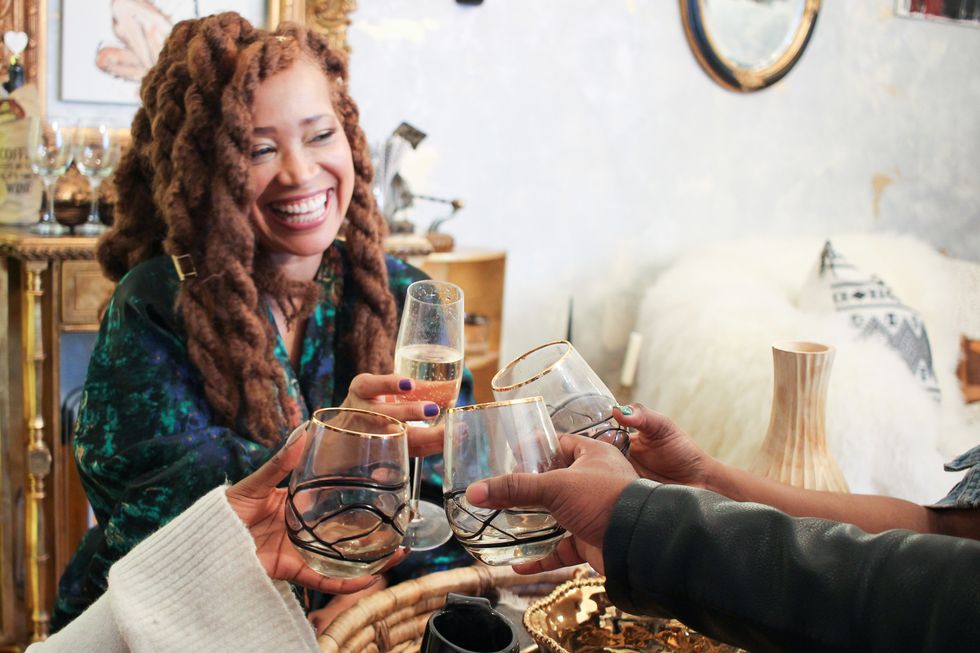 Photo by Ana Rice for xoNecole
"I live in a creative live/work art gallery loft located in the Valley Arts District of Orange, New Jersey and I've been renting here for two years. Discovering the Valley Arts District through an organization called Hands Inc. was such a huge breakthrough for me. I am able to lease this beautiful firehouse abode at a reasonable rate. I recommend anyone who is an artist/creative to seek out communities that have active art initiatives in place. They typically offer affordable live/work, loft-style spaces to creatives – it's a great way to gain exposure and be surrounded by like-minded people."
How do you feel your space impacts your mental health and happiness?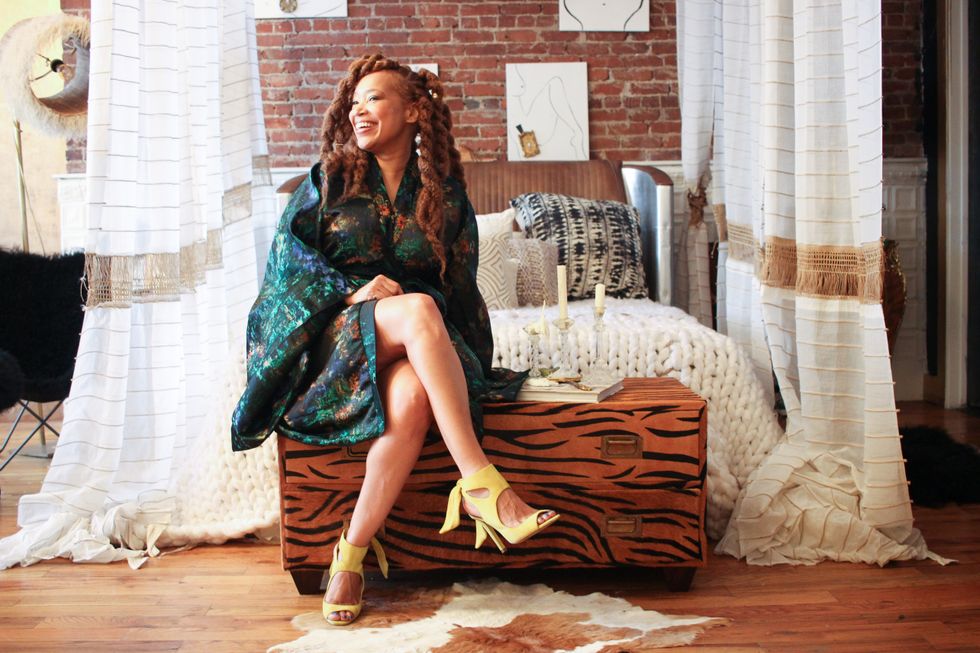 Photo by Ana Rice for xoNecole
"The shape of furniture, the colors of the walls and floors, the lighting and arrangement of it allabsolutely influences how we feel and perform on a conscious and subconscious level. I'veincluded subliminal reminders and cues that stimulate positive feelings and thoughts throughoutmy space. For instance, if you look closely at my hand-painted copper colored doorway it hasthe words 'You Are Not Alone' inscribed on it. I painted those words as a reminder to myself thatI am not alone; every waking day is proof that the creator is present."
In addition to an apartment tour, xoNecole was able to sit down with Bailey to discuss her design ethos, neuroaesthetics – the impact of our spaces on the way we feel, and some of her favorites pieces present within her Orange, NJ firehouse station loft:
Vaginas Are Lit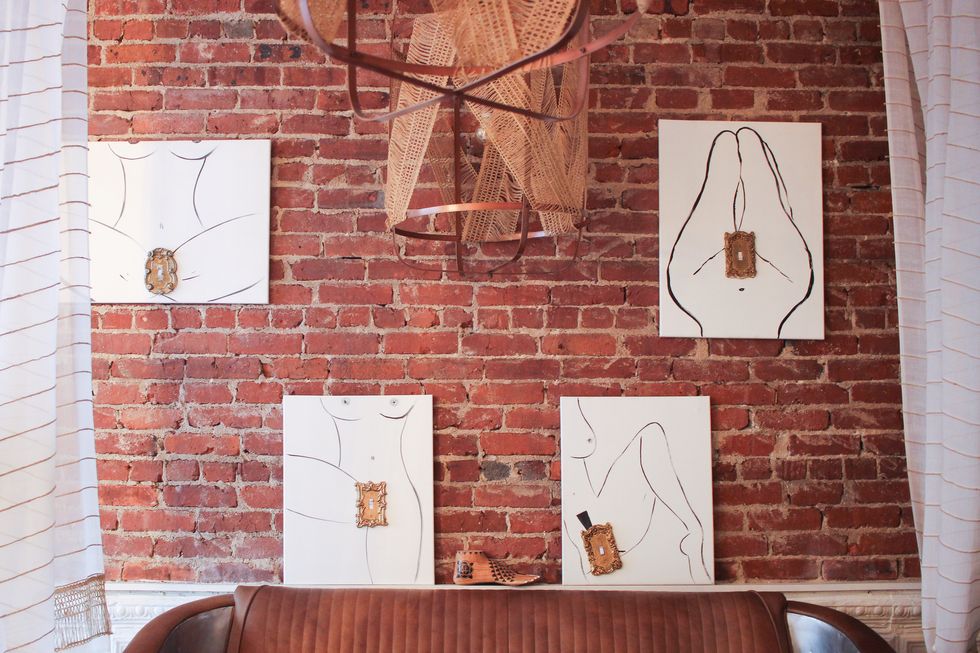 Photo by Ana Rice for xoNecole
"Recently, I did an art exhibition where I featured my art installation, 'Vaginas Are Lit'. I created these paintings on canvases with silhouettes [of vaginas] with antique light switch plates and bulbs that lit up. It was an interactive moment for people since they could actually come into the exhibition and 'turn on' the vaginas. Whoopi Goldberg happened to be a fan of [the installation] and ended up purchasing the first two [pieces], which was a very proud moment [for me]. 'I was like, Oh my God, I'm an artist!'"
Sweet Escape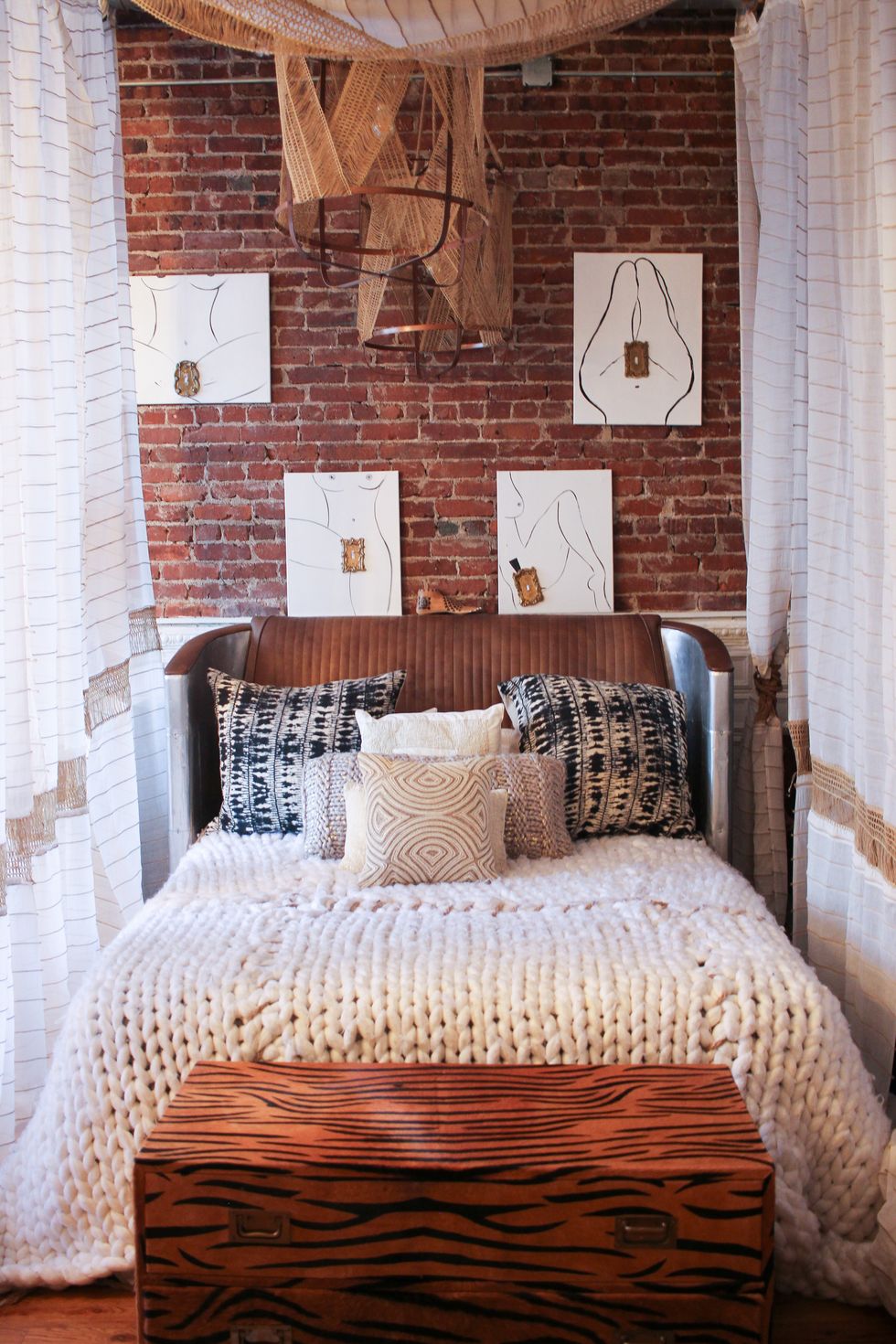 Photo by Ana Rice for xoNecole
"Growing up, there were times that I didn't have my own room. I remember visiting my sister's friend's house when we were young and seeing her bedroom. It was a little girl's dream come true! She had a canopy bed with drapery to match, beautiful pastel walls, and dolls for days. I remember leaving there feeling sad knowing that my grandparents could not afford to give me a room like that.
"As an adult, I can finally have my version of a dream canopy. It's nothing like that little girl's bedroom, but it certainly represents the girl in me. The feminine canopy is juxtaposed with a masculine leather and sheet metal aviator headboard, gauzy sheer drapery with jute trim and huge industrial style metal light fixtures that I also embellished with jute trim.
Although it's one my favorite areas in my apartment, my boudoir was a painstaking process because I did not know where to put my bedroom in this wide open space. I originally had my bed over by where the living room is, and then I decided that I wanted to switch it up. I created this canopy to give me a little bit of privacy and delineate the areas [in the apartment], but still, leave it wide open."

Something Old, Something New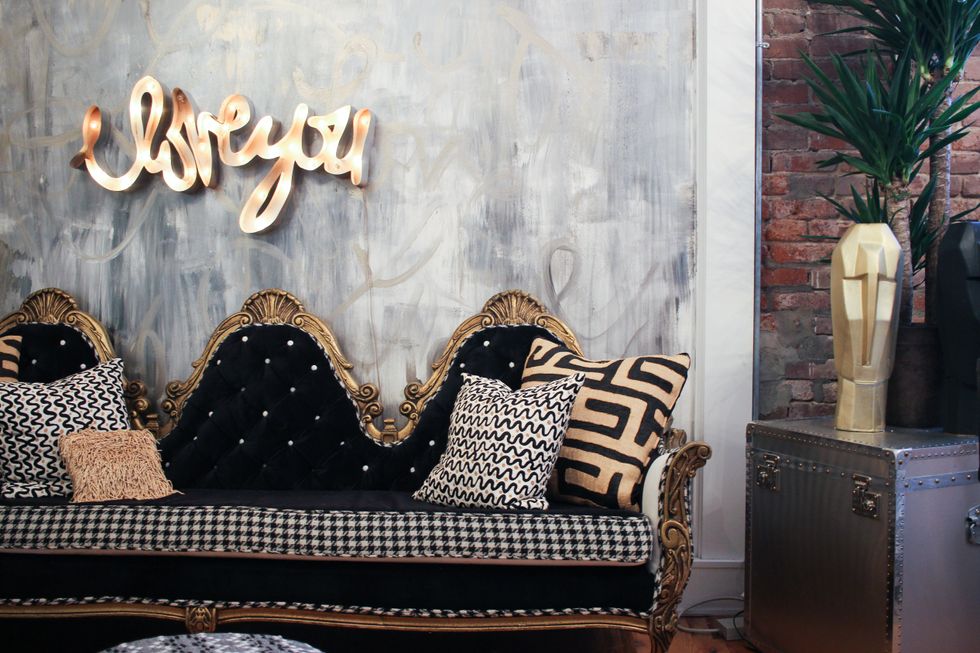 Photo by Ana Rice for xoNecole
"15 years ago, I bid on [this couch] and it was originally Pepto-Bismol pink! I had it reupholstered in the black velvet that you see here today. It was originally in my showroom for sale and I was so happy no one bought it because… it's mine."
On the Run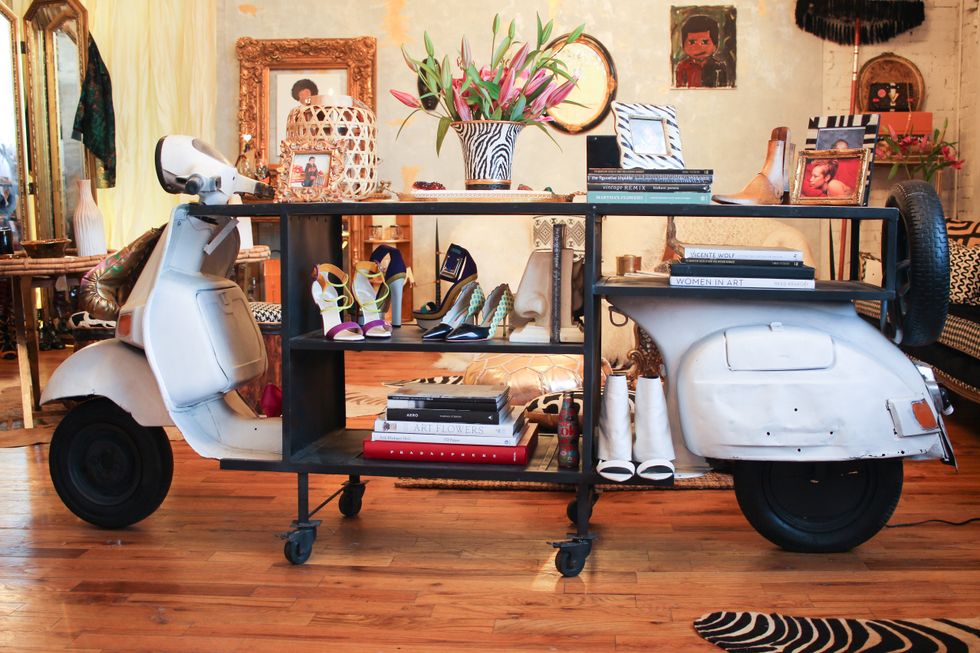 Photo by Ana Rice for xoNecole
"In my early twenties, I always dreamt of driving around town in a Vespa wearing high heels; my vintage scooter console satiates that desire! Every time I look at it parked in the middle of my loft, I feel adventurous and free.
"I discovered this vintage scooter console at Sierra Trading, believe it or not. I just fell in love. I had to have it. And, it lights up, which I thought was really cool! In a loft space like this, I thought it was a great aesthetic piece that serves a dual purpose. It's a shelf where I can display my favorite objects – my favorite shoes, my favorite books, stones that I love. Again, [this loft] is an open space and it's very hard to find storage and this [console] can be used to show some of my favorite things."
Indoor Picnic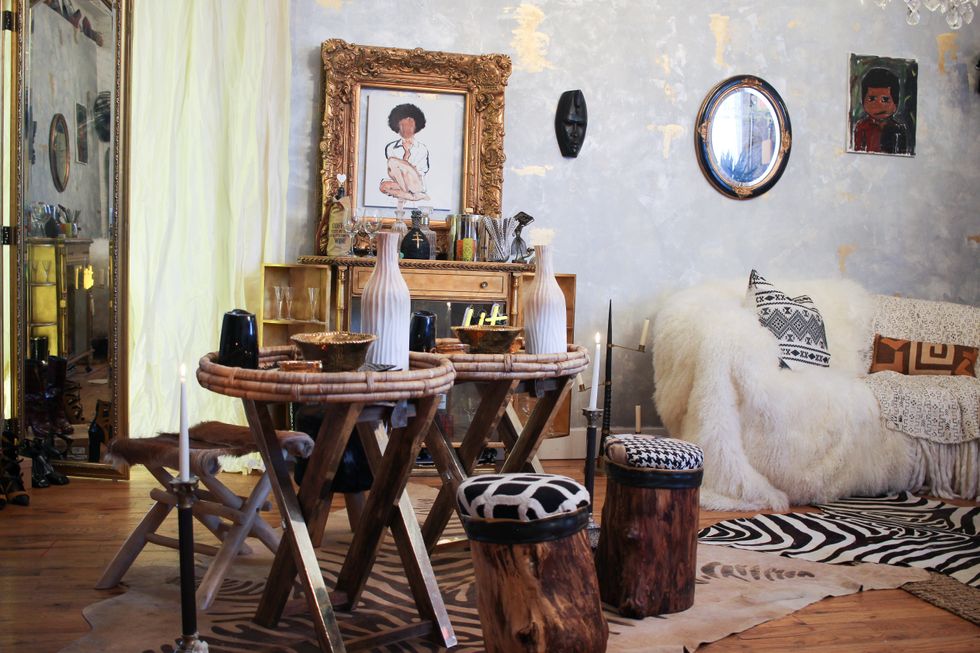 Photo by Ana Rice for xoNecole
"My dining room table is a unique experience. I don't have room for a full-out dining area, but I did want to create an indoor picnic moment where you can have anything from a romantic dinner to a nice little community area where you can catch up with friends."
All photos by Ana Rice
For more Bailey Li, give her a follow on Instagram @interiorista_baileyli and @designedbybaileyli.