---
There's something about sitting on the rooftop of a Hollywood restaurant that invites good vibes and even better conversation. Case in point, Logan Browning and I are tucked inside of a cabana-turned-seating area, sitting across from a skinny-dip worthy pool having casual girl talk about hair over our respective salads. She compliments my locs, I her beautiful mound of dark curls, which are currently slicked back into a ponytail, our conversation effortlessly flowing from relaxers to U-part wigs—black girl magic style.
But as exciting as it is to talk about our hair woes and glows, today I'm meeting with the 27-year-old actress to talk about something deeper. Sacrifices, success, and fearlessly pursuing a dream even when you don't have all of the same tools as your counterparts.
As one of the faces of the Netflix series Dear White People—a television adaptation of Justin Simien's film of the same name—she's finding a greater purpose through her voice. "What I do with my art and my platform I know needs to be bigger than me," she says, and in the satirical series, she's doing just that.
On camera, Browning plays the role of Samantha White, a biracial student at the prestigious and predominantly white fictional college Winchester University, who boldly addresses issues of racism on her campus radio show. Throughout the season, we watch as Sam and her fellow students of color battle against social injustices, creating a feud between the black student unions and supporters of the white-run magazine Pastiche, while juggling their own individual struggles outside of their fight for respect.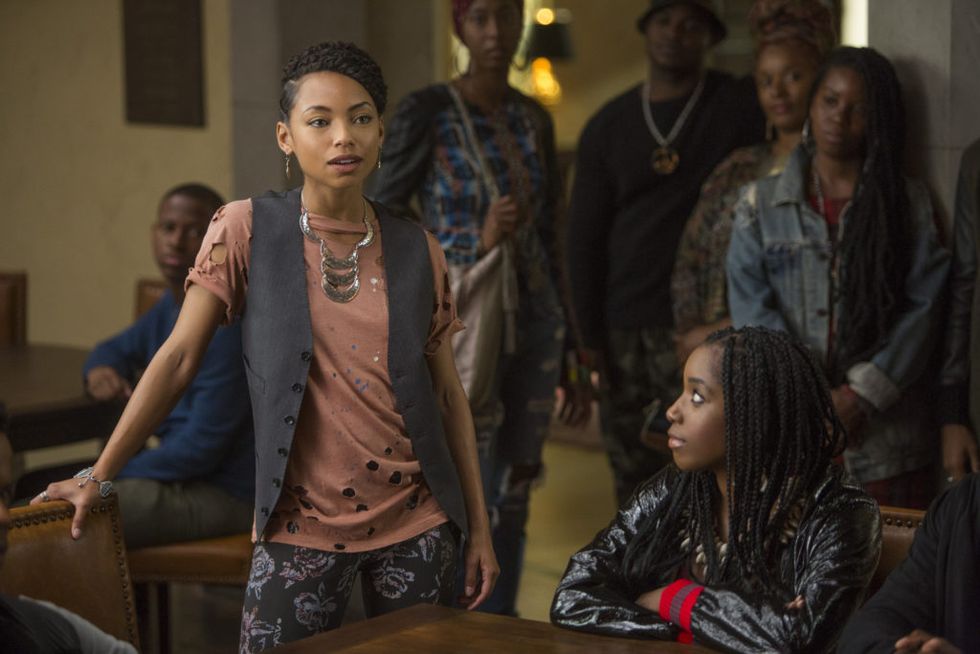 Dear White People
Off camera, Browning is equally as woke, participating in Black Lives Matter marches and being unashamed and unafraid to raise her voice on a number of issues from homelessness to the missing girls of color in Washington, D.C. Putting out that energy, she says, is what drew her to audition for the role of Sam.

"I was so active with marches and social media activism and doing my own research, so when Dear White People the series occurred, it felt divine," she says. "I just loved Sam's voice. I loved the way Justin wrote her, and the things he said, I was feeling personally. To be able to recite them as Sam and express them in the way that she expresses them was so liberating because not all the time do I have all of the answers and verbiage to really share how I feel about certain topics. To play a character who was so eloquent and so powerful, it was the perfect opportunity."
Opportunity didn't come without its share of hard work and sacrifice.Though she already had years of professional acting experience under her belt, Browning admits to having moments where she felt that she couldn't measure up to her counterparts who not only had work experience, but years of dedicated training in their craft.
"The wall that I met was during Hit the Floor," she says, referring to her role in the popular dance drama. "I was given a lot of difficult material or material that I didn't know how to handle so I felt like I didn't have the tools. A lot of my contemporaries their college experience was studying theater or they were part of a theater company so for a while I've felt a tinge of inferiority. I had that complex because I didn't have the same training."
Instead of being detoured, she let it empower her. What she lacked in educational experience earlier in her career she made up for in hustle. In between gigs she would take summer classes at UCLA, watch and study footage of performer's she admired, and developed a deeper appreciation for the art that she fell in love with years ago. Her dedication didn't go unnoticed. Amongst numerous submissions for Dear White People, she immediately caught the eye of the show's director.
"I remember seeing her tapes and being so blown away because her interpretation of that monologue felt so honest, and so Sam, but it also felt so singular," says Simien. "It didn't feel like her version of what Tessa did in the movie, it felt like something totally different and new, and she just knocked it out of the park the moment I laid eyes on her tape. "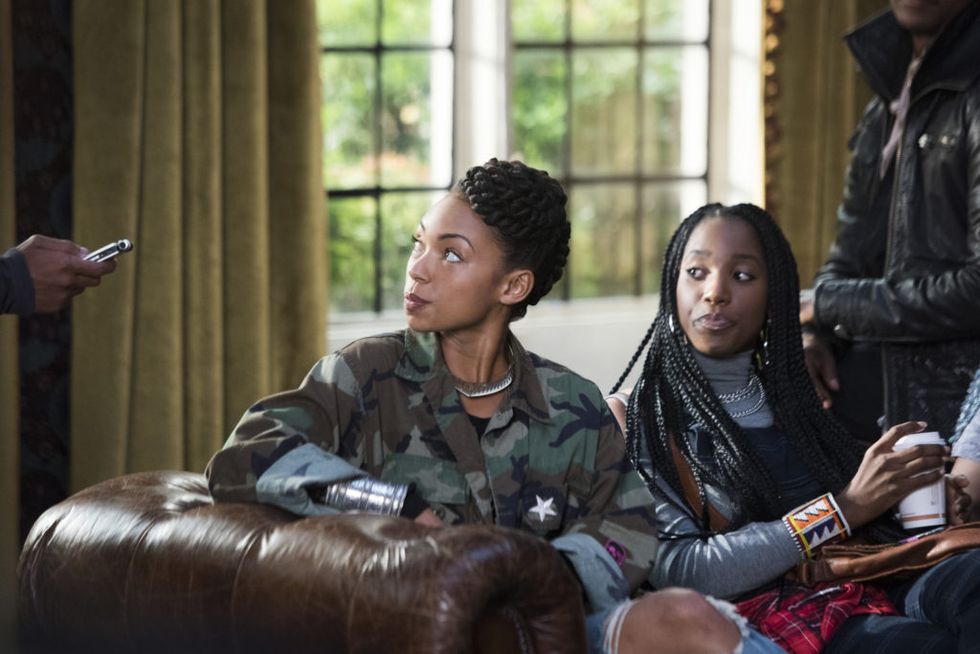 Dear White People
Going above and beyond and making sacrifices for her career has always been a part of Browning's story. At 14, the Georgia native left her home in Clayton County and relocated to L.A. where she stayed with her godfather, and later her older brother, to pursue her acting career. She picked up reoccurring roles on popular teen shows such as Summerland and Ned's Declassified School Survival Guide, but it was her feature debut as Sasha in Bratz: The Movie that proved her to be a breakout star. "I didn't know that it was a big anything to be honest. I knew it was a big deal and I was excited about it, but the scale of it was kind of lost on me because I was just a kid having fun."
After wrapping up her press tour for the movie in the U.K., Browning wanted to continue her studies in business and enrolled at Vanderbilt University, but only stayed long enough to finish out her freshman year before going back out to L.A. "Me and my dad took a meeting and my agents were saying you just did this film, if you want to continue to build on your career now is the time for you to be back out here."
The move proved to be risky. Though she had the success of an international movie, the writer's strike left her without a job in Hollywood for the next year, during which time she picked up a position at Kaplan Test Prep while taking summer courses in Ancient History at UCLA.
Despite her patience, the opportunities still didn't come knocking, and Browning reluctantly started making plans to move back to Georgia when she got a call from a producer at Tyler Perry Studios for a role they were casting for Meet the Browns. Booking the show, she packed her bags, moved back home, and studied Art History at Clayton State while juggling the set life.
After three years, Browning followed her instinct and once again left Atlanta for L.A., but she wouldn't land her next major role in VH1's Hit the Floor for a couple of years. Browning shares that it's not unusual to go to 10 auditions and only booking one role. It's during these times of uncertainty that she was often challenged and her true character revealed.
"I don't shy away from those darker moments. I'm not afraid to be worried and to self-doubt and to question what I'm doing because in those moments is when you come up with your next move, and a lot of times that next move is a big one."

"I'm completely okay with just easing into it. It's just like a rollercoaster, you just have to ride the wave."
As a seasoned actress, Browning has learned that not getting a callback doesn't necessarily mean you lack talent either, it could simply be that you don't fit the look they need for the role. "I think that's kind of how I was able to navigate that experience, understanding that everyone has a different journey, and that if I'm not getting a role it's not because I'm the worse actor in L.A. Understanding that keeps your spirits and your hopes high."
Having the faith that her parents instilled in her at a young age has also kept her afloat during hard times when the only thing she could rely on was prayer and the conversations from back home that reminded her that giving up was not an option.
"My manager gave me this metaphor once like Tarzan in the jungle. You're swinging from branch to branch and you're holding on to one branch and then you're jumping and reaching from the next one. And usually you're able to hold onto one while you reach for the next, so you always have the safety net. But there are going to be times you have to literally let go of one and there's going to be a moment when you're in the air and you're not holding onto anything before you grab the next one. Just do it, because the picture of you hanging on the other one, it doesn't look good either. You're just swinging in the wind holding on to one branch and then you lose your momentum and then what happens? You're not going anywhere."
"There are going to be times you have to literally let go of one [branch] and there's going to be a moment when you're in the air and you're not holding onto anything before you grab the next one."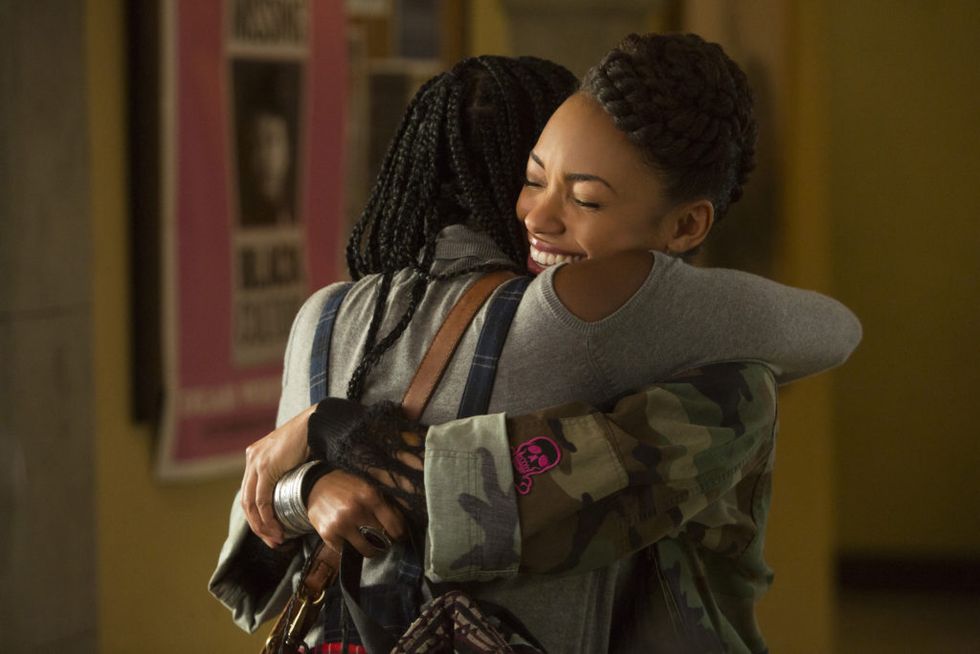 Dear White People
In the case of Dear White People, it's her personal life experiences that have enabled her to fully transform into Sam.
She's attended a predominantly white college, where she found a safe haven on campus in the Black Cultural Center, and living in the south, it was impossible for her not to witness the nuances of racism in a city that to this day remains self-segregated.
"Growing up Black in Georgia, whether you are conscious or unconscious, you will experience racism. It's just a fact, and in America it's a fact. I've had personal experiences that I will constantly question if the person did it because of the color of my skin. To be honest, sometimes you don't know. And that's the problematic part because when you grow up as a black person or any minority, you are constantly asking yourself if this particular experience is racism."
Browning also acknowledges that like Sam, being of lighter complexion has afforded her greater privileges than her counterparts of darker complexion. It's something that hasn't been overlooked by viewers who've penned pieces pointing out the not-so-subtleties of Coco's character, played by actress Antoinette Robertson, versus Sam's.
"It's almost scary to me to label anything that I have as privilege," she says, her green eyes softening. "But I do have privileges—class privileges, the list is there. And we both feel caught between worlds of being so pro-black, but at the same time feeling like people may say you don't really get it. You think you get it, but you don't get the whole of it. Which is also true, there are experiences that I will not have because I'm not a certain shade of brown. So in that way, Sam and I, we're in the same shoes riding the same boat and just learning how to influence this ass-backwards society that we're in right now."

Regardless of the side of the color spectrum you stand on, you can't deny that the show, which aired April 28, door for a necessary discussion around racism, to the point that it sparked protests against Netflix in reaction to its 30-second teaser released earlier this year. "Sometimes I wonder if I have enough to say, if I have enough in my back pocket in terms of personal research," confesses Browning. "But all I can do is say that God put me in this position for a very particular reason. I have the tools already, and it's challenging me to continue to do my research, continue to read, be open to being wrong and being willing to be wrong, which is the journey that Sam is on, too."
As her purpose continues to unfold, Browning also sees a greater responsibility in the roles that she takes on and what she represents when the cameras start rolling. "As a black woman I have to be conscious of the roles I play because if I feed into stereotypes then young women who are looking at me see their experiences as limited, they don't see the full span of their potential so now it is important to me. I'm not always going to do politically charged art, and maybe I will do more. I just want to make sure I'm telling full and genuine stories that young girls can see themselves in or escape into."
At 17, Browning's gift granted her the opportunity to experience life on a larger level, and at 27, she's just now beginning to leave a mark through her life experiences. As we wrap up our conversation, I'm reminded that purpose is timeless, and that every experience, whether good or bad, paves the road for where we're going and what we came here to do, and that alone is worth fighting for.
Featured image by Kathy Hutchins / Shutterstock.com