Been about three years since I dated you,
Why you still talking 'bout me like we together?
---
This is an open letter to any and all exes of mine: Unless you're speaking out of love, do your best to keep my name out your mouth. I am appreciative of the time we spent together and I'll never forget the lessons you taught me, but just because I loved you at one point, it doesn't give you the right to use your voice to dictate what I do in the present.
You don't own me, homie.
Although I've grown quite jaded of reality TV drama, a recent clip from an episode of Love & Hip Hop: New York featuring Safaree and hip-hop's angry uncle, Joe Budden, caught my eye. It was revealed previously that Safaree was in a "secret" relationship with Erica Mena, who in the past, had been involved with Cyn Santana (Joe's fiancee). When Joe and Cyn discovered that Safaree had invited Erica to the resort, all hell broke loose.
In a heated discussion centered around the "bro code," Joe confronted Safaree for bringing who he said was his "girl's old work" on their Costa Rica vacation without telling him first. Joe told his frenemy that a simple text would have allowed him to "dictate his household accordingly." Joe ranted:

"When you're running round with homegirl, have a f–king blast my ni–a. But when it's in close proximity to my family, it's a security breach. I don't play family games!"
Joe alleged that his anger came out of his concern for his wife's safety, but after doing some further research, I learned that wasn't the case. After Cyn and Erica's explosive breakup in 2015, Cyn, Joe, and Erica reunited for a picture like everything was all good in 2017. Erica even expressed how happy she was for the then-expecting parents. So what was Joe's real problem?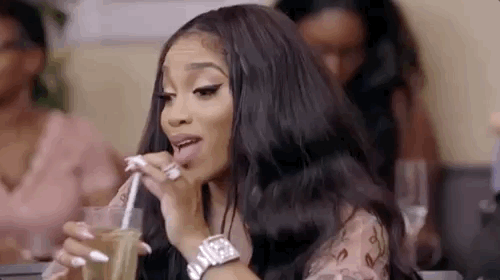 media.giphy.com
In the heat of the moment, Safaree tried to explain himself:

"It's my business and nobody's seeing her."
Which, although I'd never blindside my bestie, is true. Why would a grown man need permission from anyone to bring his girl on a vacation, even if it is just for some much-needed drama and publicity for his reality TV show? The breakdown in Joe and Safaree's apparently fragile friendship still didn't have my complete attention until Joe said this: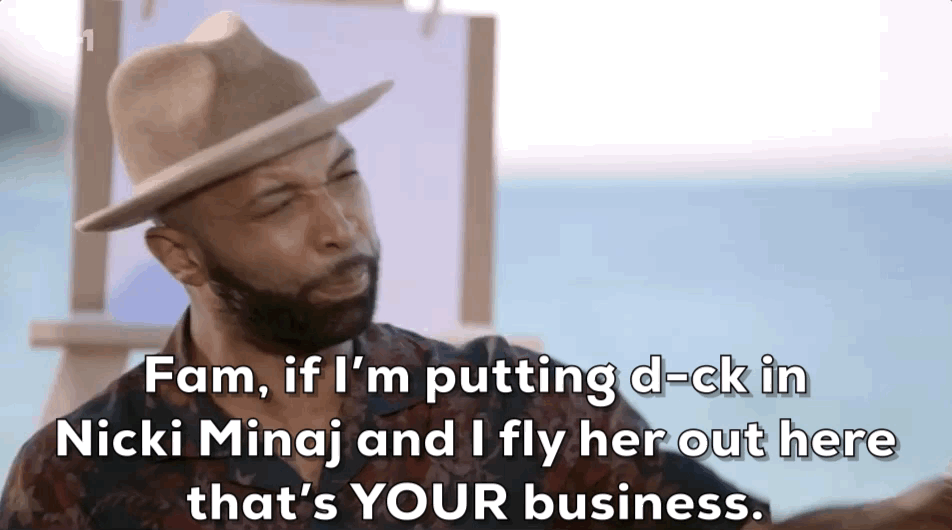 vh1.mtvnimages.com
"Fam, if I'm putting d–k in Nicki Minaj and I fly her out here, ni–a, that's your business!"
Now, Joe. You'd do best to leave the Queen out of this.
And this is where my opinion comes full circle. Nicki has moved on and is living her best life, sis, why are you still associating her with Safaree? She is not his territory to be marked, and therefore, anything she's doing is NOT his, yours, or anyone else's business! I don't care how many times he put "d*ck in her."
Whether this drama was solely for TV or was actually a real dispute between best buddies, it shed some light on how some people feel they hold a claim on their exes, long after the breakup. Safaree may have been wrong for not being forthcoming with his homie, but in real life, nobody has the right to dictate where Erica lays her head or even who she shares a bed with.

Do your ex a favor: Get rid of those broken clocks and mind the business that pays you.
Watch the full clip below!
Featured photo by Instagram/ @iamerica_mena.