---
As Told To is a recurring segment on xoNecole where real women are given a platform to tell their stories in first-person narrative as told to a writer.
This is Yahya Smith's story, as told to Charmin Michelle.
Women, it's our time—our time to take care of ourselves and to take care of other women, wholeheartedly.
Growing up, I never considered any other career option outside of entrepreneurship. And because my parents were serial entrepreneurs, it didn't even occur to me that working for someone was the norm until I got to college and noticed everyone else's goals were a lot different from mine.
I became a mom early on, but I always knew that I didn't want my son to be raised by teachers and daycare workers. I also knew I needed to be able to feed him, too. I worked a traditional job for the first year of his life and while I was able to climb fast in the company, it just wasn't enough for me. I felt a pull toward family life and so I answered it. I got married at 23 and one of my "must-haves" (for agreeing to marry him, lol) was being able to stay home and raise our family.
Like many SAHMs, I quickly realized that housework and babies 24/7 would drive me crazy if I didn't have an outlet for things that were just for me.
So, I started a blog.
I was flowing in marriage and motherhood easily, but I saw a lot of other women having a hard time. I wanted to share what was working for me. My marriage and relationship was easy, creating systems in my home was easy, building a business based on what I knew was coming naturally. I even had time to grow a backyard garden, give birth at home, homeschool my children, and incorporate regular me-time.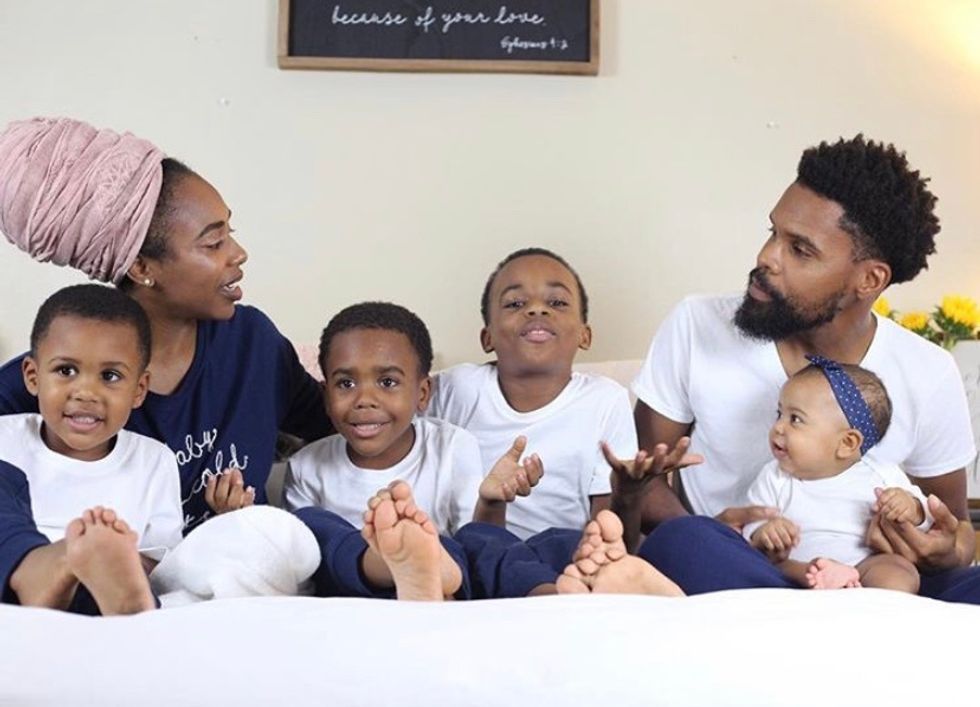 Photo Courtesy of Yahya Smith
I was living free, systematically, and I knew that other women wanted to be free to do the same.

That was the beginning of Feminine Success.
We're a consulting and life coaching brand created to give high-performing women the kind of support they need to be great in the areas that matter to them without burning out. We position femininity as the most practical and dynamic tool to have holistic success from the inside out, with grace and ease.
Success for women is usually different than success for men yet we've been taught to measure success with a man's ruler, so we settle for pieces of success rather than having the whole thing. We choose to describe the kind of woman who shows up in the world on purpose. She's not hoping to stumble upon her best life. She's curating it in every way.
I grew up with a unique mix of New Orleans creole culture and Alabama red clay, so I have a steady love for the simplicity of country life and an equal amount of love for the pulse of the city.
I'm the oldest of three girls, and I've always been the caretaker. My parents were young, entrepreneurial, and doing well financially, so I got to witness first-generation "rich". That exposure really shaped my ideas of success, as I learned early how you could have all of the trappings of success and still not feel successful. Who shows us how to have it all without doing it all and being it all? Who shows us how to have healthy families, loving marriages, and a clear heart while leaving a legacy of financial and social impact? When you get everything you ever wanted, how will you handle it?
When I began homeschooling, I had to adjust and make room for it in my family's lives. On an average day, I wake up at 5 a.m. and have two hours of me-time before my children wake up. My husband is up at 4 a.m., so he usually has a cup of tea waiting for me. I go through my morning routine—I like the Miracle Morning method—have a quick team update, and get breakfast started. If I'm really on time, I throw in a load of laundry because, 6 people. We homeschool 4 hours a day and my husband and I alternate days and subjects. I start work in my business around 1 and work until 3. 3-8:30 is family time.

And this is generally how our days run.
What I love the most is I get to build my business around my life. Most of our content is family-centered and is created from our actual lives. My husband is a photographer/videographer by profession so we're constantly documenting our day-to-day and that is the essence of our business. It all works beautifully. This comes from an understanding that it's harder to hurdle anything alone. Because I don't believe in unnecessarily stressing myself, I like to preserve my energy for the good stuff. So, I get a good amount of help.
I think that every woman needs reciprocity because we give so much, but it's up to us to create that kind of culture in our lives.
Community care curbs burnout.

My favorite self-care tactic is taking naps. They are so important, I don't believe in sacrificing sleep for success. For those times that naps don't work, I schedule weekend hotel stays and acupuncture appointments. I have an amazing naturopathic doctor who is also a sister and she gets my whole life. I take self-care seriously, so I try to make sure to integrate it for the women I coach because we all know what usually happens when you plan time away: everything but time away.
Take care of yourselves, too. We need it.
Ladies, what I'm saying is, it is so, so, so, important for you to build your life how you want it from the beginning. If freedom is what you want, build out your life and business for freedom. Don't go into entrepreneurship saying, "one day" because much like relationships, how it starts is how it ends. Have boundaries with your business so you know when to say "yes" and "no". Value Relationships. Focus on how you make people feel, and know the value of that. Value yourself highly, what you bring to the table, and how you present it, is significant.
Success, to me, is what you create your life to be. Like, my ideal day is me in the kitchen, baking bread and cakes and preserves from scratch, my team is running my business operations, my husband is playing some fire tunes and grilling up some goodness, my clients are winning on repeat, and my children are laughing in the background. And what I love most is that I can be anywhere in the world and have all of that.
Femininity has helped me flow with the ups and downs that come with making the radical decision to be free—as a mom, as a business woman, and as a creator.
There's power in who we are as women.
It's up to us to tap into it.
To find out how you can become Yahya's client, you can apply on her website. Also, you can follow her on Instagram for her latest tips on balancing your life.
If you have a story you'd like to share, but aren't sure about how to put it into words, contact us at submissions@xonecole.com with the subject "As Told To" for your story to be featured.
Featured image courtesy of Amiri Isreal