Nearly 30 years ago, five teens from New York were convicted of a crime that would ultimately rewrite the narrative of black youth in America and paint a horrific picture of how black Americans are mistreated by police and the criminal justice system as a whole.

---
The late-eighties were a tumultuous time for race relations in this country where everything was seen in black and white. This was made abundantly clear after a 28-year-old white woman was found bloody, beaten, raped, and left for dead one night in Central Park, making teen in the area a suspect. After a night of subpar police work, detectives had five black and brown boys in custody for a crime that we would later learn they did not commit.
After garnering a whole gang of false confessions and literally no substantial evidence, five boys, aged 13-16 were convicted of rape, robbery, attempted murder, and sexual abuse, and were sentenced to up to 15 years in prison.

Ava Duvernay's four-part Netflix series When They See Us tells the story of these young boys and their families who fought for justice and were ultimately cleared of all charges. Since the limited series was released, the world has reacted in a major way, even causing lead prosecutor on the case, Linda Fairstein to delete her social media pages. If you haven't seen it yet, it's time to hit up your ex for that Netflix password, sis, because this series offers vital information that we can all learn from when it comes to protecting ourselves in this country. Here's a few things you might not have known about the case:
Donald Trump Helped Create The Narrative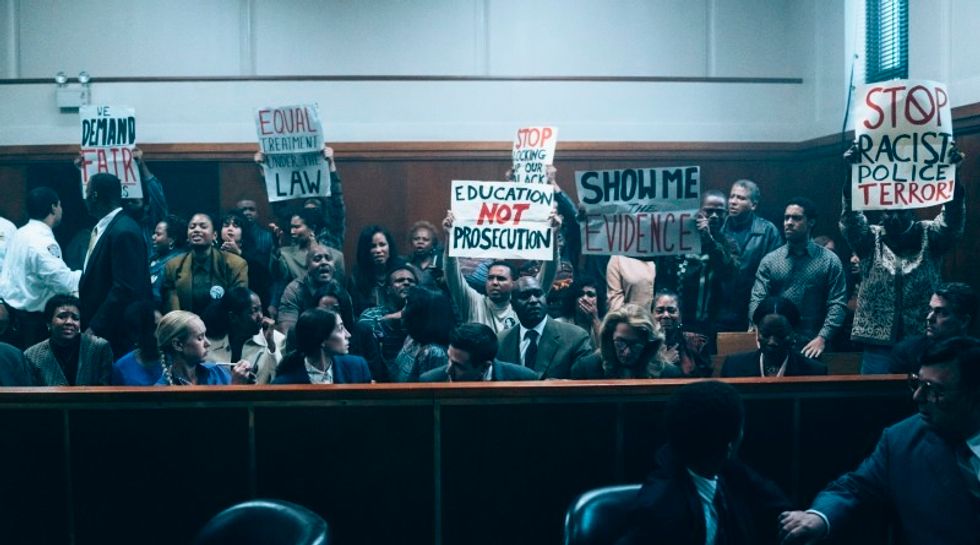 Netflix
Racism. Injustice. Corruption. It's only right that 45 take his rightful place in this history of f*ckery. Donnie was making problematic political moves way back in 1989, when he paid for full page ads in New York newspapers (totaling about $85,000) that called for the five boys to face the death penalty after their convictions.
Even after the victims were cleared and the real perpetrator was convicted, he stood strong on his belief that the five men were guilty and refused to issue any form of apology.
It's Been A Hard Week Linda Fairstein, And It's Only Monday
Listen, Linda. You know you done f*cked up, right? While I'm sure her original intentions were as pure as any white woman with undeniable racial bias, Linda Fairstein is a true example of the type of people we DO NOT need in our criminal justice system.
Her willingness to demonize and take the lives away from five young boys based on a whim was criminal and according to Black Twitter, we're not opposed to street justice via social media. Since the documentary aired, the former prosecutor has deleted all of her social media accounts and a petition has been created that calls for Amazon, Audible, and all other book retailers to remove all of her books from their platforms.
The Central Park 5 Asked Ava To Tell Their Story
After the debut of Ava Duvernay's film, Selma, in 2015, everyone was dying to know what Ava had up her sleeve next, including Raymond Santana, who reached out to the popular director via tweet. After a brief exchange via DM, Ava put her thinking cap on and got to work.
"I found myself at a dinner in Harlem with Kevin [Richardson], Yusef [Salaam], and Raymond. It was very powerful to have them all together. The thing that really struck me is no one's ever heard their story beyond 'the crime,' or the night itself. The documentary does a beautiful job of recounting that night, but when I sat with them and they told me about everything else, that was really fascinating."
Two years later, the series was announced and the boys would finally have a chance to tell their story in its entirety. Although there had been a wildly popular PBS documentary that shed light on their experience, they expressed that no one had ever told their story beyond their alleged crimes.
Ava told Vanity Fair that although she was honored to tell their story, it wasn't easy and she even provided a crisis counselor on set.
"It wasn't a very healthy thing to do. But they asked me to do it, and I wanted to tell their story. Their story wasn't told when they were boys. It was told for them and it was twisted and it was lies. There was so much more to it, and I wanted to tell it for them."
The Real Reason The Last Episode Is Dedicated To Korey Wise
When creating the limited series, Korey expressed that his experience was much different from the Central Park Five, because as the oldest of the group, he was treated much differently both before and after his conviction. Ava explained that because of this, she wanted to make sure that she told his story much differently.
"When I first met Korey, within 15 minutes he said, 'There is no Central Park Five, it's four plus one.' And I never forgot that. He looked me in the eyes and he said, 'They had an experience and I had an experience. They are not the same.' He had some pain and some anger about being lumped into the Central Park Five when the four were in juvenile hall detention."
Korey, who only went to jail to accompany a scared friend, wasn't even on the list of suspects but was eventually coerced into a false confession on-camera that would eventually seal his fate at Riker's Island and other maximum security prisons for the next 14 years. His time in prison would ultimately allow him to uncover the true culprit in the Central Park jogger case, but nothing could give back to him the last decade and a half that had been spent in solitary confinement.
"They eventually all went to adult prison, but they got out when he was continuing to serve time. And he was always in an adult prison; he never experienced juvenile detention. Going into Riker's at age 16, as you see in the piece, it made a very singular experience. And I wanted to honor that, so I knew I had to find a way to break him out."
New York Never Admitted Any Wrongdoing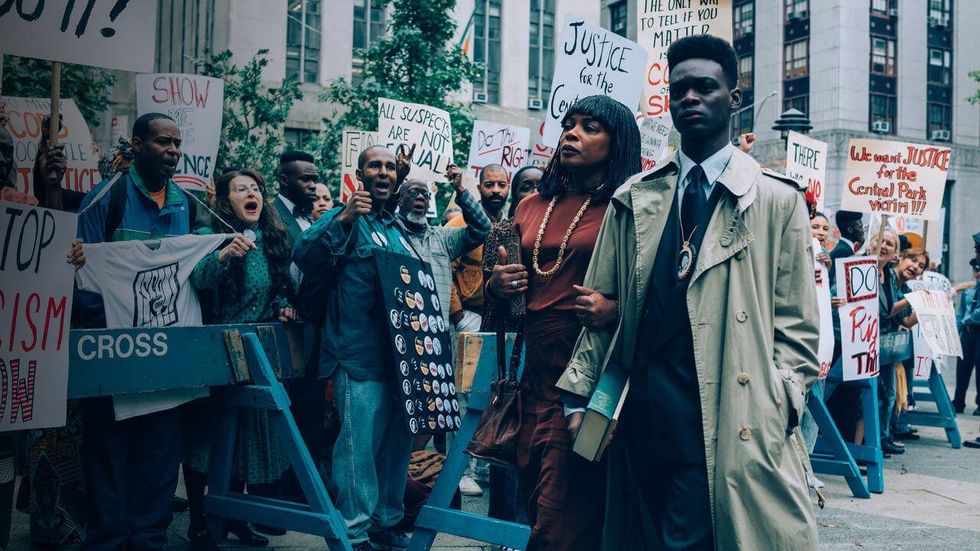 Netflix
A true sign of maturity is being able to admit when you're wrong, so we're going to need the New York Police Department to put on their big girl panties and apologize. Like our current POTUS, the NYPD proved to be sore losers after the convictions of the Central Park Five were overturned and vacated.
While the city settled the case, offering the men a total of $41 million, they admitted to no wrongdoing. Ava told NPR:
"The city never apologized; they settled. No one on the side of the prosecution ever apologized. They've stuck by the fact that even though the real man came out and said: I did it, I did it alone. Even though all of that physical evidence was from him, was matched to the victim, and it was in fact him, and only him, these people still refuse to acknowledge that they — not made a mistake — lied. Lied."
When You See Us is now streaming on Netflix.
Featured image courtesy of Netflix.