Birth control isn't the devil. Ovulation is the golden ticket. And the vagina is not a topic that should be kept on the hush.
---
These are just a few things I learned about my vagina within the first couple weeks of getting married and actually having an active sex life.
My now-husband and I decided not to have sex while we were dating, and waited until our wedding night. How? I have no idea. There were definitely some close calls, like really close, but somehow, we were able to hold out for more than two years. I've gotten so many different reactions about that one. I'm not sure it's as much of a gasp-worthy moment as I used to think it was. And to be honest, before we got married, there really wasn't any action going on with my va-jay-jay anyway.
To back it up a little, I had a very sheltered childhood and even early adulthood. I felt like if I just thought the word "vagina," I would get popped or hit with a million questions of why I even had it on my mind. And while I understand my parents' attempt to be protective, it left me with lots of questions about my body that I was afraid to ask. I will say the Internet made me feel a little better about being so ignorant when it comes to the most precious part of my body.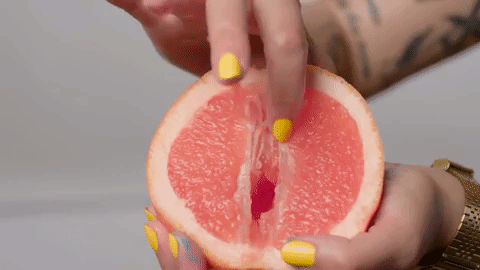 media.giphy.com
While I got a clean bill of health for my annuals every time I went to the doctor, there were a lot of questions out there and I wasn't the only one who was asking them. Still, I'm ashamed to say I waited so long to find out more about said precious body part.
While the answer is different depending on the woman and her body, learning about my vagina has been a key part of my journey of self-discovery and self-love. Here's what I've learned:
A Little TLC Never Hurts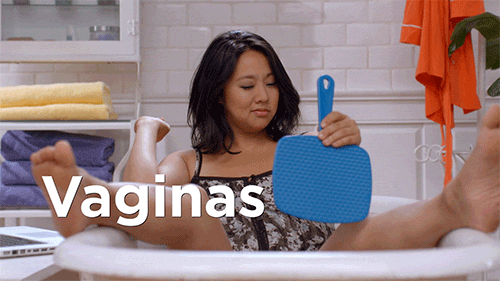 media.giphy.com
Okay, so honest moment: I could probably count on one hand how many times I looked at my vagina with a handheld mirror before I started having sex on the regular. I can be the first to admit that that was pretty stupid. If anything, I should have at least been checking up on it to make sure it was all good. Even though I wasn't sexually active, there were a lot of other things that could have gone wrong; and I would have never known. The few times I did check out my va-jay-jay was from pure curiosity. I started doing mirror checks a lot more after I started having sex, and after I got my first Brazilian wax. I can't even lie I was definitely feeling myself. Let's just say I had a few secret "Hey girl, I see you!" moments in the bathroom.
I realized that even if nothing is wrong, the vagina is such a sensitive and vital part of the body, it's important to show it a little extra attention. I think the most hilarious way I learned how to do this is with kegel exercises. I discovered that this was a simple yet effective way for me to connect with my body even more. I call it "hilarious" because I do them all the time and no one ever knows. It's like an incognito way for me to stay in touch with her and let her know I haven't forgotten about her. In the future, I plan on doing a vagina steam and yoni treatment. Wish me luck!
Birth Control Is Not The Devil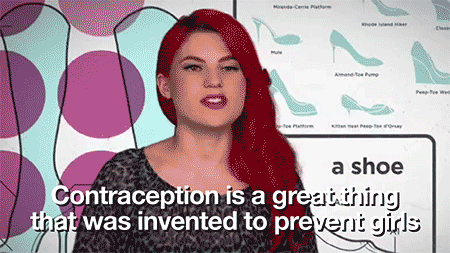 When it came to birth control, I was really on the fence about whether I wanted to take it. I knew I didn't want children right away. (I wanted to wait two years and my husband wanted them ASAP, so we compromised and decided to wait a year). I also heard a lot of different horror stories that women experienced and said it was from being on the pill. From cancer to infertility scares, their stories made me steer clear of birth control at first. I still decided to talk to my doctor about it and she gave me a low-dose pill option.
When we got married, I still hadn't started taking it. But things got real and changed my mind less than a week after tying the knot. There was no way we wouldn't have kids right away at the rate we were going. So far, I surprisingly haven't had any side effects that I can recognize. Of course, every woman, their body, and especially their vagina, varies. I made the choice that I thought was best for me and so far, so good. I honestly just felt at peace about it. And let's be real, the pull-out method only works for so long, and considering we waited to have sex, using condoms was just not on the agenda either.
Say What? – No, I Can't Get Pregnant Every Time I Have Sex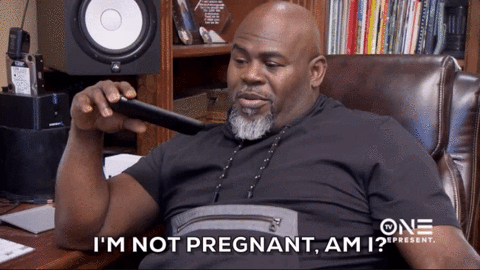 media.giphy.com
This leads me to my next point, which marked one of the first indications that I was completely clueless about my vagina. I know y'all are going to judge me for this (I don't blame you, I still judge myself), but it's a moment that I have to confess and be vulnerable about. I had always heard of ovulating, but I didn't know I had to actually be ovulating when I had sex, in order to get pregnant. I know, I should have done better.
My moment of revelation came after our honeymoon. It was one of many times that we had sex and I just knew I had to be pregnant just because of the amount of sex we were having. I was talking to one of my friends about it and she asked if I was ovulating. I looked at my period app and realized I wasn't, and that it said I had no chance of getting pregnant the days we had sex so far. She gave me a major side eye but I'm glad I had that learning moment… as embarrassing as it was.
My Vagina Should Be Celebrated, Not Shunned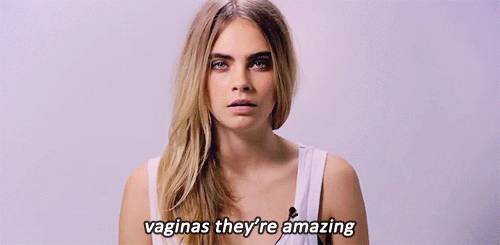 media.giphy.com
Anyone can see that this is the year of the woman. We're taking over, speaking out, and defending ourselves in ways that many of us haven't seen in years. I'm proud to be a woman and am embracing all of the things that make me a woman, including my vagina. I wish I didn't wait until I was sexually active to learn these aspects about what I consider the most prized and valuable part of my body. Now, it's taken my love for girl power and women's empowerment to a new level. It's not something that should be kept on the hush—and this is coming from one of the most private and personal people out there.
It's something that should be embraced, laughed about, and a key part of what makes me who I am. I'm on this interesting journey of finding myself, so I have to say this truly helped me to fall in love with who I am… vagina and all.
Featured image by Shutterstock