When I decided to take a trip to Portland, I had a certain angle I thought I wanted to write about, well a pretty obvious angle/question, since Portland is 76 percent white (making it the whitest major city in America): Do black people live in Portland?
Not to mention that like many cities across the country, Portland has an ongoing issue with gentrification. With all of that information, I didn't know what to make of the town.
---
One of my questions got answered early on since I got a chance to connect with young black people as I explored the city. One guy was even named Ermias, which sparked a conversation about Nipsey Hussle's senseless death and how we as young black people can help keep the marathon going.
During all of my rideshare rides, I'd ask, "What should I do while I'm in Portland?" The general answer was, "You should eat..." I guess that makes sense given WalletHub named Portland American's number one foodie city. What I realized after chatting with the locals is that much of what the people of Portland "do" aside from waterfall hikes is try the wealth of restaurants the city has to offer — and there are a lot of them.
I had a Middle Eastern brunch, got my caffeine fix with a dose of sneaker culture at a black-owned coffee shop, and topped it all off with a beautiful meal at an upscale Peruvian restaurant. I'm pretty sure I gained a few pounds while I was here, and thanks to the hospitality at two of the cities newest hotel — I felt like I was in my dream home away from home with fresh, crisp air and a little rain on the side.
Here's what I ate, where I slept, and what I did between meals because those were the main event. (And to be honest, there wasn't much time to see anything in between meals.)
Where I Stayed
The Hi-Lo Hotel
Bianca Lambert / xoNecole
The Hi-Lo Hotel is an upscale boutique hotel from Marriott's Autograph collection. Decked out with high ceiling plush loveseats, tiled floors (which I think were heated), and a bathroom I dream of calling my own. Accented with gold hardware, a Kohler jacuzzi tub, a counter large enough to hold all of my beauty products, and plush robe in the closet — I was in my happy place.
I even had a glass of wine compliments of the Hi-Lo, ran an Epsom salt bath, and relaxed.

As an LAer that is used to a limited amount of space and no bathtub, this was everything to me. Thanks to my bath, I was so relaxed that I tried to watch something on HBO (which was complimentary), but I was out until my alarm went off the next morning.
What made the Hi-Lo even better was their staff attention to detail — using my name to greet me and taking care of my concerns with a sense of urgency. Not to mention the hotel was just a block away from Nordstrom, Zara, and a new favorite, MUJI. Imagine Ikea, but with Japanese skincare, minimalist clothes, and sleek homeware. I almost spent all my coins in there, but I talked myself out of it.
The Hoxton Hotel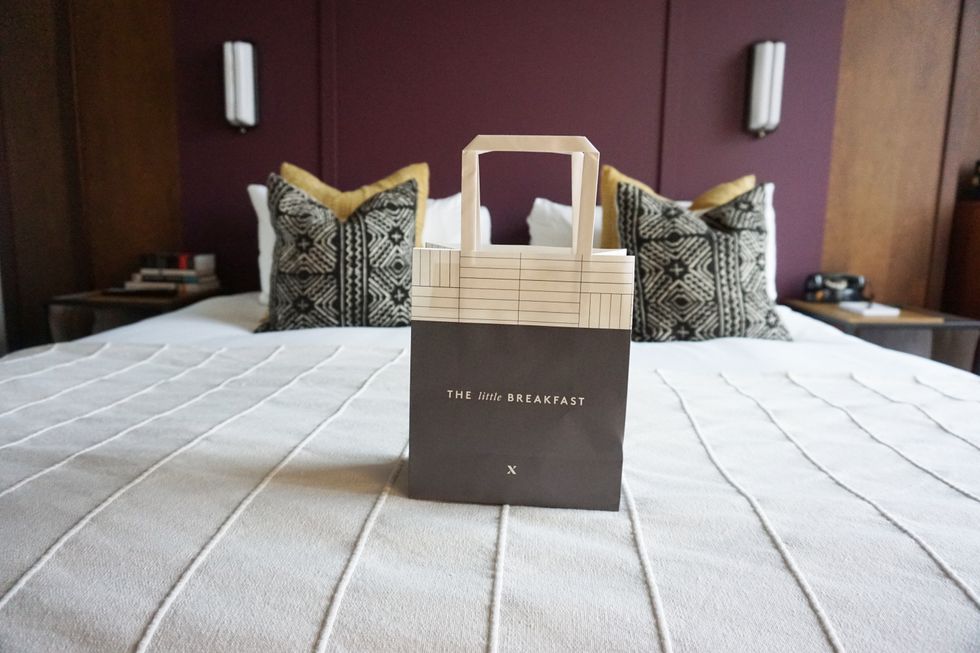 Bianca Lambert / xoNecole
The Hoxton Hotel is relatively new to Portland and is a hotel concept out of London, which means they are known for their European style rooms and culture. For instance, their room sizes are smaller, and their linens are a little different too. So don't think the housekeeping staff forgot to put a top sheet on the bed or left the room without placing face towels on the rack. If you're a traveler that wants to spend less time snuggled in their room, and more time exploring the city or even the property itself this is your hotel.
With a full-service restaurant (La Neta), a rooftop bar (Tope), and a speakeasy-style basement bar, you don't even have to leave the hotel. One thing I will note is while the hotel decor was beautiful and the staff was friendly, the service was lacking. I had to ask multiple times to get the thermostat adjusted in the room, and even after requesting that many times, no one came up or followed up until Ellie stepped in by bringing me an extra duvet and a glass of wine along with a sincere apology.
Aside from that small issue, I'd say the location, decor, and even the room sizes make it ideal for a traveler that likes swanky style with the exploration.
One more perk of this Portland newbie is that they offer a complimentary breakfast option (granola, yogurt, and organic OJ) and if you have a late night craving for a late night snack like M&Ms or chips, you can grab them downstairs for just a dollar.
What I Ate
Deadstock Coffee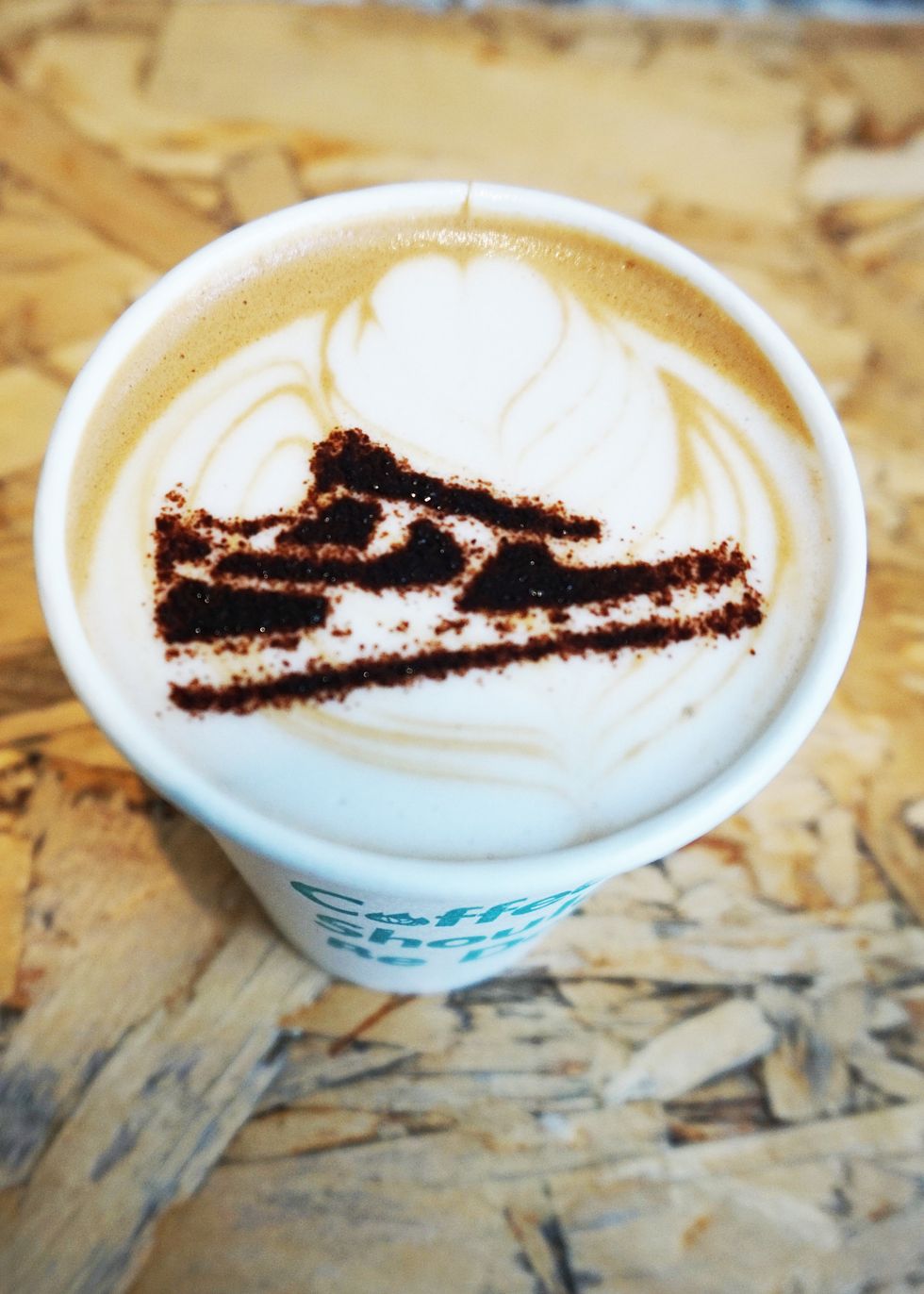 Bianca Lambert / xoNecole
Deadstock Coffee was at the top of mind because I read that it was black-owned and their inspiration was sparked by their love of coffee, sneakers, and community — and it showed. Walking into Deadstock was a sensory experience. With the smell of coffee, the sounds of beans grinding over the hip-hop tunes, and the sneakers and lockers lining the walls, you knew what they were trying to say. Since they don't have a menu, I wasn't sure what to order until the barista said, "We're known for our mocha." A few moments later, I was snapping a picture of my sneaker-topped mocha and sipping it on my way to my next place.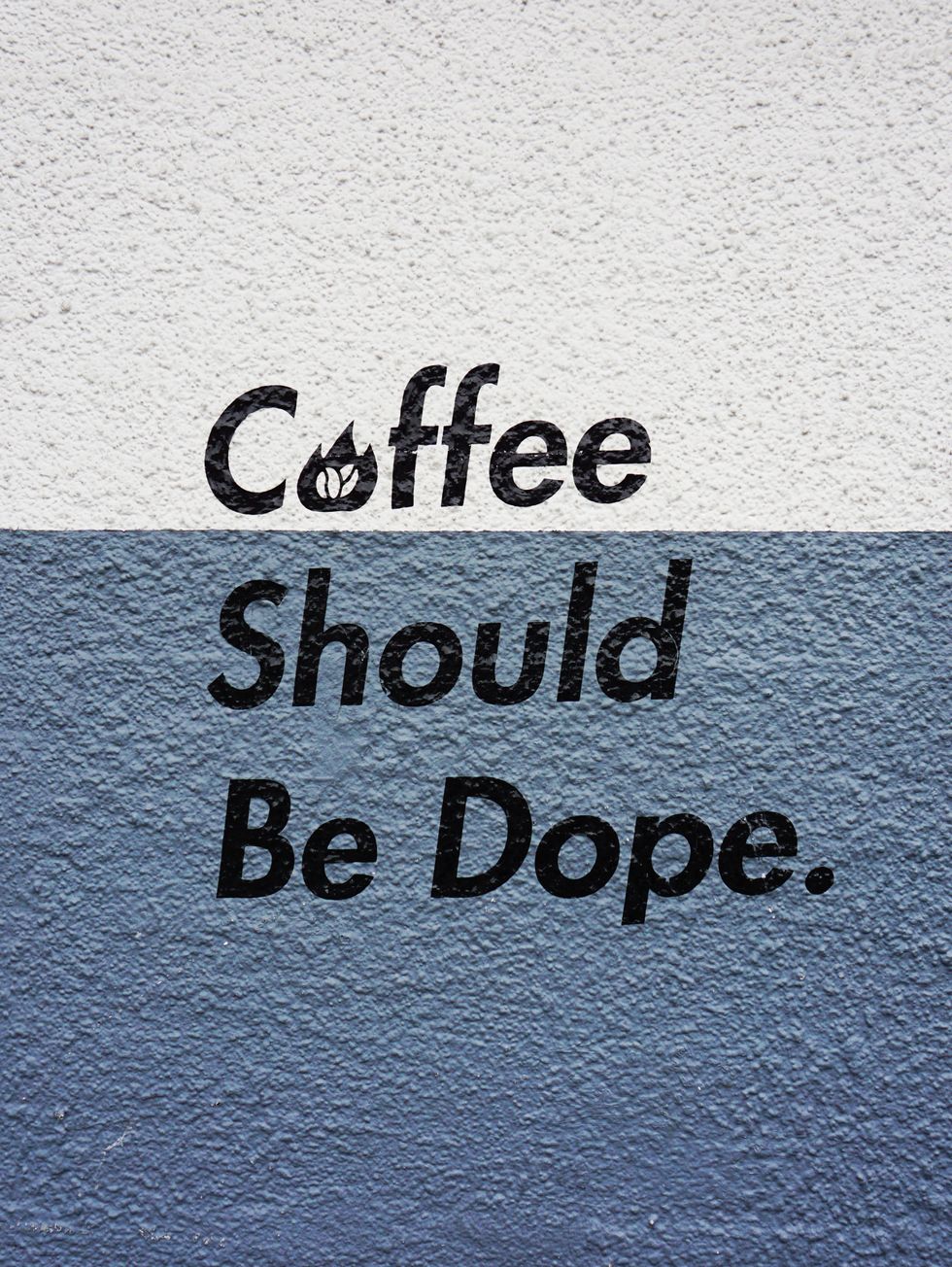 Bianca Lambert / xoNecole
I was told to expect a line at Fried Egg I'm In Love, but lucky for me I'd just missed the lunch rush. I walked up and was greeted by Ryan, who I asked to tell me what I should order. I always want to know what the locals think is good because they know better than anyone. "Order the YOLKO ONO," he said.
Stacked with a fried egg, homemade pesto, parmesan, and a hand-pressed house sausage patty, the sandwich already sounded delicious, but he told me to add Havarti and aardvark aioli — which I did, and it was one of the best things I've ever eaten. I usually find over-hyped restaurants to be a disappointment, but this one was worth it.
Tusk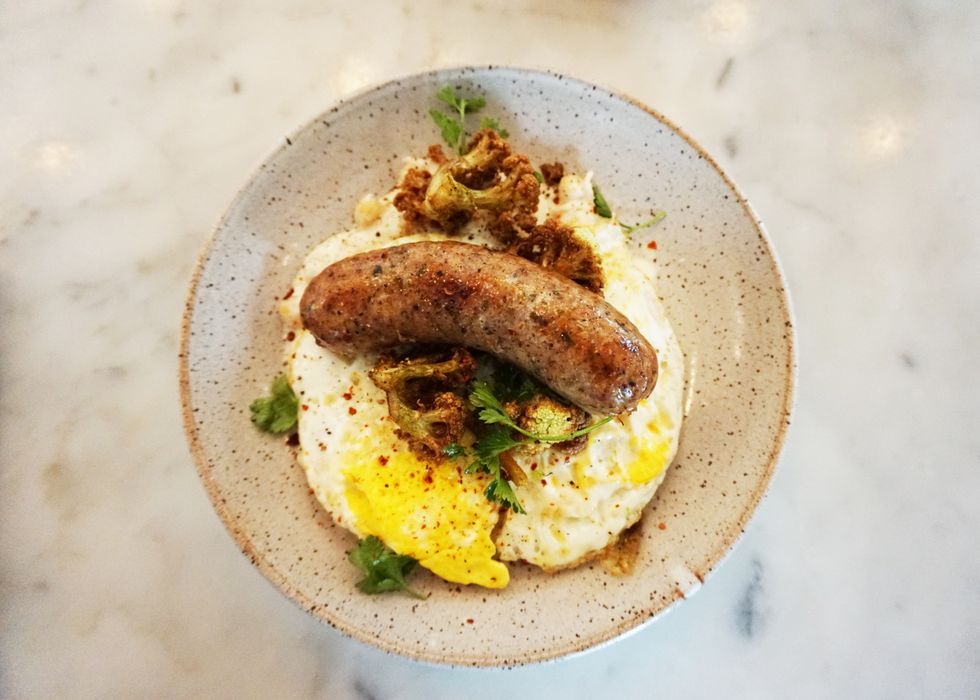 Bianca Lambert / xoNecole
I was going to head over to Voodoo Doughnut for breakfast, but decided on Tusk — a Middle Eastern restaurant that everyone in this town raves about, I mean everyone. Screen Door (another local fave) was just across the street, but the line was out the door, and I was in a time crunch because I had a horseriding lesson at noon. I walked into the airy eatery and was seated at the bar. I took a look at the menu and decided on the Chicken and Apricot Sausage that came with chickpeas, yogurt, fried cauliflower, sunny eggs, and of course the sausage. I almost asked to take the yogurt off, but part of enjoying something new is having it the way the chef envisioned. It was one of my favorite meals I had over the course of my trip, but I have to talk about the rhubarb tart.
Y'all, it was so good—I inhaled the warm, crispy pastry in what felt like seconds.
Tasty and Daughters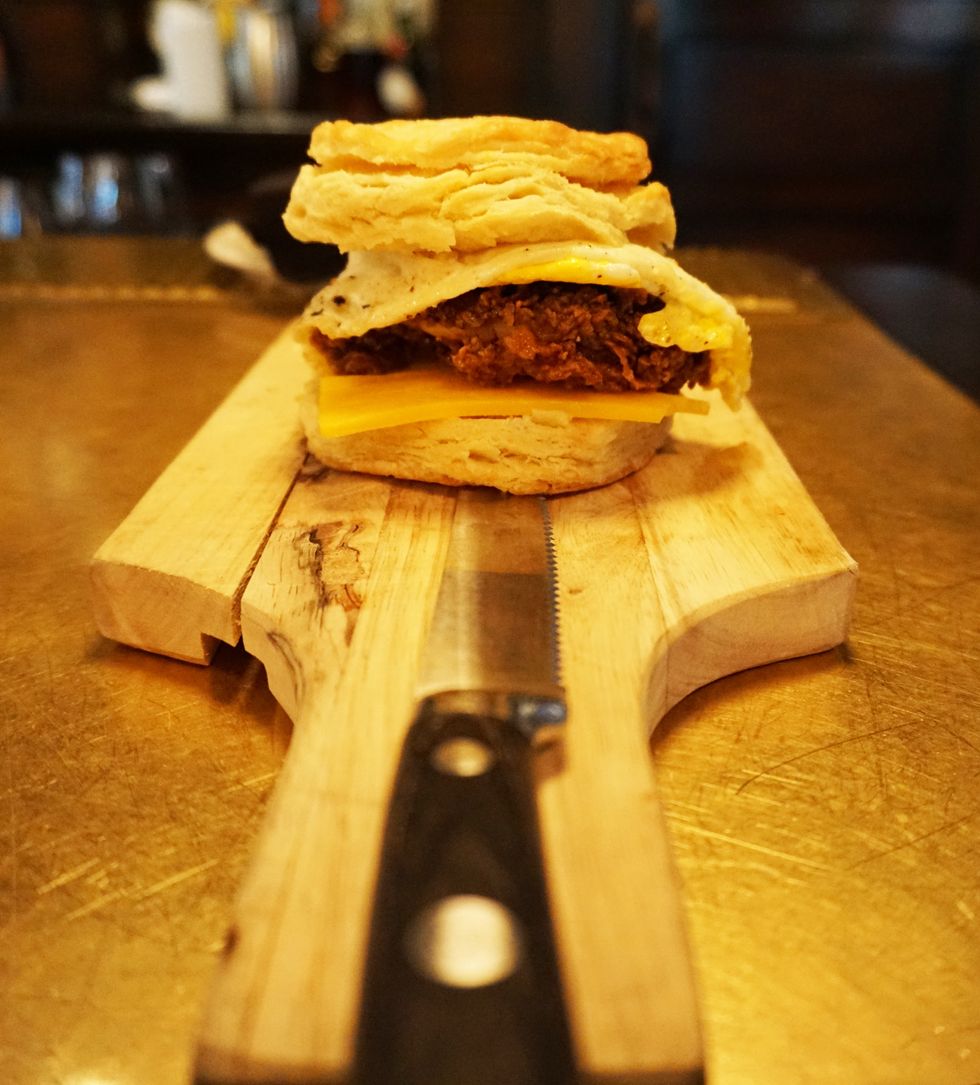 Bianca Lambert / xoNecole
Next up was venturing to the Southeast to try another recommendation of my Uber drivers. This was another restaurant that I was told to be prepared for a wait, but I think skipping weekend brunch and opting for their Happy Hour saved me some time. I walked in and was seated at the end of the bar. One thing that stuck out to me about this restaurant was their chef Marcus Sherard, who is a black and classically trained with Southern roots. The happy hour menu had a lot to offer layered with oysters, radicchio salad, frites, and a fried chicken biscuit. I went for the biscuit, and it didn't disappoint — the biscuit was flakey, the chicken tender, and I felt like the bartender saw me when she said, "Would you like hot sauce?"
Santé Bar
Black-owned and operated by Véronique LaFont, the Santé Bar is a part of the community and a favorite local hangout. You can feel it the moment you walk through the door of the LGBTQ craft cocktail bar. If you're a fan of charcuterie and an original cocktail like the Cat's Meow (all designed by the owner), you'll enjoy spending a little time here.
Pok Pok
Bianca Lambert / xoNecole
Another local recommendation was Pok Pok, a street Thai restaurant that comes highly recommended because of their fish-sauce wings, which didn't disappoint. If you're a sour whiskey person, don't forget to order their Tamarind Whiskey Sour.
Andina
I had to make my last night's dinner count by going to a highly recommended upscale Peruvian spot called Andina. From the service to the food, it lived up to its reputation. Everything was wonderful: the Yuca Frita, Acelgas, Conchas A La ParrIila, and the service was top notch, thanks to Kale. Oh, and don't forget to have their Sacsayhuamán cocktail made with habanero pepper vodka shaken with pureed passionfruit and cane sugar. Since I love a spicy cocktail, this one hit the spot — I wish I could have one right now.
What I Did
Vintage Window Shopping on Hawthorne Blvd
One thing I loved about Portland was Hawthorne Blvd. Lined with rows of vintage stores and coffee shops (there is no shortage of coffee in Portland), if you aren't afraid of a little rain, you can walk the street and pop in and out of boutiques like Magpie, House of Vintage, Vintage Pink, and plus-size consignment boutique Savvy Plus with friendly faces and epic finds. If you get hungry on your trek, stop by Matt's BBQ Tacos food truck for a quick bite.
Horseback Riding
Getting out of the city was important to me since Portland is known for its green lush backdrop and hiking trails. You all know how much I love an Airbnb experience, so I took a rideshare to North Plains (17 miles from Portland). As my driver swerved around the windy roads, I got a little nervous about getting back, but that wasn't an issue. Thirty-seven minutes later, we arrived at the ranch where I was going to take my first horseback riding lesson. Lisa and Jon were my guides. I walked the grounds, interacted with the horses, and learned about the remarkable creatures.
Then, it was time to learn to ride. If I'm honest, I was terrified. While horses are gentle giants, I still was fearful, but Jon and Lisa did an excellent job of giving me the knowledge to help alleviate the fear and encouraged me to let them know if I was nervous.
Arnold was my horse. I helped brush his silky coat (they shed as it gets warmer) and then Lisa got him ready to ride! My nerves kicked in, so I could walk him around the bard for a bit first. We walked around the barn, and Arnold let me be his guide, but I still wasn't quite ready to ride. But, I did face part of my fear by climbing on Arnold's back, which felt like a small victory. I hope to keep working with horses to get more comfortable with them, but this first is an experience I will always cherish.
Portland is now one of my new favorite cities. It was more than I expected and I can't wait to get back and see more! Next, the time I'll have to remember to pack my denim with lots of stretch and an umbrella.
Featured image by Getty Images
Want more stories like this? Check out these xoNecole related reads:
Are Day Trips Worth It? What Happened On My Day Trip To Santa Barbara
Your Guide To The Perfect International Weekend Trip
Everything To See, Eat & Do In Havana