Almost two weeks ago on March 31, 2019 at 3:55 p.m., Nipsey Hussle was pronounced dead. That day, the city of Los Angeles lost a leader, three children lost a father, a mother lost her son, and Lauren London was forced to say goodbye to the love of her life. Senseless violence has been a problem in communities of color for decades, and the death of Nipsey Hussle is proof that we can no longer procrastinate when it comes to change.
---
In a true act of unity, thousands of people gathered at the Staples Center in Los Angeles to celebrate the life of the gone-too-soon rapper. The last time that the 21,000-seat arena hosted a funeral was 10 years ago for Micheal Jackson's homegoing, and tickets to Nipsey's free-for-all memorial service sold out in 20 minutes. Thursday, friends, family, and fans alike packed out the venue and showed the world that thanks to Nipsey, the Marathon will continue.

If you weren't able to make it to Nipsey's Crenshaw-style celebration of life, here's everything you missed:
It Was A Family Affair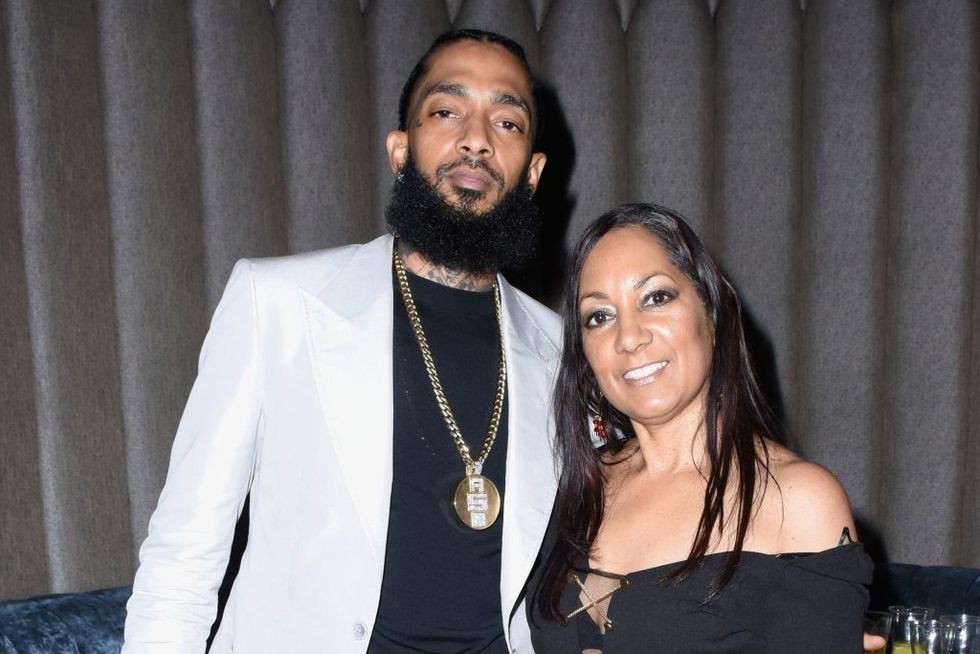 Getty Images
Along with words from Nipsey's children and brother, Mama and Daddy Hussle also had a few words to say on behalf of the man who they raised to later be a legend in the Crenshaw community. Mama Hussle, or Angelique Smith, revealed that she hadn't slept well for weeks leading up to Nipsey's death, and when she got that fateful phone call from the Los Angeles police department that Sunday, she knew why. Although she will never be the same after the loss of her son, she can't be more proud of the legacy he left. She told he told the audience:

"We have to be the light of change that we want in the world. I'm very proud of my son. My son, Ermias Joseph Asghedom, was a great man."
Lauren's son, Cameron, brought the crowd to tears when he shared a dream that he had only days after his death. He explained:

"I was in paradise and I was playing in the ocean water when Ermias popped up right behind me. He said, 'What's up, kiddo?' because that's my nickname to him. I told my mom about the dream and … I realized that Ermias told me what heaven was like. He told me it was paradise."
He continued:
"In the morning Ermias would say 'respect' at my window – so on the count of three I want everyone to yell 'RESPECT!'"
Real tears y'all. Real. Tears.
Stevie Wonder's Performance Was Destiny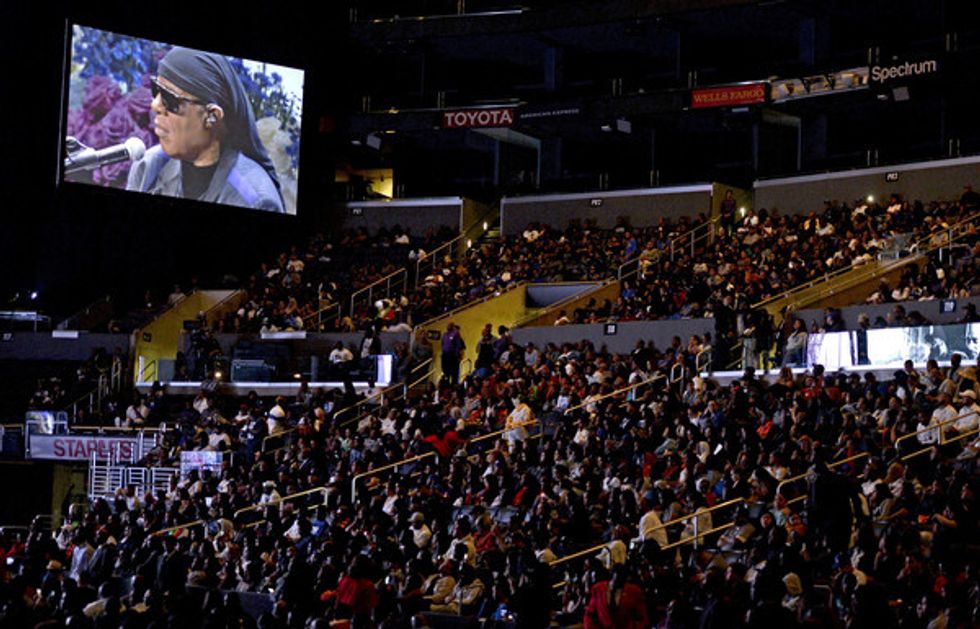 Getty Images
"My procedure, stay crackin till my life's low / Then when I die, blue rag around my rifle / Hundred-thousand in my coffin, that's just life though / Play a Stevie Wonder song, smoke some flight, bro / Crack a pint of Actavis then pour in some Sprite, bro / Until that day I'm walking toward what's in my sights, though."
Nipsey Hussle rapped these lyrics in a song on his 2016 mixtape "Slauson Boy 2", and in a very eerie way, was foreshadowing his own death. In an effort to pay tribute to the Crenshaw native, Stevie Wonder was there to play a song and bring this Slauson Boy's story full circle. Before performing a 2-song medley of "Rocket Love" and Eric Clapton's "Tears of Love", Stevie had an important message for the audience in reference to senseless gun violence:
"We, to be a civilized nation, civilized world, we still are living in a time where ego, anger, jealousy is controlling our lives. It is so painful to know that we don't have enough people taking a position that says: 'Listen, we must have stronger gun laws. It's unacceptable. It's almost like the world is becoming blind. I pray that we grow; I pray that the leaders who have a responsibility to perpetuate life will do it by making sure that the laws will make it so very hard for people to have guns and to take their frustrations out."
Star-Studded Tribute

Along with Stevie Wonder, a number of other stars showed major love at the Crenshaw rapper's memorial service. Along with Jay-Z, Beyonce, Teyana Taylor, and Snoop Dogg, Barack Obama himself even wrote a letter sending his condolences to the late entrepreneur's family. In an emotional message read by Karen Civil during the service, President Obama wrote:

"While most folks look at the Crenshaw neighborhood where he grew up and see only gangs, bullets, and despair, Nipsey saw potential. He saw hope. He saw a community that, even through its flaws, taught him to always keep going."
"His choice to invest in that community rather than ignore it -- to build a skills training center and a coworking space in Crenshaw; to lift up the Eritrean-American community; to set an example for young people to follow -- is a legacy worth of celebration. I hope his memory inspires more good work in Crenshaw and communities like it."
Lauren's Tribute Was The Epitome Of Strength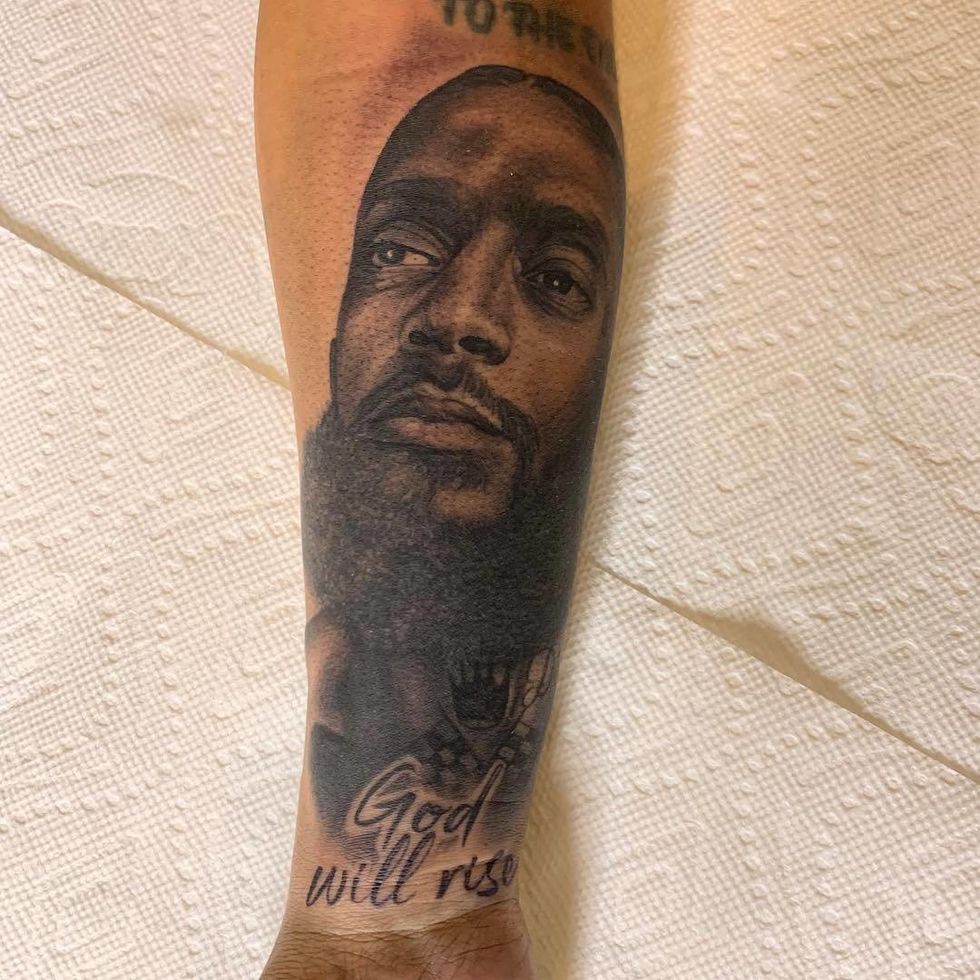 Instagram
Our heart truly goes out to Lauren London, who has handled this horrible tragedy with so much grace and resilience. I could only imagine losing the love of my life so suddenly and unexpectedly, and that's a loss that no amount of condolences can make better. She told the audience:
"I had to write something because I've never felt this type of pain before. His soul was majestic. He was the strongest man that I ever knew. He was brilliant. He researched everything; completely self-taught and always seeking knowledge."
"My pain is for my 2-year-old, who probably won't remember how much his dad loved him. I'm so honored and blessed that I got to experience such a man."
At the funeral, Lauren also read an emotional text that she sent Nipsey before his passing in a tribute that will give you all the feels. The text read:
"I've learned so much about myself with you. You've been my turn-up and my church. I wouldn't want to go through this journey with anyone but you. I look up to you in a lot of ways, and I strive to educate myself like you have. When we are at odds, I feel defeated and sad, knowing that we are so much better than that. I just want you know that you've been the greatest boyfriend to me. You aren't perfect, but I would never ask you to be. You and I work. We fit. And you're the coolest guy in the world to me. Still. I love you so much, unconditionally. I'm never gonna give up on you. My love and my devotion is to you."
In honor of Nipsey, Lauren also got a tattoo on her forearm to ensure that he's with her wherever she goes, forever. She wrote on Instagram:
"Real Love Never Dies. When you see me, you will always see him #LoveYouHussle #TMC"
The City Of LA Showed Up In Style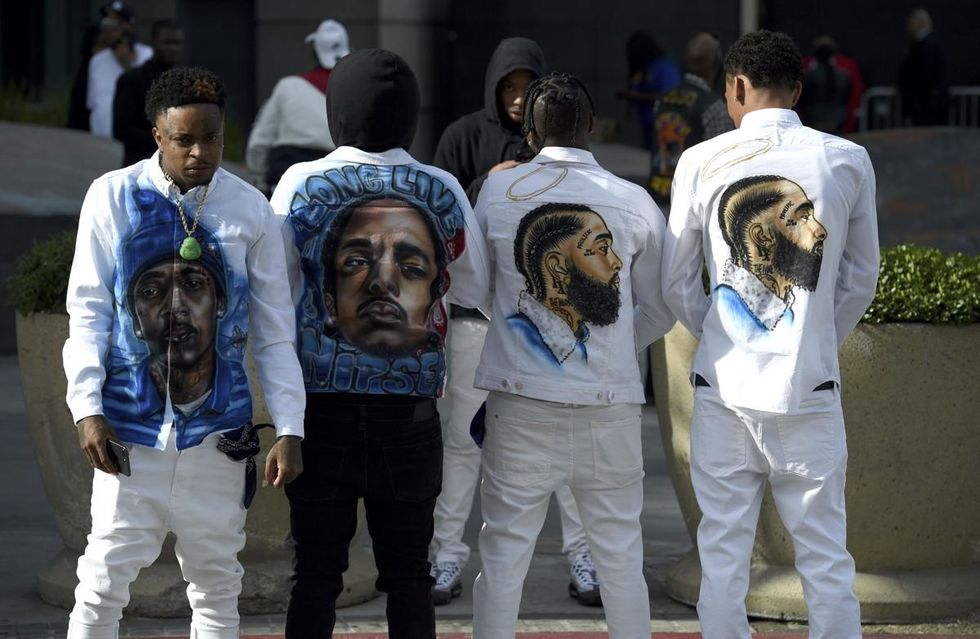 AP Photo/Jae C. Hong
In honor of Nipsey's death, for the first time in 27 years, the Los Angeles Bloods and Crips made a truce. This truce marks the first ceasefire since the Rodney King riots and was organized as a tribute to the love that the late rapper brought to the city. Gang leader Big U told Instagram:
"We're having a gang truce and a gang rally so all the different gangs from LA can get together and celebrate the life and the gift of Nipsey. There's a lot of people who said they wanted to get together and come to a vigil and pay respect because Nipsey was the first real LA artist that was from LA."
Rest in Heaven, Nipsey. Thank you for your service to our community and for being a true role model. Nipsey was so much more than a hometown hero, he was a nationwide icon and he won't be forgetten.
Featured image by Shutterstock.