---
In 2013, I took a chance and started a greeting card line of women of color. I had no business plan, money, or any experience running a business and that left me disheartened ninety percent of the time. Looking back at the challenges I faced starting Mae B, I can see where I went wrong and why I needed those lessons to grow as a business owner and person. Running Mae B has been exciting, draining, and one of the things I am most proud of but starting a company isn't for the faint of heart. Here are six things I've learned on my journey, and I hope they help you jump over some of the hurdles I faced.
6 Mistakes To Avoid When Starting A New Business
1. Growing Too Fast
You'd think this tip would go without saying if you're a budding business owner with limited funding, but too often many of us try to put the cart before the horse — myself included. I did start small, but I was soon comparing my business to other stationery lines that had been in business longer and, to be frank, had more money to invest than me, which led me into thousands of dollars in debt (I'm still paying off). Make one good thing and lead with that. Quality trumps quantity every time.
2. Comparing Your Entrepreneurial Journey To Others
As I said above, I was spending too much time comparing my line to the brands I admired. I would watch them release ten to fifteen new products each season and I'd rush to create new products too. Your business is unique. No one can replicate what you're doing, so don't feel rushed when you see other companies in your industry making strides. You too will make strides as long as you stay true to the reason you started your company in the first place.
3. Not Keeping Track Of Your Spending
When you're just starting, you are likely going to eating a lot of start-up costs. If you don't want to end up in thousands of dollars in debt like I did, set a quarterly budget and stick to it — I mean it! One of the biggest mistakes I made was taking every cent I was making at my full-time gig and investing it without keeping track of my spending.
4. Not Figuring Out What Sets Your Business Apart
One of the things that I always knew I wanted to be known for as I was starting my company was excellent customer service. I have always gone above and beyond for my customers, and I know that is what sets Mae B apart from other brands in the market. Ask yourself what makes your company different and lean into that.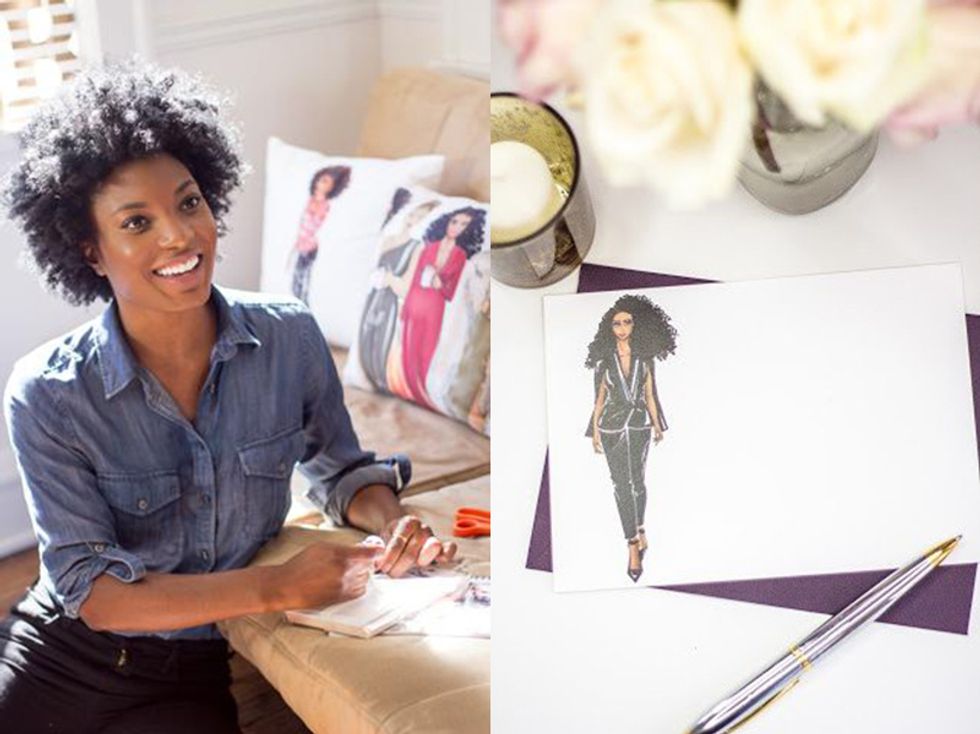 Bianca Lambert/Mae B Online
5. Being Too Afraid To Put Yourself Out There
Whether you're looking for a mentor or want to get your new company into a magazine, you've got to be willing to put yourself out there even if you hear nothing back. My first feature was in Essence Magazine. I was sitting on the couch at one of my best friend's apartment in New York, and said to him, "I want to have Mae B featured in Essence." Next thing I knew, I was buying the magazine at the bodega and flipping through to figure out who I needed to reach out to at the magazine. After some internet snooping, and a little encouragement from Harro — I sent the editorial assistant an email. To my surprise, I got almost an immediate response, and the rest is history. Now, that success story was wonderful, but I've also gotten more no's than yes's, especially as I've been trying to break into the stationery wholesale market. But, every no means that if I don't give up, I will get to a yes. The same applies to you.
6. Not Celebrating Your Wins (No Matter How Small)
Celebrating your wins is key and something I wish I'd done more of in the early years of my entrepreneurial journey. Instead of celebrating my victories, I spent all of my time thinking about what was next and stressing about the no's I was getting or the products I couldn't make to compete with other brands. Don't do it! Every time you get a yes or accomplish something that adds some light into your life, do something nice for yourself. Have a cupcake. Call your best friend. Make your favorite meal. Have a glass of wine. You don't have to light fireworks, but make sure you do something that will bring back a good memory.

Featured image by Getty Images
Related Stories
10 Ways To Develop An Entrepreneurial Mindset – Read More
Want That Promotion? Lily Doxy Says You Have To Treat Your Job Like A Business – Read More
4 Questions To Ask Yourself Before You Give Up On Your Business – Read More
This Entertainment Lawyer Started Her Own Firm To Help Black Creatives – Read More