---
On this journey of love, we often don't realize that our soulmate is in the right place, but we're not giving off the right vibes to attract what we desire. And many of us single women are struggling when it comes to finding love, but what if the man of dreams was the one you avoided eye contact with earlier today while on the elevator, in the Uber ride, or at the grocery store?

Inspired by the xoNecole.com article, "I Met Him In An UberPOOL And Now We're Married", the second episode of xoNecole's Happy Hour Podcast explores the possibilities of finding love in unexpected places. Our hosts Necole Kane, Amer Woods and Sheriden Chanel interview special guests Jenisa and Lester Richmond to get all the tea on their love story that started just three years ago in a rideshare in Los Angeles.
During Happy Hour, Lester shares how Jenisa ghosted him twice before finally saying yes to a first date, and Jenisa shares how they kept the relationship going while living in two different states. Plus, what's a love story without a few challenges? The couple reveal a few bumps in the road as they tried to make love work.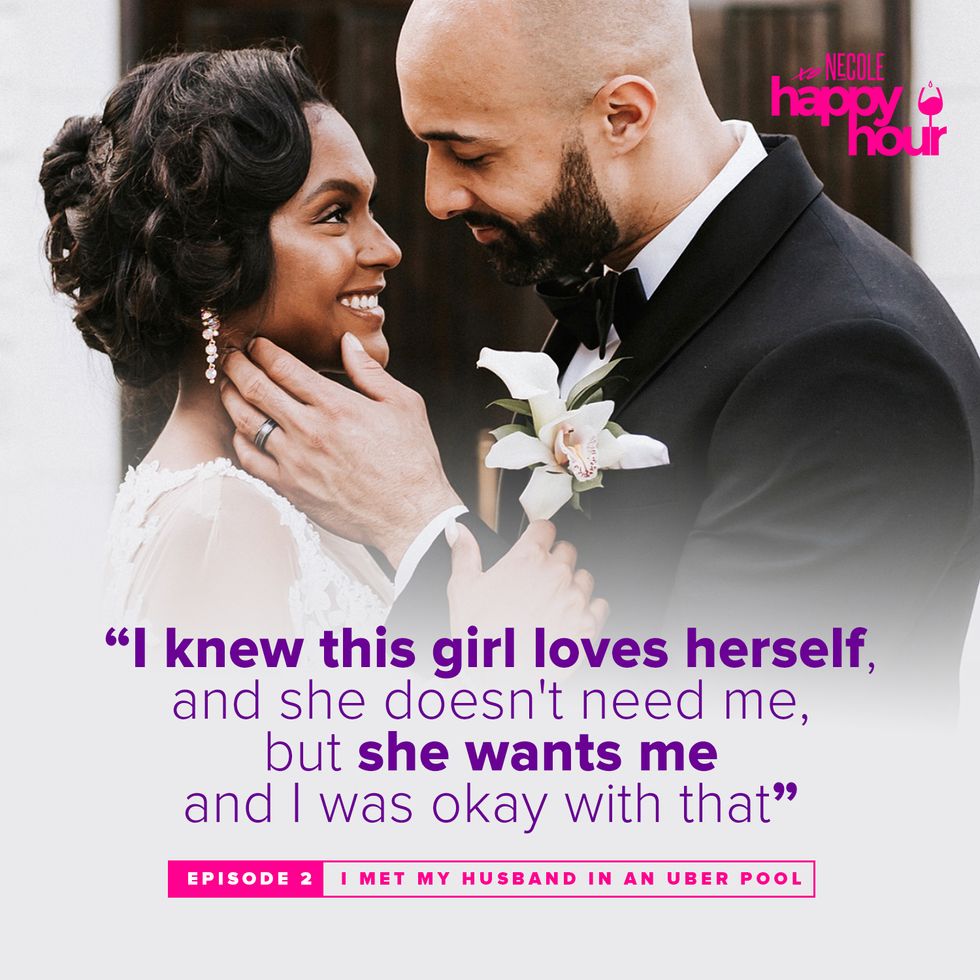 xoNecole Happy Hour Podcast
Show Notes

During Pre-Game, co-hosts Necole, Sheriden and Amer discuss:
Self-pleasure, Tamera Mowry- Housley losing her virginity at age 29 and the way young black women are raised to view sex
The 13 things men should have before you decide to marry him
Their fantasy places to meet men
Sheriden shares her NSFW Rideshare story
During the Happy Hour Interview (17:00 mark), Jenisa and Lester discuss:
The night they met in an UberPool
What made Lester continue to pursue Jenisa after she stood him up twice
How they were able to keep their communication and relationship strong living in two different states
Lester becoming uninterested and how Jenisa was able to win him back
The ultimate sacrifice Jenisa had to make in her modeling career and for love
Jenisa drops a few surprise bombes on the hosts
Listen now oniTunesor Spotify!
Articles mentioned during the show:
I Met Him In UberPool & Now We're Married
Tamera Mowry-Housley Says Waiting Until 29 To Lose Her Virginity Leveled Up Her Sex Life
If Your Man Is Missing These Things, Wait Before Marrying Him
Want to join us for Happy Hour each and every week? Follow us on Instagram, @xohappyhour