This article is in partnership with Cricket Wireless.
It's February, the annual 28-day time-honored tradition where we *officially* engage in celebrating Black History, remembering the sacrifices, and reveling in the innovations from the past. But we high key celebrate Black History 365, knowing we are exploring, evolving, and elevating, right here, right now. As we look at the present contributions by today's pioneers (hello, first Black and South Asian-American Woman Vice President of the U.S.!), we are watching Black history in the making!
---
As with history, the modern pioneer hits a fair share of challenges, none more currently top of mind than the COVID-19 pandemic. Since it began, small Black businesses have been hit hardest, according to the Federal Reserve Bank, with ownership dropping by 41%, as compared to 22% of overall small businesses in the U.S. between February and April of 2020 alone.
Yet, where there are challenges, there are also opportunities. Black-owned businesses are showing they can bring in big bank from venture capital funding, and broker deals with major brands. And it's that access, coupled with connection and community, that's been the major key to it all. Helping to lead the charge are three Black women entrepreneurs, for whom connection is essential for their businesses.
Cricket Wireless wants to spotlight Tai Beauchamp, Abena Boamah, and Andrea Lewis, who are each focused on inspiring, engaging, and creating change year-round. Read more on how they're writing the next chapter of Black History now.

Tai Beauchamp
A publishing industry veteran, Tai Beauchamp has experience as an editor at top publications, including Harper's Bazaar, Good Housekeeping, O, The Oprah Magazine, and Seventeen—where she made history as the magazine's youngest and first African-American beauty and fitness director. In 2006, she launched her media company, Tai Life Media, LLC to holistically connect style and empowerment, and has since worked with consumer brands including P&G, Walmart, Estée Lauder, Christian Dior Cosmetics, and Time Inc.
Tai, on staying connected to her community:
"It's Black History Month, so I've been (reflecting) about what it took for me to get here—but I'm also celebrating where I'm at today… This is our time! I get excited knowing I have amazing women in my corner—especially my two co-founders. Shout out to my partner Malaika who is on speed dial and (who) I speak to at least 8 times a day. We motivate each other, inspire each other, we've shared tears, laughs, and smiles, but most importantly we share in the desire to build businesses that mirror our purpose and passion."
Abena Boamah
Abena Boamah is the Founder and CEO of Hanahana Beauty, a consciously clean, Black-owned skincare, beauty, and wellness brand. Her work has been recognized by Beyoncé and Vogue. She is driven by curating learning experiences focused on holistic wellness and showcasing stories of Black women globally through visual content creation. Abena has presented and partnered with brands/schools like Harvard University, Instagram, Nike, Apple, Glossier, and more.
Abena, on the importance of building online community:
"When I think about my journey of entrepreneurship, honestly, I've always been inspired by Black entrepreneurs from the beginning 'til now. These creators (and) innovators… continue to inspire me to grow. At the end of the day, it's always (about) creating your own community and supporting the people within. Every entrepreneur should have a group chat or a person they feel comfortable sharing their wins, struggles, and reasons to smile."
Andrea Lewis
Toronto-born Andrea Lewis has acted alongside Hollywood heavyweights like Diahann Carroll, Wesley Snipes, and Dr. Maya Angelou. Lewis spent six seasons as "Hazel" on the hit show Degrassi: The Next Generation, which ranked No. 1 in Canada and the U.S. The role in Degrassi landed her in the pages of Teen People, the New York Times, and Entertainment Weekly. Lewis started Jungle Wild Productions, where she created the hit web series, Black Actressand the fan-favorite relationship drama, Beyond Complicated. Both seasons can be watched at youtube.com/AndreaLewisChannel.
Andrea, on getting advice and inspiration:
"I get to make content, tell positive Black stories and connect with audiences for a living. I'm so fortunate for the community of like-minded artists and entrepreneurs that I have around me who answer my texts at 2 a.m., bounce ideas around with me, and give me the advice I need to help grow my business, support my community and continue to create."
Whether it be receiving a text from a mentor to "keep going" or a brainstorming thread with one's closest creative confidantes, it's these interactions—revealing moments of joy, support, and deep connection—that are small yet powerful reminders that sometimes a simple smile goes a long way.
Cricket's commitment to fostering connectivity allows Black pioneers and change-makers to not only make meaningful connections—but also impactful decisions—for their businesses now and in the future. These pivotal experiences, by way of our screens, will continue to ensure we elevate their stories, amplify their voices, and continue our legacy during Black History Month and beyond.
Featured image courtesy of Cricket Wireless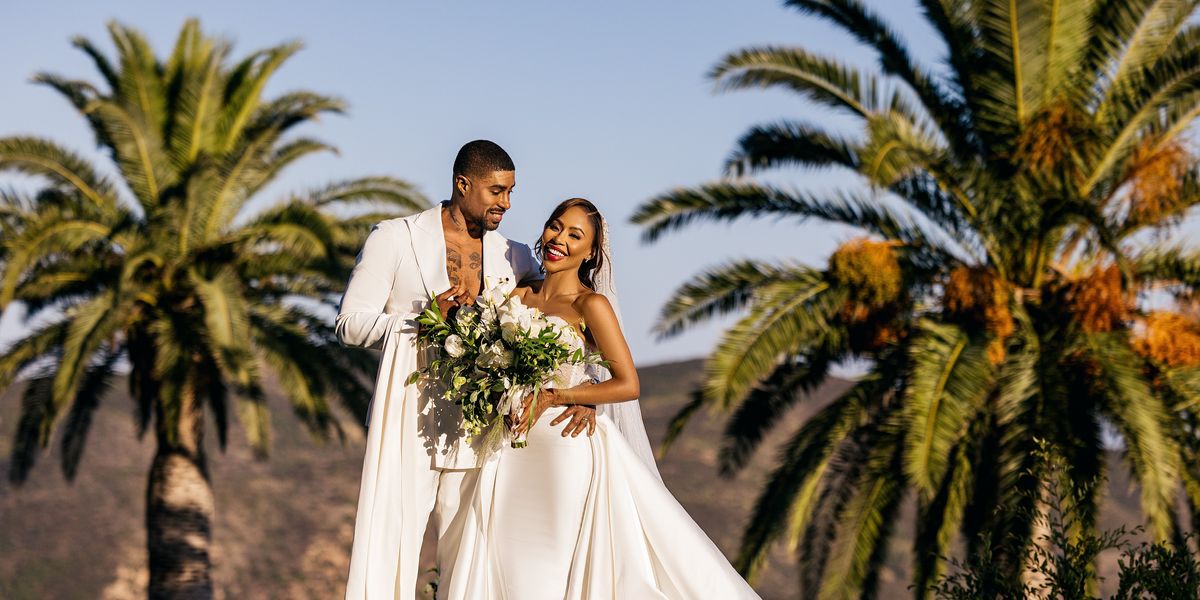 Whether it was your group chat, social media feed, or your favorite media outlet covering the spectacle, I'm pretty sure you've come across the viral Black wedding between actress KJ Smith (Sistas, Raising Kanan) and actor Skyh Black (All the Queen's Men, Sistas). From their grand entrance to Jay-Z, Kayne West, and Beyoncé's song "Lift Off" to KJ's standout dance routine and the endless celebrity appearances, it's an addictive TikTok scroll you can't help but delve into.
But what many people would be surprised to know is that the couple's original wedding plan was nothing like what it grew to be. What started as her simply scrolling through posts to get ideas eventually transformed into what the internet knows now as #TheBlackExperience. In an exclusive conversation with xoNecole, KJ walked us through her planning process, the morning of her wedding, and what she thinks of the online response.
Some women have their whole wedding planned out, from the bridal gown and venue to the bridal party and playlist. However, KJ was not one of those people. "I didn't foresee a wedding in my future," she reveals. "I was just gonna be the boss chick, rich auntie. I didn't force love in my life until recently. I never had an idea of what a dream wedding would look like, it was easier for me to elope."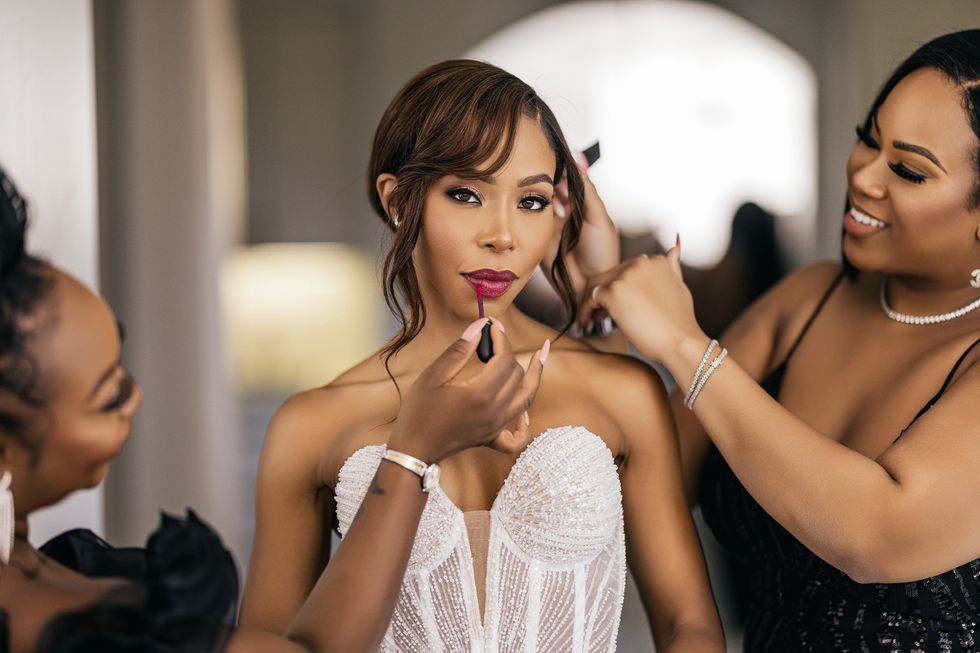 KJ Smith
Photo by Stanley Babb/ Stanlo Photography
And to many people's surprise, that was their original plan – until Skyh brought up a valid concern. He was raised by his grandmother and thought she should be at the wedding, and naturally, that led to KJ wanting her grandmother to be there as well – then her mom – and later her sister – and, you've gotta invite the besties too, right? From there, the guest list continued to blossom. Much like the updo and pop of color bold red lip, she wore on her special day, which was initially on her Pinterest board as a soft glam look with her hair hanging on her shoulders, KJ is okay with changing her plan if it brings her and her loved ones happiness.
So let's get into the wedding, which took place in Malibu, CA. The first thing you should know about the celebrity couple is that they're non-traditional. They know, and they don't care. So, in true unconventional fashion, they shared the morning of the wedding together.
"I woke up with Skyh, we walked our dog, had black coffee, and said good morning to the people who stayed at the venue with us," she says.
Now, it was time for hair and makeup. While she was getting glammed up, she had Black-owned McBride Sisters wine and champagne (which ties into The Black Experience theme) on deck with her mom and friends, had her besties help rework her vows, retried on every outfit (sis is very Type-A), took photos, and ended the early-celebration with prayer and meditation. It seems very non-Bridezilla, I said.
"Yeah, I was the most unbothered bride ever. Everyone was just so supportive. As entertainers, we go on red carpets all the time. We actually have a production company," she explains. "The get-ready process was like a day at work, but with people we love the most. Being entertainers, we didn't feel stressed at all, but my excitement was so high."
Things moved quickly, and before she knew it, it was time to line up to walk down the aisle.
"Yeah, I was the most unbothered bride ever. Everyone was just so supportive. As entertainers, we go on red carpets all the time. We actually have a production company. The get-ready process was like a day at work, but with people we love the most. Being entertainers, we didn't feel stressed at all, but my excitement was so high."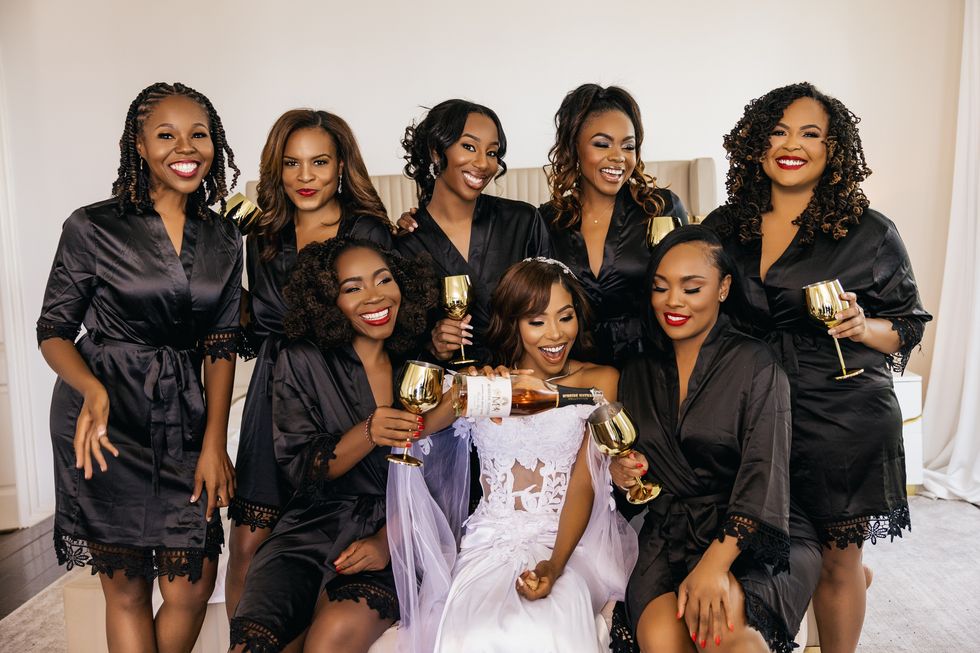 KJ Smith and her bridal party
Photo by Stanley Babb/ Stanlo Photography
Since everything started with their grandmothers, the couple wanted to ensure they honored them and planned to keep an element of their wedding traditional. Although we've all seen the reception videos and photos online, you may have noticed visuals from the wedding itself are harder to find.
"We planned for it to be traditional, but we're not like that, so we tried to create those moments. We jumped the broom and had a salt ceremony (where the bride and groom individually pour salt into a glass container, symbolizing their lives becoming one.) But honestly, still, nothing was traditional about it."
She goes on to explain that her mom caught the holy ghost coming down the aisle, her glam team was on deck, and she became so nervous with excitement that she had an anxiety attack – something she struggled with for years, she explains tearfully. Her friends had to literally cheer her down the aisle because of how overwhelmed she felt until she eventually calmed down.
"Skyh was standing there with his hand on his heart; we have our own little language, and I could feel the support," she shares.
It was surprising to hear all these emotional moments happened before the party we saw online. That is until she once again got into the backstory.
"As a Black woman actress, for so long, it was popular to be mysterious and secretive, but that's not who I am or what I like. Plus, we both wanted to create an experience for everyone there. We are the people who always host family and friends," she says. "Like for me, the first order of business was getting sandals for the women so they can dance all night long. We had oxtail, D'ussé, and a coffee and sativa lounge – which is part of Skyh and I's lifestyle and routine. We wanted to bring them into our world."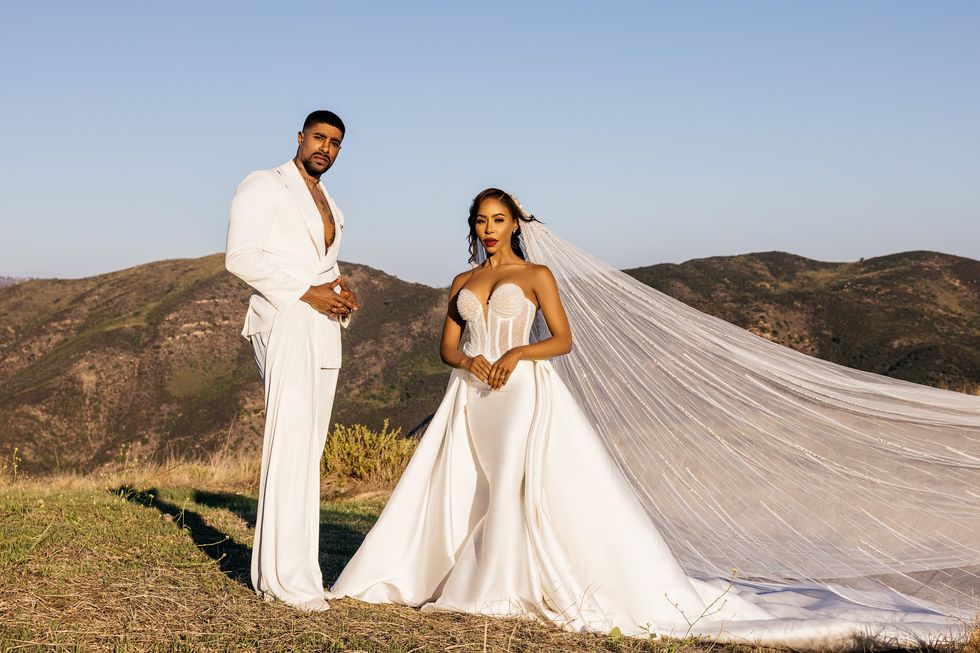 Skyh Black (L) and KJ Smith (R)
Photo by Stanley Babb/ Stanlo Photography
She went on to discuss the dance routine she did for her husband at the reception, which has taken over the internet. Apparently, that's another thing that didn't go according to plan. According to KJ, she had promised a performance at their joint bachelor/ bachelorette party, but her outfit got stolen from her car. So, Skyh ended up performing for her – complete with a strip tease. Still, she never forgot her promise to dance for him.
So, she hired her friend as a choreographer, learned the routine, made friends and family watch it endless times, and attended Beyoncé's Renaissance show a few days before for a confidence boost. It ended up being a show to remember. But that wasn't all the night offered. Lil Mo performed, and the guests received special goody bags featuring their favorite Black-owned products like journals, hair care, and more.
"We made sure everyone was taken care of all night. That kind of stuff makes us happy. I wanted everyone there to experience the joy and love I have for myself, my partner, and for them. I wanted them to feel full and whole, and they had the time of their lives," she says.
But naturally, the internet is going to internet, and while there were countless people praising the event and applauding the newlyweds, some thought it was too over the top. I was curious to know her thoughts on some of the criticism.
"It's cool. We did what we wanted to do. I've decided to share my world with people. Just how I went on social media platforms and found inspiration, I want people to do the same," she explains. "I don't think it's fair to my supporters not to give that out. There's so much I wanna share with brides, specifically Black brides. I love that people are adding it to their Pinterest boards."
"I wanted everyone there to experience the joy and love I have for myself, my partner, and for them. I wanted them to feel full and whole, and they had the time of their lives."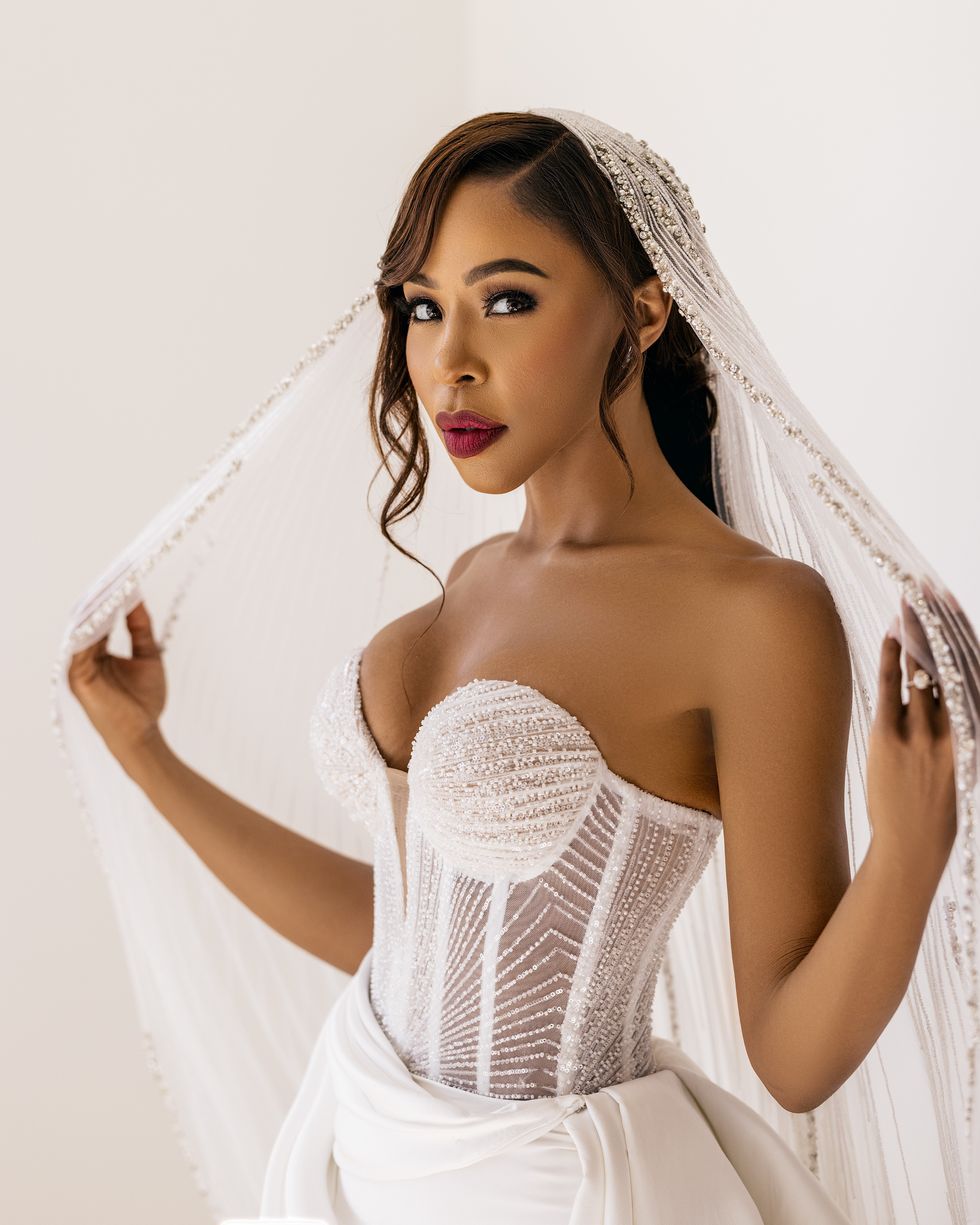 KJ Smith
Photo by Stanley Babb/ Stanlo Photography
"I'm happy with it because we did what we wanted to do. They can do what they wanna do. Don't be cruel, though, because you will get blocked," she said, laughing.
The more I spoke with her, the more her sense of freedom shined through. People are always going to have their opinions, but at the end of the day, it's you who has to live your life, and it seems like the couple realizes that and embraces that power. She also stressed the importance of not living for others and the lessons life has taught her.
"I've been to countless weddings, and I've been in countless weddings. I'm a generally older bride. So when women in my demographic get married, and you and your husband are busy working people like us, you deserve to have the one you want to have," she shares.
"This is what we wanted to do. Our loved ones love and support us. We did so much to honor them, but we also wanted to start our own tradition, legacy, and creation. I'm not going to be pulled back into ideas of the past when I'm trying to create a future with my partner. "
If you'd like to see more of the couple, you probably won't have to wait long. Although no content is planned yet, she admits to being an oversharer. "Me being open and transparent about my experiences lets people know it's okay to have flaws; it makes you human, and for many years, I didn't believe that was okay. I had pressure to be perfect, and I'd crumble every time," she explains to xoNecole.
Now, she owns her flaws and uses them as a superpower to connect with her community and feel and express her love.
"Some people give us [Skyh and KJ] a hard time because they say we just seem too perfect. I'm like, why is that a bad thing? I love the people I love. From my man to my mama, to my friends - unabashedly. We move through time and space how we want to move. If we did it another way, we'd let ourselves and our union down."
Feature image by Stanley Babb/ Stanlo Photography

Every now and then, a celebrity name drops a tool or regimen that they swear by to keep their beauty and fitness game on lock. And every now and then, those finds make us think that whatever product they're using might be worth the investment. Today, Kelly Rowland just so happens to be that girl.
Over the weekend, while headling Beautycon, the 42-year-old singer revealed to PEOPLE that her biggest beauty splurge comes in the form of LED light therapy. She told the outlet, "There's this light by Shani Darden, the LED light, and it's not cheap. But I literally sleep under it every night."
Featured image by Paras Griffin/Getty Images for Beautycon™