---
Although some parts of the country have begun different phases of reopening, most of us have been in quarantine for almost three months due to the COVID-19 outbreak. While most folks were doing their best to stay home and avoid going outside, especially to doctor's offices and hospitals, one group did not have that luxury: first-time parents.
So many couples spend months planning for what their introduction into parenthood will look like, from packing a hospital bag, to choosing their baby's outfit for leaving the hospital, soon-to-be mothers and fathers can outline these details months in advance in order to be prepared for labor, childbirth, and the first couple months thereafter. For parents starting that journey in the first few months of 2020, COVID-19 completely changed that and they've entered this new stage of their lives in a completely unorthodox way.
In honor of June being a month where we celebrate black men and fathers, I spoke with four first-time dads to hear about their experiences entering this new stage of their lives during a pandemic. With everything from the unique hospital experience to feelings around raising a black son in America, these fathers bare it all.
Cheikh Gueye, Brooklyn, NY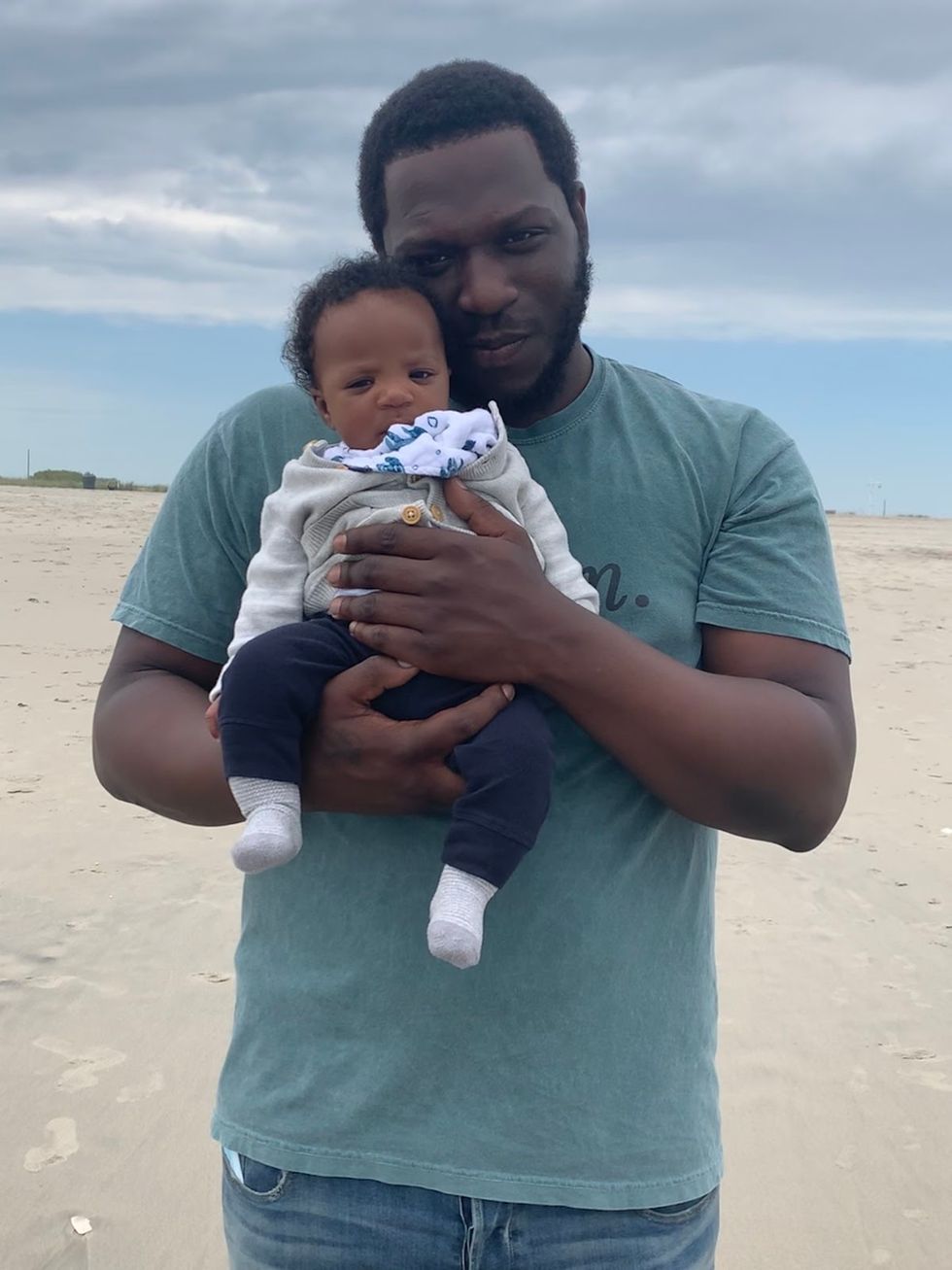 "We consider ourselves to have had [our son] Lamine in the dead heat of the pandemic. It's when a lot of hospitals had converted many of their floors to COVID-19 floors. So of course, for me, my main concern was whether or not I would even be allowed in the building. So that was traumatizing, just hoping that you could be there. Fortunately, for us, we had a midwife who works out of the hospital so she was able to guide us through the process. But just the smaller things like having to have on your mask the entire time and not being able to see facial expressions. It was hard."
How has it been having to quarantine and not have family around?
"That was an experience we weren't really thinking we would have. My family is centered around being around each other and spending that time together. We were unfortunately robbed of that time. Even just people coming by, because they're anxious and just standing outside was something we had to adjust to. My one sibling was just able to see him and this is his second month. The only person who did see him was my mother, and she was the only person up until [our son was] two months. People schedule a lot of Zoom calls right now so we will just pop up with the baby and you can see the light in the room change and people are happy just to have something so special during these crazy times."
What has been the hardest part of this experience?
"With myself being so centered as a family person, not being able to share this special time [has been hard]. As a first-time father, not being able to spend the time with my family has been super rough for me. Especially in a heightened-sensitivity time where Black men are being murdered continuously. The prospect of having to raise a young black man in this climate. Some days, it's a gift and some days it's a curse because you feel like the country is moving towards change, but you're still nervous because you're still a black man growing up in the United States."
What is one word you would use to describe becoming a father during this time?
"I would say 'difficult'. I didn't think it would be this difficult, because you have all of these preconceived notions on what it would be."
Joshua Bennett, West Chester, PA
How was your hospital experience in the middle of a pandemic?
"It was nerve-racking going into the hospital. I wasn't even sure if I was going to be allowed in the hospital. Once there, we could not leave the hospital room and it was very uncomfortable and also hard to stay cooped up in the room. A big difference from what was expected was that there were no visitors allowed after our son was born. We also had to order food from the hospital cafeteria and it was brought to us by the doctors and nurses. I will say this brought me and my wife closer because I was able to comfort her and do things for her. She had a C-Section and it gave me a newfound respect for her."
Were there any expectations you had about the early parts of fatherhood that were impacted?
"Not really. There were adjustments that needed to be made with late nights, feedings, and figuring out what he needs. Not being able to go outside has been impacted as well. My mother has not been able to visit and see him because she is a healthcare worker in NYC and was exposed to the virus. My wife's father also isn't able to visit to see the baby because he is still working. It is hard because you want them to see the child but they haven't been able to."
Once outside fully opens back up, what's the first thing you want to do with you son?
"Travel. I want to be able to travel with him and see the world. Me and my wife like to travel, and travel often, so we want that for him."
Shaq Young, Columbia, SC 
How was it entering fatherhood and then the pandemic hitting soon after?

"My wife was actually about to return to work right before quarantine. I had gone back to work February 9 and on March 13, everything shut down. Actually, lockdown was somewhat of a blessing because I get to spend more time with the baby while home."
How has it been navigating working from home and having a newborn?
"The challenging part is juggling working the same schedule since my wife and I are both teachers. I'm a PE teacher so I try to go last with my work stuff so that my wife can get her work done while I look after [our daughter] Karter. I've been doing videos of physical education with kids and pre-recording the videos help with the schedule. Also, having open hours for the kids to reach out if they need me helps."
What has been the hardest part so far?
"Not having the freedom to go out and get a breather, or having a break. Just having a newborn baby has been a struggle since it's a new experience for us. Also, no one has visited since March 13, but before then we had visitors twice a week almost. We had a picnic in the park for Mother's Day but it was still different."
What is one word you would use to describe becoming a father during this time?
"'Roller coaster'. People enjoy riding because it's fun. And throughout the roller coaster, there are ups and downs but when you get off, it's a fun ride. [I say that] partially due to quarantine and partially due to just being new parents and having a newborn."
Marcus Rice, Atlanta, GA
How was your hospital experience in the middle of a pandemic?

"The hospital experience was rather unique. We had to go in through a separate entrance and there were additional steps taken before being admitted. Everyone had to be screened, if you showed any symptoms you couldn't go in. The hospital was actually calm, there were not a lot of people. Everyone stayed inside of their rooms. No visitors were allowed but I did have the option to leave and get food."
How was the transition back home from the hospital?

"We are both full-time students so we didn't really need to leave the house. We've used grocery and food delivery services for meals. We've been super cautious having people around the baby, even more so now than ever, so no visitors."
Once outside fully opens back up, what's the first thing you want to do with your daughter?
"Go to the pool, or to the park. If we weren't in quarantine, we would have wanted to be out. And enjoy being outside. Maybe even do a photoshoot for her, and start creating memories."
What is one word you would use to describe becoming a father during this time?
"'Blessing'."
Featured image by Shutterstock