I'm from Louisiana, and anyone who's ever been there knows that the food hit a lil different when you go down south.
---
Grits are a southern staple that has been a part of the culture for generations, and if you know black people, you know that we are quite particular with how this dish is prepared. In my household, grits are made perfect by adding cream, butter, cheese, and a high blood pressure-inducing amount of sodium.
It wasn't until one night when I slept over at my cousin's house, I learned that there are two very different types of people in this world. While I prefer this southern delicacy to be a savory dish, there are some very unique people in this world who prefer this dish with a very different ingredient. But before we go any further, let's be clear, sugar doesn't go in grits. Don't @ me.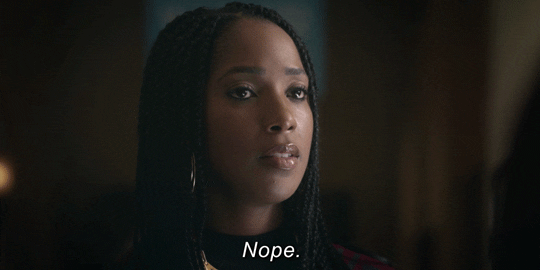 The argument over the very best way to eat grits has stretched over decades, but recently, the cast of Dear White People got together to wish us all a Happy Juneteenth and solve this debate once and for all.

The show, which premiered in April 2017, is based on the feature film by the same name and is centered around the lives of African-American students at Winchester University, a fictional, predominantly white Ivy League institution. In the Netflix original series, the cast tackles controversial topics like abortion, colorism, interracial dating, and now, Southern food delicacies and exactly how they should be prepared.
Recently, the cast sat down to participate in The Great Grits Swap, where they each tried both sweet and salty recipes to determine which grit-preparation technique is the greatest of all time, and the results might surprise you. While Coco (Antoinette Robertson), agreed with my salt-to-grit ratio suggestion and implied that savory grits are the Beyonce of all breakfast dishes, a few of her cast members, including Logan Browning disagreed with this sentiment.
Although the third volume of the Dear White People won't be available for streaming on Friday, August 2nd, you can get your daily dose of Winchester by clicking below to see what recipe won the sweet/salty debate among some of our favorite cast members from the show:
Dear White People - Vol. 3 | Date Announcement | Netflixwww.youtube.com
Featured image by Netflix.