---
Press play, y'all. We're getting a little artsy today.
In its current state, visual art has infiltrated our community through everyday influences, music, and ultimately, the overall essence of the culture. A huge component of this is largely credited to the social media generation--where creativity runs rampant and is often highly encouraged, celebrated, and performed. And although art has always been deeply-rooted in black history, it hasn't always been as embraced in the black community as it is now.

But thanks to high-profile entertainers, such as Jay Z's frequent fine art mentions and exhibits like Andre 3000's incomparable Art Basel collaboration, black creativity is finally spotlighting what we have known for generations: we are art.
"Sleeping every night next to Mona Lisa
The modern day version with better features
Yellow Basquiatin my kitchen corner
Go 'head, lean on that shit Blue, you own it."
Come on thru, Jay.
Someone who has certainly cultivated the importance of highlighting artists is Dionna Collins, owner and lead operator of ComfiArt, an artistic ecommerce and community revolution that brings personalized artwork to everyday wear and home decor, by creating exclusive pieces and curated events in collaboration with Atlanta artists. Think of them as an artistry resource network.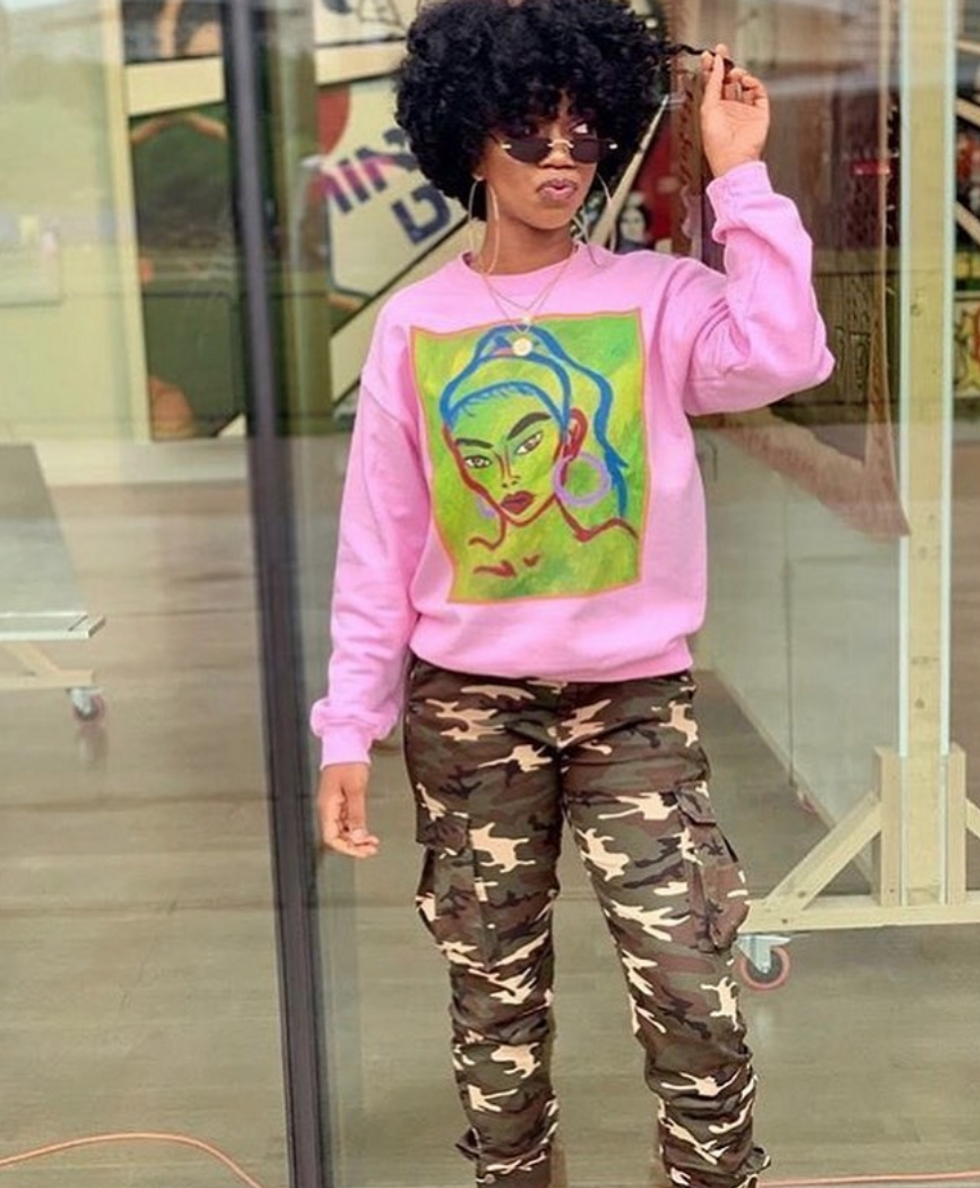 Courtesy of Dionna Collins
Showing off her high-energy and welcoming personality, Dionna flashes a nonstop smile. She exudes a fun regalness that rests at the intersection of 'focused'' and 'tireless.' I take immediate note of her enthusiasm as I review her collaboration pieces. Her keen eye for the skilled and unique design is both impressive and satisfying.

As she talks about her day-to-day and we begin to discuss her business model, it's clear that Dionna is the true definition of a boss. "ComfiArt is comprised of three different components: ecommerce, events and business-to-business," she explains. "Being that my main focus is on art, we at ComfiArt like to collaborate with artists to ensure that people are able to afford beautiful artwork in the small pieces that we offer online. Our motto is comfort through art."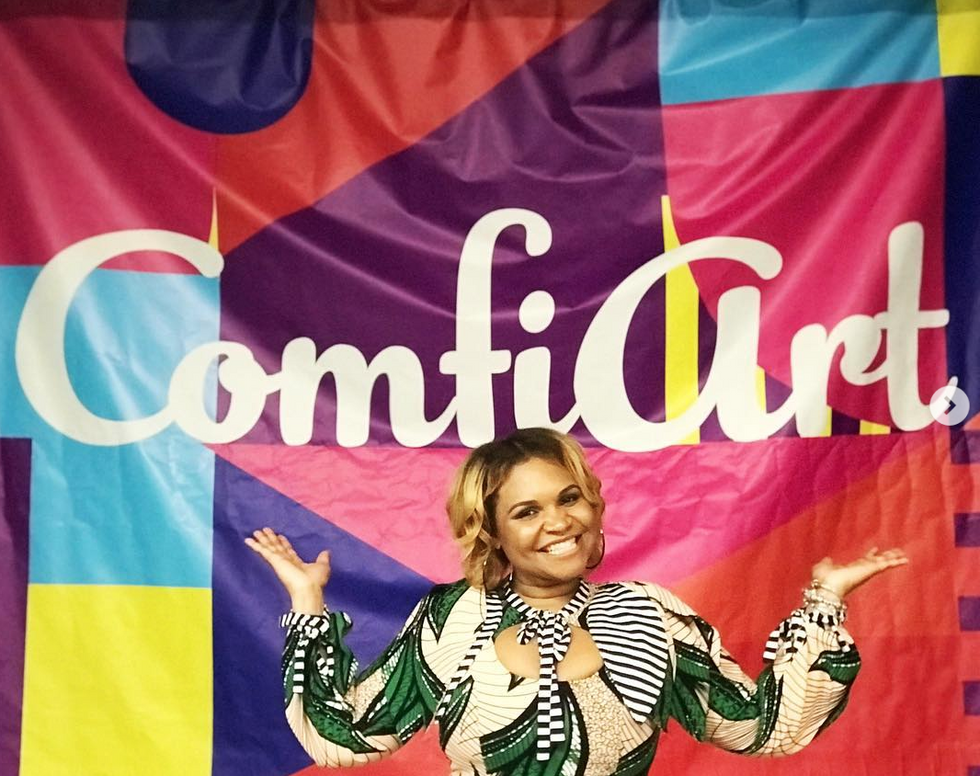 Courtesy of Dionna Collins
"Our motto is comfort through art."
Through those collaborations, Dionna is able to offer one-of-a-kind collector prints and event opportunities without the lofty price tag. "Our goal is to make sure that if you aren't able to afford a $5,000 and upward original piece, you can afford original artwork with us."

And ComfiArt is certainly taking a new approach to how they back independent artists. "To me, art is life. Everything you see around you is art. Most people don't think as literal about it and some people think that creators and artists do not need to be paid for their [work]. As part of ComfiArt, I really want to focus on a community of artists and not have consumers have an excuse to say that they cannot afford it."
Totally intrigued, and beginning to review my own personal art collection in my head, I continue to immerse myself in her world. I research further into her arsenal of collaborations and previous works. After a few hours, I can't help but to reference to myself the timeless quote from literary boss, Sonia Sanchez: "The black artist is dangerous. Black art controls the 'Negro's' reality, negates negative influences, and creates positive images."
And the deeper I indulged, the more I admired the safespace Dionna has created for creatives. My curiosity gets the best of me as I ask about her background in relation to ComfiArt.
"I'm originally from Boston, where I lived close to the Boston Museum of Fine Arts. I've always loved art and around seven years old is when my mom started putting me in art classes. [Since then] I've always been in the creative space so my journey was more about finding my purpose and learning how to make a living from it," she says.

And as a degreed graphic designer and marketer herself, Dionna has managed to expand her brand from what it was (a website to purchase artist-based home decor) to what it has evolved into: the artistic community it is today.
"In 2016 is when I figured that out and created ComfiArt. I had another company prior to it, but didn't like dealing with the freelance aspect. Me having a Six Sigma Greenbelt--which focuses on processes in a corporation--and knowing how to do web design, graphic design, and internet marketing led me to create my own company. That's where my transition began."
And whether you know ComfiArt from their online pieces, or ongoing discussion series "Design and Muses," Dionna is making her own colorful noise in the industry.
One paintbrush and digital photoshop stroke at a time.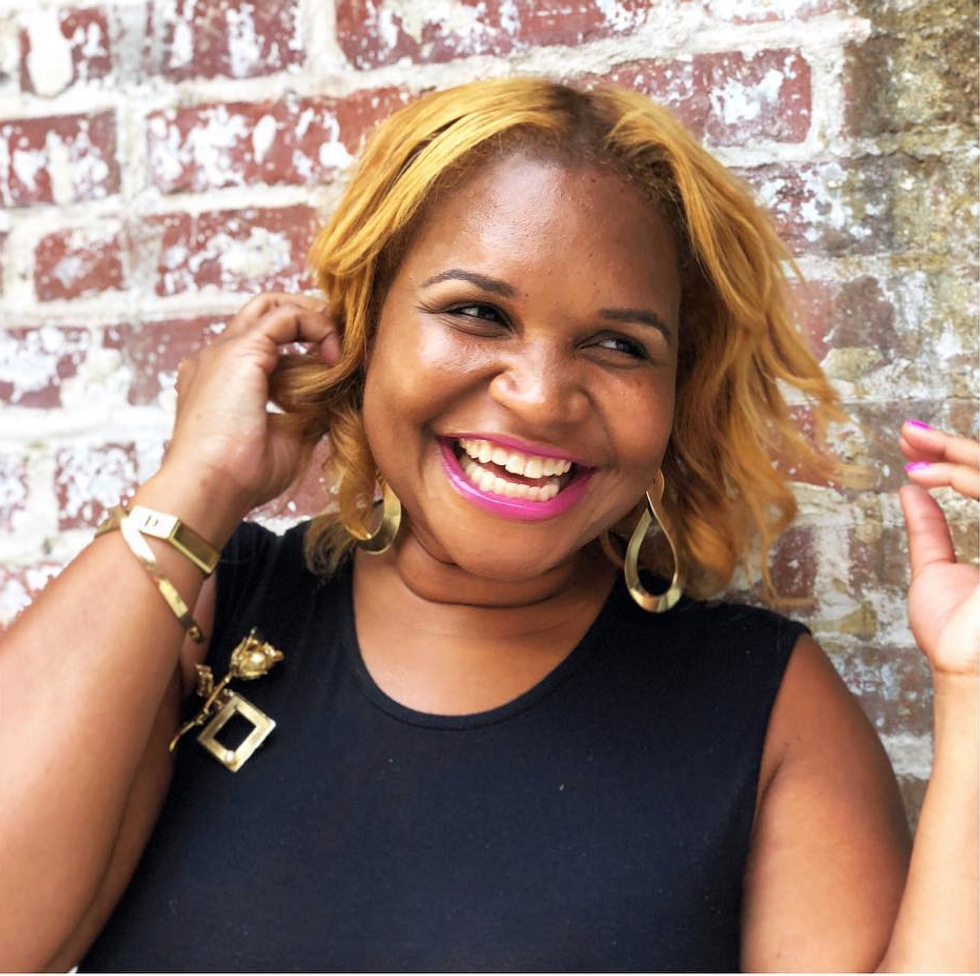 Courtesy of Dionna Collins
So, how does Dionna visualize her brand relevance to culture? Simple. Think of loud, bold, and in-your-face uniqueness.

"The late 90's to early 2000's, that whole era would have been a dope moment for ComfiArt." she imagines. "I remember Missy and her crazy style, TLC and a bunch of other dope artists around that time. What ComfiArt stands for is what that culture was like during that time."
And despite Atlanta being one of the most saturated centralized meccas of black originality, Dionna has managed to find and understand her niche through involvement with platforms such as Essence Fest, AT&T, UP TV, and more. Her passion for her vision surrounds her like an illuminating light. I take a moment to celebrate her as we discuss the process of how artists can work with her.
"Our focus is really out-of-the-box when it comes to the artists we select to be a part of our community, and when it comes to the approach we take in how we strive to appeal to the masses. When I started as a pillow company, I learned that I wouldn't be able to live off of being a home decor business alone, so I had to rebrand to help grow my income and expand my audience." She continues by describing her audience as art enthusiasts, event coordinators, people that love unique items, creatives, home decorators and people who like to stand out from the crowd.
"When I started as a pillow company, I learned that I wouldn't be able to live off of being a home decor business alone, so I had to rebrand to help grow my income and expand my audience."
I reminisce on how far she's come and we take a quick moment to discuss her favorite artists in Atlanta (Miya Bailey, Dr. Fahamu Pecou, Zarinah Dennis and Marryam Moma), her hobbies, and her overall inspiration (her beautiful daughter, Madison).
As for the ultimate vision for ComfiArt? She lights up again.
"Our main purpose is to help artists find alternative ways to build financial wealth and merge the gap between brands and artists.I want to be the company that brands call to find artists, while simultaneously being the brand that artists can come to to find contracted work and expand their experiential realm."
Yass, sis. Picasso, baby.
For more info, email Dionna and her team at info@comfiart.com to join the movement. And follow ComfiArt on Instagram.