"Tampons cost too much damn money."
---
As a former tampon user, I would cry about this all the time as I shopped for Costco sized boxes of tampons every so often. On top of being expensive, some people have found them to be death traps thanks to Toxic Shock Syndrome, and most periods arrive at the most inconvenient hour (which is any hour in the day). Therefore, shopping for tampons sometimes feels like shopping for your mom at Walmart on a crowded day - a necessary evil.
Luckily, tampon subscription services are standing by to provide sanitary products and a little extra support when you have your period. For a low monthly cost, these various tampon subscription services will provide you with a menstrual cycle's worth of tampons or sanitary napkins, extra undies, towelettes, sweets, and gifts.
Yes, tampon subscription services are a "thing," and the benefit is that they are great for young girls approaching their first moon, or gifts for the first time moms post-pregnancy. Here's a list of four that may peak your interest.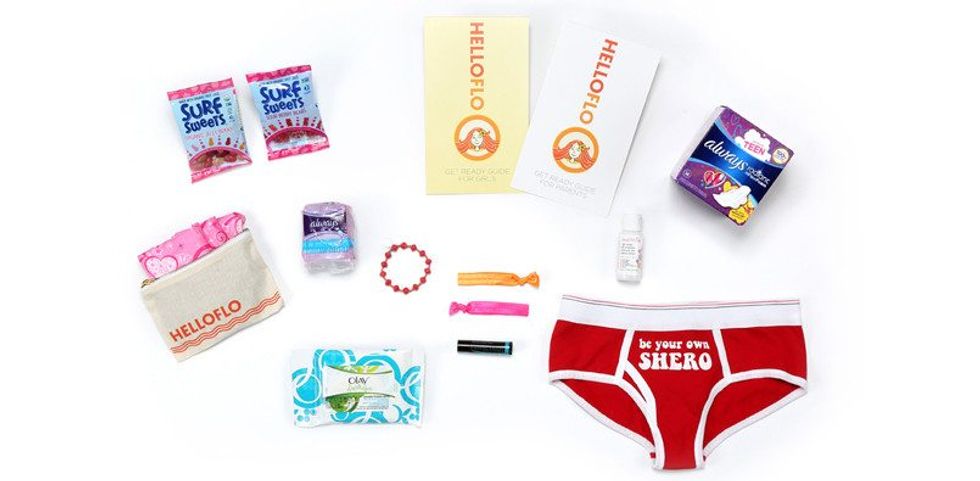 This company started making waves in 2013 when they attempted to change the way adolescent young woman viewed periods with their hilarious viral YouTube video, "Camp Gyno." The video has more than 10 million views, and features a young girl with a drill sergeant attitude about her first period who labels herself the camp's "unofficial gyno" for girls starting their periods. Seriously, she hands them their first tampons, tells them to "suck it up" when they get menstrual cramps, and compares herself to Joan of Arc.
Hello Flo followed up with a second hilarious video "First Moon Party", shot Modern Family style, with lots of funny commentary about a young girl who faked her first period. According to The Daily Dot, Hello Flo teamed with Procter & Gamble, and Always for the "First Moon Party" video a year after launching their company.
What makes Hello Flo unique is that even though they advertise their period kits for young girls, they have products for college-bound ladies, first time-mothers, and women who grow weary with another last minute trip to the drug store. You can time your package to arrive around the time you start your moon, and the kits contain an assortment of survival gear for "Aunt Flo's" arrival - from Luna bars to tampons.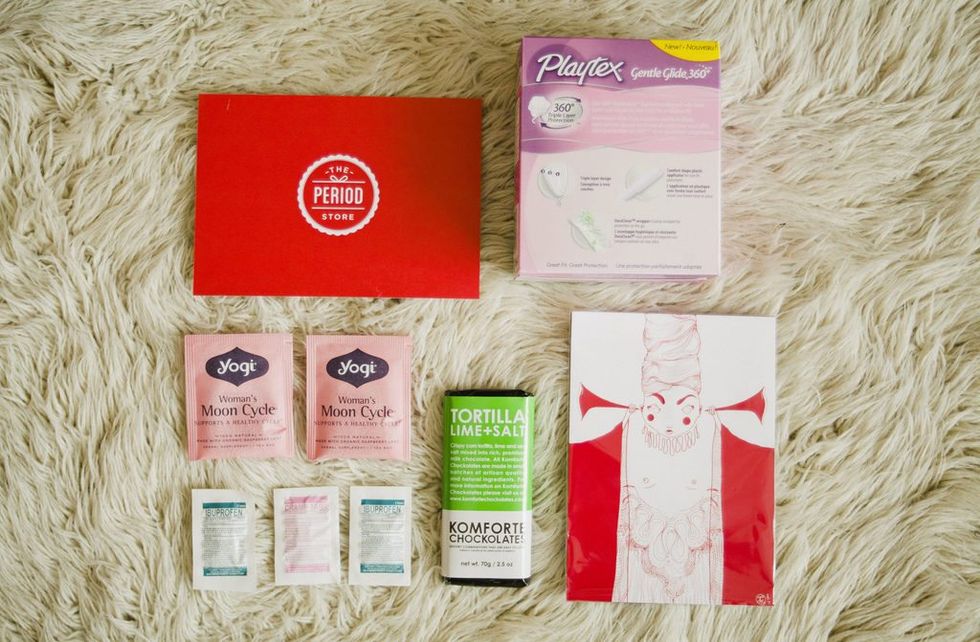 If you're not cool with receiving only Always products with your monthly subscription, check out The Period Store. You can choose an assortment of sanitary products from around the world, in addition to chocolates, gifts, herbal remedies for menstrual cramps, menstrual cups, and even freshening wipes.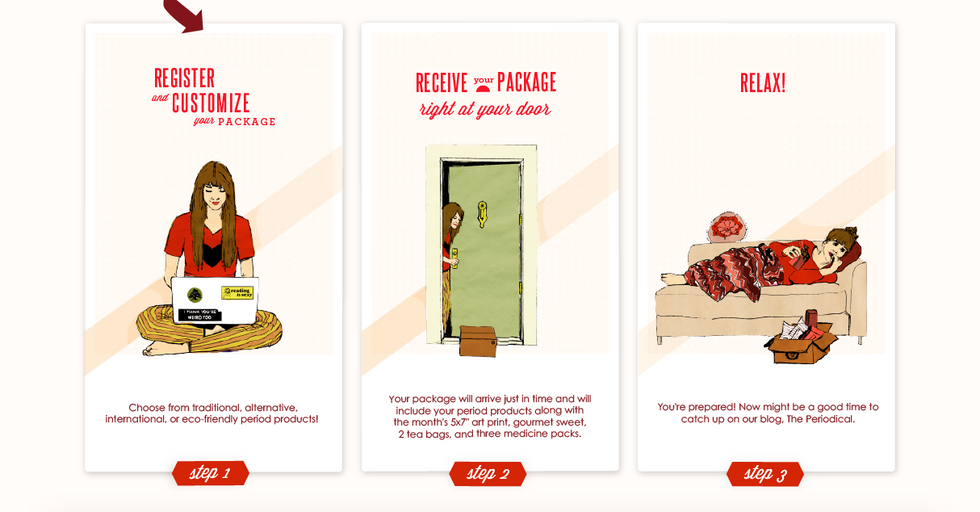 What's cool about them is that you're not limited to one tampon brand, and they deliver both in the U.S. and Canada. What sucks is that the more items you add on, the more money you would have to pay in the one-time fee before you pay your regular subscription amount. Say for instance you decided to have Always tampons and cloth pads. The tampons come with the subscription, but the cloth pads start at $12.00, which means that you pay a little more for your "one-time fee" up front, and then your monthly subscription price goes back to $15 or $25 (depending on which subscription you choose).
The good news is that the more items you get, the more freebies they add to your box, like art work, tea, and other gifts.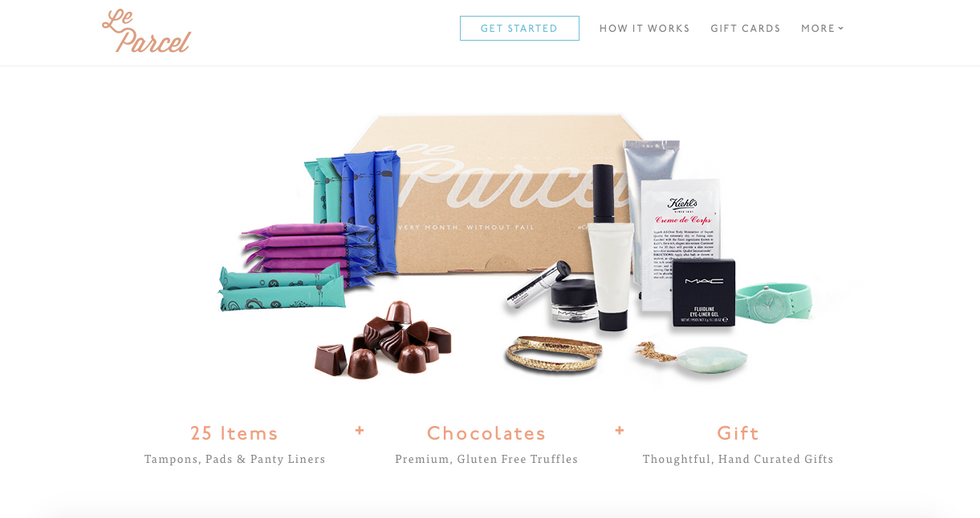 This subscription service is pretty straightforward, and consistently sends you exactly what you'll be needing to take care of your Aunt Flo's monthly visit.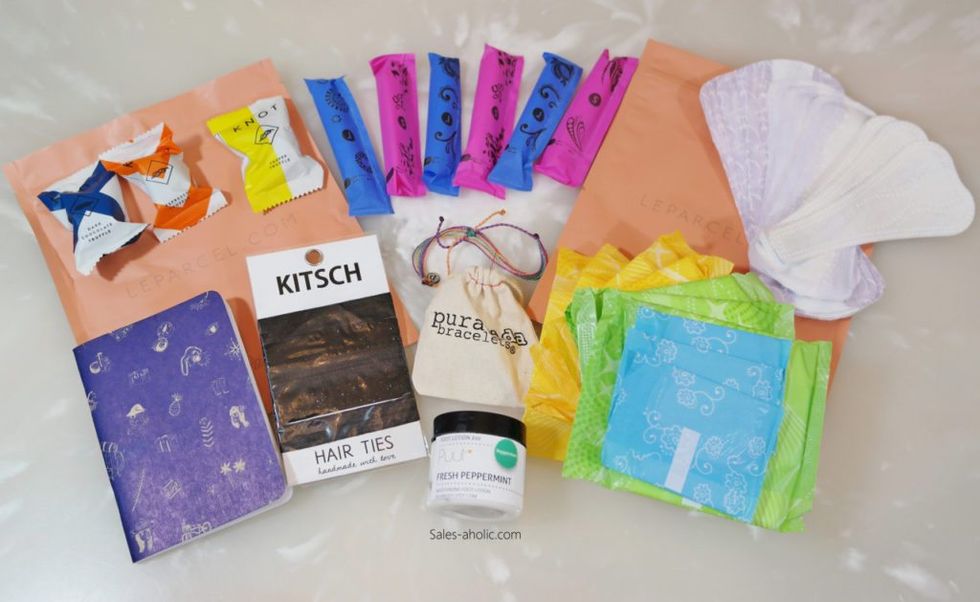 via Sales-aholic
You begin your Le Parcel order by selecting the size and amount of tampons (they only offer Playtex, Tampax, and Kotex), you choose a date for when you want your package to arrive, and then confirm your order. Subscriptions start at $15 (plus shipping and handling), and includes chocolates and a handcrafted gift.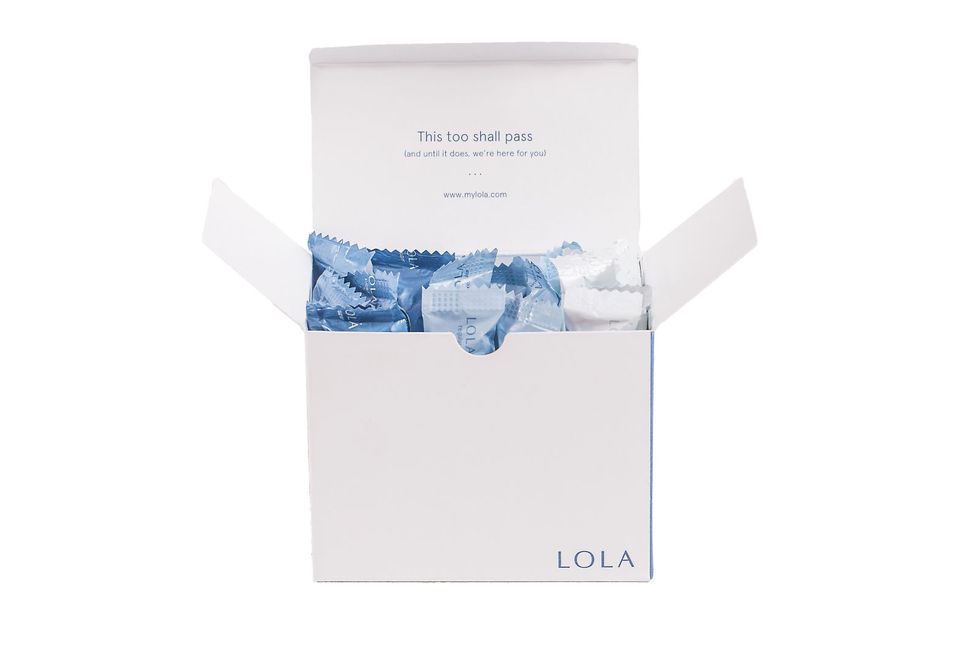 LOLA is changing the game with the way they make their tampons. According to Forbes,
The company manufactures its own 100% hypoallergenic cotton tampons...currently available with BPA-free plastic applicators. New design features include compact sizing, cotton expansion widthwise rather than lengthwise which the company claims insures superior protection, non-porous wrappers intended to keep cotton intact and unaffected by air particles, and a discreet, display-worthy box that clearly lists ingredients.

A subscriber can choose her preferred assortment of 18 light, regular, and super absorbency tampons, how many boxes she wants, and shipment frequency. She can customize her order to include 3-light/10-regular/5-super one month and the next all regular, as an example. Prices are (18-ct/box) 1 box $10 or 2 boxes $18.
What's even more unique about LOLA is that they are completely transparent with what ingredients are used when making their tampons, so you won't have to worry about any "mystery fibers" in your lady plugs. The company is also not shy about sharing exactly how their tampons are manufactured.
Ladies, have you ever tried a tampon subsection service? What do you think about it?
Related Post: I Tried A Menstrual Cup ...And It Was Pretty Freaking Awesome