London is one of my favorite cities in the world and when it comes to their influence on the fashion world, they're even higher on my list. The epicenter of European style and grace, London is full of trend-forward locals that take effortless fashion to another level. With a population of over 10 million people, you can't narrow down just one aesthetic. Like any other big city, there are a plethora of shapes, personalities, and daily activities that contribute to one's personal style.
---
When visiting this past November, I spotted a number of streetwear trends that seemed to be a favorite amongst Londoners. As we get deeper into the winter months, colder temperatures require a major style adjustment. To get a better understanding of what's trending now, I enlisted the help of styling duo May and Melinda. Identical twin sisters, these fashion lifestyle content creators are based out of London, focusing on pear-shaped styling.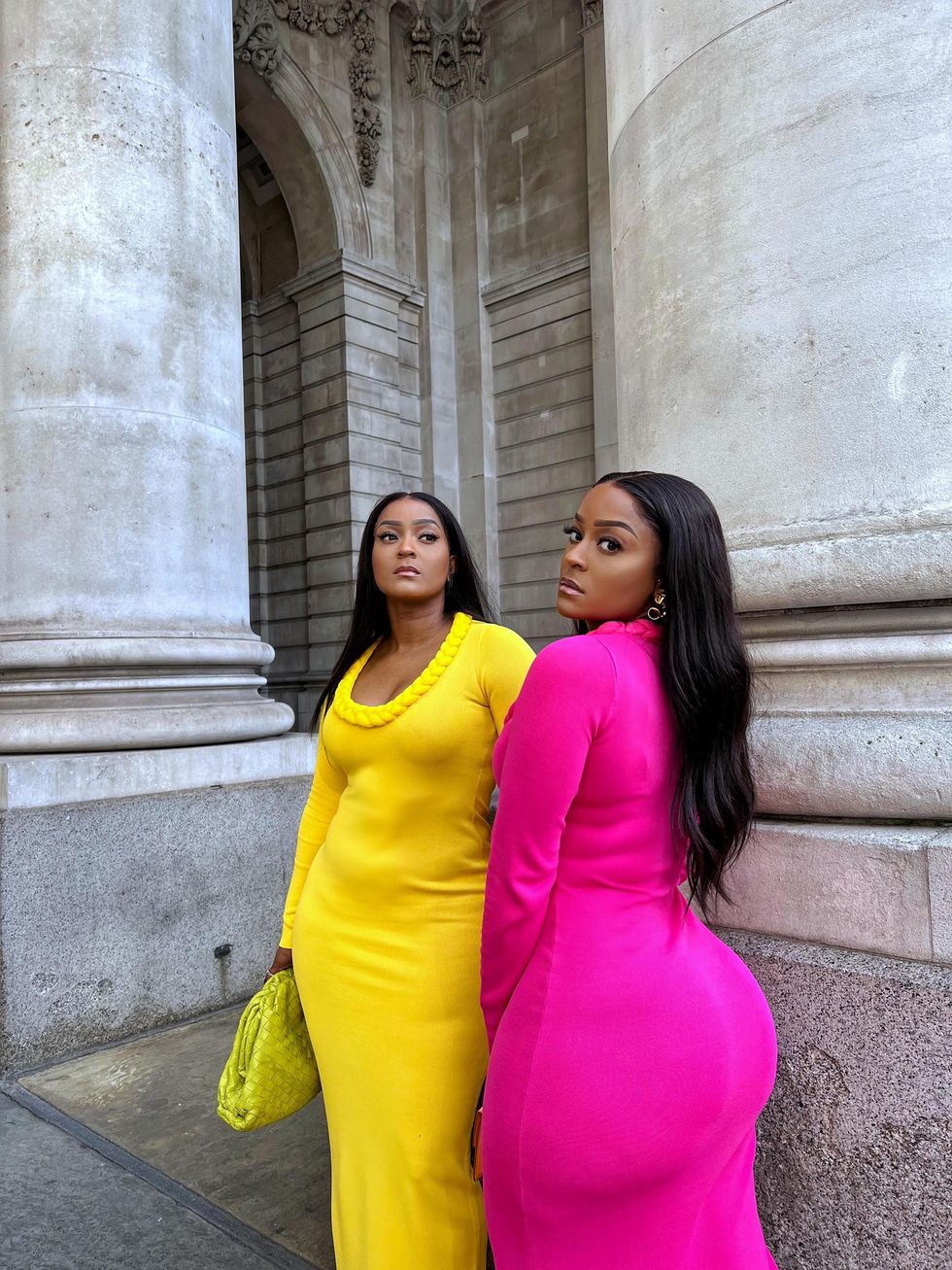 Courtesy of May and Mel
East African-born, naturally pear-shaped, and lovers of fashion, they always found it difficult shopping ready-to-wear items that fit their shape. Beginning their careers a little over a year ago, they started May Mel out of frustration and wanting to help others who were also left out and ignored while bringing the latest trends to our social media feeds.
Like many parts of the world, the colder weather in London has May and Mel gravitating towards layering, which the fashion lovers say is a major key for staying warm without sacrificing style. The duo notes that plus knitwear and "good duvet coat" as winter wardrobe essentials. They tell xoNecole, "You have to start with a good base layer like a Merino turtleneck and thermal leggings. You can layer [them] with almost anything."
In addition to Uniqlo thermal leggings, May and Mel also recommend "the ease and coolness" of a pair of oversized pants. "We recommend buying mid- or high-waisted pants for our curvy girls. This is for a better fit, plus the illusion of a slender hip and an elongated body frame."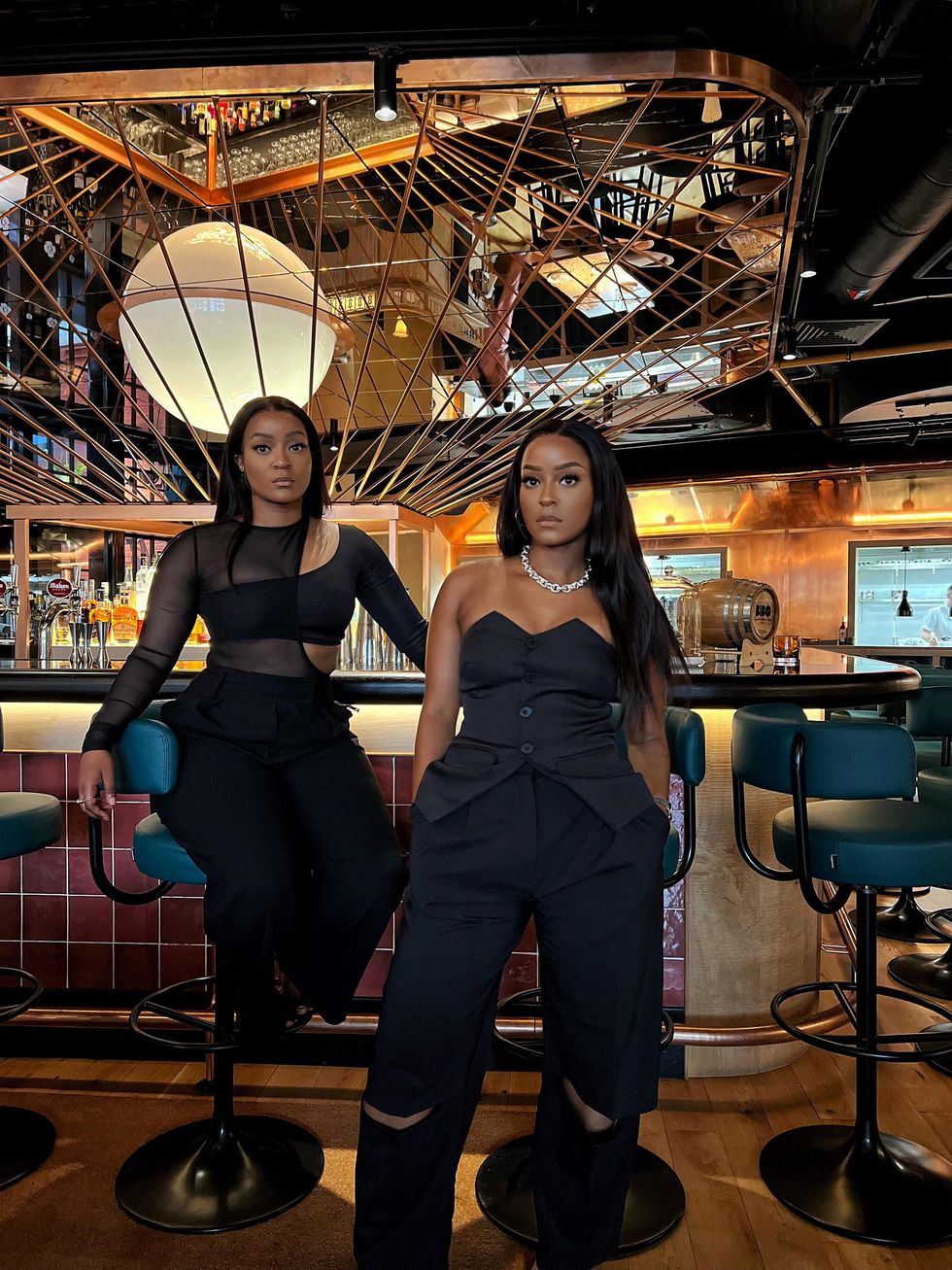 Courtesy of May and Mel
One way that May and Mel like to keep things sexy and cozy during the winter months is by introducing form-fitted items to accompany more oversized outwear. "If you follow our accounts you know we love a knitted midi bodycon; it is sexy, cozy, and classy. Playing with shapes, especially oversized outerwear, and fitted innerwear is an absolute favorite in the colder months. For instance, an oversized blazer paired with a tank or crop top and bottoms gives sexy and shows off your shape, whilst keeping you warm."
When it comes to UK winter fashion, there's a mix of classic staples and throwback items seen on the streets every day. Keep scrolling to read what's trending in London this season according to these ready-to-wear experts.
1. Shearling-Lined Jackets
Perfect for below-zero temperatures, I saw this cozy suede coat all over London. From street style to my Instagram feeds, this is one of the stylish winter items that look just as good as it feels warm.
2. Denim Corsets
The fashion girls love to layer and what better way to stay chic than with a denim corset as the final addition to a day or nighttime look? May and Mel suggest, "Corset tops with denim or cargos (or denim cargos). Still very Y2K, these are fun and look uber-feminine, paired with heels. Styling trick for our pears: try a corset with vertical stripes to help elongate your frame and lift the bust to give you a fuller-busted appearance."
While fashionistas may have ditched this look opting to stay warm during the day, it's still a sexy staple for date night or out for drinks with the girls.
3. Tracksuits
Tracksuits are the cozy co-ord sets that are worn best with sneakers and a puffer coat. The key to surviving the below-freezing temperatures while boarding the London Underground or walking along Oxford street, this is the go-to daytime look to stay warm and cozy while out and about.
4. Longline Wool Coats
​One of my favorite winter staples is a longline coat, transforming a subtle casual look into a major statement. May and Mel explain, "Londoners are great at taking simple and classic items and elevating them with trendy pieces like chunky knee-high boots or cargo pants." They continue, "For pears, we'd recommend a belted wool coat which is uber chic and flattering, creating a balanced proportion between the shoulders and the hips, emphasizing your cinched-in waist."
5. Headphones
The epitome of early 2000's style, headphones are officially one of my favorite accessory trends of 2022-2023. Reinvigorated by Gen Z, headphones are no longer for just listening to music but have been adopted as part of the latest London cool girl aesthetic. Specifically, Apple's AirPod Max has seemingly replaced ear muffs as the cozy girls' fashionable attempt to stay warm and antisocial.
6. Cargo Pants
The utilitarian trend can be spotted absolutely everywhere, reinforcing the oversized cozy look that is taking over the streets of London. Dressing the pants style up or down, the versatility is endless. "We're obsessed just like every other fashion lover and most of London. Easily one of the biggest trends of the year, you can't help but see them everywhere you go," states May and Mel. "These are just too comfortable and cool not to own. We bought a pair from Local European that we love and wish we could live in them as they fit so well with their cinch-able waistband."
7. Chunky Knit Sweater
Oversized knits are a necessity when bracing for winter London weather. With negative temperatures, the only way to stylishly embrace the cold is by layering cute and functional items. "This is an absolute staple in all Londoners' wardrobes. We've seen a lot of bold and jumper-style knitwear this winter, alongside classics like turtlenecks," says May and Mel. "This sweater style is the perfect addition to statement pants layered with a heavy-duty coat, running sneakers, and a crossbody bag. "We love a chunky knit, great for adding volume on the upper body; especially bright and textured knits like patterned fleeces," they add.
8. Knit Dresses
Knit maxi dresses are the perfect balance of sexy, chic, and cozy. "We've seen lots of knit dresses; as they're so easy, versatile, and chic. A winter staple, these dresses are perfect for any event, day to night, and suit everyone." May and Mel continue, "For our fellow pears, we recommend styles that are belted at the waist or patterned on the top half. This is to draw attention to your smallest part and show off your curves."
Let's make things inbox official! Sign up for the xoNecole newsletter for daily love, wellness, career, and exclusive content delivered straight to your inbox.
Featured image courtesy of May and Mel