---
COVID-19 has taken a lot out of most of us. So much of what we used to take for granted, especially socially, has transitioned into a new normal that looks like it's here to stay for the foreseeable future. This means a lot of kids won't be going to school. A lot of us will be missing out on live music at concerts. And weddings? Yeah, that's definitely something that has to be switched up in a major way. All of the people. All of the food. No social distancing. Not to mention that if you're trying to travel to another state or country (or people are trying to travel to where you live), that's totally up in the air too, due to different places having different mandates on how long you should quarantine once you go (or they come) elsewhere.
Lawd. All of the constant shifting really is enough to drive an engaged couple crazy—at the very least, push them to their complete and total limit. If you're someone who falls into this category, first let me say that I'm sorry 2020 has played out in such a drastic and even semi-dramatic way for you. Wedding planning is stress-filled enough without trying to make it happen during a pandemic. But if you're looking for a few suggestions on how to give yourself, at least a little bit more peace of mind, this article could help you to relax, relate, release and figure out what to do now that will still make your wedding day one of the best days of your entire life.
Meet with Your Wedding Planner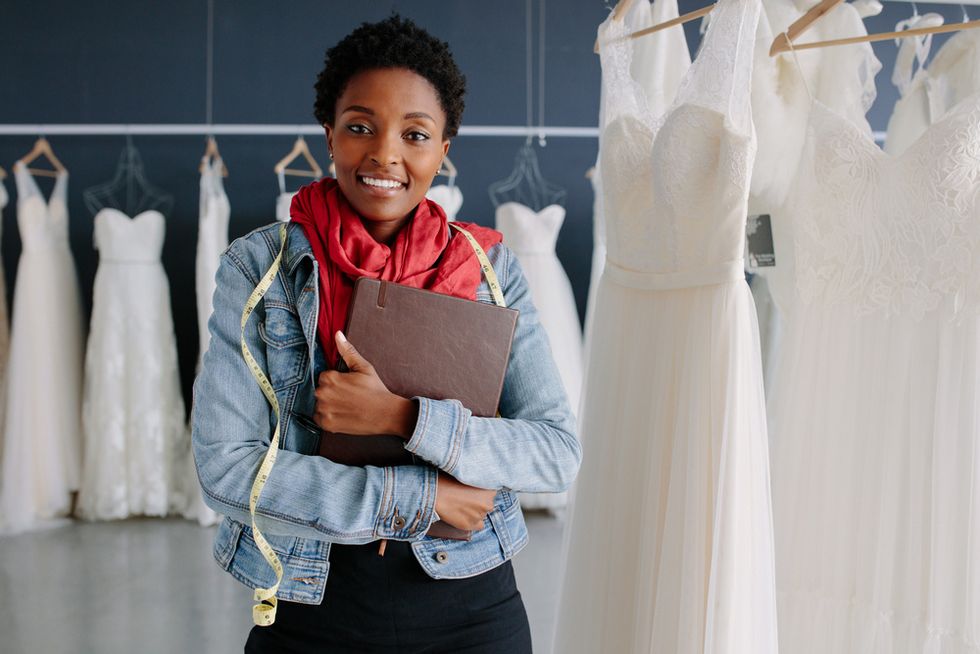 The first thing you should do is set up an appointment with your wedding planner, whether that's meeting with them in person, by phone or a video conference call. Remember that the reason you hired them in the first place was because they are experts when it comes to making sure that your wedding day goes smoothly and also connecting with venues and vendors so that you can get the best rates possible.
While COVID-19 is new to all of us, postponing or canceling a wedding is something that any reputable wedding planner should be able to handle with a good amount of ease. They can talk to you about what some of your options are, the amount of money venues and vendors are willing to refund back to your account(s), and they can share with you if, in their opinion, it's better to push the date back at the same place you already had booked (in order to possibly not lose any of the money that you've already spent) or to cancel altogether and go a totally different route.
(If you don't have a wedding planner and you were doing everything on your own, the website Here Comes the Guide has offered up a list of 40 different questions to ask a venue about your wedding during this particular pandemic. You can check those questions out here.)
Check on What Mandates Your Mayor Has Put into Place
If you still want to move forward with your original wedding plans, the next thing that you should do is check with your mayor's office to see what the mandates are as it relates to COVID-19 in your city. The reason why I say "mayor" instead of "governor" is because, if you're like me, I live in a city that has a health department that is separate from the rest of the state. This means that my mayor can put other plans in place than the governor does. Knowing what "phase" your city is in and how long it plans to be that way can play another intricate role in how you should move forward. All you need to do is go to your favorite search engine and put "mayor's office" and "COVID-19" in the search field. It should automatically pull up a page with details about how your city is currently handling the pandemic—and for how long it will be doing it that way.
How About Throwing a Virtual Engagement Party or Bridal Shower (in the Meantime)?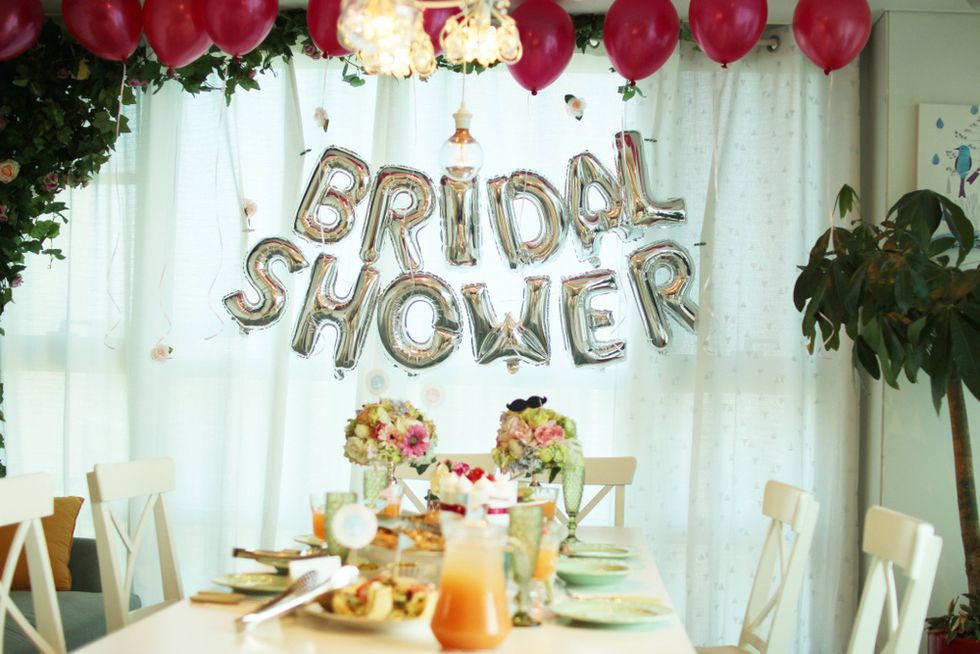 Say that your wedding is planned but it's scheduled for some time next year. While it's still up in the air if the pandemic will directly affect your wedding day, it could alter your engagement or bridal shower plans. If that's what you're currently contemplating, an option to consider is throwing something that is virtual. Most cities/states are allowing small gatherings to take place, so why not have a few friends (around 10 or so) come over and then invite everyone else to join you online? You can shoot an online invitation to the people who you'd like to participate, along with a dress code and menu of what you'll be eating, should they want to pick up some of the items and join in with you. As far as the music for your party goes, you can create a streaming playlist for the event and then share it with the guests who RSVP. When it comes to toasting you and your boo, if you want to have a favorite bottle delivered to your guests (or specifically to your wedding party or family members), Drizly is an alcohol delivery service that can totally help you out. If it's a bridal shower and folks want to give you presents, you can still create a gift registry as usual (only have those items mailed to you directly). Or, you can point them in the direction of a site like Givingli, where they can purchase a gift card for you and yours from the convenience of their own smartphone.
Ask Yourself If You'd Prefer to Get Married Now and Have a Wedding Later
An engaged couple that I worked with had big time wedding plans for this past spring. It was set to be a destination wedding, but with this pandemic (and states and airlines) being all over the place, they decided to push their wedding back. In February, they tentatively rescheduled their wedding for this coming fall. But since folks out here don't wanna wear masks or stay in the house (SMDH), with talks of a second (or even third) wave coming, they decided to push their wedding date back indefinitely. Problem is, although they already live together, this has put a real strain on their relationship, mostly because one of them has semi-recently had a spiritual change of heart and isn't comfortable simply just living together anymore (especially with no "change of status" in sight).
When I presented to them the option of getting married now and having a wedding or reception later, they both said, "We want everyone to be present for our day and we want to do it on the beach." When I responded with, "What if that is a year or two from now?", you could hear the deep sighs through the phone.
Listen, if there are two things that this pandemic is teaching us, it's 1) life doesn't always go how we want it to and 2) we've got to seize the day and make the most of every moment. If getting married, eventually, is the goal, then this particular point won't matter much. But if you want to wait until, who knows when, in order to have a picture-perfect wedding day, surrounded by hundreds of people you know and love, you might want to alter those plans, just a bit.
In most states, you can still meet in small groups, so why not turn your big wedding into a smaller one? Not only will that help you to save a ton of money (because weddings, on average, run about $34,000), but it can give you the chance to prepare for something even bigger and better, once COVID-19 is finally a thing of the past.
Consider Live Streaming Your Nuptials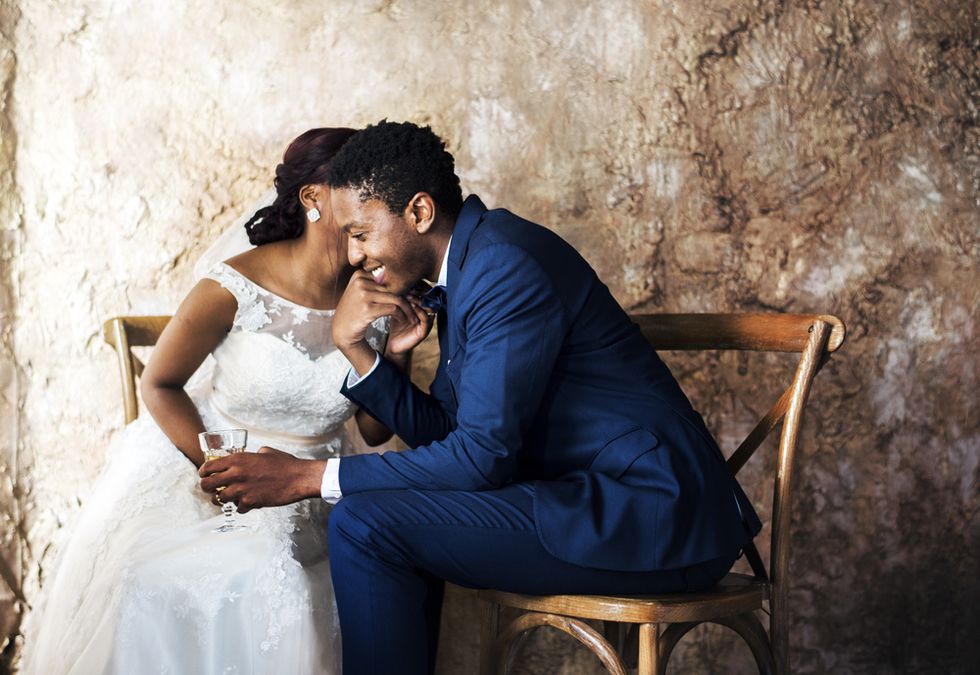 If there is a silver lining to this pandemic, it's definitely forcing us to get more innovative and creative. When it comes to throwing a wedding, some couples are opting to live stream their nuptials. While it's definitely not as awesome as having everyone's physical presence on your wedding day, this option makes it possible for many people to witness your nuptials without putting you or themselves at risk in the process. The main thing to remember with this particular choice is you need to make sure that you use a reliable platform like Freedocast, so that you're able to record a live high-definition broadcast while using multiple devices. Look at it this way—people who plan destination weddings oftentimes do this very thing. It's not "weird"; it's just different (and safer…and convenient). Anyway, if you'd like some tips on how to livestream your wedding, so that everything goes off without a hitch, click here.
Or Consider Having Drive-Thru Service
Back before COVID-19 literally took over the world, a lot of people found couples who went through wedding chapel drive-thrus to be cheesy (and that's putting it mildly). But now? It's actually becoming a very popular option. I'm not just referring to two people literally driving through a venue that will perform a ceremony like some people order a value meal. I mean holding an outdoor service in the parking lot of a place, so that family members and friends can witness your nuptials while practicing safe distancing in the process. I know a few people who have used the property of their church in order to do this. If you do it when the weather is nice and you've got a reliable sound system, it can be like they are watching a love story on film—only it's not a movie; it's actually your real life. And yes, there is something that's uniquely romantic about that thought.
If You've Already Sent Out Save-the-Dates, Send Out Change-the-Dates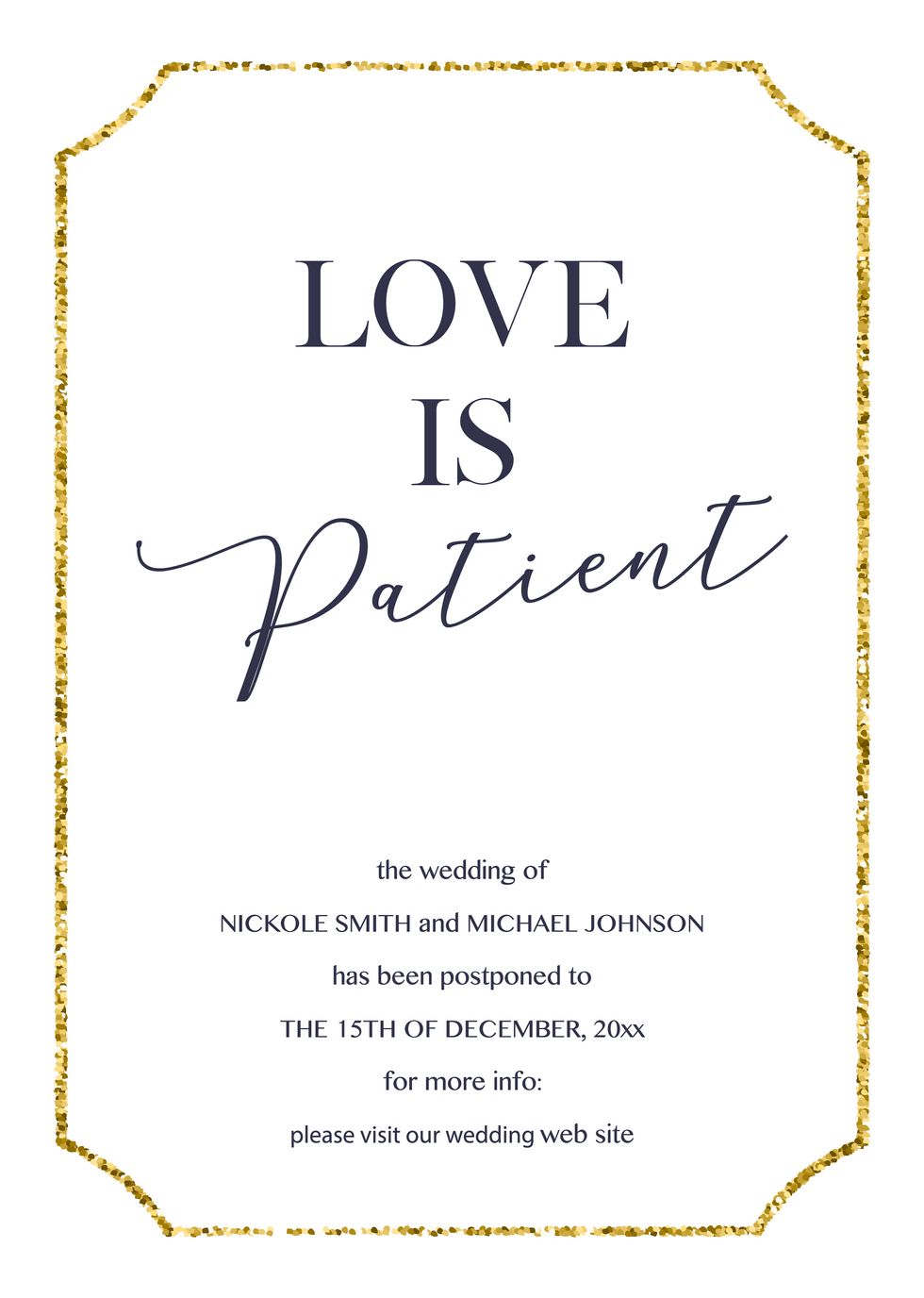 If you and yours do mutually decide to postpone your wedding and save-the-dates (or even wedding invitations) have already gone out, there is nothing to feel embarrassed about. How could you have known that 2020 was gonna go all rogue like this? To keep your guests abreast of your change of plans, all you need to do is send out some change-the-dates cards. Etsy is just one of the many sites that feature a variety of different change-the-dates that come at an affordable price (click here to check some of them out). And what if you don't know the new date? Share that too. The people who love you will be waiting to celebrate your "I dos", whenever they happen. Believe that.
Don't Knock Eloping
Who knows if I'll get married someday. But if I do, I'll tell you what, eloping is looking more and more like the way to go. Matter of fact, I'm so much of a fan of this approach that I wrote about it (check out "7 Solid Reasons To Strongly Consider Eloping"). Eloping saves money. Eloping makes the day be just about you and your partner. Eloping can help you to feel more financially secure about the future. I know many couples who said that they don't regret one thing about eloping because they had more money to make the day extra special and/or to create the kind of honeymoon that they wouldn't have been able to pull off any other way. So yeah, don't look at eloping as a concession. Choose instead to see it as a blessing in disguise. Because it very well could turn out to be just that.
Again, I know that most of us have specific dreams and desires for our wedding day.
Please don't allow COVID-19 to rob you of those. Whether you choose to postpone or simply modify your original plans, just remember that if there's one thing this pandemic can't do, it's affect (or infect) the love between you and your beloved and change the reasons why you chose to get married in the first place.
If you keep these points in the forefront of your mind, you can get through this. In fact, this mindset can actually prepare you for other marriage tests to come. Look at how the Universe works, y'all.
Join our xoTribe, an exclusive community dedicated to YOU and your stories and all things xoNecole. Be a part of a growing community of women from all over the world who come together to uplift, inspire, and inform each other on all things related to the glow up.
Featured image by Shutterstock