Who wouldn't love to make money, travel and live an exciting, elite lifestyle as the result of their childhood best friends? Raises hand! Khadijah and Malika Haqq, aka "The Haqq Twins" are the stars of the E! series, DASH Dolls, the fifth spin-off from the Keeping Up With The Kardashians empire.
---
It's no secret that the world has a love-hate relationship with the Kardashian-Jenner's. Say what you want about them, but they're businesswomen and branding gurus. They serve as executive producers of the series and have always showed their love and appreciation for the bubbly twins. However, many "friends" of celebrities get a bad rep for being "famous by association."
In an industry, where it can be hard to discern who truly wants to be your friend and who solely wants the perks of fame, wouldn't you want your "ride-or-dies"/ "A1s since day ones" who were "with you shooting in the gym" to be by your side every step of the way? Or naw? As the best friends of Khloé Kardashian, Malika and Khadijah have been constantly mired with the question, "what do you do?"
Though reality TV may not seem like a "real job" few people are actually brave enough to handle the scrutiny that comes with exposing every aspect of their lives for someone else's entertainment.
Prior to Keeping Up…, Malika and Khadijah were budding actresses having had memorable roles as Veda and Star in T.I's film, ATL and several other productions. Soon after, Khadijah married her husband, former New Orleans Saints player Bobby McCray, and the couple had two kids [and one from Bobby's previous relationship] and the twins' acting careers were placed on the back burner.
Now being at the center of their own series where they wrangle the employees of the DASH boutique in Beverly Hills, Malika and Khadijah are also showcasing very personal aspects of their lives.
In an exclusive interview with xoNecole, Malika and Khadijah address the criticism of their success and their association with the Kardashians. Malika shares the importance of accepting yourself and knowing your worth. While Khadijah gives awesome advice on how to ensure you're not inaccurately portrayed on reality TV. She also gives insight to how she's balancing motherhood with the increasing demands of her revived career.
When did you know it was the right time to do the DASH Dolls spinoff and have the focus of the series be about your lives?
Khadijah: [Kim, Khloé and Kourtney] all have very busy schedules, but the DASH boutique is very important to them so they asked Malika and I to be their eyes and ears when they couldn't be in the store. If something were to go wrong, they wanted to know they had two people they could trust that could take care of it and that's how it started. It was a show without cameras. They wanted us to be involved with the store and there to wrangle the girls. It was their idea to create the show and that's why they're Executive Producers of the series. I don't think we'd be doing reality if it weren't for them and the opportunity that they entrusted us with and wanted to extend to us.
Malika: People ask me all the time, 'What do you do?' I've been on the same show [Keeping Up With The Kardashians] for eight years, that's what I do! On top of that, I didn't really want to have an acting career by myself, I was so used to doing it with my sister. I pretty much went from one security blanket to the next. I was comfortable working with her and when I wasn't doing that anymore, I was comfortable working with my best friend. I also assisted Khloé for a while. I was on the Khloé & Lamar spin off, I was in several episodes of Kourtney & Kim Take Miami. I've always been in a reality space. I did a movie called Somebody Help Me 2. That was the only film role I took once I stopped acting with my sister.
Khadijah: But she's capable of doing it by herself, which is the point…
Malika: To be totally honest, I'm just doing what works for me. Over the years I haven't been as decisive about choosing what I wanted to do because where I was came so easily to me. I wasn't forced into being in another environment or to get another reality job. I wasn't forced to get another acting role. I was literally loved and accepted for a very long time as a character that I've been on "Keeping Up…" So I think DASH Dolls is great because now everyone can see that my sister is ready to get back to work so it made perfect sense for she and I to do this together.
In the series, we saw Kim [Kardashian-West] trying to persuade you to embrace your individuality. How have you gone out creating opportunities for yourself separate of your sister?
Malika: I'm still learning how to be by myself. The strongest criticism I continuously receive is, 'get out from other people's shadow' and 'don't do everything that someone else is doing.' Ultimately, I came into this world with someone else, all I know is togetherness.
I've been blessed to be able to work with my family and my friends. My effort is very different than most people that come into the world by themselves; I've had to learn how to be an individual and I'm still working on it.
I just did an acting job by myself on Family Time (Bounce TV). I'm proud of myself for being able to push myself. My sister came to set with me, but there are certain ways in which I'm not comfortable doing things by myself.
Now clearly, I'll take my clothes off (laughs) [referring to her nude photo shoot in the premiere episode] but I'm simply not as independent when it comes to approaching new things by myself, but it's something I'll perfect over time and I'm not being hard on myself about it anymore.
What should people know about the behind the scenes aspects of reality TV?
Khadijah: It's not as easy as it looks. Your reality is what you work for. I know people always question 'what are we known for? and 'what's your talent?' At the end of the day, there's a market for reality TV but that doesn't mean it's just given to you freely. It's still something you have to work for. It's not like being an actor or singer; there are actually a lot more grueling hours filming a reality show but you only see thirty minutes or an hour from a week of taping.
This is a business and people assume that if you can recreate these situations for yourself via social media, then you can be a reality star and it's not that simple. We've heard, 'it's about time you all get your own show.' but we weren't looking for it. I was literally going through the motions in life. I was growing up, becoming a woman, a wife and a mother. Eventually that's going to happen for Malika and people going to say 'Where'd she go? What is she doing?' She's taking on another role in her life. That's what happened to us and through our friends we've been blessed to have this platform at the perfect time in our lives.
Reality TV and social media ironically creates a false sense of reality and unrealistic professional and professional expectations. For girls that are admiring who you are at age 32, what would you tell your younger self?
Malika: Don't take yourself so seriously! I changed so much in my 20s and I'm open to changing again. I can't even tell you that I knew who I was until 28 or 29. Once you realize that it's most important to be comfortable with the person you are, you can become the woman you want to be. Don't be as critical on yourself and don't take peoples opinions so harshly. Also, you don't have to take everyone home with you. No one makes a difference in whether you eat or sleep but you.
Be nice to yourself. I see younger women be so hard on themselves. I would say to my younger Malika, 'I'm sorry.' They made me do that in therapy. I've said sorry to myself so many times and I really meant it because I didn't have to be so hard on myself but when you think about being in this business as an actress, then I stopped acting and now I'm trying to get back in, it's a lot.
I get a lot criticism for supposedly being in the shadow of other people, but there's nothing wrong with not wanting to be in the front. I had to learn and go through my own process to figure out what I was truly comfortable with.
I've made some good decisions and some bad decisions but I'm okay with that, you have to be forgiving of yourself. Everyone isn't going to like you and that's okay too, all you have to do is like yourself.
Khadijah: Social media is a fad, I don't necessarily think its going to slow down but since we grew up in an era that wasn't so driven by peoples criticisms, I still don't give a sh*t. Maybe it's because not only have I had to grow up but I had to start living for my three children. I've had to make mistakes and mend relationships, but you start to look at what really matters which is your family, your friends and being proud of whatever career path you're chose. By the time I was 27, I was already married with my first child. You have no idea where your life is going to take you in the next couple of years. Be proud of yourself for wherever you are in this moment. At 24 we were struggling actresses hustling, auditioning, taking slaps in the face [metaphorically], doors opening, doors closing and right back to the same thing. When people ask why don't we act anymore, well it's not always that easy. Life happens; it's all a balancing act, but you have to learn to juggle all of your responsibilities in a way that makes you happy.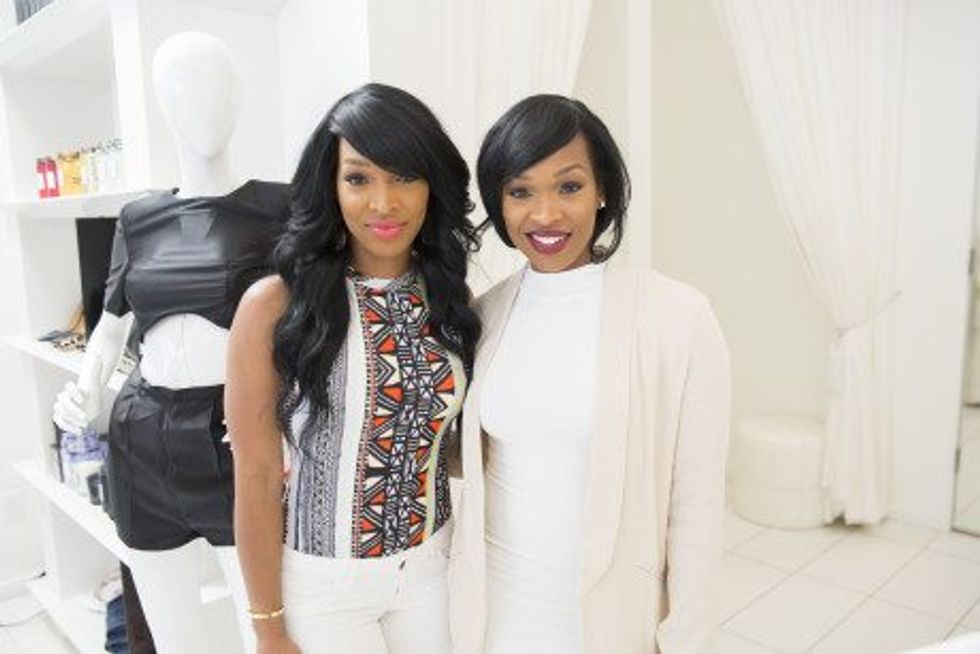 DASH DOLLS -- "Dash Store" -- Pictured: (l-r) -- (Photo by: Dale Berman/E! Entertainment)
You both are beautiful brown women! Being associated with a family that places so much emphasis on looks, have you ever had any issues with accepting yourself and having a positive self-image?
Malika: Accepting yourself is something people can see and until you do, it's not attractive to others.
[Tweet "Really, truly, accepting yourself is the most attractive thing in the world, it's beautiful. "]
I never had to be taught to love my skin, I just did. I was raised by a strong black woman who raised her children by herself. My mother taught us to be strong, beautiful, confident and to follow our hearts. She always said, "I trust you to make good decisions" and that stuck with me more than anything anyone has ever said to me in my life. You can do anything once you accept yourself. There are women who will tell you, 'I'm not the most attractive, but I'm the most confident.' I look at them and I may think I have a better body but I'll say 'wow she wears everything so well' because of her confidence.
Many people who've participated in reality TV end up saying they were inaccurately portrayed, how do you stop that from happening?
Khadijah: The camera catches exactly what you do. Malika says this all the time and it's the best thing ever, 'You don't see yourself.'
Sometimes people don't know who they are without a camera in their face and then they sign up for reality TV and they're shocked when they discover how they truly interact with others. Watching yourself on TV allows to say, 'Wow, is this who I am?'
Regardless of editing, the camera can't catch what you don't give it. I told the Dash Dolls when they were nervous and intimidated by the cameras, I said 'listen, if you don't dance on a table, the camera won't show you dancing on a table! You give a good smile, it'll see your good smile.' So it is what it is.
What have people underestimated about you? What will we learn this that would intrigue the audience to keep watching?
Malika: We're finally giving people the opportunity to have an opinion about us. We're exposing our lives and our journeys. I share the lack of relationship that I have with my father and how that's affected me and my choices when it came to dating and having self-confidence.
To be frank, I've never really thought I would have a successful relationship with a man because the first man I ever loved, my father, that relationship didn't work.
I've grown so much in the last year in my confidence when it comes to not having a relationship with someone that is hurtful to me. There's a lot going on in season one of DASH Dolls. I lived it, now I'm ready to learn even more by watching it back.
There's this myth that women in entertainment can only be a wife and a mother at the detriment of their career. Khaijah, as you transition back into acting, what do you want other young ladies to know about having balance?
Khaijah: Once you have kids, you have to feed them! And it takes a functioning household to make sure that your children have everything they need and that's the most important thing to me. It was also very important for me to be home with my kids to experience what it was like to be a mother. But I did start to get the itch of wanting to go to back to work because Malika and I have been acting all our lives. I have two sons and a daughter; I want her to see that she has a working mother. I want Malika and I to be the best first examples of independent working women.