For more than 20 years, CNN and NBC award-winning journalist Soledad O'Brien, has made quite an impact in the world of journalism.
---
As a producer, she has created documents that are thought-provoking. As a reporter, she gracefully tackled hard-hitting topics that affected America's culture. As the host of Matter of Fact, she has captured our interest with her smile and compassion as she delivers stories about everyday people with extraordinary lives. And as a CEO of Starfish Media Group, she has dedicated her time and influence to help others progress in the journalism field.
The one-day Harvard graduate was the fifth of six children raised by immigrant parents who met while attending John Hopkins University in Maryland. Her humble beginnings didn't keep her from reaching for the stars, and Soledad has now become one of the most prominent women of color in the media industry, but her dreams didn't always include of getting in front of the camera. "I really was inspired to go to med school and take organic chemistry with my sister," Soledad shared with xoNecole exclusively, "But I realized it wasn't my passion and I didn't know what to do."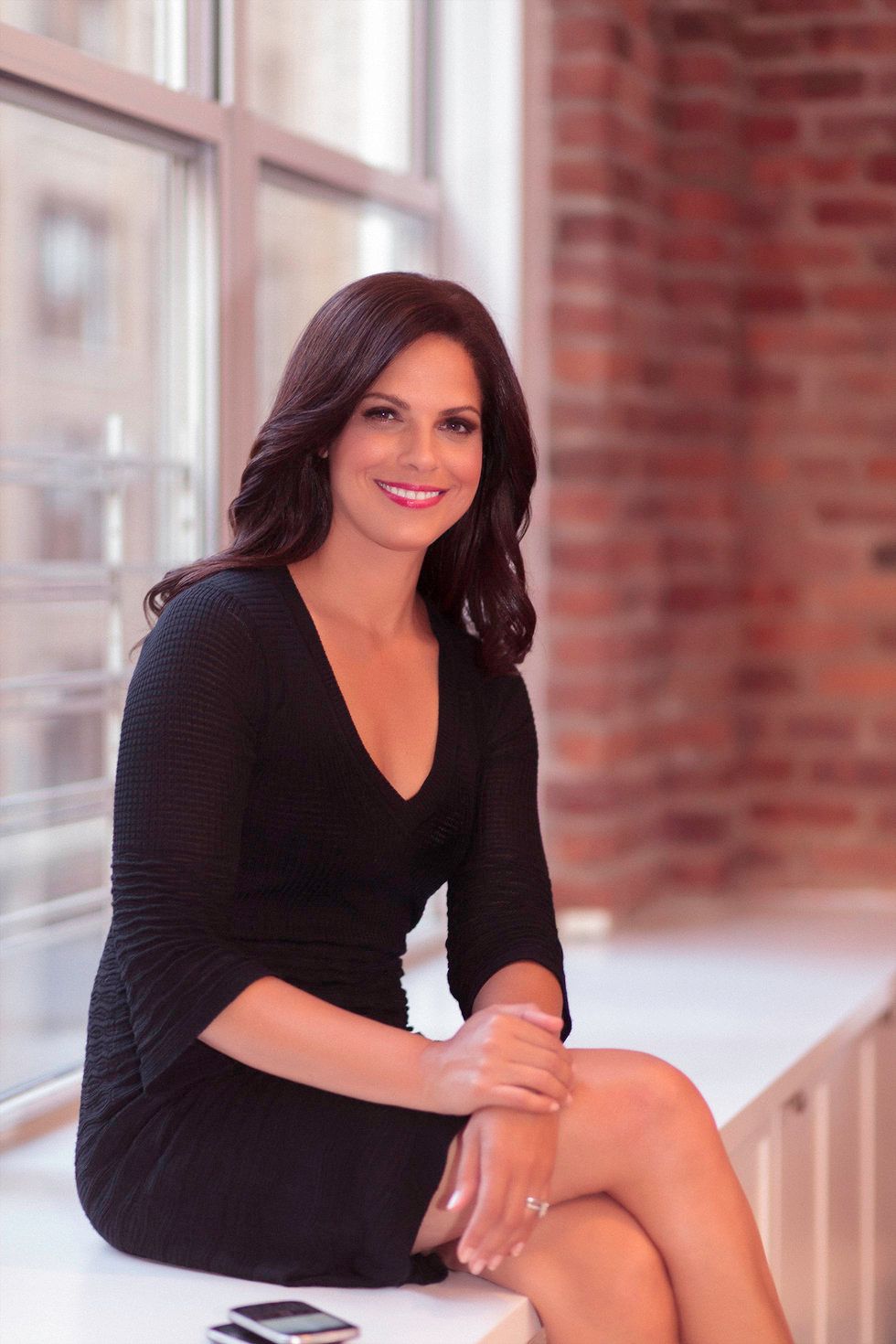 Starfish Media Group
While in college, the New York native was fortunate to get a job working at a local TV station where she fell in love with the fast-paced work of the media room. Her daily duties started with removing staples and fetching coffee for people. Eventually as she continued to prove her worth to her employers, she received more adventurous tasks that included writing scripts and small logistical jobs.

"More opportunities began to flow when they recognized my work ethic."
"I got the chance to be a field and show producer. I started reporting and every single time I had an opportunity, it felt exciting and my interest really began to pique," she continued.
Although Soledad found her groove in the newsroom, she experienced an obstacle that could have easily discouraged someone who couldn't deal with the pressure. As a woman of color (Afro-Cuban and Irish-Scottish), the TV producer's journey to the top of her industry didn't come to fruition without prejudice or discrimination. It's a reality that a lot of us face, and Soledad is no exception.

"I worked with a guy at a TV station in the past, and he was such an asshole. I was the associate producer and I would do this show and run to the morning meeting when the show would end at 7 a.m.," she recollected. "After I left the set and ran to the bathroom, I would be five minutes late because the meetings started right after the show. As I was coming into the meeting, he has the nerve to say to me, 'Look who's running on colored people's time.'"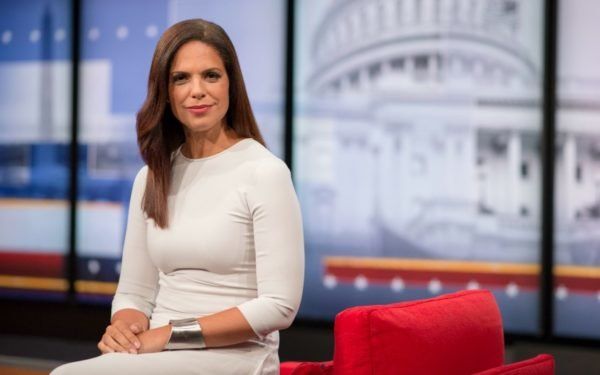 atlantablackstar.com
Clearly annoyed by such a rude comment, Soledad decided to take the high road rather than read him for filth. "I was like, 'What the hell? What a rude thing to say!' But no sooner than a blink of an eye, I never saw him again," she said with a smile. "I knew that he did not deserve my time."

The encounter was yet another moment that reminded her of her purpose, as well as her power. It was also one that wouldn't deter her from her position as a reporter, and further fueled her in her mission to do more for women of color. Sometime later, Soledad would face inequality head-on once again while reporting on Hurricane Katrina, which devastated New Orleans in 2005. This tragedy would in turn become the catalyst to her finding and building her non-profit organization, PowHERful Foundation, a foundation that helps young women attend and finish college as a means to enrich the lives of young women.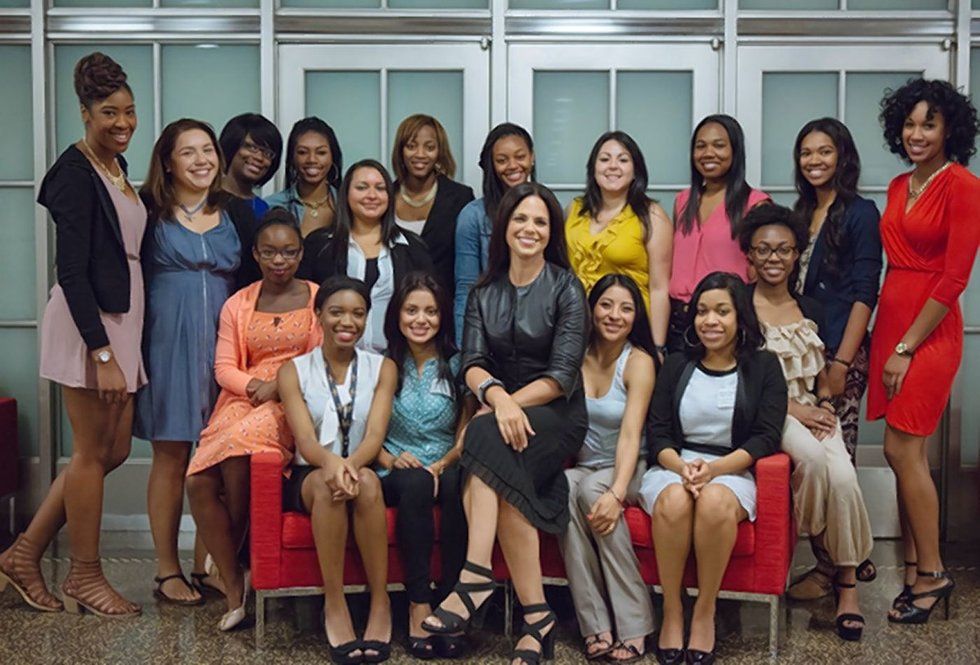 NY Daily News
Specifically, PowHERful brings day-long conferences to major cities across the country while working in partnership with local community leaders to effectuate positive change in the neighborhoods and communities of the young women it supports. Since 2011, PowHERful has supported 25 young women annually with college scholarships and its impactful activities have reached over 4,000 young women and girls nationally.

"I encountered young women who wanted to go to college but they couldn't obtain the proper funds to pay for it," she told us. "All of these young people, mostly young women, were given $1,000-$5,000 scholarships [from other organizations and programs], but it wasn't enough to pay for them to finish college."
She continued, "I want to give them the support they need to make sure that they accomplish what they set out to do. You can get halfway through and have a lot of bills and loans, which doesn't improve your ability to get a job."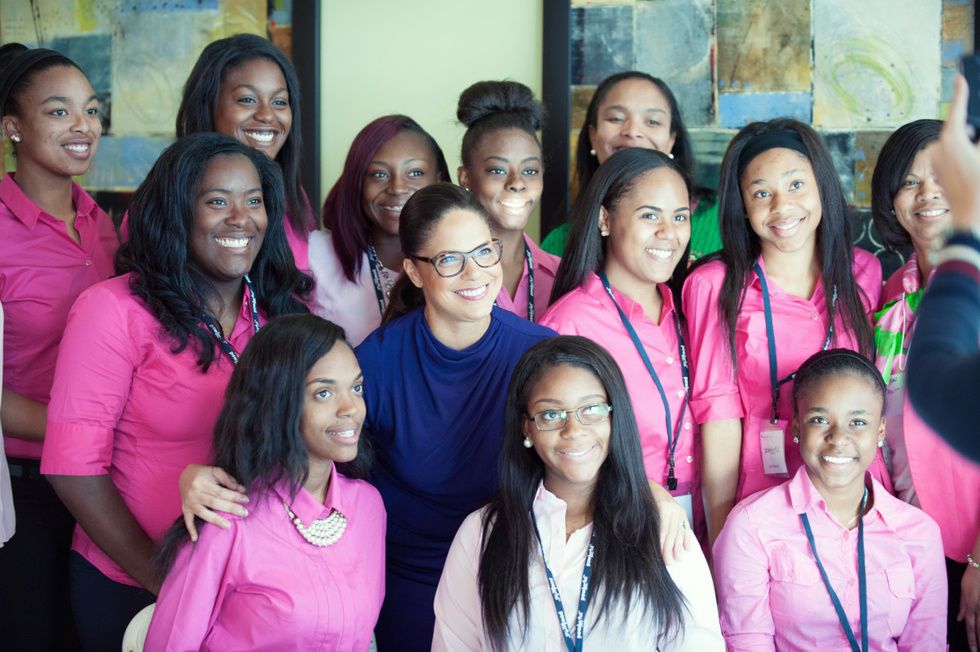 PowHERful
"I want to give them the support they need to make sure that they accomplish what they set out to do."
With the help of her foundation, many girls have gone through college and some even gained PHD's. "One of our scholars last year got her PhD in nursing. Another scholar graduated from law school after we helped her through UCLA," Soledad shared, beaming with pride.

When we asked her how she felt about the accomplishments of the young women who have entered the PowHERful program, she explained that she is never surprised. "I think what you see is what you expect to see when you surround people with good mentoring and support," Soledad stated. "When you are in a circle of your peers that are really great, hard-working, and ambitious, and then connect them with strong mentors that give them opportunities and help them when they make mistakes, you are putting these people on a path of success."
Soledad had this advice for anyone, young or old, looking to move forward in pursuit of their purpose: "I always tell them that interning is so important to choosing your career path," the mentor explained. "If you can't do it for a semester, do it for a weekend. Shadow people and ask them what they love and why. The job itself is only 70% of the work. The environment is 30%. Over the summer when you're at the water cooler or photocopying, this is your chance to really get to see what people wear, what their hours are really like, and what they do. Are they having fun? Do they enjoy the challenge of the job? You want to explore and learn more."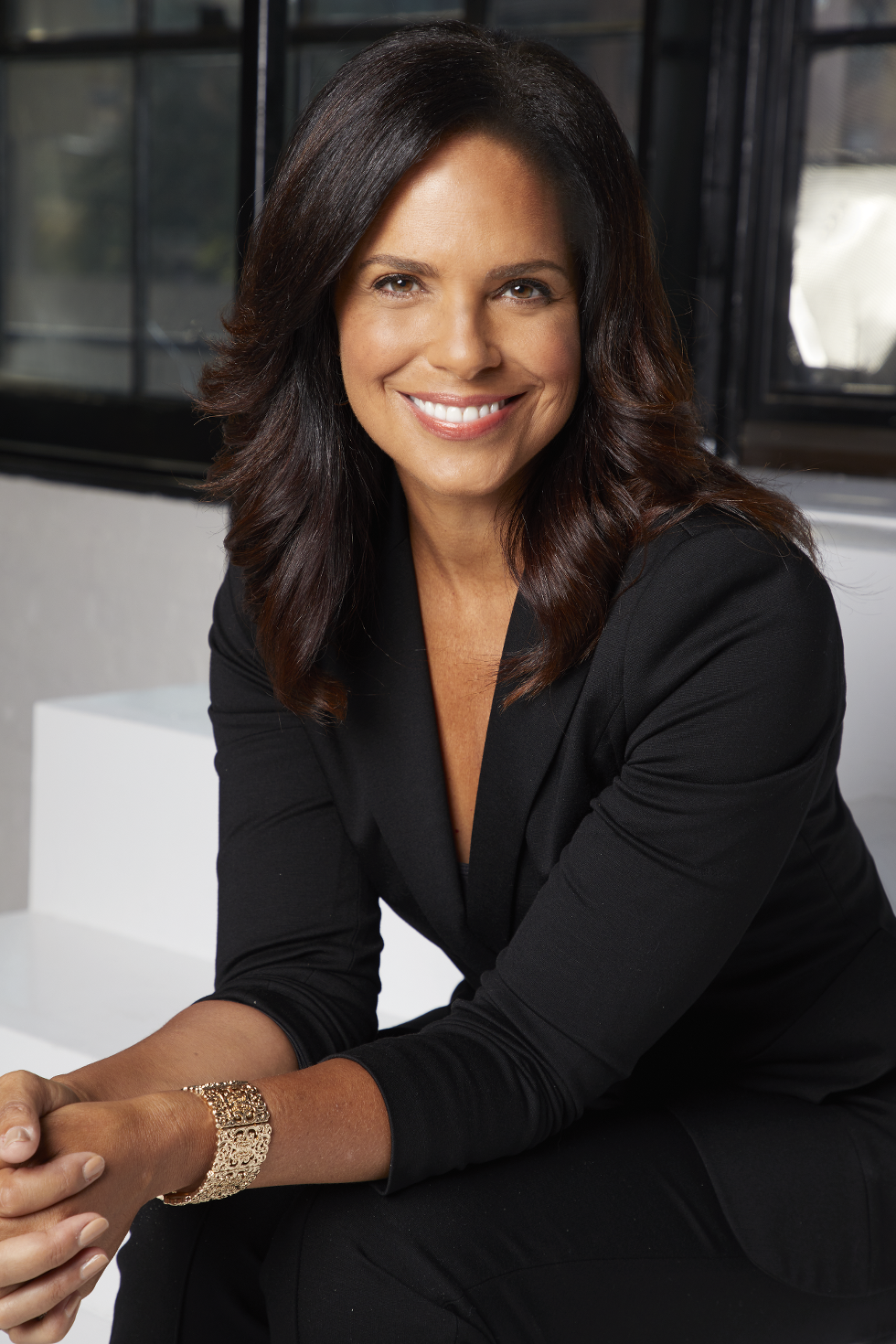 matteroffact.tv
"The job itself is only 70% of the work. The environment is 30%."
So how does the superwoman, wife, and a mother of four maneuver through a hectic day like a boss? "My mother who is an Afro-Cuban immigrant used to say to me, 'You have 24 hours to sit around, bitch, and complain but after 24 hours, it's time to move on.' I always thought that was helpful advice," she said. "Okay, I got it; something bad happened. Suck it up, get it together, and figure out what's the next step."

Soledad also makes time to care for herself with a routine that includes plenty of exercise and a good night's sleep. "I work with a CrossFit trainer and we do a lot of weights and lifting. I've been dabbling in hot yoga for a long time, but I've started going consistently, like three times a week."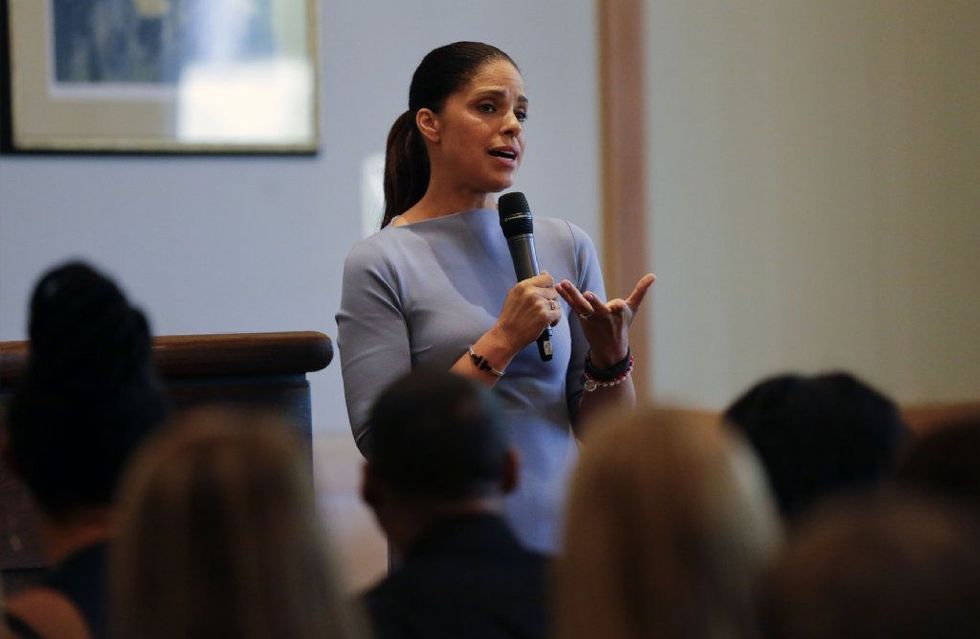 JESSIE WARDARSKI/Tulsa World
So what's next for the busy mogul? "I will continue to work hard and successfully tell stories about communities that are often overlooked. I have no fear of going in to tell those stories. When we did the documentary on being Latino in America, all of these kids were growing up as the only English speaker in their families. What do you do when you're eight years old and navigating the family's finances and contracts? I found it really interesting, unusual, and to some people, it's dynamic. This is what drives me and I will do it until I can't anymore."

With #blackgirlmagic like Soledad's, we can only expect greatness from the young women who pass through PowHerful. "If you want a second or third chance, you need people in your corner helping you," she concluded.
We couldn't agree more.
Learn more about her foundation at www.PowHerful.org and follow Soledad O' Brien on Instagram.