Emerald Elitou
Emerald is a lifestyle writer that loves a little soca or dancehall music to get her in the writing mood. When she's not penning her thoughts, she's honing her skills as a future chef and serving the best meals you will ever taste.
As a writer, I am always looking for a comfortable and peaceful place to be creative. From my favorite coffee house to rooms within my home, the idea of comfort is what I yearn for. Sometimes it's early in the morning with a cup of tea as I sit at the corner of my comfy couch surrounded by the sounds of soft jazz filling up my background. Other times, it's in the late hours as I sit on my bed with a laptop desk, engulfed in the rhythmic sound of Soca music as the music's energy comes out of my fingers, creating some of my dopest written creations.
While I feel like these are some of the best times and moments for my creativity, I learned that I can do even more to enhance my talent and get into my boss mode! This year, I have decided to make my home a more sacred space for productivity and wellness. Yes, I've got my self-care crown on!
Recently, I took the advice of Intuitive Life and Wellness Coach Dani Faust to make a few changes in my home and I have to admit, they are very helpful with achieving my goals without complicating my already busy lifestyle.

1

.

Declutter & Destress
It all starts with cleaning my work space, which I now do on a weekly basis. "Declutter and remove things that are not in resonance with who you currently are or who you're trying to become," says Dani.
Facts! I find the less junk you have in your space, the easier it is to work. I also try to work paperless and keep my work in neat folders on my computer. After decluttering, I went back to my roots and smudged my home with sage from top to bottom. This rids the home of negative vibes that may have crossed your threshold. It also protects your space from negative thoughts. Get into it!
2

.

Set Ground Rules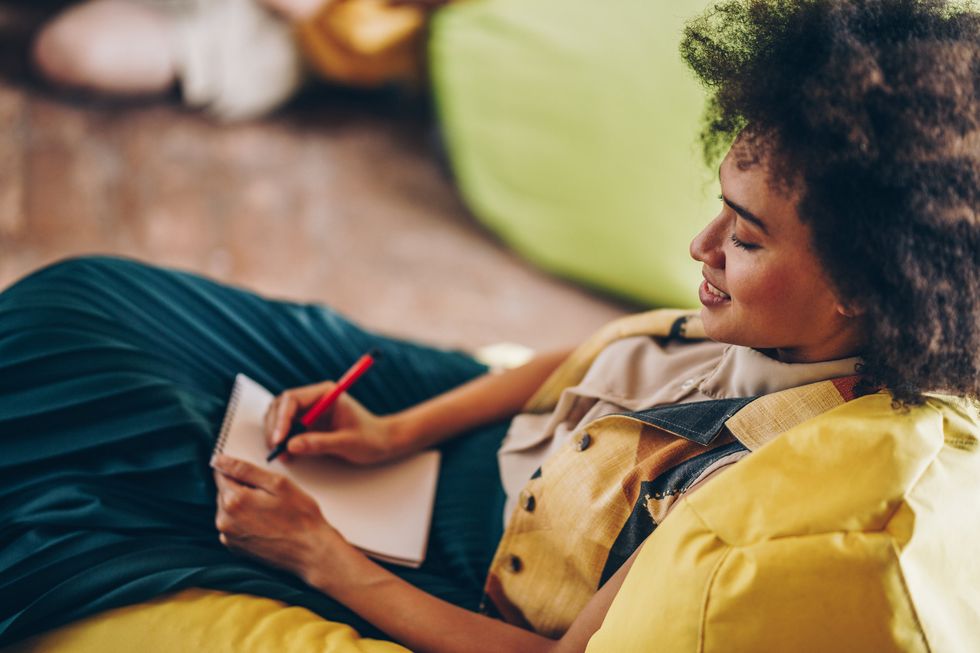 Getty Images
Dani also suggests creating household rules for people who enter in order to protect your space from negativity. "For example, only allow positive words and gentle communication in your home," Dani says. "Arguments and bad communication are not allowed."
One of the rules that I have made for my home is to place my devices on "do not disturb" after 12 AM. No more random notifications at night. My goal at night is to relax, chill, and get the rest that I need in order to have a fresh and healthy start to my day.
3

.

Use Essential Oils
It may not be the first thing that comes to mind when it comes to finding comfort, but Dani also recommended that I get into essential oils. "Essential oils help improve your health and help you create the mood you want to be in," she informs.
I use lemon in the morning to boost my mood, and lavender or chamomile in the evening so that I can relax and sleep in peace. I also open my shades in the morning to bring in the natural lighting in while I work. The natural light is important to your eyes, skin, and the function of your mind.
4

.

Let It Flow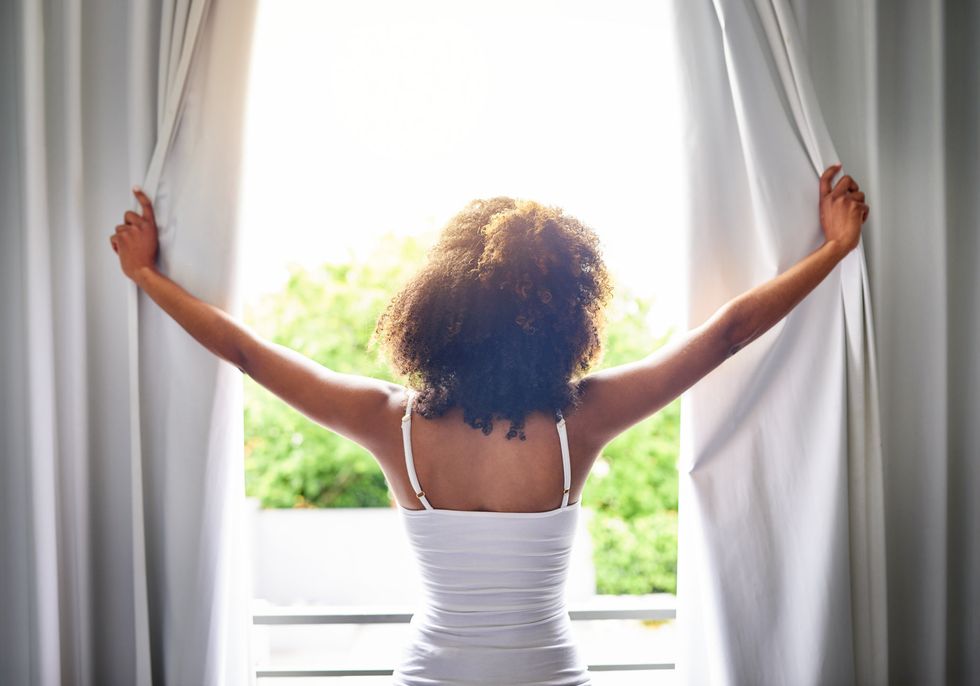 Getty Images
"And if it's not too cold, open your windows once a day to get fresh air flowing," Dani suggests. It cleans the air and purifies the lungs, which ultimately promotes clarity and focused thinking. Plant life is also essential to clean the air and relaxation, so consider an aloe plant.
Lastly, Dani recommended that I never make my bedroom my work space.
"Your bedroom is for sleeping and/or love-making only."
I couldn't agree more. I have now created a work space that is perfect for my desk and gives me all the comfort I need to be the best writer I can be outside my bedroom.
Want more details on how you can make your home a sacred space for productivity and wellness? Visit Dani at: www.okdani.com.
Featured image by Shutterstock.
Article originally published on February 2, 2019
At any given time, we know there's an undeniable pressure to work harder to rid yourself of the piles of work that have accumulated on your desk, not to mention the massive amount of emails in your inbox, but is playing catch up really worth a burnout? Hell no! The same goes for those of you who have to play catch up during leave of absences, holidays, and vacations. We know just how stressful that can be on you, but it's definitely not worth you getting sick with anxiety.
Instead, we want you to focus on self-care, enjoying time with family and friends, and not allowing your work to stop you from having a good time or getting much-needed rest. We talked to Ashley Sutton, author of Overtime is So Over, and she offered a few tips to avoid burnout before you go on break, while you're taking time off, and to avoid playing catch up once you get behind the desk again:
Before You Go.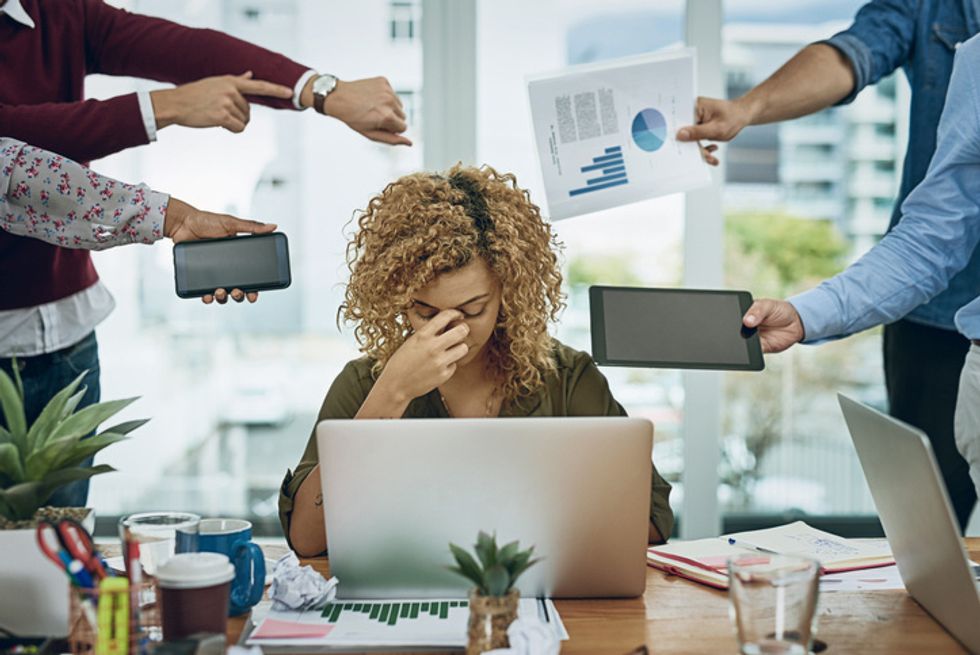 Getty Images
Focus on the Task at Hand: Aim to deliver great work with projects you currently have in the queue versus finding more projects and tasks to add to your plate before you take your time off. "Continuing to pile on work is like going back to the buffet too many times… It's irrational and will only make you sleepy," Ashley warns.
Dash and Disconnect: Once you've wrapped up everything of high importance, leave work at work. As an employee, you were likely given vacation time. If you find yourself wanting to check in on work emails, try turning off notifications, logging off, or removing your work's email app from your phone completely. "Don't devalue your benefits by using your well-deserved, hard-earned time off to do work for a company that will still be there when you return," Ashley says.
Have an Attitude of Gratitude: Often, the stress of the job or the people we work with can put a damper on our happiness and lead to a spiral of negativity. Have an attitude of gratitude. Try jotting down what Ashley calls "weekly wins" and by the end of each week, you'll realize you have accomplished so much more than you realize.
While You're On Vacation.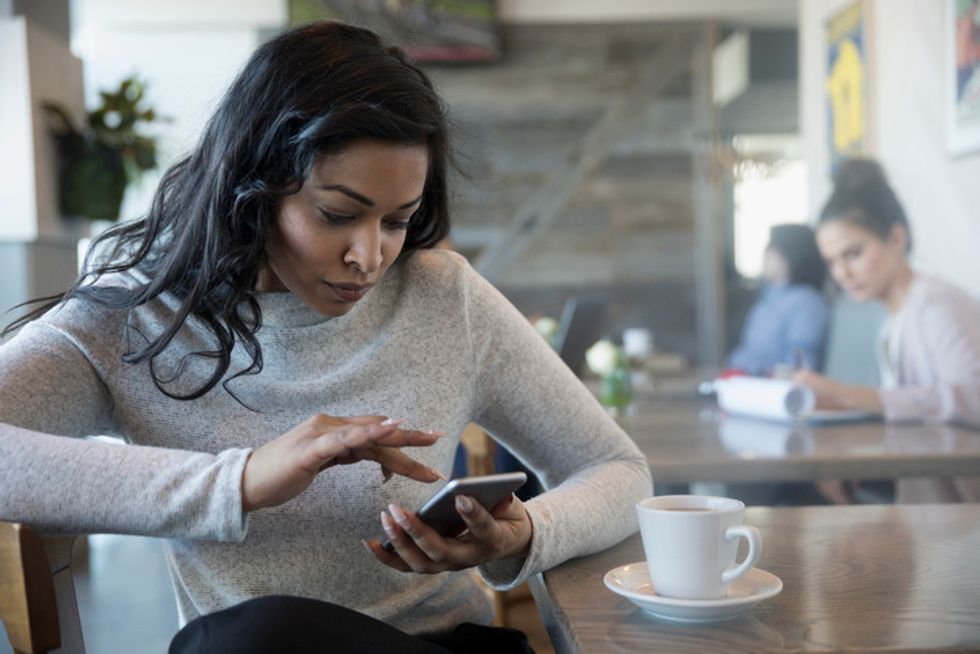 Getty Images
Keep Your Peace: If you're traveling back home for the holidays or a vacation, everybody and their mama wants to see you, meet up for happy hour, so it can be a cycle of go out, eat, wake up and repeat. While you may be ready for a good time, the holiday break isn't just to eat, be merry, and get toasted. Set some boundaries, and always be sure to pencil in some "me" time. Remember to also get plenty of sleep.
According to Ashley, "It's a time for reflection and solitude. You learn a lot about yourself when you're alone with your thoughts."
Feed Your Mind and be Happy: There's a lot going on in the world right now. It's important to feed your mind with positivity and keep the creative wheels spinning, even during your scheduled time off. This doesn't mean for you to write a 20-page book report, but you shouldn't just sit on the couch 10 days straight watching Netflix or hanging with people who only want to gossip or reminisce on something that happened in 7th grade. Do your best to spend time with people and on experiences that fuel personal growth and happiness.
Before You Go Back.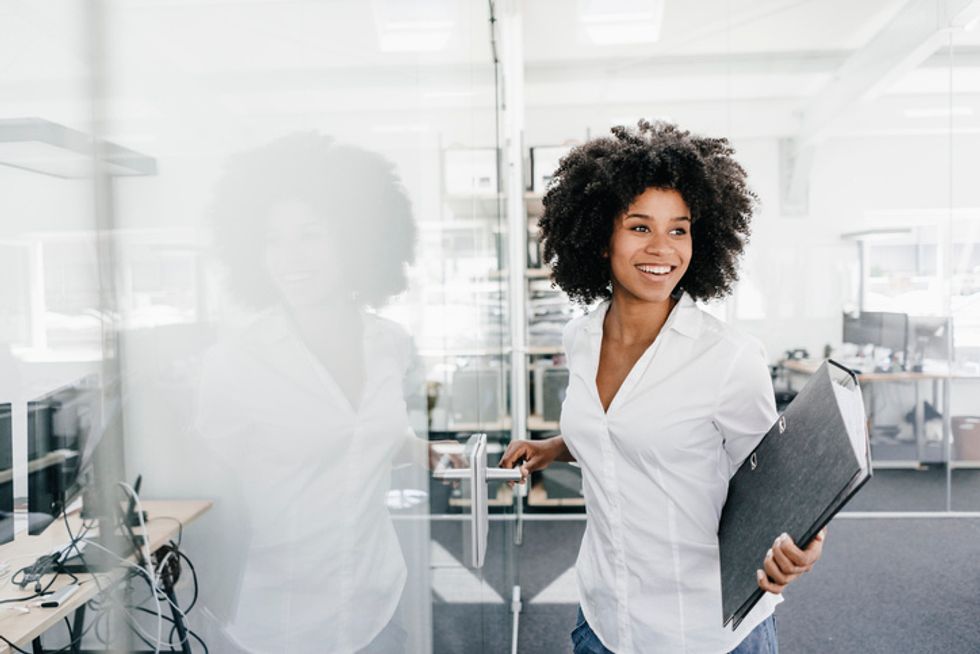 Getty Images
Take a P.E.E.K. at your Current Role: Not feeling very inspired in your current work situation? Were you only excited about the time off because you feel as though you need to escape work? There's nothing to be ashamed of because we've all been there. Ashley has laid out her P.E.E.K. Method to help us analyze whether you're fulfilled in your current role. Grab a pen and paper, and try it out!
Purpose: What's your purpose as it relates to any role you decide to take on? In other words, what will drive you to get up day in and day out to go to work? List these.
Environment: Describe your dream work environment. What type of company culture will help you thrive?
Enthusiasm: What are you excited about? Do you like creative writing, building products, music, etc.? Don't worry about "feasibility," focus on listing out what you're truly passionate about.
Know-How: Break down that résumé! What are your key skills? What are you good at doing?
Now that we've gotten that out of the way, see if your current role hits each of those buckets. If so, you may just need a little recharge. If not, it may be time to pivot in the new year.
What are some other ways that you can avoid burnout in your life and in the workplace? We'd love to hear from you!
Be sure to get involved in #TuesdayTactics with Ashley Sutton here.
Featured image by Getty Images.
Related Stories
Is The Grind For The Corner Office Putting Us Into The Casket? – Read More
Five Easy Ways To Calm Your Anxiety Right Now – Read More
What Your Zodiac Sign Says About Your Work Ethic – Read More

Why Janelle Monae Advocates For Therapy As A Form Of Self-Care – Read More

"Money makes the world spin. Period."
It's unfortunate, but truer words have not been spoken and no one knows this better than well-respected journalist and college graduate, Natasha Abellard, who found herself living her best life, but that wasn't until coming to the realization that she was going broke.

"From college up until my early 20's, I messed up a lot. I can't count the number of times I was living paycheck to paycheck, didn't stick to my budget, used a credit card when I shouldn't have. The list goes on," the millennial shared with xoNecole.
How many of us have experienced the same problem? Ordering that extra round of drinks, knowing you'll feel regret when the check comes; or maybe you're the person that goes all out to spoil yourself but can barely afford to pay the hefty bill. Trust, we know the struggle, sis.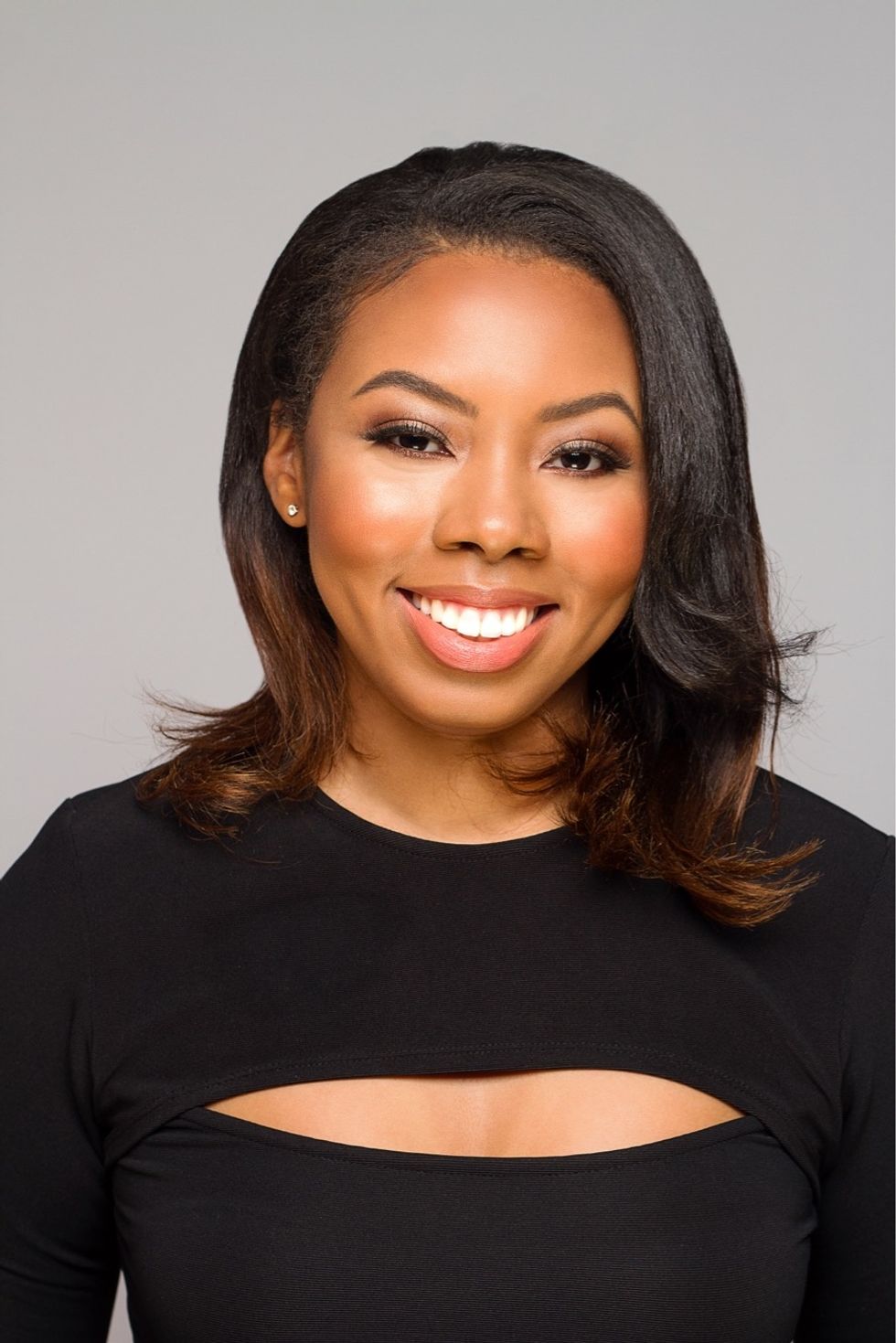 Courtesy of Natasha Abellard
There is nothing wrong with enjoying the moment, but like Natasha, one day you will have to come to the conclusion that if you don't get your financial priorities in order, you'll always get caught up "robbing Peter to pay Paul" and you'll never truly get to enjoy your bag.

After reading an article about how black people are destined to be broke in upcoming decades, Natasha knew that she had to make different choices in her spending.
"There was a 2017 piece in Fortune that reported that a median black family only had about $1,700 in wealth, but on the flip side, median household wealth for white families is $116,800. That's a major divide. The goal is to spread information that will in time help close that gap."
Finally beginning to get a grip on her finances, Natasha paired with Anthony Copeman to help educate young black millennials on how to hold on to their dollars with their YouTube series, $hares, which are short shows based around four relatable characters: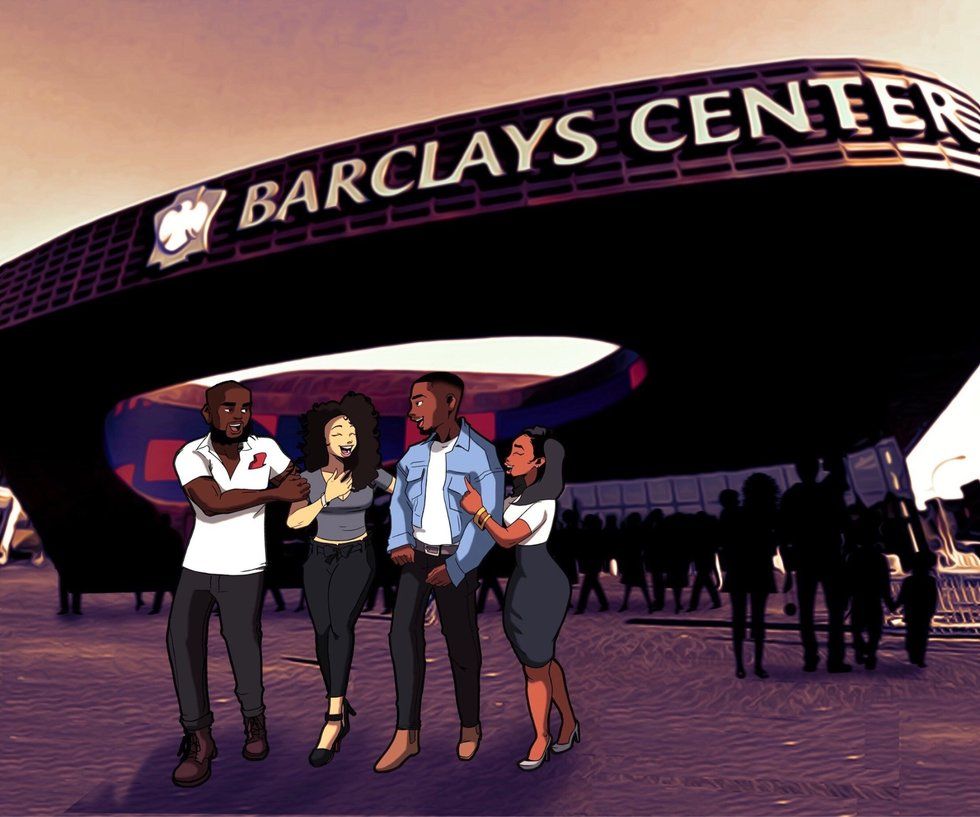 Courtesy of $harestv
Essence is a girl who comes from a financially stable family. Troi is loosely based on Natasha who comes from an immigrant family. Michael is a 20-something who decided not to attend college and finally Brandon, who also comes from an immigrant family, works as an IT professional and lives at home with his parents.

"Whenever someone buys a piece of a company's stock, they are purchasing a share of that company-- a shareholder," Natasha shared about the inspiration for the series. "So, the idea is that when people share their experiences with money, they take ownership of their individual financial situations. Our characters share the wealth by being open about their own experiences... Knowledge is power. If people have an avenue that will provide them with the necessary information, they'll do better."
So, how do you remedy the pattern of bad spending? According to Natasha, it's all about getting disciplined and making a financial blueprint that's realistic. "It's not easy to do. But it's not impossible. You just gotta wake up one day and decide you want a change."
And it all starts with learning early.
"My dad started teaching me pretty early. Though I still messed up a lot, I did have somewhat of a foundation," Natasha shared. "I just had my first son and I know that his first lesson will be about money. If I knew some of what I knew now at 18 years old, I'd be better off financially. The first thing my father ever taught me was the importance of saving and it helped me in the long run. I would recommend that as a simple introduction to money between parents and their young children."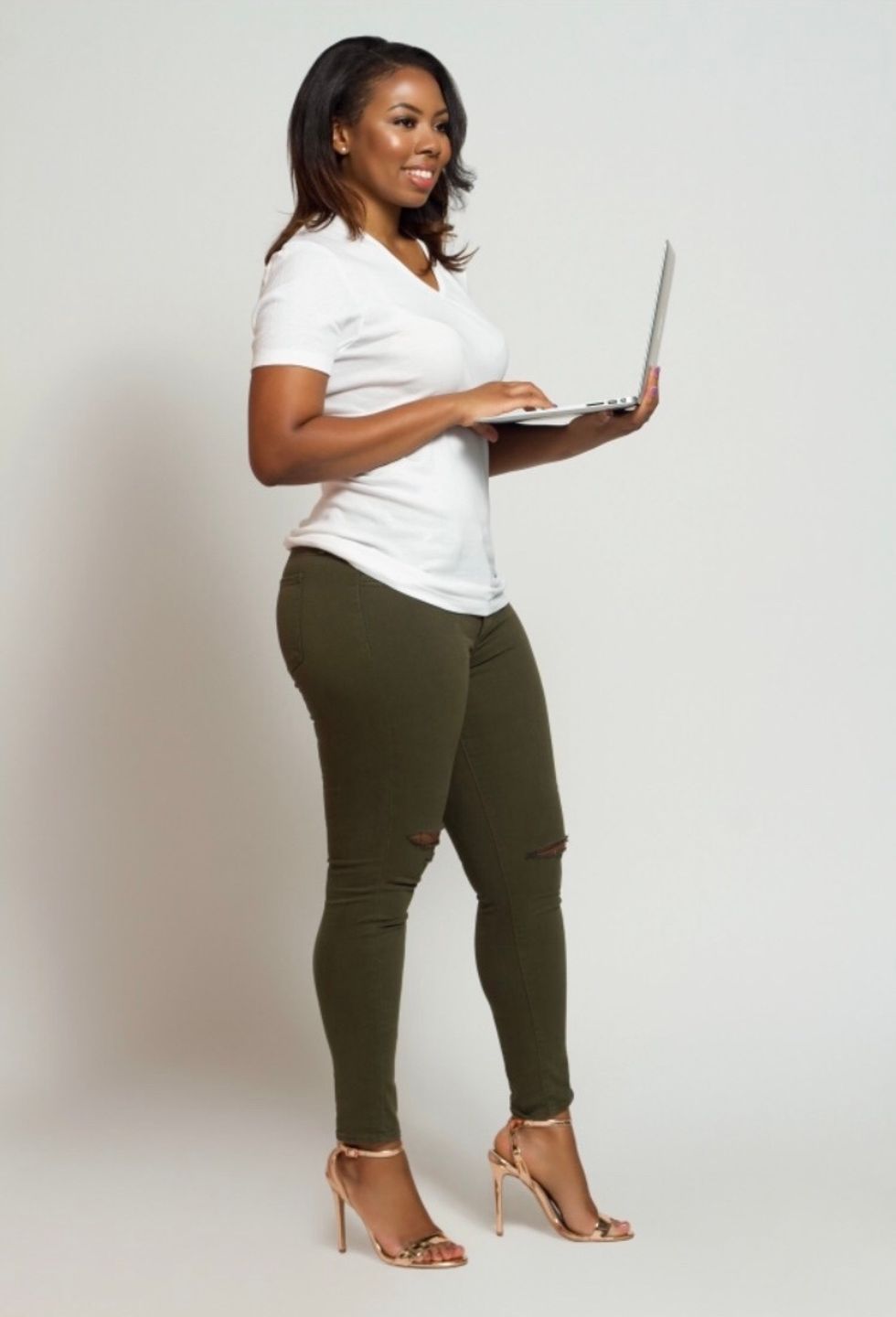 Courtesy of Natasha Abellard
As for her last words for fellow Black millennials? "We are the next generation and we need to break the cycles. No one wants to be broke."

Natasha also has these lifestyle tips for xoNecole that will not only help WOC get on the path of cash, but also feel financially empowered!
This is very sound advice that we can all start using right away. So let's get to securing our bags and holding tight to our coins!
To learn more about Natasha and catch up on the latest $hares episodes, follow the squad on Twitter, Instagram, and YouTube.
Related Articles:
5 Resources That'll Help You Get Your Coins All the Way Together - Read More
Our Top 5 Business Podcasts For Millennial Women of Color - Read More
I Paid Off $40,000 Of Debt In 18 Months: Here's How - Read More
It may be unfortunate, but in 2019, discrimination is still a trending conversation in the fashion and beauty industry. Besides a clear lack of representation of Black and Brown women, there's an ugly truth waiting to be unveiled.

For some time now, Black women have not only been facing discrimination because of the color of their skin, but also because of their Muslim faith and religious attire like burkas and hijabs.
Muslim women have become a prime target of discrimination because of their traditional dressing, especially after the events of September 11th. They have been harassed on the streets and in the workplace, and in many cases, women have been fired from their jobs and denied access to opportunities.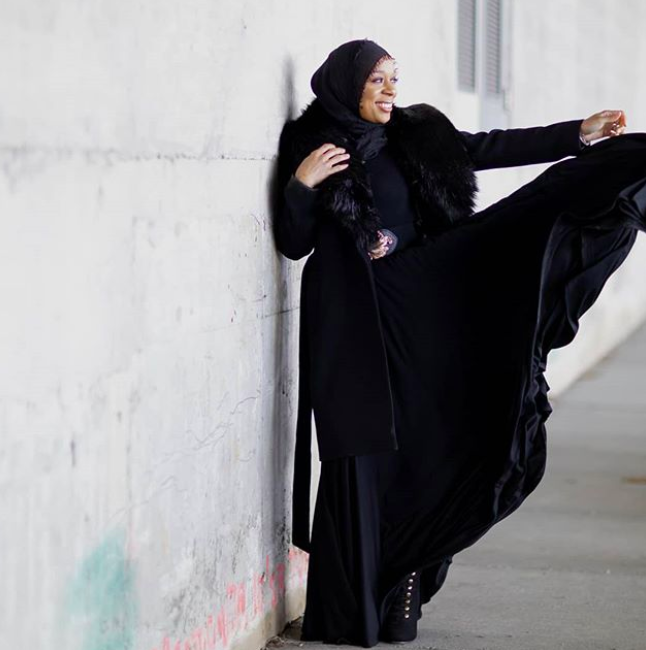 Instagram/@queenstylista
No one knows this better than Muslimah hair stylists Hullema and Sheena who have both experienced loss of career opportunities, cyberbullying, and overall lack of support from their community due to their choice of career.

We caught up with Hullema, 41, who has been in the beauty business for more than 25 years and Sheena, 31, who has been a stylist for 10 years, and learned quickly that the beauty business hasn't always been pretty for either ladies. Born and raised in Philadelphia, PA, both Hullema and Sheena have been through life experiences that could have easily changed their lives for the worst, but instead, used their disappointments as motivation to make their dreams a reality.
As a teen, they both experienced hardships, but when they were introduced to Islam, they both discovered a new way of life that led them in a positive and enlightening direction. "The challenges that I experienced helped mold me into the woman I am today," Hullema shares. "I was intrigued by the discipline and the structure of the religion and I knew that this was what I wanted and needed in my life."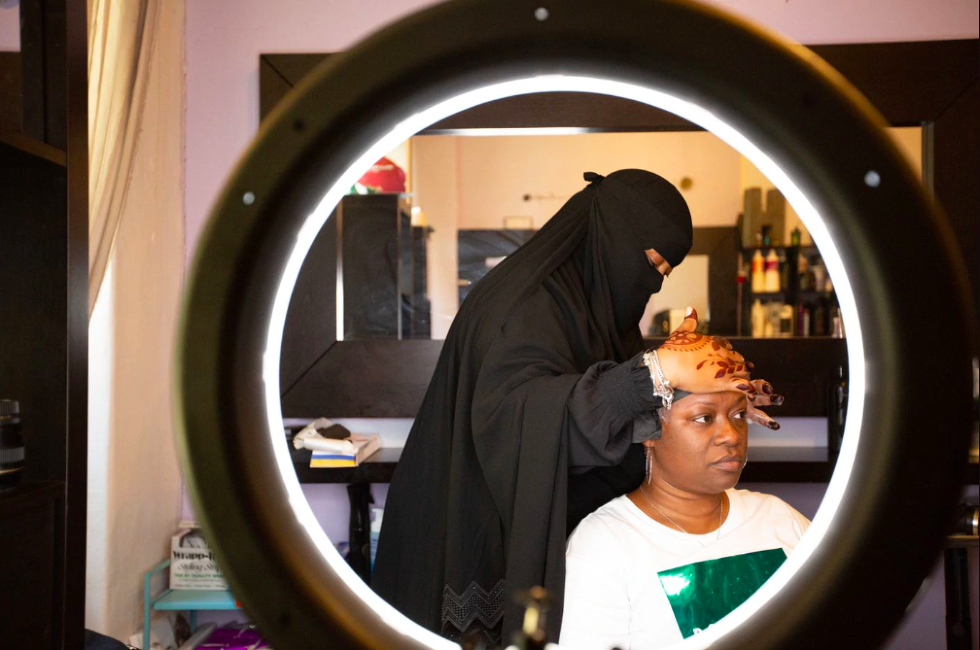 Margo Reed/Philly.com
"My lifestyle as a teen was reckless," Sheena remembers. "I was drinking and smoking every day. I ran away from home and lived on the streets. I needed structure while carrying my child and living in a women's shelter. I began to read more about Islam, and I talked to a few other Muslim women that lived in the shelter with me and ultimately chose this way of life at 18."

Looking for a better way of life for their families, Hullema and Sheena enrolled in beauty school to become professional stylists. "I realized that I had the ability to transform someone's entire look," says Hullema.
"I knew that I needed school for a cosmetology license but I was a high school dropout," Sheena recalls. "While I was pregnant, I headed to night school [and] received my diploma. I then went straight to cosmetology school because I was determined to make something of my life."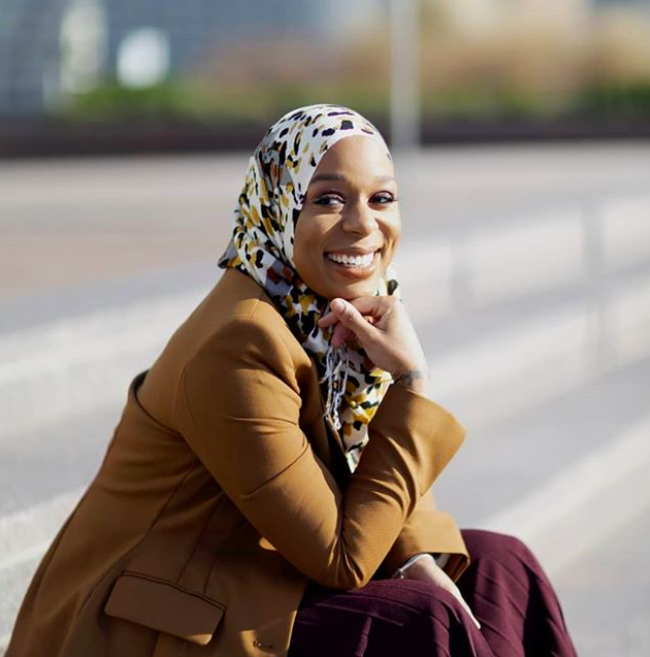 Instagram/@queenstylista
According to Grand View Research, many women who wear the hijab are serious beauty enthusiasts and artists who favor dramatic looks that consist of full make-up and creating uniques hairstyles under their garb. The global halal beauty market is rapidly growing and is expected to be worth $52.02 billion by 2025.

To Hullema's advantage, even while wearing a hijab, she was given an opportunity to do what she had a passion for. "I became a shampoo girl at Platinum Shears, which was one of the most sought after salons in Philadelphia," she beamed with pride. "Working for that salon kept money in my pocket and me off the streets. It was a blessing."
Hullema flexed her amazing skills as a stylist and later learned that her expertise was coloring hair. "I was highly sought after for my ability to create colors that people could only imagine, and that is when I became the 'Covered Colorist.'"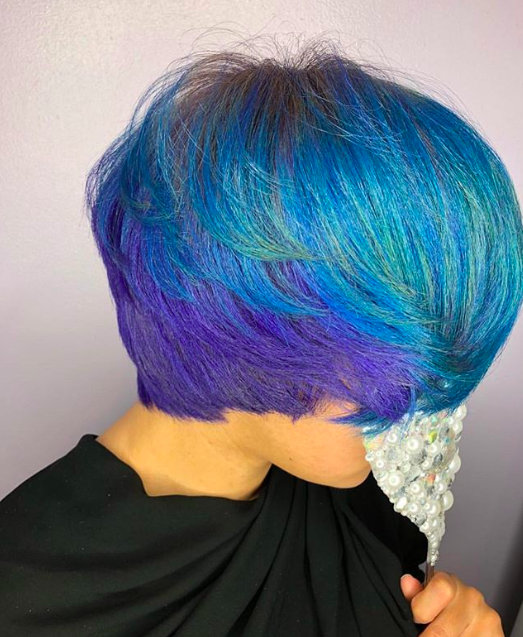 Instagram/@hstylze
On the other side of town, Sheena is known as the "Muslimah Stylist" making a mark in the beauty industry while grossing over $100,000 in sales and continuing to champion for Muslim women in the beauty industry.

Although these women have proven that they are amazing stylists, Hullema remembers being hurt when she was told by her mentor that she wouldn't make it in the industry. "She said that living a modest life would be difficult because people would not recognize me since they couldn't see my face." Her mentor's words stung like a bee, but she knew that she couldn't give up. "My appearance should never play a part in my success as a hair stylist but it does. I just make it a point to make [sure] my work should speak for itself."
Sheena shared a similar experience when she was told that she would not make it in the industry:
"I was told that I would never be successful because of my modest clothing and I won't be able to grow a clientele due to my hair being covered. Her words made me feel like crap. I was discouraged and confused and I believed it. I was young and instead of being encouraged to be better, I was left with a fuse I had to light myself and I had to be okay with that."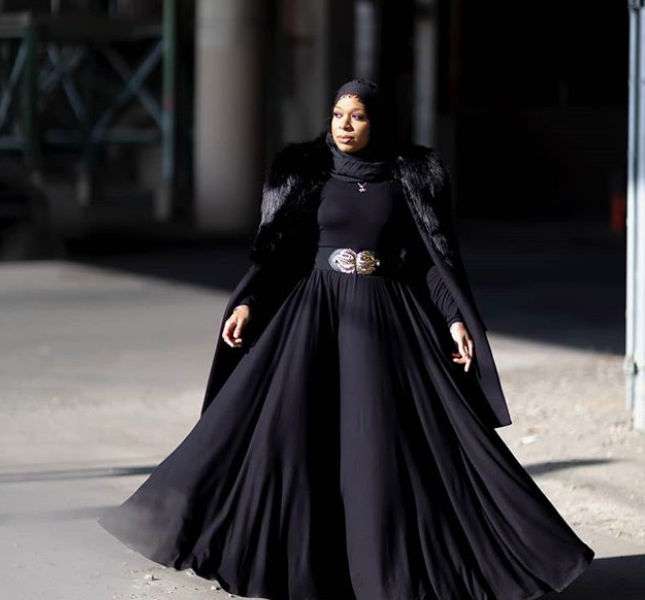 Instagram/@queenstylista
Despite minor setbacks, things were going very well for Hullema in the beauty profession, but there was a time where some people were not happy with her occupation. "In the Islamic community, it is frowned upon for women to be in the beauty industry because it is considered vanity, but it is also looked down on because men are the ones that work and women are supposed to raise their children, period."

She would receive negative comments on her Instagram about her choice to be involved with a "vain" business. Some comments weren't very nice and Hullema felt like she was being cyberbullied and even threatened for something that she loved to do. "I was really scared and I turned to Allah, my husband and family for support because they understand my purpose and heart," Hullema says.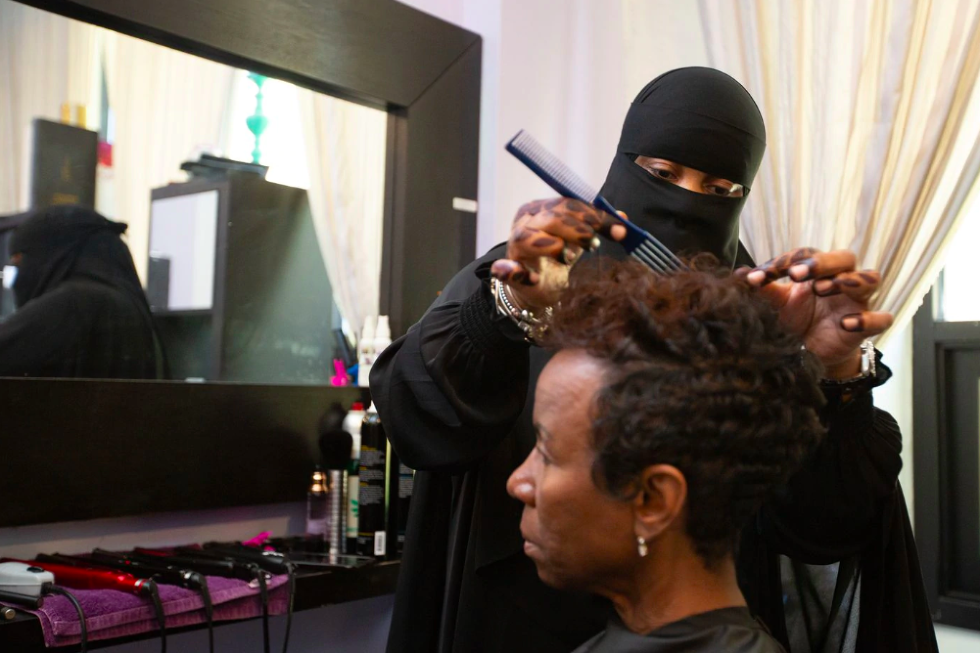 Margo Reed/Philly.com
So, what is it that people fear about women who cover their faces and hair in the beauty industry?
She explained, "My appearance to some is symbolic of threat," Hullema says. "It has to do with 9/11 and other terrorist attacks but that is not me. That is not every Muslimah."

For Hullema, the discrimination only got worse when she went from wearing a hijab to a niqab, which is worn to cover most of the face except the eyes. She immediately began to notice that she was treated differently in the beauty industry.
She would submit her portfolio to different fashion shows and events, but was met with rejection even though there were other Muslims who participated but their faces weren't covered. "I was very hurt," she shares of her rejection. "It made me stay away from platforms because I didn't want to be ridiculed. For a long time, I walked around with my head down, feeling inadequate."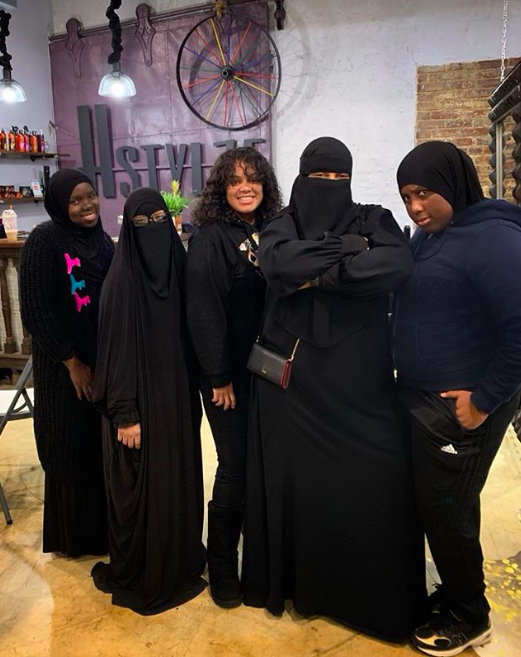 Instagram/@hstylze
So how are these ladies combating the unfair treatment that they have encountered? For Hullema, she is no longer looking for a seat at the table. She has created her own opportunities with her beauty salon, Hstylze Hair Studio, in which she opens to all women of different races and religious beliefs.

"I'm driven to show everyone I can be a fully covered Muslim woman and be successful in the hair business. I realized I had to turn that hurt and anger into strength and positivity," Hullema states. "Ignorance can only be combated with knowledge."
Sheena also created her own platform, Queenstylista's Mane Artistry, which is catered to women only and allows them to let their hair down, literally.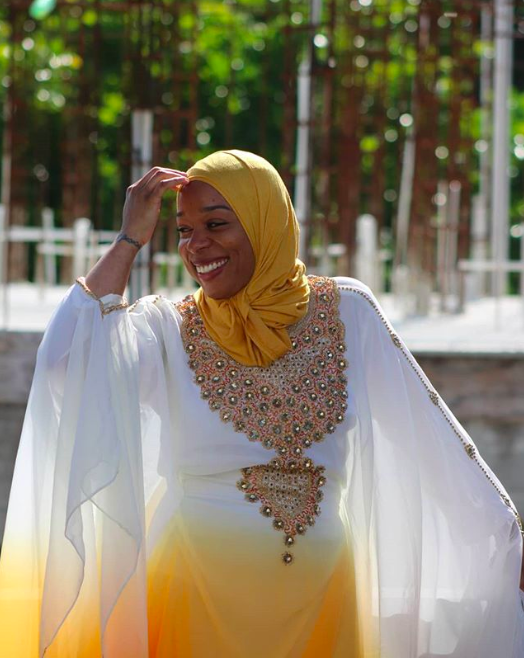 Instagram/@queenstylista
"I realized that I cannot let them define who I am. When they thought that I wouldn't succeed, I made six figures in my first year."
Sheena is no longer a negative statistic. She is an educator who helps others and she loves her staff. "With Allah's permission, I will keep going and growing," she affirms.
"It is up to me to lead by example," Hullema expresses. "I want to spread more awareness to people on a national level that they can chase their dreams without fear. You don't have to compromise who you are, your religion, or whatever. Just be strong, be firm in what you believe with unwavering sincerity."

To learn more about Hullema, visit @hstyzle and follow Sheena @queenstylista!

Featured image by Instagram/@queenstylista.
Related Articles:
The Best Natural Hair Salons in Atlanta - Read More
This 23-Year-Old Celeb Hairstylist Survived Homelessness & Built A Hair Empire - Read More
Cardi B Hair Stylist Cliff Vmir Schools Us On Wigs - Read More
This is Afea's story.
When Afea Tucker gave birth to her son Amir, she was 19 years old. Her first child appeared to be a happy and healthy baby boy; that was until his grandmother started to notice signs that little Amir was not developing like her seven children were at 18 months old.
"My mom was the first to say, 'Afea, I'm worried about Amir,'" she remembers. "He wasn't responding to his name, looking at us, or lifting his head."
It wasn't until his speech regression that she too began to realize that something was wrong. "The red flag for sure was when he went into a nonverbal state and would no longer speak. Then one day he unlocked the door and ran away without saying a word. That's when I began the process of understanding more about my son's learning abilities and what I could do to make his life comfortable," Afea openly shares about her experience.
With her very supportive mother by her side, the mother-daughter duo began to look into resources that could help them with Amir's growth and development. Looking for answers, Afea began asking her doctors questions that could help her understand why her young son was not responding like most children his age.

"Finding out that he could hear just fine was confirmation that something unique was going on," she shared after having his hearing tested. With no clue what could be wrong, Afea needed answers, and Amir's pediatrician gave Afea a list of agencies to consider contacting for a developmental evaluation.
Wasting no time, after seeing one of the referred early childhood development agencies, Amir was evaluated and deemed eligible for speech and occupational therapy, yet he was never diagnosed with anything.
It never dawned on Afea that her son could possibly have autism. "To my knowledge, he had a developmental delay, that's all," Afea calls to mind. "I didn't even know what autism really was. The only thing that I could equate to that was the depiction of Rain Man because autism wasn't something that I learned about in school. I was never aware or informed about what it meant to have autism but professionals around us had a clue but said nothing."
It wasn't until Amir was three years old when a developmental doctor gave Afea the diagnosis that Amir had autism.
Like a piece to the puzzle, everything made more sense. Finally, with a diagnosis, the young mother tapped into her mama bear mindset that sent her on a mission to discover more about her son's condition. From reading books to tireless searching on Google, Afea began researching the ins and outs of autism. She also sought guidance from therapists, professionals, and specialists to get more answers. All this while being a single mom holding down a full-time job to care for her young son.
"I also attended parent support group meetings, but nothing I researched or read would prepare me for the life ahead of us," Afea recalls of the clarifying moment of her life.
In need of support, Afea signed up to participate with the Autism Speaks Walk so that she could connect with and learn from other people who were raising children with autism. "I was pleasantly surprised to meet and walk with families that were filled with positivity and support. It made me feel like I was not going through this alone. I tried to make it out every year."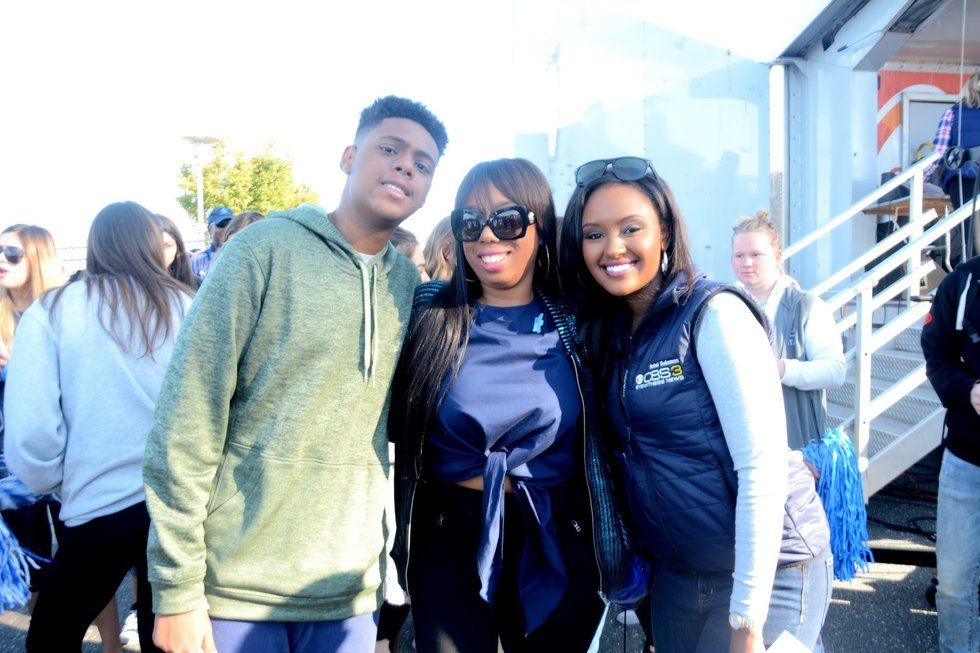 Couresty of Afea Tucker
After attending several Autism Walks, she knew that she wanted to do more, especially for teens turning to adults. While holding down a demanding position as a K-8 teacher by day and hustling as a strategic communications consultant at night, for the love of her son, she founded the non-profit organization Au-Some Lives Inc., which offers social support for families with children, teens, and young adults living with autism.

"Our mission is to assist and empower autistic families by providing resources, social support, and opportunities to connect local families so that they can share experiences, information, and concerns about the autistic community," Afea proudly declares about the organization she created after feeling there were not enough support outlets for parents to share in their knowledge and experiences. "My son is 17 now, but not too long ago, people were not as informed or aware as they can be today. There were not many schools that catered to the needs of children with autism."
After being overwhelmed with calls from Amir's teachers, "at least three times a day," Afea found herself quitting her job and starting her PR agency while he was in school so she could dedicate her time to her son after school.

"I owe it to my son that I am a competitive, experienced, and skilled entrepreneur because working from home allowed me to challenge myself to be available for both my son and my clients, and arrange meetings that worked perfectly around my son's schedule and I did successfully."
Raising Amir hasn't been easy for Afea. Some days are more challenging than others, but they make the best out of their lives. "I learned to celebrate the milestones, every success, and moments of growth. He has accomplished more than some 'specialists' thought he'd ever achieved," Afea gleams with pure delight.
Despite how challenging it may be for some people with autism to socially interact and communicate, many enjoy companionship and having fun with their peers, and it all starts with goals. Afea sees this with Amir.
"One of the goals I listed for Amir was to tell me how his day went. Every day after school I asked him, 'Amir how was your day?' And after a year, he responded with the simple word 'good.' That one-word response was a huge accomplishment. Now we have moved past 'good' to what classes he had and [what he] ate for lunch. He started talking girls, which I wasn't prepared for, but nevertheless," she laughs.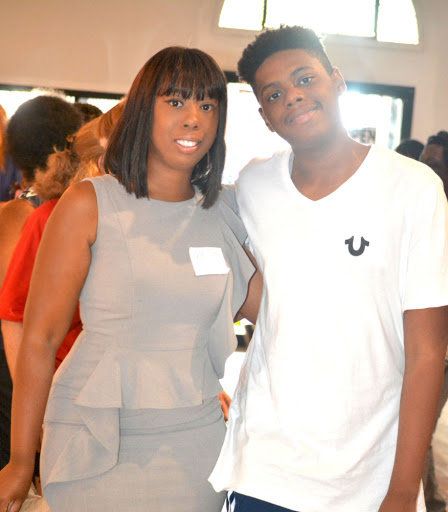 Couresty of Afea Tucker
"Sky's the limit for Amir and I won't let anyone try to put a cap on what they think my son will be able to do based on a study or something they read in a textbook. You can't say everyone is different and then try to define and treat them all the same. I challenged the things I didn't believe in or weren't appropriate for my son."

Afea advises parents:
"There is no time for pity. Let your child know that they may be different but that they are loved. Children with autism need empathy, respect, and awareness."
As for her advice to parents seeking help, Afea wants to remind them: "You are not alone and there are some good people and organizations out there that want to help and genuinely support. Parent support groups are great places because you connect with people who have actually experienced parenting or caring for someone on the spectrum."
Moreover, Afea wants parents to feel comfortable taking their children out to explore. "Don't live in fear of other people's opinion. An opinion is just that, an opinion, not a fact. Try new things and let life flow. You never know when you'll have a breakthrough, so be patient."
"Amir's diagnosis made me strong, it made me an advocate because I literally had to be his voice for years. I also became an intensive skilled researcher because I spent hours looking into doctors, therapies, schools, research studies. Being a parent of a child with autism has built my character. I've become a bit more sensitive and compassionate."

To follow Afea and Amir's journey, check out her Instagram @its_ah_feeah.

Ciara was definitely onto something when she chanted "Level Up" in the chorus of her 2018 chart-topper. When you think about it, why not? Why not raise your level of success? You often hear the saying, only you can stop you. So I ask you, are you getting in your own way?
If we're being honest, there are many cases when we stand in our own way of success. For example, no one but you chooses to let a high-paying job with benefits pass you over. No one but you skipped that workout session, and there is nothing to stop you from asking for that raise. You get the point.
As women, we are taught to be master jugglers and twice as good at everything, but how can we be resilient when we put everyone else's needs before our own and second-guess ourselves? Exactly, it's almost impossible, which leads to us feeling unhappy, tired and "stuck."
Ladies, it's time to stop the self-sabotage and start the self-love. To assist in your come up, we enlisted the help of an inspirational speaker, Morgan Owens, who has given us five enlightening tips to get out of our own way and level up for the new year.
Give Yourself Permission To Be Great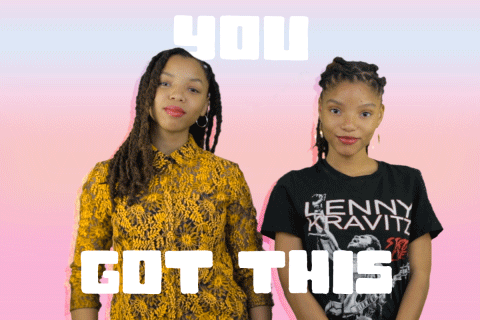 If you have ever looked at a job description and thought, "This is the job for me," but feel a bit intimidated by the tasks required, then you are not letting yourself be great. According to Morgan, "If your peers are comfortable enough to go after that position, then so should you."
We must allow ourselves to feel worthy of greatness and do our very best to achieve it and also believe it.
Perception Can Sometimes Be Deception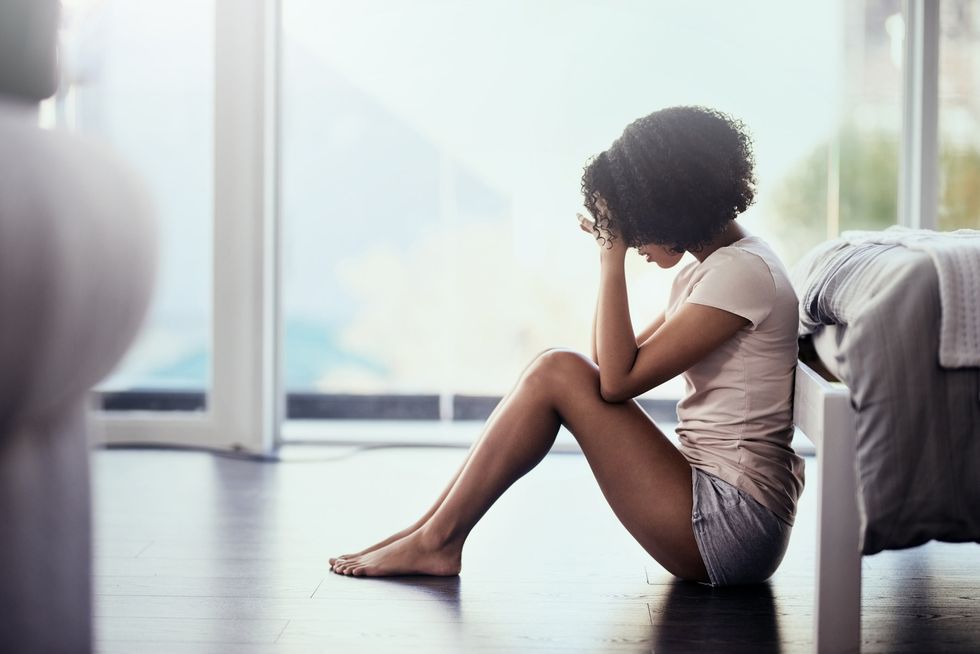 Getty Images
If you don't believe in yourself, you can't expect anyone else to do it for you. Stop looking at yourself with the eyes of other people.
"When we are honest with ourselves and determine the common denominator of what's stopping us from living out our best life, we can get out of our own way," Morgan explains. "If we don't like our weight, make a plan to get healthy. Never do it because someone else thinks you need to lose weight, do it because you know that you need to."
The more we see ourselves in a better light, the more we get over our view.
You Refuse To Say "No"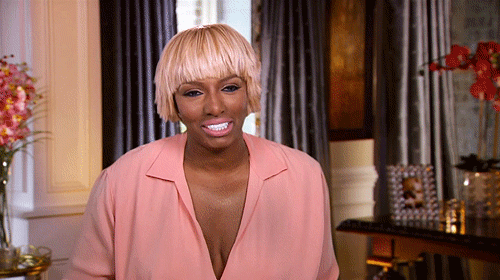 Sis, sometimes you just have to say "no."
"When you learn to start saying no, then you will lighten the load on your shoulders and you become less stressed," Morgan shared.
If a person cannot accept your reasonable no, it is not your problem – it's theirs. Remember to be fair in your delivery but also be sure that you are protecting your space and comfort because you can't build a career or business from an empty tank, you just can't.
You're Not Investing In Your Personal Development
Billion-dollar corporations send their employees to workshops and conferences to further their personal development for the company, why shouldn't you?
"Instead of investing money on materials things (I love a good handbag, honey), invest in a course to further your career or a workshop to help build your business," says Morgan.
Your investment will pay off in more ways than one.
Remember To Use Adversity to Fuel Determination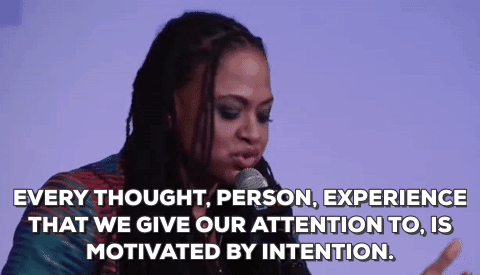 When someone tells you that you shouldn't start a business or that you should never start a new career, use that as fuel to prove yourself right.

"Often times the people saying these things lack confidence in themselves to go for their dreams, don't let their shortcomings influence your decisions," Morgan says.
Make sure that you are living for you and not for others.
With these tips, you are sure to be stepping out of your unsure ways and walking a brand new path to success.
To learn more about Morgan, visit her at www.morganaowens.com/ or follow her on Instagram @miss_morgan86.
Related Articles:
7 Monday Morning Habits For Successful Work Weeks – Read More
I Woke Up At 5 A.M. Every Day Like A CEO - Here's What I Learned – Read More
What's Really Keeping You From Your Six-Figure Goals – Read More
8 Boss Women On Moving In Silence & How To Find Your Own Rhythm – Read More