Somewhere I read of the freedom of speech. Somewhere I read of the freedom of press. Somewhere I read that the greatness of America is the right to protest for right.
---
- Martin Luther King Jr. 
With all the injustices that have taken place over the past few years, many celebs have chosen to take a stand and use their platforms to speak out and participate in different forms of protests. In the past, this has included 49ers football player Colin Kaepernick who chose to take a knee during the National Anthem at football games. More recently, Grammy award-winning R&B singer/songwriter Sevyn Streeter used her platform in a similar way.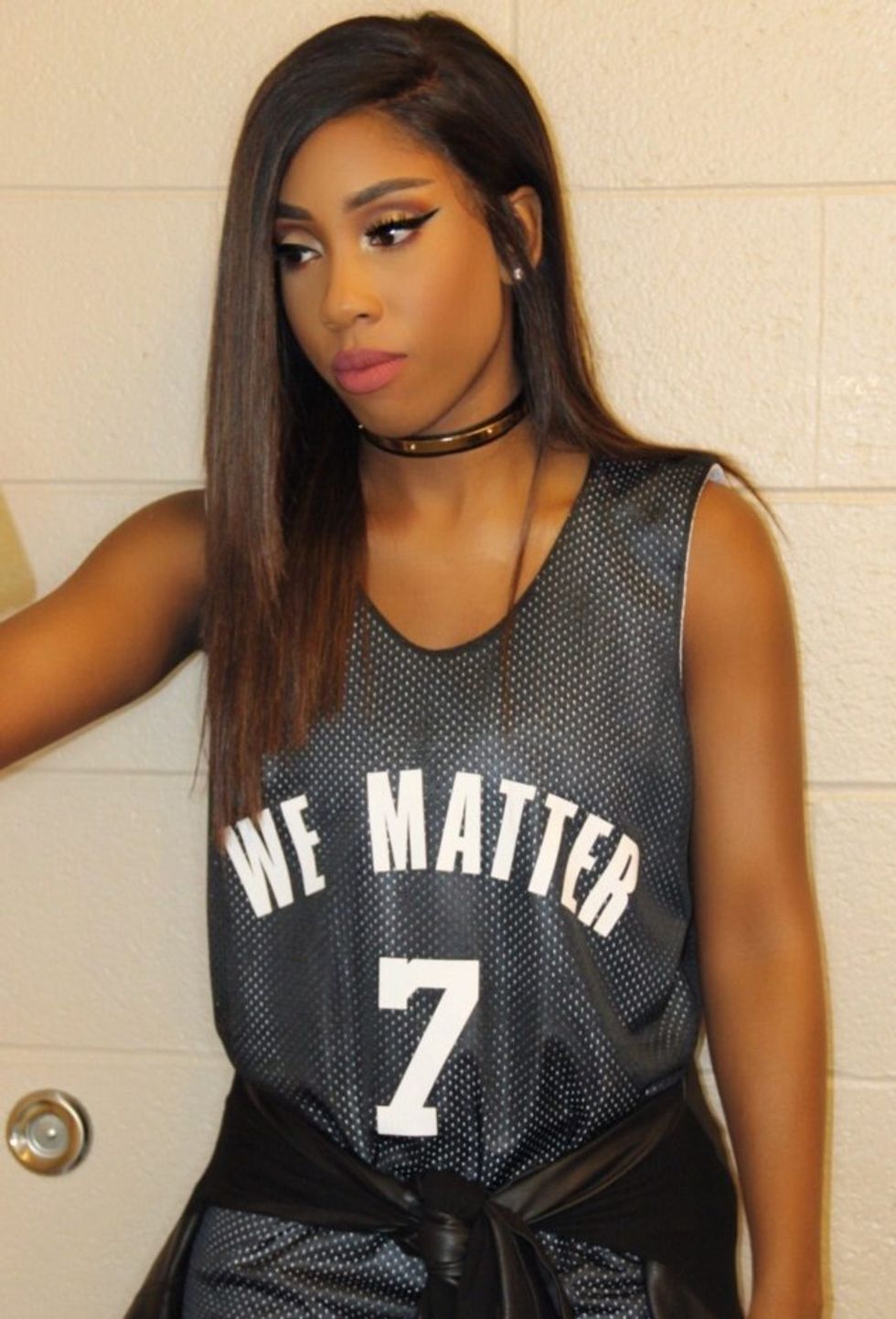 Back in October, Sevyn wore a "We Matter" jersey as she arrived at the Wells Fargo Center to sing The National Anthem at the Philadelphia 76ers' premiere game against the Oklahoma City Thunder.
Her "We Matter" jersey felt like a battle cry that was so needed at the height of a tumultuous time. Black Lives Matter is something we proclaim, created by us, for us, to echo in the hearts and minds of those that will never understand. We are also here. We are also important. Our lives are also valid and have value. We matter too.
Unfortunately, the message was not received well by the 76ers organization, and Sevyn was pulled from the performance just moments before she was slated to sing.
Was suppose to sing the anthem at @sixers & @okcthunder game but mins b4 @sixers said I couldn't because I was wea… https://t.co/5UR9xsMjeG

— Sevyn (@Sevyn)1477527115.0
"It was heartbreaking, it was devastating. I cried. They came to me and said if you want to sing the Anthem, you need to change your jersey. I knew right then and there, I wasn't changing my shirt. The message on my shirt, I knew it wasn't wrong. I knew it came from a peaceful place and to be denied the opportunity to sing the anthem because of what my shirt said, that killed me, truth be told." 
But, some good came out of an unfortunate situation in the end.
Six weeks after the incident, the 76ers made up for the transgression in October by inviting Sevyn back to sing The National Anthem, while also allowing her to wear the "We Matter" jersey. The singer and the organization also partnered up to do something incredible for The Boys & Girls Club by getting early Christmas gifts to kids.
xoNecole was able to follow the singer for the day for an event that she describes as one that fills her with pride. Though heartbroken and devastated by the outcome of the previous time she touched down in Philly to sing the anthem, Sevyn held onto her power and made sure her message was heard.
Watch the exclusive video below to hear more of Sevyn's thoughts on the debacle, her renewed opportunity, and why standing your ground in your power is so important: